Whether you're hitting the pavement for a run or spending the next hour in downward dog, lugging a big bag or purse around is only going to slow you down and get in the way of perfecting your Warrior II. A pair of leggings with pockets were once an adorable feature found only on select workout attire, but times have changed. Today's pocketed leggings aren't just cute; they're incredibly functional. Most are roomy enough to fit an ATM card and maybe even your phone. Others provide the perfect place to hide your house key, making it even easier to leave your possessions at home when you set out for the gym or on a bike ride.
These leggings with pockets are comfortable, supportive for various workouts, and — the cherry on top — all have extra pockets that make life more convenient. Here are 5 great pocketed leggings.
1) Aerie Play High Waisted Pocket Legging
Shop now: Aerie Play High Waisted Pocket Legging ($26.21, down from $34.95)
These high-waisted leggings, which hit below the ankle, provide full coverage that is perfect for yoga or pilates workouts. They're made from moisture-wicking material that removes sweat before you can even feel it on your skin and have 4-way stretch technology for an incredibly comfy workout experience. These leggings come in five shades like dark heather, plum, and olive and the small detail pocket is perfect for a spare key or to stash a few dollars for an after workout coffee. Plus, they're on sale for $26.
2) Lululemon Speed Tight V
Shop now: Lululemon Speed Tight V ($89, down from $108)
These medium-rise running leggings have not one, but multiple pockets located on both the front and back of the tights—and one is even large enough to fit your smartphone. They're made from Lycra, which clings to the body and retains its shape after washings, and you can even flip up the cuffs to expose a reflective detail that helps keep you safe when you're out running at dusk. Choose among seven shades like garnet, teal, and navy. They're even on sale for $89 down from $108–although they are final sale (you've been warned).
3) Old Navy Mid-Rise Mesh-Pocket Compression Leggings
Shop now: Old Navy Mid-Rise Mesh-Pocket Compression Leggings ($34.99)
These affordable leggings sit right below the waist and feature mesh side pockets at the thigh that can fit a phone, as well as a smaller interior pocket at the waist. They're made with Go-Dry Moisture Wicking technology, soft and stretchy compression jersey, and flat-lock seams that prevent chafing. Tall and petite sizes are also available. Plus, the price is right.
4) Athleta Metro High Waisted Legging
Shop now: Athleta Metro High Waisted Legging ($79)
These yoga leggings have three-layer inner mesh construction under the waistband that provide a flatter fit and four pockets in total — two are located on the sides and two are on the back. The seam lines are designed to resemble trousers and you may just find yourself wearing these high-rise leggings at all times of the day — yoga mat optional.
5) Free People FP Movement Barre Leggings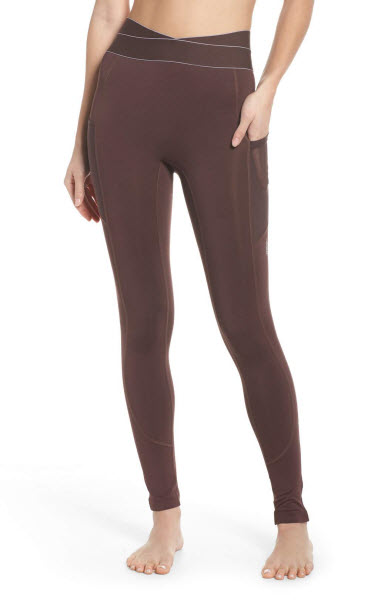 Shop now: Free People FP Movement Barre Leggings ($88)
Free People makes the best leggings with a pocket made of stretchy mesh, so you can stash or your card in your pants (skip the bulky bag at barre class!). We love Free People's take on athleisure because it has their signature "romance meets rock 'n' roll" aesthetic–but such a comfy take. You'll want to live in these. Now, we just wish they came in larger sizes!
SheFinds receives commissions for purchases made through the links in this post.