We have dinner inspiration for you. Make one of these recipes tonight and every night this week.
By Victoria Spencer of Martha Stewart Living
It's no-cook week here at marthastewart.com. We've got Monday to Friday taken care of without turning on the stove top, oven, microwave, or even the grill! The secret of no-cook? Combining fresh ingredients with a few good-quality store-bought items. So now you know! Come the weekend, we're breaking out the grill and celebrating summer with even more delicious meals. Visit us every week for dinnertime inspiration.
MONDAY: TOFU WITH BABY BOK CHOY AND NOODLES
Rice noodles are a no-cook chef's secret weapon. WHY Here we pair them with thinly sliced bok choy and tofu marinated in a ginger-scallion-peanut-butter-soy marinade. No heat but plenty of flavor.

Get the Tofu with Baby Bok Choy and Rice Noodles Recipe
TUESDAY: ZUCCHINI LASAGNA WITH FARMER CHEESE
We're really mixing it up when it comes to "lasagna." There's no pasta and no cooking required for this recipe. It's made with long slices of zucchini layered with creamy farmer cheese, tomatoes, and basil leaves.
Get the Zucchini Lasagna with Farmer Cheese Recipe
WEDNESDAY: BEET GAZPACHO WITH SHRIMP
Another Wednesday and another soup, but this week a cold soup. The only thing you need today is the blender!
THURSDAY: KALE AND LENTIL BOWL WITH AVOCADO DRESSING
Around here we're rather partial to avocado dressing. We like it creamy and simply adore this dairy-free version.
Get the Kale and Lentil Bowl with Avocado Dressing Recipe
FRIDAY: ITALIAN PRESSED SANDWICH
Take this delicious meaty sandwich for a picnic; it begs to be eaten outdoors! When was the last time your dinner prep involved using a skillet to press dinner not cook it?
SATURDAY: GRILLED SALMON SALAD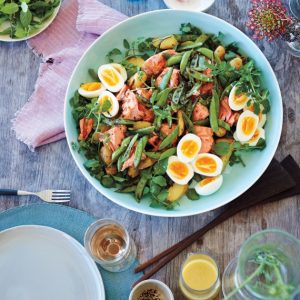 It's the weekend, time to cook outdoors. Grill some salmon — and even indulge in a little stove-top session for the eight-minute eggs that dot this crowd-pleasing salad. It also features fresh sugar snap peas, watercress, and boiled new potatoes.
Get the Grilled-Salmon Salad Recipe
SUNDAY: ROSEMARY GRILLED STEAK WITH SWEET ONIONS
Another dinner that's just right for company — or else yields delicious leftovers for lunch or the fixings for another night's meal. Rib-eye steaks are marinated with rosemary then grilled with sweet onions. Skillet potatoes and chive-topped wedges of romaine drizzled with a creamy lemony dressing round out the menu.