Scarves are an essential accessory and belong in everyone's wardrobe. Don't be fooled into thinking you can only wear a scarf during the colder months, either. Scarves are great year round, plus they are super versatile. What's more, there are many different sizes and shapes to scarves so you can tie and wrap them a bunch of different ways. Here are the five most popular ways to wear a scarf.
[Photo: Always Judging]
1. Wrapped infinity scarf
The first style is probably the most popular and the easiest to do. All you need is an infinity scarf (I prefer a chunky-knit one) and place it around your neck. Grab the remaining part of the scarf, twist it and place it around your neck. It should look like you have a double-wrapped scarf on your neck. This look is effortless and cozy.
[Photo: Brooklyn Blonde]
2. Wrapped long scarf
The second way to wear a scarf is also very easy. It usually works best with a long, thin scarf as opposed to a square scarf. Place the scarf in front of your neck, with the ends going over your shoulder. Then, bring the ends around so they are in the front. You can adjust the scarf around your neck to make sure the ends are somewhat even.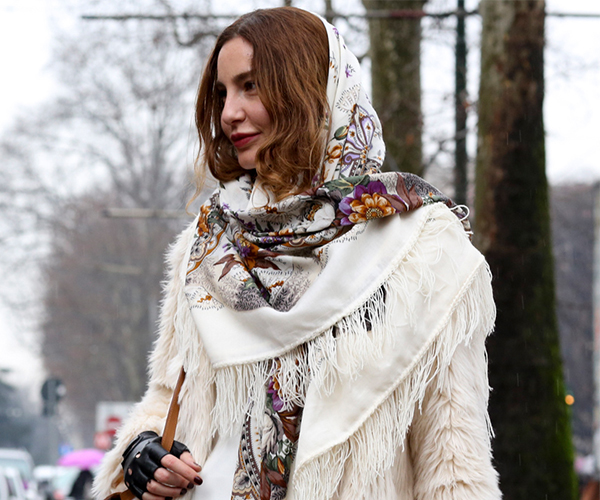 [Photo: Imaxtree]
3. Hooded scarf
The third style can be worn for style purposes or if it's really, really cold outside. Some companies make specific hooded scarves, but you can create your own with a scarf you already have! Place the scarf on your head and wrap the ends around your neck. You can also just wrap one end around your neck and let the other fall straight.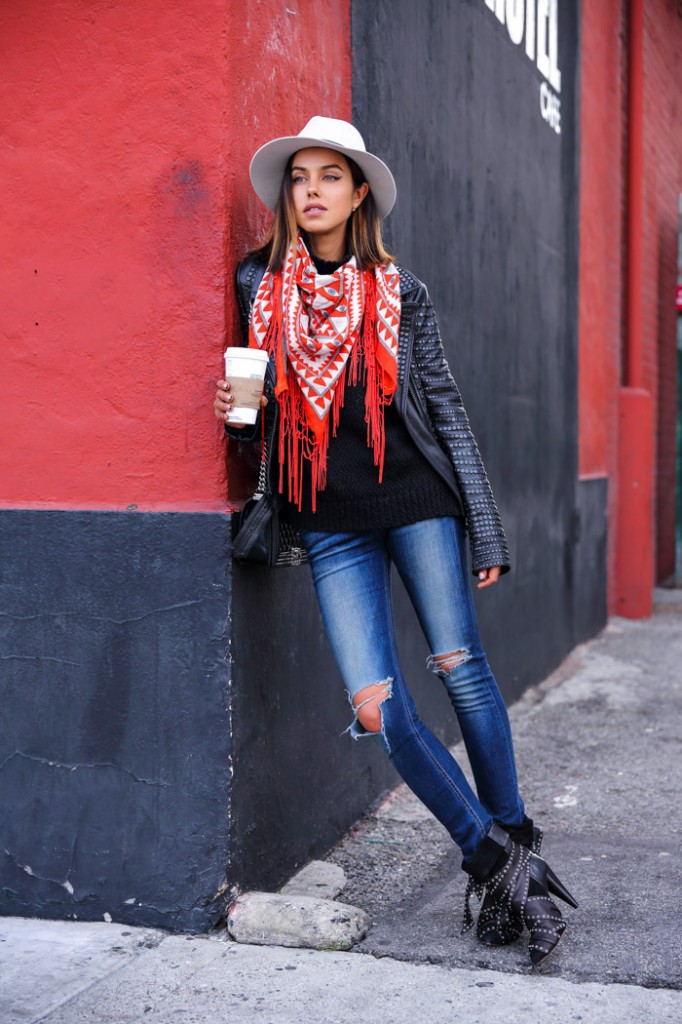 [Photo: VivaLuxury]
4. Triangle scarf
The fourth style is super trendy and can really pull together an entire outfit. Start off with a square scarf and fold it in half to create a triangle. Just like wrapping a long scarf, put the straight edge of the triangle in front of your neck, with the ends going over your shoulder. Bring the ends around and even them out. Note: the triangle should be pointing down! This style works great with fringed scarves.
[Photo: Damsel In Dior]
5. Looped scarf
The fifth style is another classic and is very simple and put together. Again, this works best with long scarves. Fold your scarf in half and place the looped end over one of your shoulders. Then, take the loose ends and wrap them around your neck through the loop. You can then adjust the tightness of the loop.
Don't miss five different ways to wear a beanie and 17 reasons you need to own a plaid scarf!
[Photo: A Love is Blind]