After six years of designer collabs-and a few bruises from frenzied shoppers–we've mastered how to get the coveted without battling crowds. In preparation for Zac Posen's Target collection, check out these little known tips to get the goods first:
1. Google at Midnight: Google the product you want (e.g. Zac Posen for Target prom dress) at midnight on the Sunday the collab releases, a link should direct you to Target's site, allowing you to beat the system and  shop eight hours before they're officially posted online.
2. Look for Lazy Store Managers: Careless employees unaware of launch dates often put designer's lines on shelves early. We spotted H&M's garden collection in stores a day before the launch, and heard Cynthia Vincent and Eugenia Kim's Target collections were on shelves a few weeks before the release date.
3. Travel to a Big City: If you're desperate, Target often plans pop-up shops for designer collabs in big cities like New York and Los Angeles a week or so before the collections are available nationwide. We've already shopped Zac Posen's Target collection, and from the looks of eBay, others have, too.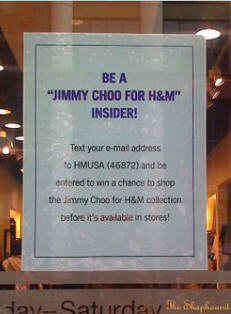 4. Use text and Twitter: Last year, Jimmy Choo for H&M allowed select customers who texted HMUSA to shop the collection before the public. Follow the brand on Twitter to see if they do it again.
5. Keep collabs on your radar: Check out our fashion news section to know about all the upcoming collabs that you can't miss out on. Here's our short list:
Zac Posen for Target-April 25; Phillip Lim's t-shirts for Nordstrom-May 1; Miriam Haskell and J.Crew bridal jewelry-May; Temple St. Claire Carr jewelry for Target-August 29;  Tucker for Target-September 10.
Get more discounted designer pieces in our sales and deals section, and then check out our guides to the best cocktail dresses, and the best summer dresses.