5 Things You Want To Know About Alec Baldwin's Fiance (But Are Too Afraid Of Alec To Ask)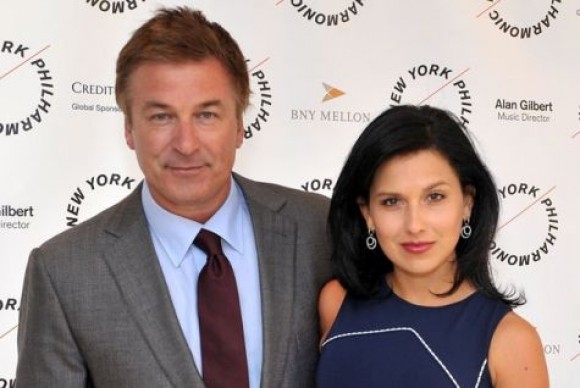 Everyone loves a good May-December romance! "30 Rock's" head honcho Jack Dona–I mean, Alec Baldwin, 54, announced his engagement to 28 year old Hilaria Thomas earlier this week.  (Isn't it so refreshing when actors DON'T pair up with other showbiz types?) Who is Hilaria Thomas, you ask? Sit tight. We've got all the Hilaria deets…
Baldwin and Thomas have reportedly been dating since last summer. Thomas is a yoga instructor, and co-owner of NYC's Yoga Vida Studio. (Members of the press have already been caught crashing her yoga class, and received a public Twitter tongue-lashing from Baldwin).
The Spanish-born beauty was raised in Boston (30 Rock connection!), and attended NYU to study art history and dance. Baldwin, who discussed being diagnosed as "pre-diabetic" with the press earlier this year, credits Thomas with whipping him into shape. He does look pretty damn good for 54. Nice work, Hilaria!
Baldwin proposed with a gorgeous, square-cut Cartier engagement ring last weekend (above). This will be Thomas' first marriage. Alec's first marriage to actress Kim Basinger ended in divorce in 2002.