1. Stylish rain boots. 
You don't know how badly you need good-looking rain boots until like day 3 of rainy season, when you've ruined your favorite spring flats and are rush-delivering a pair of Hunters from Zappos. Save yourself the overnight fees and get a cool pair now--on sale. These 
Rag & Bone X Hunter Tall Boots
($206.50 , down from $295) are 30% off in both navy and army green.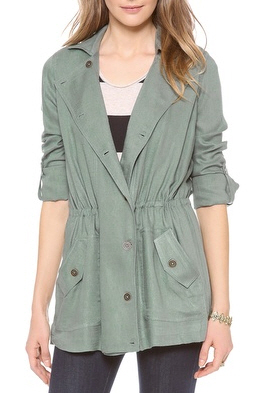 2. A lightweight jacket.  Spring weather is spastic--some days it's warm enough for t-shirts, and other days it's still pretty darn cold. Layering and lightwear outerwear is really the only way to deal with this. This Soft Joie Cantara Jacket ($201.60, down from $288) is a great, neutral color and the washed twill is the perfect lightweight material.
3. A white button-down.  This classic is a must for any season, really, but it feels especially spring-y. Style yours with skinny jeans, cute flats and a navy jacket or boucle jacket. Crisp! Our pick: Equipment's Reese Blouse with Contrast Sleeves ($159.60, down from $228). You can never, ever go wrong with an Equipment top.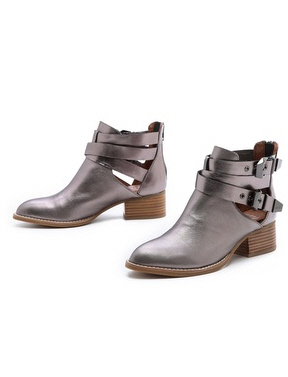 4. Tri-season booties.  Tri-season booties are booties you can wear pretty much year-round (except in, like, the dead of summer). They're just like normal booties but with some transitional detail--like coming in a sandy beige, or cut-out sides. Our pick: Jeffrey Campbell Everly Cutout Booties ($136.50, down from $195). But, hurry--there's only 1 size left!!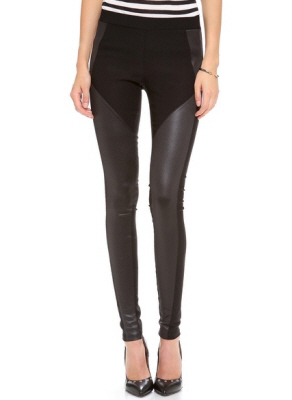 5. Leather leggings This isn't a utilitarian tip--I just like these EVLEO Black Colorblock Leggings ($69.30, down from $99). Wear them with everything--and that's a pretty good price!
Bonus item: 6. A transitional sweater.  A mesh or otherwise lightweight sweater is a MUST for spring, as you'll be doing lots of layering when the temps are all over the place. This Splendid Crew Neck Sweater ($59, down from $118) is pretty perfect--and even goes well with the Joie army jacket from tip #2.