Stocking a home bar can be a little intimidating, especially if you've just moved into your first house or apartment. There are key items that every home bar needs in order to be useful. It's important to keep in mind that your home bar will not be fully stocked right from the start. Stocking a bar costs money, so take things slow and start off with the essentials. Here are the five main things you should always have on hand for your home bar.
1. Glassware. You can't use any old glass for every single cocktail. Certain drinks require certain types of glasses. Start off with martini glasses, rocks glasses, red and white wine glasses, beer mugs/pint glasses and tall glasses.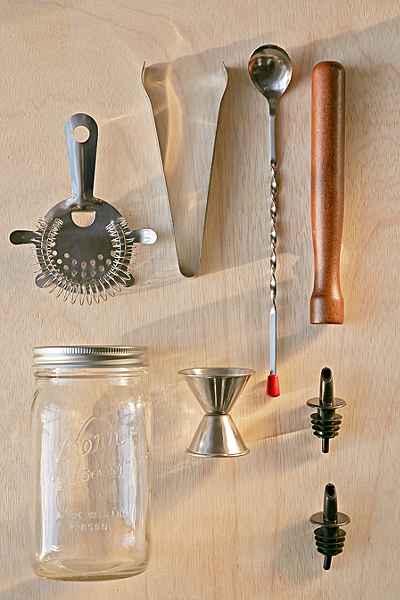 Makerskit Mason Cocktail Kit ($40)
2. Barware. You're gonna need different items to prepare your delicious cocktails. Here's what you'll need: cocktail shaker, jigger, strainer, bar spoon, muddler, bottle opener, and corkscrew. Those items should definitely start you off on the right foot.
3. Liquor. Duh, what's a bar without liquor?! Load your cabinet with vodka, gin, rum, vermouth, scotch, bourbon and tequila. Obviously, there are other liquors that can be included but those are the basics.
4. Mixers. It's important to have a good variety of mixers on hand, especially when you're having a party. Opt for triple sec or Cointreau, club soda, tonic water, cola, ginger ale, Sprite, orange juice, cranberry juice, pineapple juice and angostura bitters.
5. Garnishes. A cocktail is nothing without a little garnish! Always have these on hand: cocktail olives, cocktail napkins, toothpicks, maraschino cherries, kosher salt, lemons/limes and sugar.
Like I said, stocking a bar takes time so don't rush into getting everything at one time. Gradually add items whenever you can!
Don't miss 8 bachelorette party ideas that don't involve alcohol and try these 5 recipes for skinny cocktails!
[Photo: Shutterstock]