Last summer, Lady Gaga went gray for Vanity Fair, and earlier this week, Jean Paul Gaultier sent gray-bouffanted ladies down the Paris Fashion Week runways. Needless to say, "granny chic" is more on-trend than ever– and also totally wearable for spring. Below, our five favorite items from grandma's closet (just don't wear them all at the same time):
1. Floral Prints
One of the easiest ways to incorporate old-lady style into your closet is to add some sweet floral prints, like the one on Topshop's Nude Blossom Floral Print Sleeveless Dress ($60). For an LA cool vibe, throw on a leather jacket.
2. Top-Handle Bags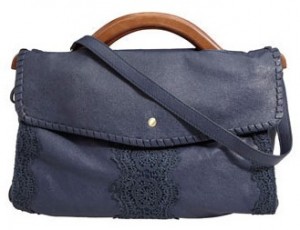 Jean-Paul Gaultier sent oversized, top-handle bags down the runway, but ModCloth's Along For the Ride Bag ($84.99) is much more manageable. The additional shoulder strap is also a lifesaver when your hands are full.
3. Maxi Skirts
Nothing would make your own grandma happier than trading your miniskirts in for a maxi skirt, like Tibi's Pleated Long Skirt ($297). Ankle-grazing hems are totally on-trend this spring, as are brights, so this skirt is pretty perfect.
4. Ladylike Cardigans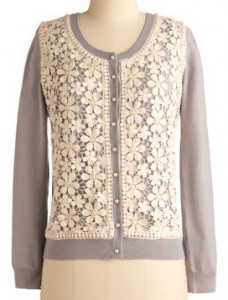 Another simple way to pull off this trend is by incorporating a ladylike cardigan into any outfit. We heart ModCloth's Blooms in the Sky Cardigan ($87.99), with its floral lace overlay and pastel purple shade. Pair with skinny jeans and wedges for an easy, breezy spring look.
5. Oversized Sunglasses
Gaultier perched oversized sunglasses atop his some of his models' bouffants. Get the look with these vintage-inspired Carrera Janis Sunglasses ($145), which have gradient-tinted lenses that spell out Miami grandma glam.
Need more spring fashion ideas? Check out our guides to the best cardigans, sunglasses, floral dresses, leather jackets, and pleated skirts.