When someone gave me a bottle of Josie Maran Argan Oil as a gift last year, I was completely perplexed. I really had no idea what I was supposed to do with it. I'd gotten oil on my hands while cooking before, and I never found it to be a particularly pleasant sensation. On top of that, at the time, I was really concerned with how greasy I thought my hair always looked (it didn't look greasy at all, I'm just a crazy person), and I wasn't about to voluntarily put anything with the word "oil" in it anywhere near my body.
Still, I always brought the little bottle with me whenever I moved to a new place just in case I ever found a use for it. It wasn't until earlier this year that I actually opened it for the first time, after having extensively Googled the phrase, "how to use argan oil." And guys, I know I probably use this phrase too much for it to have any real meaning whatsoever, but it has totally changed my life. At $48, it seems like a pretty steep cost for a smallish bottle of oil, but it lasts for so long and has so many different uses that, in the end, it's totally worth it. Here are five amazing ways to use argan oil:
1. Moisturizer
Just make this part of your nightly ritual. After you've washed your face, take a few drops of it and rub it into your skin. It's a pretty dry formula, so it absorbs quickly and leaves your skin feeling soft and not-at-all greasy.
2. Leave-in conditioner
This one made me nervous, but I figured if I was going for it, I was really going to go for it. Again, you only need a few drops, and you can apply it to your ends and scalp to add some moisture. I blow dry my hair almost every day, and after doing this just once, my hair felt so much softer.
3. DIY exfoliant
I found this during my lengthy perusal of the Almighty Google. Combine a few drops of argan oil, vanilla extract and brown sugar, and mix well. I obviously wouldn't recommend eating it like I did (accidentally, of course), but it smells amazing and works like a charm.
4. Cuticle oil
If you tend to get dry, cracked skin around your nails in the winter that normal moisturizers just don't seem to fix, argan oil is the perfect solution. Just a couple of drops around your cuticles, and they'll be back to normal in no time.
5. Frizz-tamer or styling product
You may remember me mentioning that I have very thin, frizzy, curly hair, and that getting it to behave without having to heat style it every single day is extremely difficult. All you need to do is take a few drops and rub it directly into your dry hair to tame frizz and even add some nice shine. If your worried about your hair looking greasy like I was, just try to avoid putting it directly on your scalp, and remember that less is always more.
So, what are you waiting for? Get your own bottle here: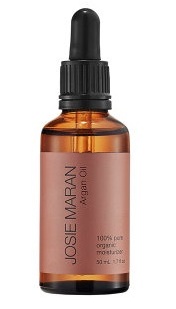 Josie Maran 100 Percent Pure Argan Oil ($48)
For more beauty tips, check out: a beginner's guide to nail art, Too Faced bronzer dupes under $15, and how to contour your face.
[Photo: josiemarancosmetics.com]