1. Beachy Mermaid Waves. Even on the darkest, most gloomy winter day, you can still look like you just stepped off the beach with this easy trick. After showering, mist mostly-dry hair with salt spray like the (amazing-smelling) Tigi Catwalk Session Series Salt Spray ($18.95). Scrunch to add texture and then allow hair to finish drying. Once completely dry, divide the hair into top and bottom sections. Loosely braid 1-inch pieces of the upper section all around the head, leaving the bottom half unbraided - you don't want to over-do it! Finally, run your flat iron over each braid before undoing to reveal natural-looking waves.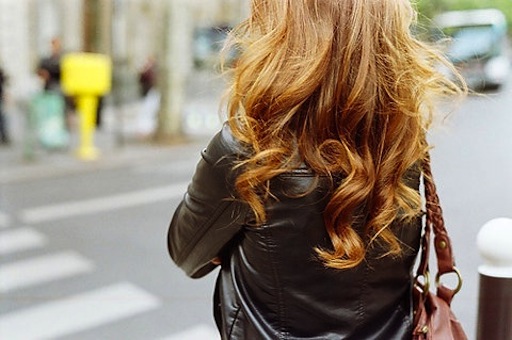 2. Hollywood Starlet Loose Curls. We're always trying to nail down those perfectly loose, voluminous curls that celebs make look so easy (thanks to expensive hair stylists). Though you might think you have to go out and buy a large barrel curling iron, you can actually get this style with just your trusty straightener. First, separate your hair into bottom and top segments. Starting with the bottom section, wrap 1 to 1 1/2-inch sections of your hair around the plates of the flat iron, starting at the root. Turn the straightener away from your head and continue pulling it down the length of the hair strand, similar to curling a ribbon. Do this throughout the rest of the bottom layer, and then do the same with the top. After you've finished, lightly spray with hairspray and flip hair upside down for volume, running fingers through hair to loosen the curls.
3. Chalked Tips. Not all of us have the – ahem – balls to permanently try out the trendy colorful hair tips that are everywhere these days. Opt for this temporary and cheap alternative. Pick up your favorite colors in soft chalk from the craft store, or spend a little more on actual hair chalk, like Free People's Ombre Hair Chalk ($14). Color the tips of your hair with plenty of the chalk, alternating colors and then press each tip with the flat iron, sealing the color in. Presto: an easy way to walk on the wild side - for a day or two.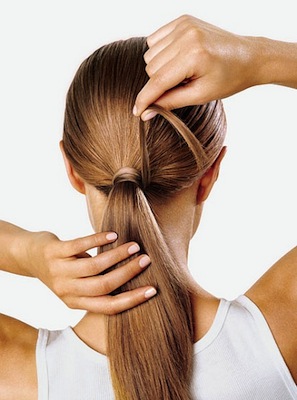 4. Super-Sleek Ponytail. A perfect, polished pony is ultra-sophisticated and lets your face take main stage. On damp hair, apply a straightening balm like Bumble and Bumble Straight Blow Dry ($29) and blow dry. Next, straighten hair thoroughly in three layers, starting from the bottom, so as not to miss any strands. Pull hair back from the crown, combing out any bumps, and secure with a clear ponytail holder. Wrap a strand of your hair around the elastic to hide it and bobby-pin underneath. Add a small amount of hair gel to the front of the hairline to remove frizz and seal in shine - but don't use hairspray, which will make your hair look stiff. Finally, go over the ponytail again with your flat iron to ensure it's stick straight.
5. Voluminous Bombshell Hair. Big hair is possible for thin-haired girls with the use of your flat iron. Divide hair into two sections from 1 inch above the ear. Flip the top section forward and tease from underneath, spraying on dry shampoo like Oscar Blondi Pronto Invisible Volumizing Dry Shampoo Spray ($25) to add texture. Come the front of the hair back smoothly over the teased section and part to the side. Then, lift from the root with your flat iron, bringing hair down at a curve.