The plaid shirt is arguably the most versatile fashion staples. I mean, what can't you do with a plaid shirt? Dress it up, dress it down… layer it over a camisole, under a cardigan… tie it around your waist, around your shoulders…  the possibilities are endless! But just in case you're looking for some plaid shirt style inspo, we've got you covered. Here's the ultimate guide for how to wear a plaid shirt.
1) Pair with a statement necklace
Dress up your plaid shirt with a chunky statement necklace. Adding a bold accessory is the perfect way to step up your daily look. It's also a great choice if you're not sure about a given dress code. Business casual? Check! Casual casual? Check! It's an understated yet polished look, perfect for any event where you're unsure of the dress code.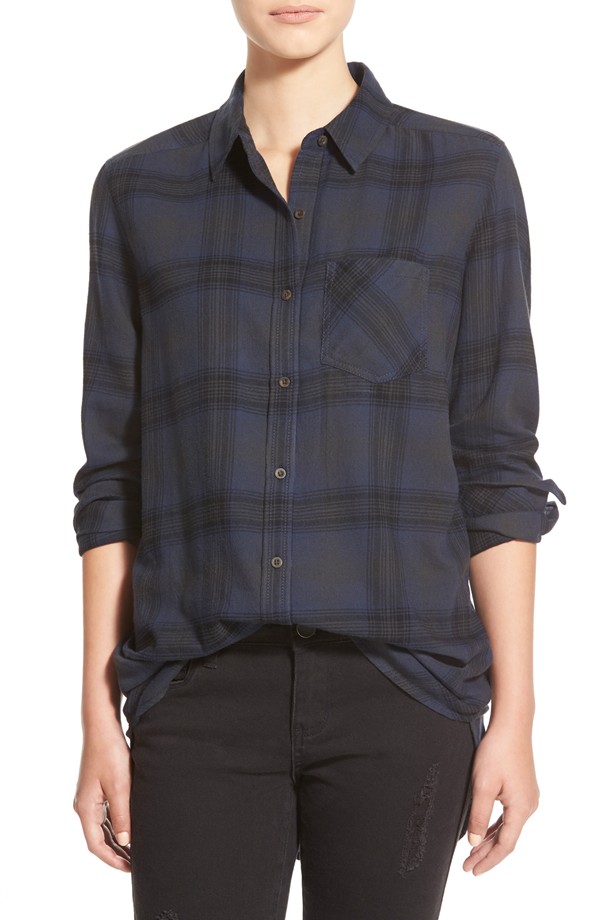 BP. Plaid Shirt ($44)
BaubleBar 'Fantasia' Bib Necklace ($68.00)
2) Layer! (Over or under.)
One of the greatest things about a plaid shirt is the low barrier of commitment. If you leave the house wearing a plaid shirt and change your mind twenty minutes later (admit it, you've been there), you still have options. You can wear it with a cardigan on top and a camisole underneath and voila, you have a three-pronged outfit, ready to change your style and fit your mood at a moment's notice. Behati Prinsloo is owning the layer-up look, while Whitney Port is casually sporting the layer-down option.
3) Tuck it in

We adore the plaid tuck-in. Whether tucked into a pair of boyfriend jeans or a sleek pencil skirt, your plaid shirt will take on a life of its own. Who knew a simple plaid shirt could be so cutting edge? One moment you're ready to work in the garden, plaid button-down and grass-stained jeans; the next you're a hip high-powered executive, tucking her plaid shirt into a killer leather skirt, rocking a Birkin bag and pair of Jimmy Choos. Or you could just be Jessica Alba (pictured below), the choice is yours.
4) Layer with a sweater for academic edge

OK, I know this isn't the technical term, but you must admit that the sweater over collared plaid shirt look has a sort of intellectual power to it. I'd say it's the aesthetic equivalent of gaining 20 I.Q. points. The "Academic Sweater Layering" wouldn't transform Derek Zoolander into Albert Einstein or anything, but it would indeed allow him to turn left.
 5) Tie it around your waist
Question: Is it still hip to tie jackets/sweaters/shirts around your waist? Didn't that go out of vogue somewhere around 1999?
Answer: Nooooo, it's still edgy and cool! Fashion Police star Giuliana Rancic can pull it off and SO CAN YOU!
Now that you know how to wear a plaid shirt, it's time to add a few to your wardrobe! We suggest browsing the Nordstrom collection. Happy shopping, ladies!
[Photos: The Fashion Guitar, Splash News]

Don't forget to check out: 'Tis The Season For Ugly Holiday Sweaters–20 Options For Your Next Party, Is Ben Affleck Moving On With Sienna Miller?, and This Must-Have J.Crew Tote Is Under $85, Plus Take 30% Off Your Entire Order