Sneaker trends come and go, but there's one brand that has stood the test of time: Converse. No matter how many pairs of Adidas Stan Smith's or Nike Cortez sneakers you own or dream of owning, Converse is the original hipster sneaker that never trails too far from its original model (it doesn't have to) and won't break the bank like other brands.
Have I mentioned Converse is crazy versatile and can be paired with more outfits than you might think?
Whether you're into Classic Chuck high-tops, old-school Chuck '70s, suede Jack Purcell skateboarding sneakers, or funky customized styles, there are numerous ways to change up your fall look by trading in heels or flats for a pair of Converse. Here are 5 fresh ways to wear Converse this fall.
1) Chuck High Tops With A Shorter Skirt
The contrast between a short skirt and Chuck high tops results in an interesting blend of proportions that looks just right. If you are planning on wearing a mini skirt but want to make it more street style friendly, high tops amplify its coolness and bring down the va-va-voom sexiness of a shorter skirt in a way that makes it more youthful and modern. Pair it with a T-shirt and blazer or an oversized sweater. You can also wear Converse high tops with this season's trendy midi skirt. The sneakers carry the same vibe as ankle boots but are more playful.
2) Low Converse Sneakers With Baggy Trousers
Opt for baggy, wide-legged trousers over denim, hem them so that they cut off at your ankle, and then surprise everyone by wearing them with low converse star sneakers in place of kitten heels. A flirty blouse with ornate sleeves provides even more contrast and makes this one great outfit for the office and after-work drinks.
3) Converse With Florals
Florals are a huge trend this fall, particularly darker, more vibrant flowers that call to mind the jewel tones we're used to seeing in fall and winter. Pairing floral dresses or jumpsuits with knee-high boots is an obvious choice — but taking a risk and wearing them with plain white, beige, or black Converse sneakers puts 100 percent of the focus where it belongs: your floral pattern.
4) A Pair Of Red Converse Sneakers With A Red Outfit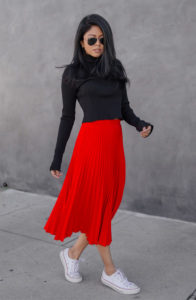 Behold, the bold color of the season is red and everything from a cherry dress to a burgundy pair of velvet pants to wine-colored tights looks and feels perfect right now. Luckily, you needn't look very far if you want to pair your red outfit with even more red for a totally on-trend look: you'll find Converse sneakers in shades like Sangria and classic bright red.
5) Converse With Cropped Flare Pants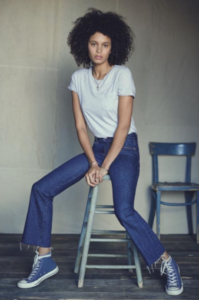 Cropped flare pants continue to dominate this fall, but their length (which cuts off right above the ankle) puts much of the focus on your footwear. For sneaker-obsessed fashionistas, this is the perfect pants style because it allows you to show off a pair of custom Converse sneakers. Choose a style of low or high-top Converse and then customize it with your favorite colors, designs, prints, and even your name or a personal message/logo.