When summer first started, all I wanted to do was be outside. I would spend weekends walking around doing literally nothing just so I didn't have to be indoors. But now we're halfway through July, and as much as I love the sun, it's starting to get pretty unbearable out there. Temps officially hit 90 in NYC and the humidity is getting out of control. Plus, it doesn't even really cool down at night.
If you're anything like me and looking for an excuse to stay in an air conditioned space, might I suggest throwing a girls night in? I know, I know, sounds kind of lame compared to beer gardens and outdoor bars, but it beats worrying about your frizzy hair when trying to meet a guy, right? Plus, we have a few creative cocktail recipes that should make a Friday night spent in a little more interesting. Read below for 6 totally crazy drinks that are definitely worth trying for your next girls night in…if you're brave enough.
1. Chocolate Chip Cookie: Your favorite childhood snack in adult form.
1 part(s) Pinnacle Cookie Dough Vodka
Shake with ice and strain into a martini glass rimmed with cocoa powder.
2. Latte-tini: The after hours "caffeine" boost.
2 part(s) Pinnacle Whipped Vodka
1 part(s) Kamora Coffee Liqueur
½ part(s) DeKuyper Vanilla Liqueur
2 part(s) half & half
Shake over ice and strain into a chilled martini glass.
Top with a dollop of whipped cream.
3. Candy Infused Vodka: Candy + alcohol, is there anything better? You can use Skittles, Starburts or Jolly Ranchers for this.
Separate the candy by flavor.
Put at least two handfuls of the candy in each bottle you use. Make sure it's airtight.
Let it sit for at least 3 days, up to a few weeks max.
When ready to serve, pour it through a strainer to get rid of any leftover ingredients.
4. Atomic Apple: Think of it as a grown-up apple juice.
2 part(s) Pinnacle Atomic Hot Vodka
1 part(s) DeKuyper Pucker Sour Apple Schnapps
1 part(s) Apple Juice
Rim martini glass with cinnamon-sugar.
Shake with ice, strain into prepared martini glass, and garnish with a cherry.
5. Whipped Margarita: A sweet(er) version of the tequila drink.
1 part(s) Pinnacle Whipped Vodka
1 part(s) Sauza tequila
4 part(s) Sauza margarita mix
Rim glass with rock sugar.
Shake tequila and margarita mix with ice.
Pour into glass filled with ice and float with Pinnacle Whipped.
6. Goblet of Fire: Yes, inspired by the title of the fourth Harry Potter book. You literally light this drink on fire.
1 oz Pinnacle Vodka
1 oz blue curacao
3 oz lemonade
Splash 151
Pinch of cinnamon
Light on fire.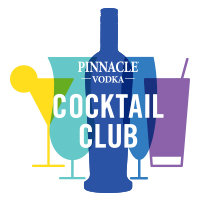 "Pinnacle Vodka shakes things up with unexpected experiences and delightful discoveries.  Explore with other fun flavors at http://www.pinnaclevodka.com". Also, check us out at www.facebook.com/pinnaclevodkas and https://twitter.com/PinnacleVodka or find more fun entertaining and drink ideas on our Pinterest page at http://www.pinterest.com/pinnaclevodka/".
"Pinnacle® is a registered trademark of Jim Beam Brands Co. and is used with permission.  This is a sponsored partnership, with Pinnacle® Vodka, via Mode Media.  The information, comments, and ideas expressed on this website are those of the author and do not necessarily reflect the opinions or positions of Jim Beam Brands Co., its affiliated companies, or any of their directors or employees."
[Photo: Shutterstock]