Is it just me or is summer going by waaaay to quickly. Like, can we press a pause button or something? I am so not ready for the temps to drop, okay, well maybe just a little, but not below 70! So, in order to make the most of what's left of summer, I decided to put together a list of fun outdoor activities to do. If you're anything like me and want to spend as much time as possible outside eating and drinking with friends (because really, what's better than that?), then check out this end-of-summer checklist below:
Take a hike
No, I'm not telling you to stop reading this article and beat it. I mean, take a hike! Find a buddy, whether it's your boyfriend, bestie or parents (get them movin'!) and pick a trail that you feel comfortable with. If you live in a city, you'll probably have to get out into the suburbs, but that means you can turn this into a whole day event. There's tons of trails that are flat if you're not feeling like climbing a mountain, and you can go at whatever pace you want. Hiking is one of the easiest ways to spend a long time outside, plus it's a workout without really feeling like you're exercising. #Win.
Throw a BBQ for friends
Whether you've done this yet or not, squeeze as much as you can out of bbq season. That means, plan a bbq at least once between now and the end of summer. The only thing that makes a burger, hot dog and corn on the cob taste better is eating it outdoors on a deck or beach surrounded by friends.
Mix your own drink
This one's super easy so it should be the first thing to cross off. Here's a recipe for Pinacle Pinkade that's easy to follow:
1 part(s) Pinnacle Cherry Lemonade Vodka

1 part(s) Pinnacle Vanilla Vodka

1 part(s) Lemonade

Splash Grenadine

Rim martini glass with sugar. Shake with ice, strain into prepared martini glass, and garnish with a lime wedge.
Might we suggest serving at your bbq? People love a good lemonade cocktail!
Have a beach bonfire with s'mores
I mean, do we really need to convince you on this one? How many times do you still catch yourself wishing you grew up with LC, Kristin and the gang so that you could've spent every weekend night at a beach bonfire? Well, since we all can't say we're from Laguna Beach or live where the temps are pretty warm year-round, take advantage of the season where most people across the country can chill outside with friends at a bonfire. S'mores are required!
Go camping
I know this one isn't for everyone, but if you're thinking of trying camping, do it now before the temps drop. Because even though it's warm now, it gets pretty cold at night when you're in the mountains. So imagine what it's like come September/October? You'll be wishing you took a weekend in August to try out camping.
Nap in a hammock
Now, this one's for everyone. Find a hammock anywhere…even if it means sneaking into a neighbors backyard who you know's on vacay. (Don't say we told you to!) Bring a cool drink (Pinkade?!), a magazine and a pair of shades and lay on that thing allllll day. Now that's how you do summer.
[Photo: Shutterstock]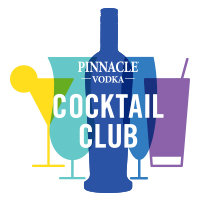 "Pinnacle Vodka shakes things up with unexpected experiences and delightful discoveries.  Explore with other fun flavors at http://www.pinnaclevodka.com". Also, check us out at www.facebook.com/pinnaclevodkas and https://twitter.com/PinnacleVodka or find more fun entertaining and drink ideas on our Pinterest page at http://www.pinterest.com/pinnaclevodka/".
"Pinnacle® is a registered trademark of Jim Beam Brands Co. and is used with permission.  This is a sponsored partnership, with Pinnacle® Vodka, via Mode Media.  The information, comments, and ideas expressed on this website are those of the author and do not necessarily reflect the opinions or positions of Jim Beam Brands Co., its affiliated companies, or any of their directors or employees."