Choose a church that includes a pianist/organist. 
If you're going traditional and getting married in a church, I advise looking for one that includes a pianist/organist in the cost of the rental. Most church rentals cost the same either way and when this is thrown in it can save you at least $300.
Reuse your bridesmaids' bouquets as reception centerpieces. 
Flowers are expensive. To save money, choose bouquet and table arrangements that are similar. This way, after the ceremony, your planner can put your bridesmaids' bouquets in vases to use as table centerpieces. I have five bridesmaids, so that's 5 fewer centerpieces to pay for!
Invite your photographer to the rehearsal dinner. 
She'll appreciate the gesture, and I can almost promise you that she'll take pictures of the dinner for free and include them with your wedding photos.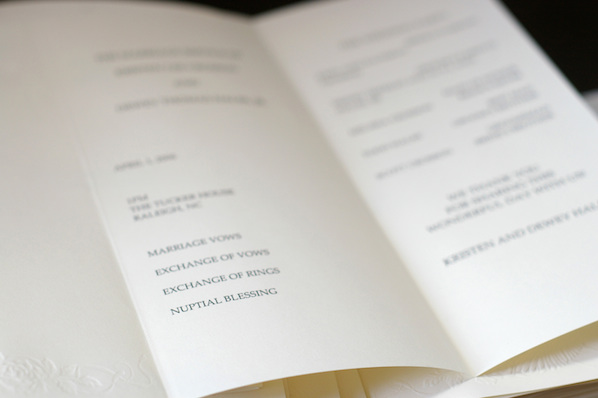 Make your own ceremony programs. 
If you have Microsoft Word and can download a font, you can make your own programs.
Buy paper that matches your invitation suite - 
Paper Source
has an excellent selection.
Download a template
Download some fonts to use. Our favorite free ones are:
Young Love
Champagne and Limousines
Flaemische Kanzleischrift
Tartlers End
Yes, it's a bit time consuming, but depending on the amount of guests you are expecting, this can save you upwards of $200.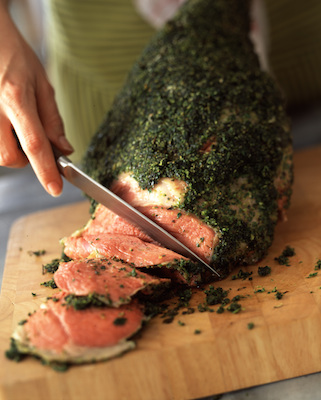 Host a "Strolling Supper" Reception.
My fiancé hates buffets (he likens them to feeding troughs) and mandated that we could not have one at our wedding. Sit-down dinners, we soon learned, are nearly twice as a expensive as a buffet! #predicament Enter: The "Strolling Supper" reception. It's a series of 3-4 chef-attended stations with various entrées and accompaniments. It's not as expensive as a seated dinner, but not as tacky as a buffet.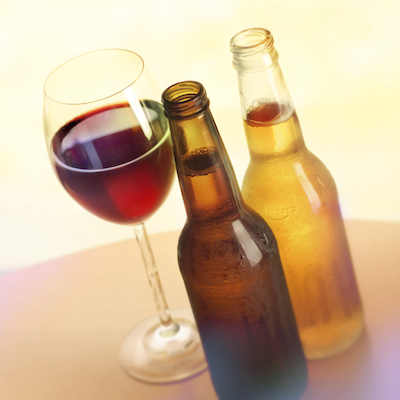 Serve only beer and wine.
Though my fiancé and I would have loved to provide a full, open bar for our guests, it just wasn't in the budget. Instead, we opted to serve a nice selection of beer (Stella and Sam Adams) and three of our favorite moderately priced wines. Follow our lead and trust us, your guests won't even miss their standard G&T.
Skip the favors. 
I'm from Nashville, and I had an elaborate vision of giving each of my guests a mini bottle of Jack Daniels since the distillery is located less than an hour way. Then I realized how much that would cost. Needless to say, it got nixed. I opted instead to go for a cheaper favor--matchbooks--but now that I'm thirty days away from the wedding and my fiancé and I are thinking about all of our upcoming expenses, I'm wishing we had skipped favors altogether.