The older I get, the less I care about having a ton of clothes and shoes and purses. Instead, I find myself saving and spending my hard-earned dinero on smaller, more special pieces like jewelry. It's seems silly, but there's something about putting on a ring you love or simple studs that feels so much more significant than a dress from some fast-fashion store.
Given my propensity for amazing jewelry these days, I'm always on the hunt for cool new designers and here's one I just had to share: Dana Bronfman! I first came across her stud earrings lined up like little hidden treasures in a glass box and I immediately fell in love. Her jewelry isn't at all flashy, but it's still eye-catching and special and unique… I can barely formulate words to convey how obsessed I am.
So rather than listen to me babble on, I asked Dana to share a little about herself and her jewelry. Get to know her below!
SHEfinds: Tell us a little about yourself; have you always been a jewelry designer?
Dana Bronfman: I actually worked in the non-profit world before entering the jewelry world actually. I wanted to make a difference.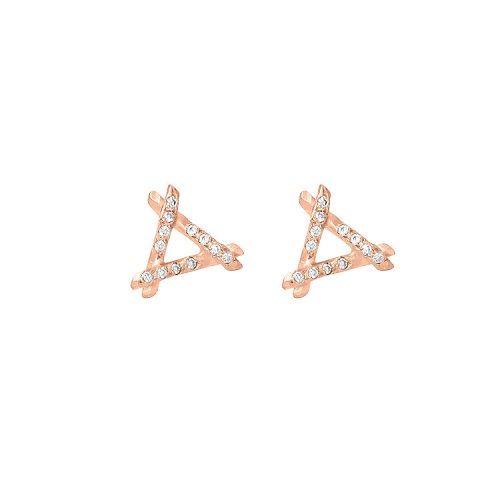 Tiny Trina Studs with Diamonds ($520)
SF: What inspired you to start your own jewelry line?
DB: I fell in love with my grandmother's collection of Native American and Mexican silver jewelry as a young girl. I have always really disliked traditional fine jewelry and never understood what was so great about a pearl necklace or diamond studs. When I got older and traveled, I found myself fascinated by the uniqueness in the jewelry that I found in the places I visited around the world, and I loved collecting the pieces and wearing them in a way that expressed my story. In Santa Fe, New Mexico, I had a feeling that this was what I was meant to do. The desire to create different, innovative fine jewelry was planted and grew so much after two years of trying to forget it while working non-profit eventually grew so strong I could no longer ignore it. I wanted to give others new ways to express themselves.
SF: What's been the most rewarding aspect of having your own jewelry collection? The hardest?
DB: To put it briefly, I am living out my dream, and that is incredibly gratifying. Every day I wake up and sometimes cannot even believe I am so lucky. More specifically, it is so rewarding to see people find so much joy in wearing my work. Whether a custom wedding band or a piece within my collection, it feels great knowing that these pieces will come to mean so much more for each person, symbolizing love and making people feel empowered and unique, and even carrying their memories through generations to come.
The hardest part is just finding enough time to get everything done!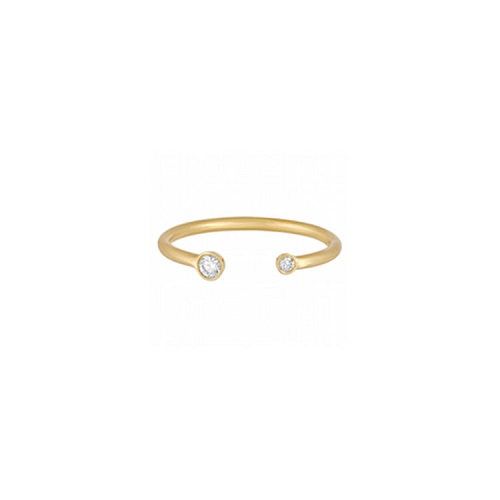 Double Diamond Open Ring ($705)
SF: Where do you get inspiration for your pieces?
DB: Industrial architecture and my training as a metalsmith inspires me. I'm intrigued by structure and the process of creating each piece and always push myself to add an unexpected detail that impresses my clients with the quality and engineering of each piece. Then one piece inspires another as I play with how many pieces I can create repeating one motif of concept.
SF: Do you have any favorite pieces?
DB: I am partial to my Branch earrings and Hollow Ring as they were some of the first pieces I ever designed for my collections and I feel really influenced what would become my aesthetic and style.
SF: If you weren't designer jewelry, what would you be doing?
DB: I would probably still be working for a non-profit organization. When I transitioned to work in the jewelry industry, I vowed to remain philanthropic and that success in business would just allow me to give more back. I am involved with two organizations primarily, one is called Publicolor that helps set up high risk youth in New York City for success through design-based programs. Another is Pure Earth Now. I donate 1% of my sales to this organization that works to clean up the poorest communities in the world.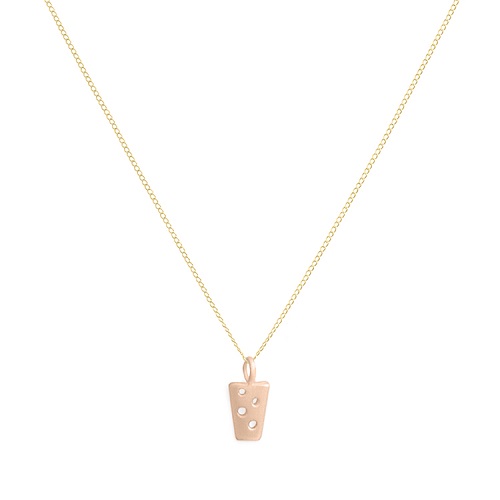 Tiny Helena Pendant ($550)
SF: What advice would you have for other women looking to start their own business?
DB: The first thing that comes to mind is to be patient. Rome was not built in a day! I would encourage them to go for it, but be realistic about their desired outcomes and not be afraid to try many different strategies.
SHOP DANA BRONFMAN JEWELRY NOW
Be sure to check out meditation tips for beginners and Current/Elliott's 25% off sale.
[Photo: Instagram]