We've been through the Golden Globes and SAG Awards, so now it's finally time for the big show. You know, the one with two names. Must be why it's so important. The 87th Academy Awards (or Oscars, if you prefer) are taking place this Sunday, February 22nd at 8:30PM EST on ABC. Serial award show host Neil Patrick Harris is making his debut as master of ceremonies, which means the show will be heavy on music. Besides looking out for moments to top last year's epic selfie and pizza delivery, here are 7 other things to watch for:
1) Three letters, one name: NPH
Neil Patrick Harris is hosting for the first time ever–but don't worry, he's had plenty of experience (see Tony Awards 2009, 2011, 2012, 2013 and Emmys 2009 and 2013). Expect his sketches to all turn into musical numbers, since, you know, song and dance is kinda his thing. We already know Frozen writers Kristen Anderson-Lopez and Robert Lopez penned him a special number called "Moving Pictures," and his opening monologue includes a reference to that scene from Gone Girl. Everyone is predicting NPH will kill it, and if all goes as well as his previous hosting gigs, then Hugh Jackman better watch his back.
2) JOHN TRAVOLTA IS BACK
We don't know if he's back to redeem himself from last year's "Adele Dazeem" mishap or if he's back to do it again, but John Travolta WILL be presenting at the Oscars this Sunday. Benedict Cumberbatch seems like the likely target.
Photo via @eonline
3) The Lonely Island
Andy Samberg, Jorma Taccone and Akiva Schaffer WILL BE AT THE OSCARS. They are performing (like a boss) "Everything Is Awesome!!!" from The Lego Movie. But more importantly, they are performing in a room of people that includes Meryl Streep. #YOLO.
4) Surprise performances
Besides the performances of the Best Song nominees, there will be musical numbers from other guests. Lady Gaga is doing "a special tribute," while Jack Black, Anna Kendrick and Jennifer Hudson are all set to perform in "a salute to an Oscar-winning musical that is celebrating an anniversary this year." Oscars, you so cryptic.
5) Chris, Chirs and Chris (and we're not talking Hemsworth)
If the Oscars want to do it right, they will have Pratt, Pine and Evans present all together, with Hemsworth joining them after making a surprise entrance. Oh, hot guys named Chris in tuxes is not what this show is about? I must have misunderstood seeing as they make up half the presenter list.
6) The fashion
It's really been a great year for the red carpet. Besides having Lupita Nyong'o make the rounds a second time (so #blessed for that), there's been standout fashion from nominees like Emma Stone, Rosamund Pike and Amy Adams. Not to mention, the maternity style has been on point from Brits Keira Knightly and Sophie Hunter (Cumberbatch's wife).
Gwyneth Paltrow, love it or hate it?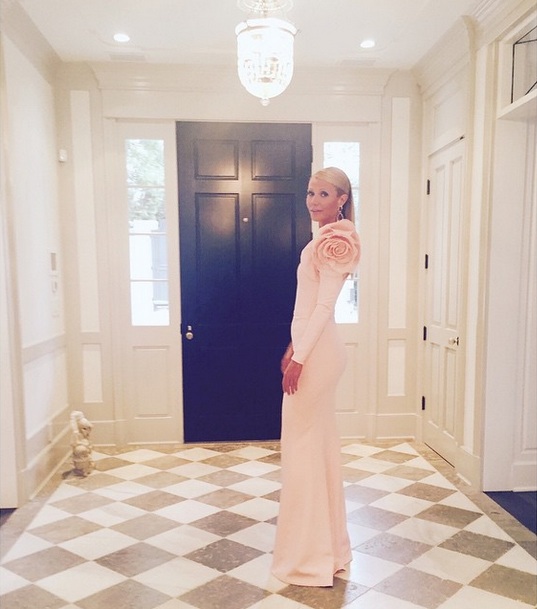 Photo via @gwynethpaltrow
7) Birdman vs. Boyhood
These two movies will duke it out for the Best Picture trophy. Both have scooped up Golden Globe, SAG and BAFTA awards, so it's a tight race. Plus, there are dark horse contenders like American Sniper and Whiplash. Let's just hope Kanye doesn't run up on stage if one of those films wins…
Don't forget to check out: Urban Outfitters sweaters on sale, Gigi Hadid's sweater and Trader Joe's beauty products
[Photo: Splash News]