Trying an unexpected color palette. We all know about burnt oranges, reds and yellows for fall. Your guests do, too. Give them something they won't expect with an unexpected color palette. We really love rich purples in the fall.
Paying more for better flowers. One of the drawbacks of a fall wedding is the flower situation--many are out of season making them much more expensive to use. Our recommendation? Spend the money. Flowers are a huge part of your wedding, and it's not just about how they look on the big day itself. Your flowers will be forever captured in your photos and video--so it's worth your money to get ones you really love.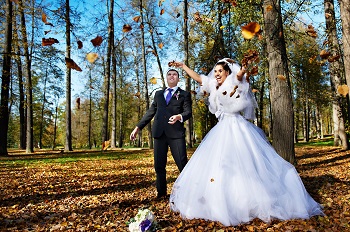 Getting a shot with the foliage. The season is turning, and it's your job to take advantage. Whether or not you use the changing leaves as part of your 'official' wedding decor, it's still a great idea to get a photo with them. This will help you remember exactly how it felt on your wedding day and will just plain look pretty. It's also a great way to bring in the fall feel if you aren't using a traditional autumn color palette.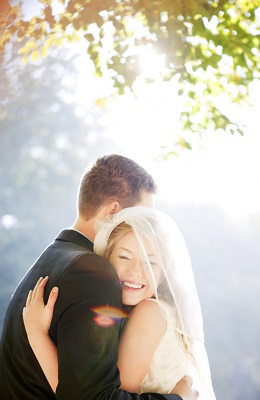 Timing Your Photos. As the days get shorter, it's crucial that you time your wedding portraits--and the rest of your big day--around optimal lighting and sun conditions. Whether you're looking to capitalize on sunset or the radiant sun beaming through the fall leaves, make sure your photographer has a game plan to be shooting at the best time of day.
Providing Blankets. Just as parasols are a nice gesture at sunny summer weddings, cozy blankets are a good idea at cool fall weddings. Not every guest will need one, but it's a nice option for guests who would otherwise have to shiver through your autumn ceremony.
Having an indoor back-up plan. If you've planned an outdoor or semi-outdoor wedding, it's important to be prepared for the elements. Fall weather is notoriously fussy, and you don't want to be caught with rain, wind or - worst of all - snow and nowhere to escape it. Even if you're sure it's going to be an Indian summer, it's still best to be prepared.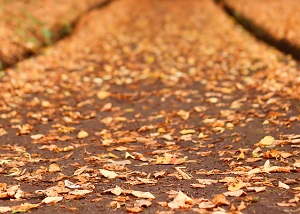 Not Dealing With the Leaves. For the most part, fall foliage is really beautiful. But it can also be really annoying, namely when your guests are trying to walk from your ceremony to the reception and they're slipping on wet leaves or having to pull crunchy leaves off the bottoms of their shoes. Do everyone a favor and make sure you have someone on hand to clear leaves should they become a nuisance.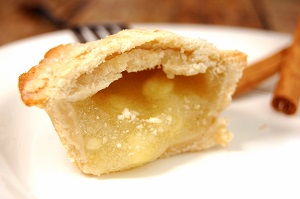 Using fall flavors. While it's cliche to use traditional fall foods as decor (no pumpkins, please), they work pretty well as main dishes and dessert. Think squash, sage butter, pumpkin, caramel, apple and cinnamon. This is a situation where pure yumminess outweighs the cliche factor.