One requirement of a fashion blogger is the ability to layer jewelry. Have you ever come across an Instagram photo from Always Judging or Sincerely Jules and wondered, "How the heck did they make all those chains look so good around their necks?" It's happened to us, which means it's likely crossed your mind at least once. So today, we are breaking down the different ways you can master the layered necklace look, with photo inspo from our fave bloggers, obvs.
1) Layer by length. Lay out all the necklaces you are attempting to wear and compare their lengths. You should have ones that fall just below one another. Start with a choker and continue to pile on from shortest to longest chain.
2) Use a collar as a length guideline. The more unbuttoned a collared shirt is, the more room you have for long necklaces. Use the exposed skin as a guideline for how low your necklaces can go. Once they hit the shirt, you've gone to far.
Photo via Haute Inhabit
3) Play off similar styles. If you have necklaces with similar charms or pendants, pair them together. Even better if they fall in the same color family.
4) Lariats add length. Lariat necklaces, the ones with a single drop strand, are an easy way to add extreme length to your #neckparty (is that a thing @leandramedine? We're asking you as the coiner of the phrase "arm party.")
Photo via Always Judging
5) Pair a dainty necklace with a chunky one. Again, make sure the two are different lengths so the chunky necklace doesn't completely cover the dainty one.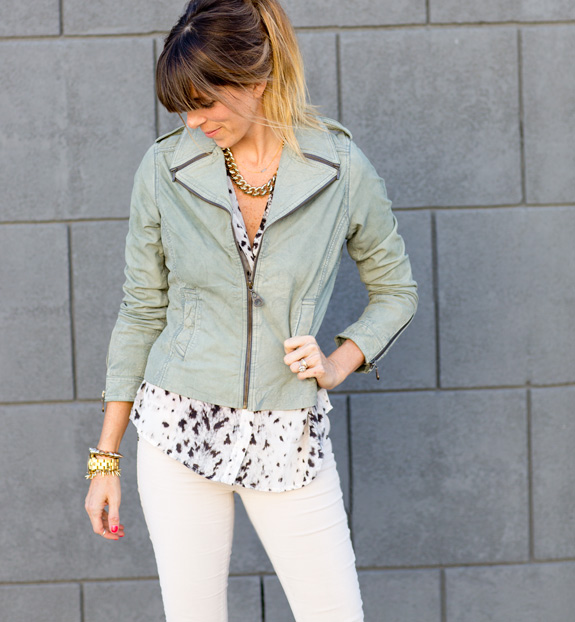 Photo via A House In The Hills
6) Pile on plain chains. If you want a minimal look, layer necklaces with small or no charms in the same color family.
7) Pile on chunky necklaces. For a more statement-making look, pair chunky necklaces that are the same, or similar, length and can rest on top of each other (trust me, they will all be seen).
[Photo: Always Judging]