Some guests didn't RSVP
. You included a response card with the invite--and even put a stamp on it--so why do some guests find it so difficult to RSVP in a timely manner (or at all)? Try not to take it personally since every bride on the planet deals with this. Simply ask one or two of your bridesmaids to help call guests who haven't responded by the deadline. And for those that don't RSVP, yet show up on the big day: Put a smile on your face and find a place for them at the reception. This isn't the time to school someone on wedding etiquette.
Sweet Peonies RSVP Cards
($77 for 50)
Your groom shows no interest in planning. "To be honest, I really wouldn't sweat it!" says Aviva Samuels of Kiss the Planner. "The groom's lack of interest in the wedding is truly not a lack of interest in you or in the idea of getting married. Everyone, and I do mean everyone, is wired differently, and typically men and women show very different interests. I would venture to guess that he just wants you to be happy with your wedding day so that the two of you can get on with being happy for the rest of your lives. Don't force him to go against his grain and allow him to be true to who he is and embrace the fact that you don't have to compromise on any of the wedding details!"
One of your maids is constantly complaining. According to Tracie Domino, founder of Tracie Domino Events, this is often less about disliking their wedding duties and more about jealousy over not being the center of attention. If you suspect this is the case, ask your maid of honor to talk to the badly behaved bridesmaid so you don't have to deal with it. But there are times where a maid might be stressed over the financial and logistical aspects of being in the bridal party. "It's important that a bride is honest with their friends and family members from the start," says Domino. "Give your bridal party time to think about whether or not they can take this on, and if they ultimately can't do it, don't let it affect your relationship with that person."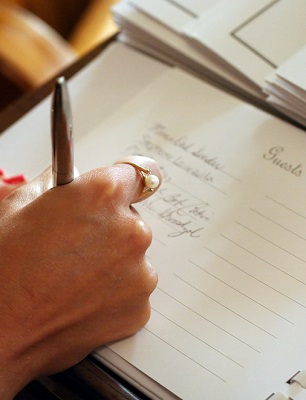 You need to cut the guest list, but don't want to offend anyone. One of the best ways to pare down your guest and not offend people is to make sure it is balanced, says Courtney Lutkus, owner of Simply Radiant Events. For example, if you don't invite the groom's co-worker then don't invite the bride's coworkers. Once you have all your names compiled, look at the guest and rank them. Lutkus recommends this simple system, (1) for bridal party and immediate family members, (2) for cousins and extended family (3) for close friends (4) for co-worker and so on. Start looking that the people with the highest numbers by their name and decide if they are someone you feel you need to invite or someone you want to invite. The number system should help make the decision on whom to invite easier.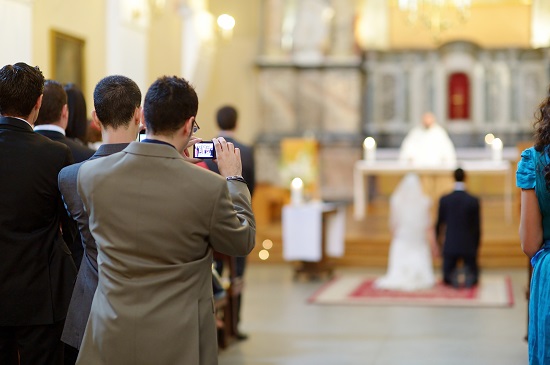 You want people to put down their cell phones during the ceremony. Many weddings today are "unplugged," and it is much more common today for couples to ask their guests not to take photos during key moments. "I've seen countless otherwise fantastic wedding photos, apart from the one person (or persons) who are holding up their cell phone (or even worse their tablet), to ruin an otherwise beautiful professional wedding photo," says Samuels. "Not to mention that the flash of another camera can potentially ruin a professional photo when taken simultaneously." As with any special request that you make of your wedding guests, you need to be sensitive and respectful, giving them a brief perspective about why you're asking them to leave their devices off. This can be handled prior to the guest's arrival on the wedding website, at the ceremony with a short note on the programs, through opening words of the ceremony officiant, or on a sign as guests enter the ceremony space to get seating.
You don't want kids at the wedding. The best way to tell your guests that you prefer not to have children at the wedding is to state it on the response card it will be an adult reception, says Lutkus. Another option is to have "We have reserved (#) seats in your honor" already pre-printed on the response card and just include the number of adults. "f you choose not to go that route you can have a babysitter or two at the wedding venue. Set up fun activities like crafts, coloring pages or small goodie bags full of items to keep them occupied. However, many times if you just seat the children with their parents they are typically behaved because their parents are right there to keep any eye on them."
Many of your guests are making dietary requests. Most couples offer a fish or vegetarian dish at the reception for guests that don't eat meat. And if someone has a particular food allergy (gluten, dairy, etc.), you should make sure that your venue can supply them with a meal they can eat. But if a guest is simply being persnickety ("I prefer sea bass over salmon"), then don't sweat it. You can't make everyone happy and give in to all demands or requests, so set your menu and move on.
You don't really like your engagement ring. This can be a very touchy subject, and how you handle it really depends on what your complaint is, says Domino. "If you just wish that the stone was bigger, then don't say anything. That is the ring he could afford, and complaining about carat size will hurt his feelings. But if it's the style--the shape of the stone or the setting--then you can let him know. Start off with what you love about the ring, but then explain that a different shape or setting would be more 'you.' The majority of men want their brides to be happy, so they won't have a problem making a change."