A Walk to Remember.
At one bride's wedding, the tree stump aisle markers were milled on the farm by her family's business. "That detail added to her journey down the aisle towards her future, surrounded by her family's love every step of the way was poignant to those who know Ashley and her family," says Monique Semper Flynn of
Semper Signature Events
.
A Bouquet of Meaning. "To make the bouquet unique and even more special, I encourage my brides to add an item or two to the bouquet's design making it hers alone," says Lynne Goldberg. "In the bouquet from a recent wedding, the bride wanted a single yellow flower in memory of her loved ones that had passed and the fraternity pin of her groom. The day of the wedding, her mom and sister handed me a necklace her grandmother had left the family. We put it hanging from her bouquet as a surprise. What a special bouquet!"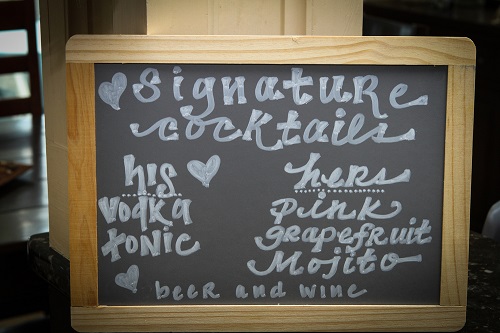 His & Hers Signature Cocktails. A happy couple can choose their own signature cocktail and showcase them with an adorable sign, says Julia Henning, director of marketing at Wedgewood Wedding and Banquet Centers. "Not only are they a delicious way to add a personal touch to your cocktail hour, but they are practical too! Right after the ceremony, there is typically a mad rush for the bar and the potential for long lines. If you create signature cocktails, your bartender can prepare and pre-pour your favorite drinks so the post-ceremony line moves quickly. That way your guests get back to enjoying your fabulous reception!"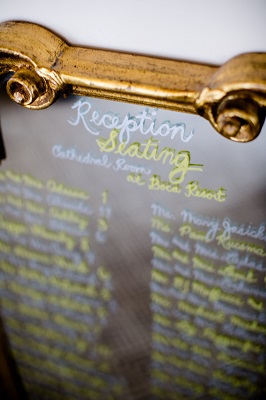 A Unique Seating Chart. Instead of ho-hum escort cards, a mirror can put a new spin on the basic reception seating chart," says Aviva Samuels of Kiss The Planner. [Photo: Maggie Stolzberg Photography]
A Special Place Setting. "For this bride and groom, we created custom foil-embossed thank you notes for each guest that fit perfectly in the charger plates to welcome guests at their seats," says Tracie Domino of Tracie Domino Events. "The foil made them sparkle in the light and their prime positioning made sure they weren't missed by the guests." [Photo: Ryan Joseph Photographs]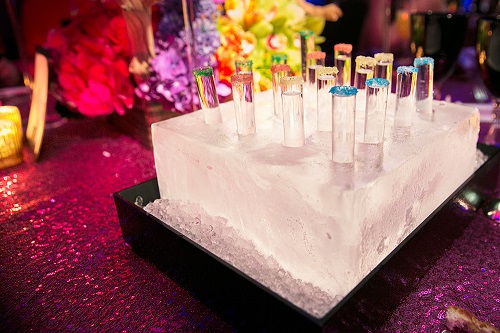 Test Tube Shots. "After dinner and just as the party was kicking into high gear on the dance floor we passed these test tube shots in custom carved ice trays," says Andrea Freeman. "The tubes were filled with wedding cake flavored vodka and had beautiful jewel-toned sugar rims to match the couple's color scheme. They were a really fun and unique way for the couple to offer a 'signature drink' and keep the party going at the same time!"
[Photo: Michael Webber of Studio Webber]
A Handy Favor. "Being on an island with hot and sunny conditions, we gave the guests wedding favors that were actually useful--sunglasses!" says Alex Haslam of Bali Dream Day.
[Photo: Evie Sari]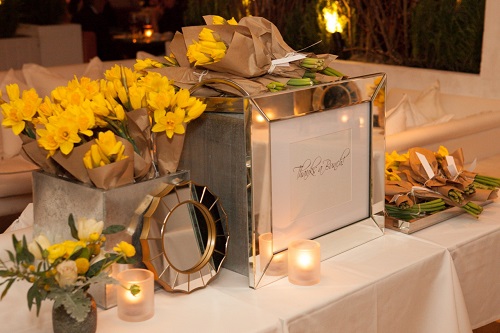 Thanks a Bunch. Too often wedding favors go unused and under-appreciated, but guests from this wedding took home a "bunch" of fresh flowers as they exited. "The guests loved it" says Leslie Kaplan of Encore Event Design.
[Photo: Boals Farm]