The Food Obvi Thanksgiving and Hanukkah food are both amazing on their own. But the combo of the two together? Sweet potato latkes? Fried turkey?  We're unbuttoning our pants just thinking about it. Check out some great recipe ideas that mix Turkey Day and the Festival of Lights!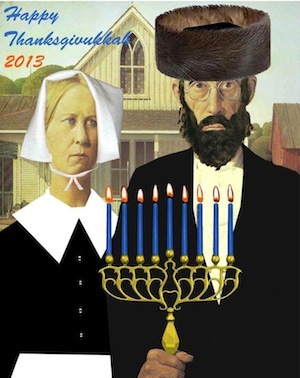 It Only Happens Once Every 70,000 Years For some crazy reason, the stars and moon aligned or something and Hanukkah is WAY early this year on the Jewish calendar. It's usually beginning to mid December, or even around Christmas time. And Thanksgiving is actually a week late. So once every 70,000 years, this happens. If you want to try and process why click here for some info graphs...or just take it for what it is,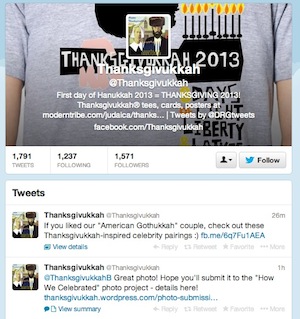 It Has It's Own Social Media Pages
That's right. You can follow Thanksgivukkah on Facebook, Twitter and Pinterest to stay up to date with everything going on with this holiday. There's recipes on Pinterest, articles being Tweeted about and things to "like" on the Facebook page. Check 'em out!
Facebook
Twitter
Pinterest
Someone Invented A Menurkey Yep. Menurkey = Menorah + Turkey (don't worry it's not a real one!). The traditional menorah, which we light and add one candle each night of Hanukkah until all 8 are burning bright, gets an upgrade this year in the form of a Turkey. We don't know why someone didn't think of this sooner, because a (fake) Turkey's feathery tail is the perfect place for candle holders. Get a menurky here.
The Thanksgivukkah Anthem
We don't know where Adam Sandler is on this one, but whoever made this video totally stole his thunder. This is just as good as any Hannukah or Thanksgiving song, but that much more epic because it combines BOTH.
[youtube]http://www.youtube.com/watch?v=9xKomL1j9OI#t=42[/youtube]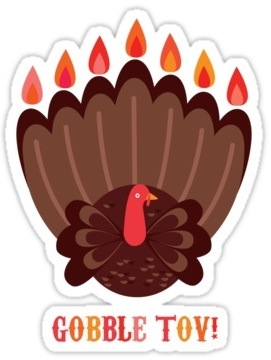 Someone Invented The Phrase "Gobble Tov" It only makes sense since Jews say 'Mazel Tov" as congratulations, and Turkeys gobble soooo.... Get a Gobble Tov sticker here.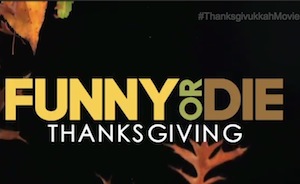 This Funny Or Die Video For Thanksgivukkah The Movie
It's Nick Kroll trying to hide the fact that he's Jewish from his in-laws. No further explanation needed, just watch.
P.S. can someone ACTUALLY make this movie happen? We'd totes see it.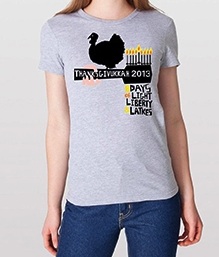 You Can Shop T-Shirts, Cards, And More Novelty Items Because you don't want to forget YOU were one of the lucky ones who got to celebrate this once in 70,000 years event. And you can show your grandkids, pass it down from generation to generation (so symbolic), etc. There's cards with a Thanksgivukkah spin on the "American Gothic" painting, t-shirts with the woodstock logo re-imagined for Thanksgivukkah and more! Check out the shop here.
You Only Have One Night Of Awkward Family Time
Since everyone is probably too busy to get together twice in one week, you get to knock out awkward time with your crazy fam in one night thanks to this holiday.