Myth 1: You must wear tights with skirts or shorts.
Debunked!
Once colder weather hits, the general fashion consensus is to cover up ASAP. That generally means that if you aren't forgoing shorts and skirts already together for the next four month or more, then you are stocking up on tights and leggings to wear underneath. But hosier doesn't have to be such a big part of your fall fashion. True, if you opt out of wearing stockings under your skirts, you could get cold, but let's not act as though hosiery and only hosiery can keep you warm. Instead, leave your legs bare under your skirts and short and pair them with boots, knee-high socks, sweaters and long cardigans. Layering up will keep you just as warm as the legging alternative, and will definitely be much more comfortable. Try out this
Free People Two Tone Reversible Knit Skirt
($68).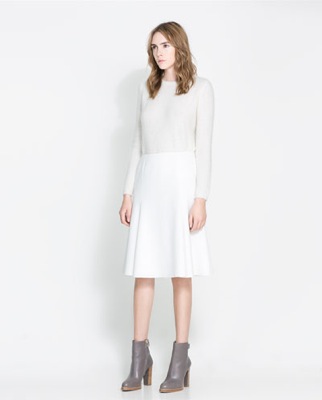 Myth 2: Don't wear white in the winter. Debunked! Winter white is definitely in this year, and honestly has been trying to be "in" for quite a few season's. The only reason it has taken so long is our random aversion to wearing white after Labor Day. News alert: no one cares anymore. Instead, fall fashion is about embracing the new rules, of which wearing white (and a whole lot of it!) is a very big part. Get a classic all white, fall-perfect look with this Zara Angora Sweater ($79.90).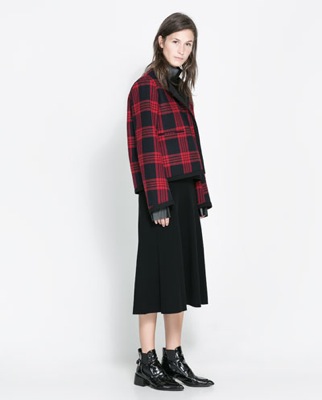 Myth 3: Wear a lightweight jacket. Debunked! As the seasons change, there are sure to be a few very cold early mornings that require you to button up on your way to work and then a very hot afternoon that has you ripping off your scarf and carrying an extra pair of shorts in your bag. For that reason, fall is generally the season everyone stocks up on lightweight jackets, the kind you can wear in the a.m. and not hate yourself for in the p.m. But, those lightweight jackets (ahem: blazers) most likely already exist in your closet so there is zero reason for you to buy another one. Instead, use the saved cash and go for a trendy jacket piece that embraces the season's coolest trends. While you're at it, make it a heavier piece that you can wear long into the winter. Check out this plaid Zara jacket ($179).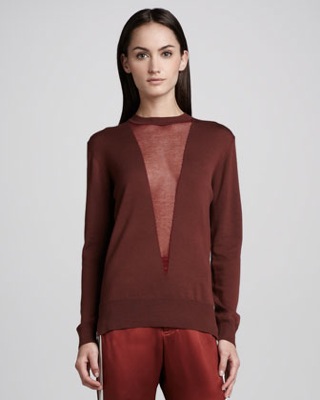 Myth 4: Show less skin to keep warm. True, but there's a way around it! Going hand-in-hand with needing to cover your legs if you wear skirts, fall fashion rules usually dictate that your cover up as much as possible. That means that short, tight party dresses, plunging necklines and cropped tops are out. And while there is sense in showing less (got to stay healthy and warm!), there's no reason you can't get creative about how you show it. Look for pieces that show just as much skin as your summer wear, but in a sly way. Try this deep-V Adam Lippes Sheer-Plunge Illusion Sweater ($390).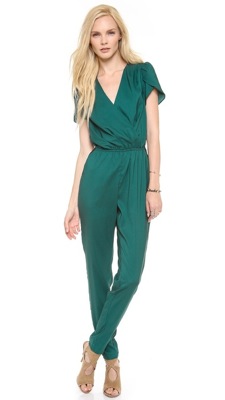 Myth 5: Don't wear bright colors. Debunked! For some reason, fashion delegates bright colors to the spring and summer seasons, leaving the fall and winter to fight it over over mundane hues and things just kind of make everyone super dreary. Don't give in! Instead, look for bright colors in a bit of a darker hue and in a silhouette that cover (or just bring a jacket) so you don't get too cold. This 6 Shore Road Purity Jumpsuit ($165) is a great option.
Myth 6: Don't wear florals. Definitely debunked! When it comes to patterns, fall doesn't get nearly the floral treatment that spring or summer do. Sure, spring brings about flowers and summer is all about bright colors, but it's like the fashion world forgot that poinsettias exist. Throw of the rule that you need to lay off floral in the fall and winter. Instead, channel Dolce & Gabbana with floral pattern on a black or darker hue overlay. Try out this ALICE + OLIVIA Louisa printed crinkled-chiffon maxi dress ($440).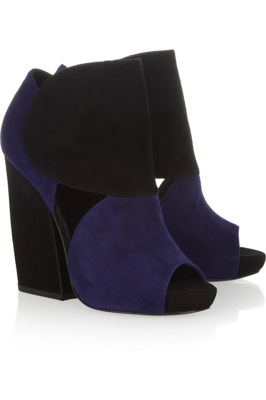 Myth 7: Don't wear open-toed shoes. Debunked! Much like the "No white after Labor Day rule," the idea that you can't wear open-toe shoes once the fall sets in is just ridiculous. Instead of focusing on if the shoe fully covers your foot, pay attention to the fabric and texture. Again, staying warm is a bit of a concern especially if you live up north, so look for suede or leather shoes that will keep your foot warm even if the toe is open. Look for something like this PIERRE HARDY Two-tone suede ankle boot ($1,295).
Myth 8: Wear darker makeup. True, but there's a way around it! First and foremost, if you are tired of the brighter or lighter makeup of the summer, then by all means, use this fall to go dark. But, if you aren't really into matching your facial features to fall's leaves, then don't. Pastel doesn't necessarily go out of style just because the weather gets cool. To make lighter and brighter colors work for you in the fall and winter, look for something that has a bit more color. Go for neon purple, if that is your thing, but make it stand out a bit more than you would have in the summer. If you want a pastel color, make it pop by using a lip liner and a matte finish. Try KEVYN AUCOIN The Matte Lip Color - Persistence ($33).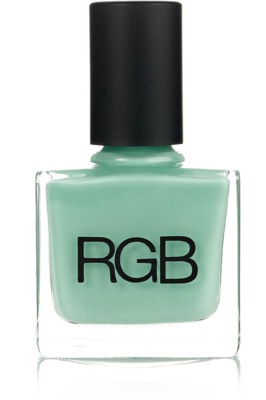 Myth 9: Neutralize Everything Debunked! From your hair to your toenails, fall is generally about neutralizing everything. The pink streaks are dyed back to your proper hair color and you start questioning if that yellow nail polish is still season-appropriate. The truth though is that color lets us show off our personality and a season change should not change that. For fall-apporpriate nail colors that still turn heads, try out pastels with green undertones. Summer colors generally focus on a bluer undertone so the green will feel like a breath of fresh air. Try out this RGB Minty - Nail Polish ($18).