Sneakers: For a long time, it was heels or nothing for the fashion set. Now, Karl Lagerfeld is knocking off the New Balances we rocked back in 6th grade. We're glad that style savvy editors have embraced sporty footwear, but kicks--fly and fug alike have been a wardrobe necessity for a hot minute.
Grills: Everyone from Miley Cyrus to Madonna are rocking grills now--but we remember when they were pieces reserved  for Nelly and the Ying Yang Twins. [Photo: Splash News]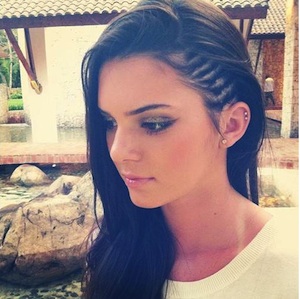 Cornrows: Marie Claire got into a little trouble last week, after tweeting that Kendall Jenner was taking "bold braids" (or cornrows) to "an EPIC new level." Yeah, not quite! "Bold braids" have been around for thousands of years, and we're pretty sure a couple braids going straight back isn't what you'd call "epic." #kanyeshrug [Photo: Twitter]
Nameplate Necklaces: Sex and the City fever had women across America running out to get a neck piece like Carrie Bradshaw's. But more than a few of us can remember back in the '80s and '90s when their neighborhood Julissa had one of her own--and there was a heart above the 'i.' Custom Carrie Bradshaw Name Necklaces Personalized 18k Gold Plated over 925 Sterling Silver ($22.99)
Denim On Denim: It took almost too long for the good 'ol Texas Tuxedo to come into fashion. We wonder if drunk uncles across America are mad that fashion's basically co-opted their uniform? Eh, they probably don't care!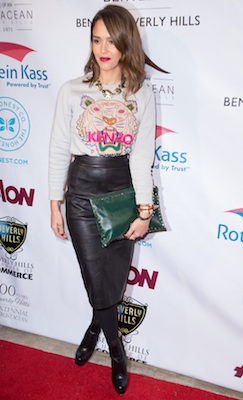 Sweatshirts: Creative directors Humberto Leon and Carol Lim said their bosses at Kenzo almost nixed those bestselling tiger sweatshirts. Designers have only just started embracing the comfy wardrobe standby. [Photo: Splash News]
Mom Jeans: The fact that they're called mom jeans says it all. This trend ain't nothing new--it's so old yo' mamma definitely has an old pair somewhere in the back of her closet...or has she been wearing the same pair all these years?
Crazy Nail Art: Remember when you'd only see long, embellished nails in a rap music video or on Japanese tourists? These days, beauty brands all over are scrambling to capitalize on the nail art craze. [Photo Credit: Instagram]
Birkenstocks/Tevas: All those shoes you used to only wear at sleepaway camp are back in style, baby. Tevas are no longer acceptable only during weekends when nobody's going to see you. You can go from the poolhouse to Paris in your Adidas slip-on sandals with pride. And if it's a little chilly, it's OK to throw socks on. Really, we never thought we'd see the day.