This week, an Italian woman set the world record for the longest wedding veil. Elena De Angelis of Naples wore 1.8-mile veil made from 3.7 miles of white silk and designed by Gianni Molaro Campania, who called the job, "biggest moment" of his career.
It literally "took a village," for this one: the bride needed 600 people to help carry the piece (pictured). The record, which breaks that set by Lichel van den Ende of the Netherlands, was documented by the World Records Academy. #soapparentlythisisathing
Watch the procession – hilarious:

The happy couple: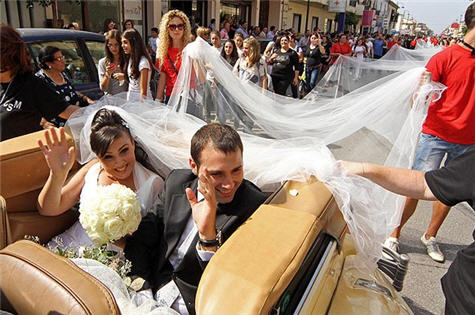 Shop our guides to the best wedding costume jewelry, black bridesmaid dresses, and simple wedding dresses.