Nail art is like a hippogriff: it seems elegant and magical at first sight, but if you don't go about it the right way, you'll end up being carried off to the hospital wing by Hagrid shouting about how your father will hear about this. Whoa, sorry, I got a little carried away there, but I think you get the picture : nail art is pretty, but it can be tough.
There are ways to get around all of that perceived difficulty though. With just a few simple tools that you probably already have hiding away somewhere, you can create nail art that looks way more difficult than it actually is. Here's what you need: Scotch tape, a bobby pin (or, if you really want to feel like a pro, a dotting tool), a clear base coat, your base nail color (I'm using Essie's Topless & Barefoot), the accent nail colors of your choice (I've chosen Russian Navy and Chick Flick Cherry, both by OPI) and a clear top coat.
1. The Dot
This has been one of my go-to nail art looks since I got into the whole trend. It's simple: take your bobby pin or dotting tool dip it into your accent color, and carefully place a dot at the base of your nail (or anywhere else you want it!). It's clean, simple and adds a little bit of fun to a basic manicure.
2. The Colorblock
Take a piece of Scotch tape and stick it to the back of your hand a few times. This removes the extra glue from the tape so as to not ruin your manicure (it's also basically the same amount of fun as pulling glue off of your hands, so that's nice). All you have do here is place the tape wherever you want, paint a layer of your accent color over it and then remove the tape.
3.  The Triangle
It's the same concept as the colorblock nail, but you use two pieces of tape to make a triangle at the base of your nail instead of one.
4. The Heart
This one doesn't require any special tools at all. Take your accent color and, starting at the outer edge of your nail, just paint a quarter-circle up to the tip. Do the same on the other side of your nail, and you have the cutest little heart tips you ever did see.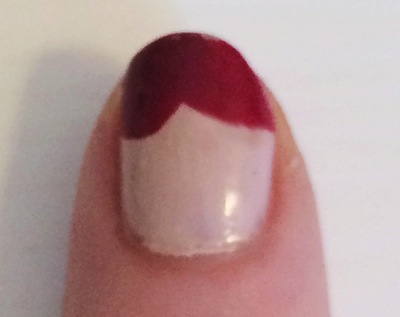 5. The Pyramid
Or, as my friend calls it, the Beer Pong Table. Taking the same bobby pin or dotting tool as before, make five dots at the base of your nail. Then four, three, two, one, until you have a pyramid! Super easy, and it looks really cool when it's done.
Shop the colors I used here: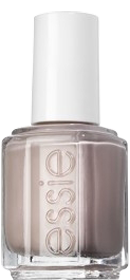 Essie Nail Polish in Topless & Barefoot ($8.50)
OPI Classic Nail Lacquer in Russian Navy ($9.50)
OPI Classic Nail Lacquer in Chick Flick Cherry ($9.50)
For more nail art, check out: runway-ready half-moon manicures, DIY water marbling and light-up nail decals.
[Photo: Shelby Rodriguez]