Score designer styles at a fraction of the price: Almost every major designer has a children's collection--which retails at a fraction of the cost of their adult counterparts. It makes sense, considering children's clothing is a) smaller and b) meant to be outgrown.  For example, a woman's sized Burberry Prorsum trench coat retails for $1,995, while a girl's sized version of the trench only costs $350. Not only are such styles less expensive, but they can fit petite a woman better than adult sizes. Most high-end designers offer free alterations, even for children's clothing, so you get the garments altered to fit your body perfectly.
If you think you can fit into designer clothing for kids, I suggest checking out the blog Extra Petite. Blogger Jean does a great job of examining the size and quality of kids' clothing (as well as making sure the clothing does not look childish). Click here to check out her tips on finding the perfect Burberry trench coat from the children's department.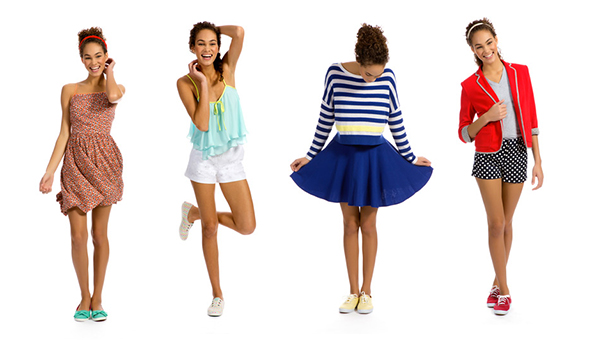 Don't disregard juniors' brands: If you always walk by the juniors' section of the department store, you are potentially missing out on some great buys. Macy's, Lord & Taylor, Kohl's and Nordstrom all have great juniors' departments. These brands might be targeted at teens, but they have clothing that fits adults, too. The trick is to go one size larger than usual because juniors' clothing is made slightly smaller, slimmer and shorter than women's clothing.
Juniors' clothing tends to be trendier and cheaper, so it's a great way to try out new styles without spending a lot of money. For example, I wanted to give a matching cropped bustier and printed shorts set a try, but I didn't want shell out a ton of cash for something that will post likely be out of style next year. I found this Teen Vogue tribal-print set at Macy's for only $12.99 (down from $25) a piece.
[Photo: Keds Clothing]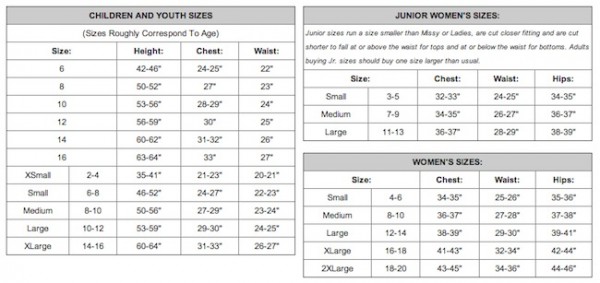 A child's xl typically equals a woman's xs-s: If you are a women's size small or extra small, chances are you can fit into a child's extra large. I know fashion websites usually don't refer to charts, but take a look a the size tables above. The measurements for a large kid, a medium junior and an adult extra small are all roughly the same. The only major difference is that children's clothing manufacturers don't usually take chest and hip measurements into account.
Get cheap shorts for summer: Before spending a lot of money on shorts for summer, check out the kids' department. Unlike long pants, which can be too short and tight, kids shorts are generously cut (because a kid wearing booty shorts would just be wrong). The same thing applies to skirts. Children's sizes usually go up to a size 16 in bottoms, which is equal to a 0-2. Gap Kids even sells a children's size 18 on their website. Plus, kids' shorts come in cute prints and are made out of comfortable fabrics.
[Photo: Ambercrombie Kids]
You can wear kids accessories no matter your size: If kids' clothing is not for you, you can still save money buying children's accessories. Kids' headbands, jewelry and sunglasses will often fit adults. Bracelets for little girls are usually stretchy so they can fit on any size wrist. Children's belts can also be used as waist belts for dresses. J. Crew Kids and Zara Kids have a great selection of accessories that mimic adult styles. No one will ever know that the necklace you're wearing is really for a little girl.
Don't go for a tailored look: When shopping in the kids department, don't go for a tailored fit. Fitted pieces might look like they are about to bust at the seams. Since children's clothing manufacturers don't take chest measurements into account, it can be hard to find tops that look appropriate. Opt for clothing with a looser fit, such as t-shirts or sweaters without buttons. You can also try button-down tops for young boys, like this Zara checkered shirt ($29.99).
If you are interested in seeing how DVF ♥ Gap Kids collection (above) fits adults, check out this article on Buzzfeed. The writer tried on different pieces form the collection and rated their fit.
Check out the little boys' section: Boys' clothing runs larger and often has a looser cut and fit than girls' designs. Boys' clothing also tends to be more mature--unlike girls' clothing, there won't be any sequins or frills. A good choice is a boys' blazer--it's cheap and stylish. You can roll up the sleeves and it will look like it was meant to have a shrunken fit.
[Photo: Zara Kids]