Is there anything worse than ingrown hairs? Not if you ask me. While I can appreciate that smooth feeling after an underarm shave, it's short lived. It usually only takes a day or two before that satisfaction is replaced by the pain of ingrown hairs forming in my pits. Just thinking about it gives me shivers.
So imagine my joy upon learning about a razor that's specially designed to prevent ingrown hairs. Meet Bevel, the amazingly good-looking razor that also does the impossible: keeps ingrown hairs at bay!
The secret? Bevel's Safety Razor cuts hair at the skin level, which is essential if you want to avoid ingrown hairs. That, in and of itself, is amazing, but I also really love the weight of this razor. It's definitely more substantial than any other women's razor I've tried, which means you don't have to press down at all to get a good shave.
Now chances are you're probably thinking $49.95 is way more than you're used to spending on a razor, but believe me it's worth it. If you've ever experienced a painful ingrown hair, this is actually a small price to pay for smooth skin that doesn't get all bumpy, itchy and sore within two days. Plus, the replacement blades are only $10 for a pack of 20. Treat yourself to one today and I promise you will not regret it.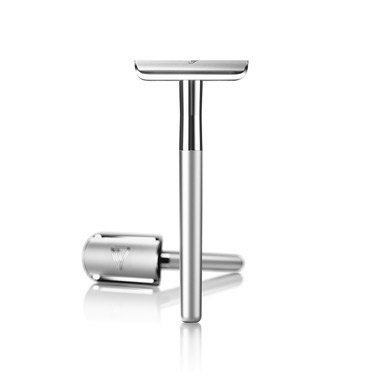 SHOP BEVEL'S AMAZING SAFETY RAZOR NOW
Be sure to check out the best drugstore beauty products and the most amazing lip treatment ever.
[Photo: Get Bevel]
SheFinds receives commissions for purchases made through the links in this post.