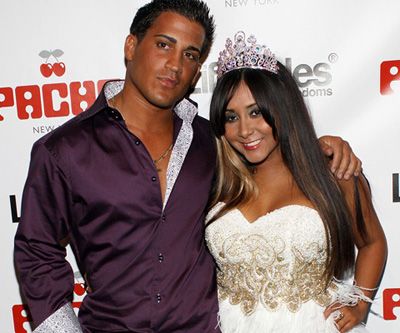 You've probably heard by now – the great Snooki is engaged! Also, she's pregnant! And while we know she and her Jersey-tastic fiance "Jionni" haven't set a date yet, we wanted to pitch her a few post-preggers wedding dress options that we think are particularly Snookilicious.
There are super low necklines, cut-outs, miniskirts, animal prints, sequins – all the things a Snooki loves!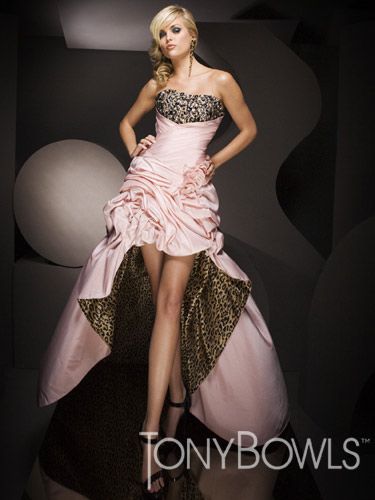 This baby powder pink and leopard print hi-lo monstrosity is right up Snooki's alley. And yes, it's not white, but blush is so trendy right now! Plus, we all have video evidence that Snooki's been smushed a time or two. Also – the baby bump.
A see-through bodice, a mini skirt that barely covers your naughty bits, and a ridiculous ruffle train? This is "Jersey Shore" elegance at its finest.
This crazy, sequin cut-out number seems comparatively classy on the heels of those last two dresses – in fact, we'd be pretty relieved to see Snooki in something similar on her big day.
A splash of shiny, some sharp, angular cut-outs – you're right, there's just not enough cleavage potential on this one to make it a true candidate.
This dress pretends to be tres sophisticated with its trendy sweetheart neckline and bedazzling floral embellishment, but then – BOOM – it has a little Angelina-Jolie-at-The-Oscars moment.
Check out this Jersey-licious madness. I wouldn't be surprised to see this one on any of the "Jersey Shore" gals whenever they inexplicably appear on any red carpet ever.
A little high low action would really suit our petite reality celeb.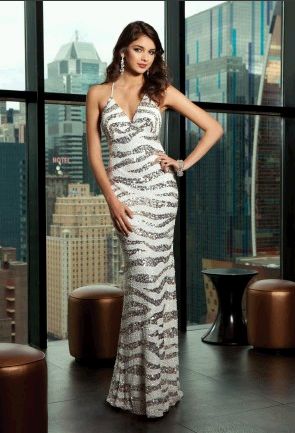 That's right – zebra print AND sequins! Two great tastes that taste great together, right?
This sexy little number definitely lets everyone know that you are DTW – down to wed!
From the waist up, you could be Audrey Hepburn! From the waist down? It's Snooki all the way!
Are you preparing to wed your dream gorilla? Shop our guides to the best short wedding dresses, strapless wedding dresses, and beach wedding dresses!