Gap Cabana sundress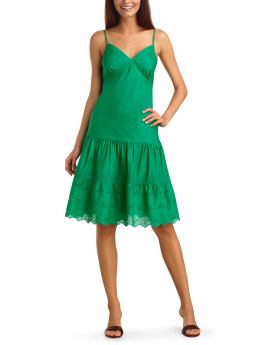 Why: The search for the perfect Summer dress can be a tough one, but the Gap Cabana sundress
came across our radar as a no-brainer. Dress it up with heeled sandals and a wrap or go casual with flip-flops and a Scalloped cardigan
. It comes in a full range of sizes, so we long-torsoed girls don't have to feel freakishly big, and in all the hot colors of the season – including reef green and white. You'll also find a printed version. Plus it has the oh-so summery detail of eyelet edging. Now all you need is a cool drink and the sound of the waves hitting the shore. Or not. Grab a tote and pound the urban pavement, this dress will keep you breezy and cool wherever you are.

Price: $58.00
Find it:: Check out Gap's Summer selection. Find best-selling tees, polos, shorts and swimwear.
Deal Alert! $6.99 on select flip flops exclusively at Gap.com.