Update: Apparently, these descriptions are written by Groupon (oops–sorry, Karen!) and are sarcastic. I guess SOMEONE (*glances at mirror*) is a little self-conscious about her hands. Please go about your Sunday evening as usual, folks. 
I just received a Groupon in my Inbox for a Shellac manicure deal on the Upper East Side (sure, okay), but here's where things got weird. The description reads:
Manicures are useful because they decorate the most disgusting, vile part of the body—the hand. Make your hands bearable with this Groupon.
Um, what? The blurb is either coming from Groupon themselves or more likely the nail salon–Karen's Nail Salon. Karen, what is your beef with hands? And you sure picked the wrong industry to work in, huh?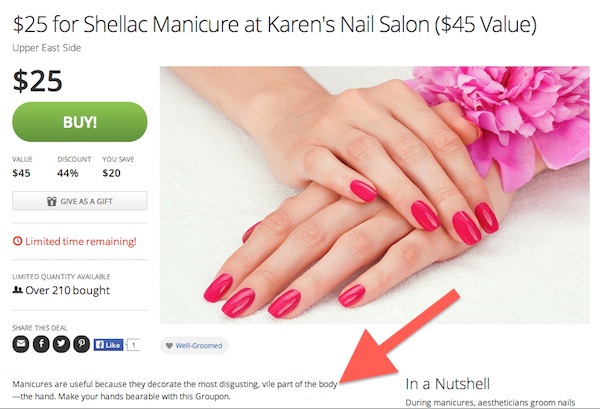 [Photo: Groupon]