I guess that the universally panned red Valentino a-line number from the Grammys scared Adele away from trying new things. Last week, we suggested that the Oscar-nominated songstress switch up her usual all-black, long-sleeve look with something new. Unfortunately, it doesn't look like she's going to stop wearing that silhouette any time soon. She chose a gown from British designer Jenny Packham in all black and covered in beads – with complete arm coverage. But hey, if it ain't broke. It does look good on her, and the high neckline and basic color let's her face shine. Check out the look on the Fall 2013 Jenny Packham runway below, and scroll down to shop a a similar Jenny Packham black gown.
Jenny Packham Fall 2013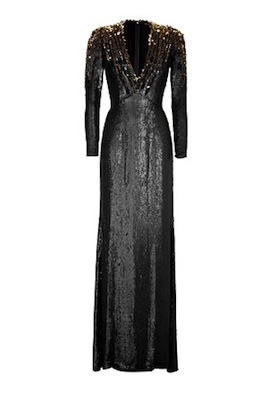 Jenny Packham Black/Gold Sequin Silk Gown ($4,545)
For more from the red carpet, check out Anne Hathaway's nipply Prada number, Reese Witherspoon's illusion gown and Jennifer Lawrence's Dior couture (boring?) gown.
[Photo: AP Images]