After a long, cold winter, your hair is probably in desperate need of some much-needed TLC to restore moisture, softness and shine. I used to kick off springtime with a salon Keratin treatment, but just because your hair needs help doesn't mean you have to shell out $250. Now, there is nothing I love more than getting home from a long, busy day at work, hopping in the shower and relaxing for a half an hour with a face and hair mask in to do some quick-fixing.
One of my favorite hair treatments to use at home is the Moroccanoil Intense Hydrating Mask. I've been using Moroccanoil products for years because I have thick, hard to manage hair and this mask has been keeping my hair smooth and silky for as long as I can remember. Plus, it's totally affordable for a high-end product.
Moroccanoil Intense Hydrating Mask
A must-have mask from the drugstore is the OGX Defy Frizz/Moisture Creamy Hair Butter. It smells great and can be used as a quick leave-in treatment, or a rinse out hair mask.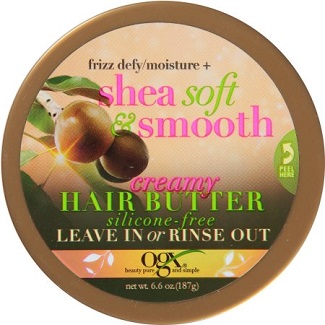 OGX Defy Frizz/Moisture Creamy Hair Butter
And do you want to know a big secret? One of the most effective at-home treatments for hair damaged by winter weather is probably a product you have already lying around… coconut oil! I know you've heard this one before, but I just recently gave into all the hype. When my hair is feeling extra dry, I take a small scoop of coconut oil and apply it throughout wet hair. I usually leave the coconut oil in to dry, but if you have oily hair, wash the product out after about 20 minutes. It works wonders!
Be sure to check out how to get a metallic foil lip and 4 things girls with good skin do on the weekends.
SheFinds receives commissions for purchases made through the links in this post.