This weekend couple David Lauren and Lauren Bush will wed at his father's (that's Ralph Lauren to you) 17,000-acre Colorado ranch.
As if the wedding couldn't be all-American enough, the bride is wearing a Ralph Lauren wedding dress (just like her sister-in-law Dylan Lauren's), and the theme is "black tie with a Western twist," according to The Post. Bring on the cowboy hats and boots.
The weekend will even include a picnic and softball game on Saturday, a rehearsal dinner at Telluride (a ski resort for you peasants), and a rodeo on the holiday Monday. To top it off, "cowboy singer" Michael Martin Murphey will be performing at the wedding, including his song "Vanishing Breed" for the first dance. Actual photo: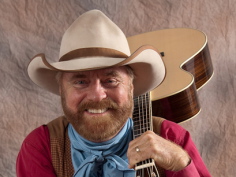 Shop our guides to the best strapless wedding dresses, white wedding shoes, and inexpensive wedding dresses.