Here at SheFinds, we are big fans of clothing rental subscription services. Why? Because they not only allow you to consistently refresh your wardrobe for a fraction of the price, but they also promote the idea of re-use to cut down on the amount of waste we produce. So you could imagine how excited we were when we found out American Eagle was joining in on this trend!
AE has always been one of our favorite retailers for the fact that they not only have inclusive sizing #thankyounext, but they also bring you high-quality pieces at affordable prices. And this new service is no different.
The Style Drop allows you to rent jeans, tops, bottoms and dresses for just $49.95 a month. And the best part? There are unlimited shipments. That means as soon as you are done with the three items you have, just pop them back in the mail (they'll dry clean them for you!) and pick out some new ones. Oh, and did I mention that you can hold on to the box as long as you would like?! It really doesn't get any better than this.
But it actually does. If there is an item that you just can't part with, no worries, you'll always have the option to purchase it and give it a permanent home in your closet.
Here are some items that we are loving and would definitely add to our box:
Wide Leg Crop Jean in Faded Indigo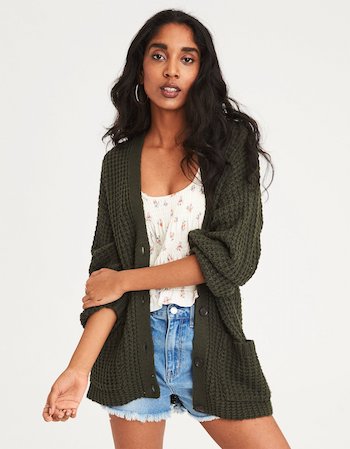 AE Slouchy Waffle Cardigan Sweater in Olive
AE Ribbed Henley Sweater Dress in Oatmeal
If there are some new trends you have been wanting to try or simply want to revamp your wardrobe without breaking the bank, we highly recommend giving this service a try. Your closet and your wallet will thank you later.
SheFinds receives commissions for purchases made through the links in this post.