I don't know about you, but I hate dousing myself in super heavy smelling perfume during the summer. It just doesn't feel right! Instead, I'm obsessed with this perfect lightweight scent for summer: Anese's Bless this Mess Soothing Body & Hair Elixir.
First off, the packaging is so great. It is super minimal and easy to travel with, unlike a lot of odd-shaped perfumes that have tons of extra hanging things.
Bless this Mess also uses real Holy Water to seriously, well, bless your mane. It works wonders on my summer frizz and leaves my hair so smooth and soft. Oh, and smelling heavenly, too.
This elixir also does amazing things for your skin. It's infused with moisturizing aloe vera, jam packed with vitamins and even has rosewater to refresh and soothe your skin.
The scent is so light and fresh, I actually feel calmer and more relaxed with just a few spritzes. I actually spray it on before bed and it helps me sleep like a baby.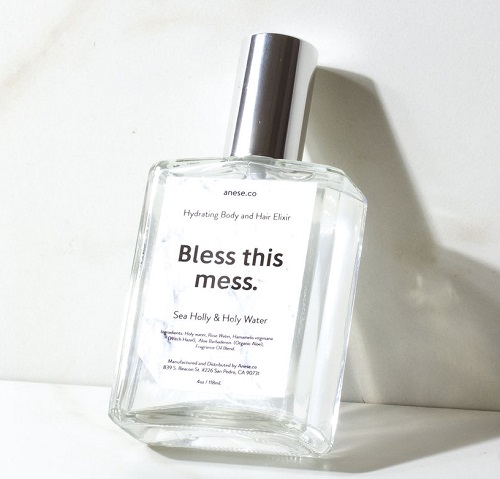 SHOP ANESE'S BLESS THIS MESS BODY ELIXIR NOW
Don't miss the best drugstore beauty products!
[Photo: Anese]