Anna Dello Russo, known for her amazingly over-the-top sense of style, has a new favorite handbag – the Edie Parker Customized Clutch ($1,795). Celebrities like Nicole Richie, Rosie Huntington Whitley and more are fans of the designer's lacquered confetti minaudières, but ADR is the first to be seen sporting one with her moniker. The $1,795 clutch is currently available for pre-order, and while my inner 8-year-old is telling me to reach for my credit card and splurge on the delightful but borderline tacky piece, my adult brain is telling me to pump the breaks. After all, who has $2,000 to spend on a clutch you couldn't even get rid of on Bib + Tuck if you decide you don't like it?! Not this girl. What do you think? Totally worth it, or not so much? Weigh in below.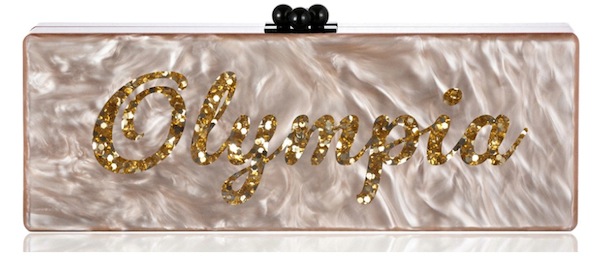 Edie Parker Customized Confetti Clutch ($1,795)
For more ADR, check out her Topshop collaboration and her killer Versace x H&M outfit. For all the fashion buzz, subscribe to our newsletter.