She may have procreated with one of Hollywood's most outlandish actors, Borat and Bruno alter-ego Sasha Baron Cohen, but Isla Fisher has a kooky side to her as well (see Bacherlorette and/or Wedding Crashers). Wouldn't you love to be a fly on the wall in that household? We'll have to put our plans for a double date on hold, and in the meantime just admire Isla's cozy fair isle sweater, courtesy of none other than designer of the moment Isabel Marant herself: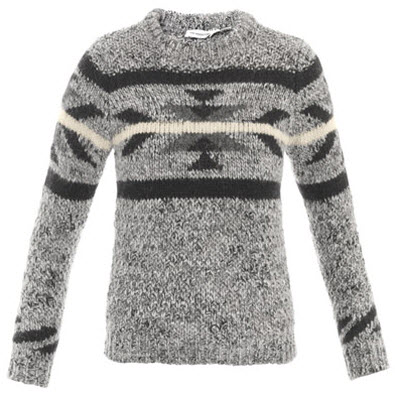 Étoile Isabel Marant Ouda Wyoming Sweater ($400)
Isla isn't the only celeb to flaunt her love of Isabel Marant. It seems the designer has been on everyone's radar lately from her sold-out wedge sneakers to Rihanna's jacket. Shop above!
[Photo Credit: Splash News]
Shop more celebrity style worth copying such as Rihanna's slick jeans, Pippa Middelton's necklace,  and Katy Perry's jacket.