I consider myself a pretty fashion-savvy mom, but I will confess I had no idea Sophia Webster made kids shoes. You probably know her from her colorful, whimsical designs for J. Crew, but she's BFD in her own right. While I do love her designs, they're a bit impractical for my life. But for kids? They're perfect!
Unbeknownst to me, she debuted Sophia Webster Mini back in January which included four adorable little styles for baby girls. That's the one remaining pair you can still purchase from sophiawebster.co.uk above. But if you missed the boat the first time around, don't fret–Sophia Webster Mini is coming back for holiday in expanded sizes and styles for boys! I managed to snag a photo of 5 of the upcoming styles at the Saks Fifth Avenue holiday preview earlier this week. Take a look: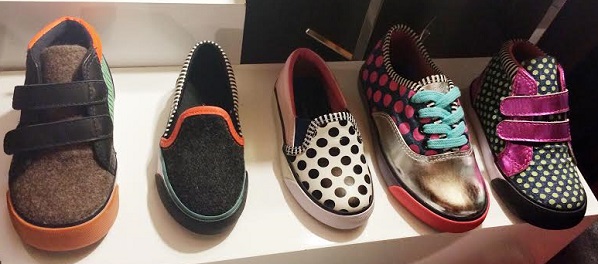 Super cute, right? I can't decide which polka pair is my favorite.
As I mentioned, these shoes will arrive in time for the holidays so keep an eye out around October. I know for sure they'll be sold at Saks, but they'll likely be on the Sophia Webster site, maybe even with more options! As soon as we see them for sale, we'll let you know.
Don't miss Kate Middleton rocking Ray-Bans, anklets for summer and the new Kate Spade swimwear collection.
[Photo: Sophia Webster]