Feeling a little lazy? Getting out of bed and dressed looking like a chore? Leave it to new mom Hilary Duff to find just the sweatpants to solve these issues. She wore Current/Elliott Perfect Sweatpants ($148) while taking out the dogs and baby boy, Luca, before she had the chance to doll herself up. Yet, from afar, these printed sweatpants almost look like the slouchy, wearable pajama-style pants that have been seen on the street style stars! Finally fashion is getting the comfort card. Pair with soft tees and black booties for a 'I just threw this on and look kinda fabulous' look. Being lazy just got cool. Score her perfect sweatpants below!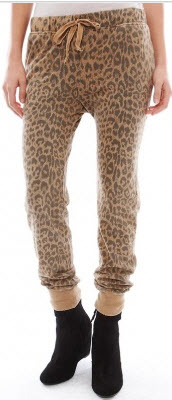 Current/Elliott Perfect Sweatpants ($148)
Don't miss out on more great A-list style such as Kourtney Kardashian's moto boots, Gisele's embellished sweatshirt, Olivia Palermo's suede heels, Emma Watson's moto jacket, and the celeb-adored necklace.
[Photo: Splash News]