Today in our metro column we talked about how more and more artists are using apparel and accessories as their medium.
1. Louis Vuitton's partnership with Japanese artist Takashi Murakami blossoms once again this spring with the new line Monogram Cerises. The traditional Vuitton bags are dotted with juicy-red, smiling cherries. Red canvas lining punches up the fun and is further accented by red topstitching. You can purchase one tax-free at eluxury.com. Free Shipping on orders of $150 or more at eLUXURY.COM
2. With a background in painting and design, Molly Dilworth's latest canvas is super-soft jersey knit. Her cap sleeve, 3/4 length and long sleeve tees feature original embroidered designs of people and landscapes. You may be the first on the block to own one of these originals but with their handmade look and great fit, you certainly won't be the last. Available at virginthreads.com.

">
3. Jillian Sherry's dream was to combine fine art and lingerie to create a style unique to the industry. Now she paints classic artistic designs onto quality silk undergarments. Her lingerie is hand-painted, signed, and numbered. Each piece is sewn to your exact measurements, so comfort and fit are a given. Of course limited editions don't come cheap – camisoles start at $950.
4. With an MFA in Graphic Design, an eye for style and a fascination with color, Kirsten Goede started making jewelry to accessorize her wardrobe. When her sparkly bracelets garnered tons of compliments, she started taking orders. Now Objets d'Envy is a thriving business. Her Swarovski crystal pieces come in 9 spectacular colors: Bordeaux, Cerulean, Champagne, Clementine, Frost , Grass, Lemonade, Smoke and Violet and add sparkle to any outfit. They can dress up your downtown jeans or glamorize a flirty cocktail dress. They're so fun to wear and we guarantee you'll get compliments.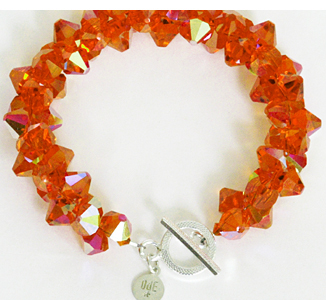 5. If you're looking for a wearable masterpiece for your munchkin dress your little one in the latest creations from Los Angeles designer Jeffrey Kelly. All of Jeeto!'s comfy 100% cotton one-pieces and tees sport designs based on Kelly's original fine art and come in sizes from newborn to six-years-old. Select from 20 one-of-a-kind designs, each available in 4 different one-piece and tee colors at jeeto.com.