"Anyone can call themselves a photographer, but if they're a true professional they'll have up-to-date photos for you to view." Ask for the most current shots in their portfolio.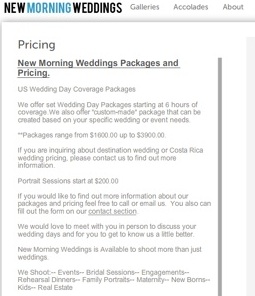 "Some photographers will quote an initial price, and later explain they need more money to release images," says Morgan.
"Your comfort level with your photographer is going to affect the pictures. Make sure your personalities mesh and you feel comfortable working with them beforehand," Morgan explains.
"Book an engagement or bridal shoot with your photographer if you can. You'll get comfortable with your photog, practice poses, and make your preferences known," relays Morgan.
"You won't be able to direct your photographer on the day of," says Morgan. "They may not realize which people or objects are most important to you, so create detailed notes."
"Make sure you receive the rights to print your photos, and that your disc contains hi-res and unwatermarked images," states Morgan.
"It is your big day and we want you to be happy," states Morgan. "If you find that something is missing or you want something different, speak up!"
"Photographs will capture everything from bad tan lines to hair roots," states Morgan. Take a look at your visual appearance before the photos start snapping.
"Some brides don't like for a photographer to move around or get too close during the ceremony, and some venues don't allow flash photography inside," relays Morgan. "Do your research and make a plan."
"Most photographers will give you direction when needed - it's their job. Don't overthink it, if you're having a good time the photos will reflect that."