My hair has been perfectly styled for 4.5 years now, and I'm here to share my secret weapon: celebrity stylist Matt Fugate of Sally Hershberger Downtown New York and Los Angeles Salons. He's perfected the locks of Claire Danes, Brooke Shields and our favorite Gossip Girl Blake Lively, and is now dishing to BRIDEfinds on how to achieve fabulous wedding day hair:
1. Try A Non-Up Do, Like Waves (A La Natalie Portman):

"I love wedding hair that's more natural & glamorous," says Matt. "Try classic waves or brushed out soft curls – nothing too stiff or too hair-sprayed down." Get Natalie Portman's soft Oscar curls by styling with this Wigo Europe 1 1/2 Inch digital control curling iron ($54.46).
2) Style With Un-Washed Hair:
Matt recommends not shampooing on the actual day. "Styling will stay much better with the natural oils still in your hair. " For the night before, use  Sally Hershberger Supreme Head Shampoo and Conditioner: "this is going to give you a really deep cleanse and  great volume."
3) Try Dry Shampoo:
A lot of women don't know about dry shampoo, but Matt swears by it. "If you're feeling a little greasy on the day of, keep a dry shampoo handy. Tresemme Fresh Start Dry Shampoo is one of my favorites and you can spray it on throughout the day/night for quick touch-ups."
4. Use Expert-Approved Products:
"My fave wedding day styling products are setting lotions such as Shu Uemura Art of Hair IronDesign, and a Babyliss Ceramic Roller Set to create beautiful sets that will last," explains Matt. If you're stylist doesn't have them, why not provide him/her with the best?
5. Avoid humidity by setting hair the night before:

"Avoid humidity by setting hair with this Sally Hershberger Salon Luxe Layers Blowout Gel the night before," Matt advises. "Don't ever use hairspray to set your hair! Another key trick is to always try and embrace your natural hair texture so that you're not fighting what nature gave you on the big day!"
6.  The softer, the better.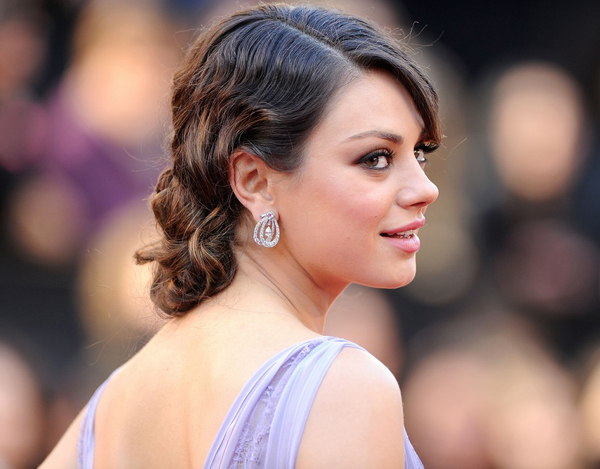 "All the best wedding hair of late has been extremely loose, whether tied up in soft knots with loose texture, or let down long with loose waves. Nothing stiff or too high up on the head. Mila Kunis' style at the Oscar's is a perfect example." Thanks, Mila!
Need more expert wedding day tips? Check out celebrity makeup tips and foundation garment tips from our experts. And shop our guides to simple wedding dresses and inexpensive wedding dresses if you're still looking for the perfect dress.