Lucky you, August bride. Not only do you get sunshine and warm weather this month, but your guests are on that summer high — they're tanned, vacationed, and ready to party. The hottest month of the year (July) has passed, countless flowers are in bloom, and as long as you keep the cocktails cool and the BBQ cookin', your summer menu is a guaranteed hit. Before you dive into the best day of your life, consult our August Bride Guide.
Things To Do With 30-Days Left:
Transportation, Programs, Rehearsal Dress, Bridesmaid Gifts, Makeup & Hair Trials, Escort Cards, Table Seating, Welcome Bags, Guest Favors, Write Toasts, Write Vows, Order Wedding Bands, Honeymoon Plans, Practice First Dance, Shot List to Photographer, Get Excited!!!!
In Bloom This Month: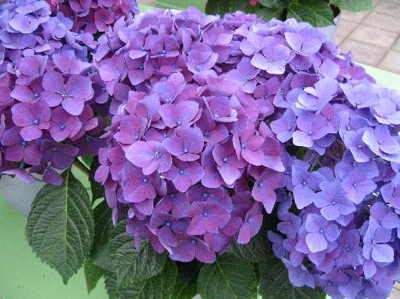 Lauren Page of floral wholesaler G Page says that the most gorgeous August blooms are Dahlias, Hydrangeas (pictured), Zinnia, Sunflowers, Cosmos, and Nigella.
Sales Happening Now:
50% off rehearsal dinner dresses at Shopbop, 20% off hair accessories at House of Brides, 60% off designer shoes at 6pm, 50% off costume jewelry at Thomas Laine.
Sunglasses, hand-fans, flip-flops, sunscreen, water guns, bubble-blowers, beer koozies, anything seashell, sparklers, and fireworks.
Dessert idea: popsicles!
August 2011 Celebrity Brides:
Sorry, ladies, you'll have to share the month with Kim Kardashian (8/20) and The View's Sherri Shepherd.
Top 5 Songs Of Summer (send to your DJ immediately):
5. "California Gurls" by Katy Perry feat. Snoop Dogg
4. "Summertime," DJ Jazzy Jeff & The Fresh Prince
3. "Cruel Summer" Bananarama
2. "Summer Girls," by LFO
1. "Summer of '69," by Bryan Adams
shop our guide to the best strapless wedding dresses, white wedding shoes, and inexpensive wedding dresses.