Project Runway: Bryant Park, Here We Are
With two days left before the Bryant Park finale, the remaining three designers rushed to finish their collections (once at Bryant Park, Tim pretty much had to force everyone down the runway). On the judging panel was the usual trio: Heidi, Michael Kors and Nina, plus an additional guest in Suzy Menkes, the world-renowned fashion critic for the International Herald Tribune. Althea presented her 13-piece collection first, and wowed the judges with her knitwear and sportswear. Suzy, et al raved that her designs were wearable, and they praised Althea as being the designer most in touch with what women are wearing on the street. Carol Hannah stuck to her sensibilities and created  pretty dresses. Judges praised her color palette and meticulous construction, as well as her precise use of structural draping. A particular fave was the first piece (above), a sexy mini with flattering details. By far the most detail-oriented of the shows, Irina's collection was created  around a theme of shielding the independent, New York woman. While there was an awful lot of black (judges criticized the collection's lack of color), the hats and bags she made to go with pieces helped create the edgy cohesiveness that landed her the big prize. Irina's sleek design aesthetic gave her clothes a feminine bent with a hard edge. This Preen Line Laced Funnel Coat is an investment, but its laced sleeves and belted silhouette bring together a good mix of chic femininity and edgy detail. If you're a fan of the distressed leggings she used throughout her collection, these David Lerner Half-Ripped Leggings have just the right amount of sass without looking too punk. For more of Irina's tough chic, we recommend checking out our guides to leggings, over the knee boots, and leather jackets.
Project Runway: Bryant Park Is In Sight, Now Edit, Edit, Edit
With Bryant Park as the ultimate prize, the final three designers set to creating 12-piece collections that will wow the New York fashion elite. Tim set off visiting the three ladies as they created their looks over a series of weeks. Carol Hannah moved to upstate New York to reduce distractions. On her drive there, she stopped at Duke University, and drew inspiration from the chapel at night. Tim likes her looks so far, but wants her to edit. Irina stayed on the Upper East Side to create her collection, but she ultimately draws from her youth in Coney Island to create an ode to New York City. The dark color palette drew concerned criticism from Tim, but Irina pushed on. Althea went home to Dayton, Ohio, to work on her looks, which weirdly mirror some of Irina's. Tim's biggest criticism is that her 12 pieces don't look like they're for the same client, and encourages Althea to edit, edit, edit. With just days to prepare for the show, Carol Hannah is hit with a stomach virus that zaps her energy. Good thing Heidi brings back Gordana, Logan and Christopher to assist the finalists. And surprise, they'll have to create a thirteenth look for the show. Until then... As the temps drop, dressing for comfort is all about layers, layers, layers.  The knit Preen Line Tiny Baker biker jacket brings all the style of cropped jackets with the comfort of a knit sweater. Best of all, the details make it a standalone piece over jeans or skinny pants. Similarly, Old Navy's Metallic Cable Knit Cardigan ($34.50) has a relaxed, but fitted shape, with elbow-length sleeves and a stylish stand-up shawl collar---at a fraction of the price.
Project Runway: Designs Imitate Art
In the last challenge before Bryant Park, the remaining five designers took a trip to the Getty Museum in Los Angeles where they had to find inspiration for their final designs. Irina used a painting of Rubeneque goddesses to create her flowing Grecian-style dress. The back detail was pretty, but Nina thought the length and accessories were dowdy. Still, she's headed to the show. Carol Hannah's 17th-century French bed-inspired gown was a hit for its impeccable construction, but judges didn't see the connection. However, her consistency was enough to get her down the runway. Judges uniformly agreed that Althea's architectural design was more than she could handle. Heidi called it a mess. However, her willingness to take risks got Althea a ticket to BP. Christopher was inspired by a rock fountain covered with algae. He stood behind his choices, but judges couldn't get over his gap in design knowledge, and sent him packing. Monet's Rouen cathedral brought Gordana to tears, and she turned it into her own masterpiece: a beautiful strapless silk organza gown. Cindy Crawford said she'd wear it, but judges thought it was too safe. Gordana's gown drew raves (even though she won't show at Bryant Park).  We liked the similarly pretty Adrianna Papell Strapless Ombre Silk Gown, which also uses a graduated color scheme. In addition, the waist and bust rhinestone details add some definition to the flowy silhouette. And while she didn't get the same reviews, Irina's cold shoulder sleeves are hot for fall. This INC Drop Waist Cold Shoulder top has elbow-length cutout flutter sleeves and a belt that gives shape without being tight.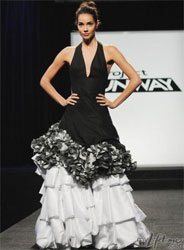 Project Runway: Designers Get Inspiration From…Other Designers
Using their previous winning looks as inspiration,the six remaining designers in episode 11 of Project Runway had to come up with complementary looks that matched their originals' style. It's been a few weeks since Christopher designed anything the judges liked, and his ball gown with flower appliques was no exception. Carol Hannah thought about designing something besides a dress, but why mess with a good thing? Her cute cocktail look with pockets wasn't as glamorous as her Bob Mackey-inspired gown, but the judges didn't notice. After the success of her Park Avenue edgy cocktail dress, Gordana tried to translate edgy into a sleek upscale outfit, but failed miserably. So it's a good thing for her that Logan turned up the volume way too high. The irony for him is that zipper-gate (where Althea passive-aggressively accused him of stealing her collar idea) was basically what sent him home. And despite Irina accusing Althea - on the runway - of copying her over-sized sweater design, "Meana Irina" got her comeuppance by creating a "beautiful" brocade dress, but losing out to Althea. Borrowing the paper bag element of her winning skirt, Althea created impeccably crafted pants, topped with a sexy tank and a cozy cocoon cardigan. Judges unanimously loved Althea's outfit. While the slim pants have a lot of volume near the waist and might not work for every body, they're a nice alternative to leggings. These Silence & Noise Paper Bag Trousers fit the bill, but won't break your budget. There's no shortage of cocoon-style cardigans with kimono sleeves, but this Ella Moss Striped Ollie Cardigan has a pretty  silhouette and a belt to keep it from looking sloppy. Score more of this week's favorite styles with cardigans, cocktail dresses, and harem pants.
Amelia's Costume Designers Could Fly Away With An Oscar
Amelia: Hilary Swank plays the aviatrix with a wanderlust and joie de vivre.  Her impeccable style was sensible and comfortable, yet refined. And Earheart's signature pilot scarves were practically ubiquitous, serving as a counterpoint to her otherwise masculine sensibilities. This Aquascutum chiffon checked scarf fits the bill, and complements both a sweater or a cropped leather jacket. As she set new flying records, raised the bar for other female pilots, and captivated American society, she never forgot her Kansas roots. Amelia lived in a world of men, and mostly dressed the part. Trousers, collared shirts, and of course, the bomber jacket--every pilot's essential. The Doma Leather Bomber Jacket is a contemporary version of the original. Earhart met with accolades wherever she went. She also had to make nearly constant public appearances to finance flights.  It's hard to find a lot of 1930s-style hats that aren't vintage, but this Feather Detail Cloche is a good choice. The nearly brimless style is feminine, and the felt-wool will keep your head warm during chilly receptions. Overall: Movie: B-  /  Costuming: A Since Amelia's style is the clear winner, cop more of her look with the best leather jackets, hats, and celebrity scarves.
Project Runway: Going Around the World Looks Pretty Boring
Based on their favorite places around the world, the designers had to each create a look inspired by their chosen locales. Althea picked a safe St. Tropez shorts look, while Logan designed a cute, if poorly accessorized, young Hollywood look. Along with Logan, Christopher and Nicolas (Sante Fe and Greece, respectively) were chastised for being too safe. It was a shock, though, that Christopher got to stay after his third week in the bottom two. Bye, Nic. Gordana wowed guest judge Milla Jovovich with the flashy necklace on her Park Ave. dress, as did Carol Hannah's Palm Beach twisted sundress. But it was Irina's back-to-the-80s Aspen ski lodge faux fur vest and faux ski pants that got the judges panel panting this snoozy week. I thought the oversized cowl neck sweater was cute, but the look all together was a little ironic. Irina was on point, though: faux fur is hot for fall and winter. Just ask Rachel Zoe. The one thing to watch out for is looking too much like an extra from Where the Wild Things Are. To glam it up, I liked the Gryphon "Rocker" beaded collar faux fur vest. For something a little different, the Juicy Couture Faux Fur Vest is lighter-colored and fluffier, but just as adorable. And the cropped length on each is perfect for sipping hot toddies at the lodge. Shop for more of the best faux fur, and then pair it off with black jeans and button-down shirt for a trendy but not over-the-top look.
Project Runway Repurposes Defunct Wedding Vows Into New Looks
Models of the Runway, step aside. This week, designers had divorcees (some recent, some not so much) who were looking to turn their old gowns into hot, new memories. Shirin complained from the outset because her model's dress was the simplest and had the least amount of fabric to work with. Oh, and her client wanted something Cher-inspired. Shirin's solution: ignore her client and create an original stitched design. Christopher felt more confident with his actress divorcee, and created a silver organza overlay with a cinched belt. Kors described it as a space trash bag. But Christopher got a pass since Logan and Epperson decided to go with "Oktoberfest" looks. Logan went with wool pants (why?!) and a strange-fitting ruffled vest.  Epp had a rough start, but turned it around for a kimono-sleeved dress with fitted waistline. His client loved it, but the judges did not. Auf wiedersehen. Divorced designer Gordana took this challenge to heart, and created a fashionable but edgy cocktail dress from the lining of her client's original. Gordana gave her model a new outfit, and the dress a new reason to leave the closet. For something similarly flirty and sassy, Banana Republic's asymmetrical tiered mini dress has a short, sexy length and pretty kimono sleeves to add some softness. The sugar plum color is also a nice variation on the traditional LBD.  But black doesn't have to mean boring. This Ann Taylor chiffon and grosgrain strapless layered dress has sleek, waist-enhancing ruffles and even a shelf bra to avoid potential bulges. Get more of the look with the best cocktail dresses, sheath dresses, and wrap dresses.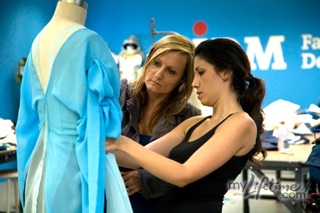 Project Runway: Macy's Gave Designers The Blues
It was team challenge time on Episode Seven of Project Runway. Macy's asked the design teams to create two looks--only in shades of blue--for the Inc brand. Good news: Kors was back. Along with Marie Claire Senior Fashion Editor Zanna Roberts and Macy's EVP Martine Reardon, the judging panel praised Carol Hannah and Shirin for their day-to-night high-waisted skirt with blouse and their going-out tunic. However, team leader Irina and Gordana, who had some difficulty working together, shone with their chevron-patterned sundress and sheer blouse with leggings. On the flip side, judges criticized the Christopher/Epperson team for their shiny shirtdress and high-collar shiny tunic. Kors even said the shirtdress looked like a tablecloth, which brought Christopher to tears. Louise with partner Nicolas didn't get the save, though. Kors described one of their ruffled dresses as a bridesmaid dress with a shower loofah up the front (see above). Nicolas had immunity from last week, so Louise had to pack up her workspace. While judges were big fans of Irina's patterned sundress, it's a little cold to wear a strappy, thin dress. And really, I didn't think the shape was flattering to anyone over a size 4. But, if you want something in stripes, with some camouflage to create curves, this navy and white Stripe Origami Jersey Dress ($70) is a good option. Even though Irina was unconvinced, judges loved Gordana's simple semi-sheer blouse. From J. Crew's new line, the Silk Pleated Posy Top ($89.50) isn't sheer, but it's a gorgeous slate blue with a pretty neckline. And, it can go from work to happy hour, too. For something sheer with a unique pattern, try out the 3.1 Phillip Lim Petal Sleeve Blouse ($375). For more pretty looks, take a look at the best evening tops for jeans, cocktail dresses, and pleated skirts.
Come Back Already, Michael Kors!
It's nothing against you, Heidi, or guest judges Zoe Glassner and John Varvatos, but Kors and his catty comments need to come back. In its sixth episode, Project Runway moves like a speeding bullet. It never slows down for drama, or to even catch its breath. This week, designers dove right in to their next challenge, which was to design a costume for a film based on a certain genre (shock, they're in Los Angeles!) and create a character from that world. Compared to most of the other challenges so far, this one gave the competitors some leeway to go big and do something impressive. Bad for Epperson, who picked last, and got stuck with Western. The only crisis in the workroom was Ra'mon's sci-fi alien-lizard jumpsuit. Tim did predict that it could be really great, or a big hot mess. And it was such a mess that Ra'mon started over with just hours to go. The result was unanimously hated by the judges for looking homemade (a sin in PR speak). Louise joined him in the bottom two, but her biggest problem was that the judges thought the film noir dress was uninspired and a real "snoozefest." Still, quality always trumps concept, and Ra'mon was sent packing. There were a lot better concepts in the top, including Epperson's Annie Get Your Gun western outfit, with a hot leather belt/holster and pretty denim ruffles. Christopher again ended up in a runner-up spot for his period piece, complete with high-neck blouse, and high-waisted bustle skirt. However, Nicolas' sci-fi ice queen won the judges' cold, cold hearts. And best of all, Nicolas finally found a place that his love of lace could really shine! Ice queen was a little over the top, but lace overlay can be pretty. This Nicole Miller black lace underlayer dress ($252) has a gorgeous lace pattern, but what makes it really special is the thick lace straps that cross in the back. It looks as good from the front as from behind. Similarly, this lace overlay batwing tunic ($80) from Topshop has a great silhouette for a tunic top. And best of all, the keyhole back gives it a little sexy edge with the softness of the flutter sleeves and fabric. For more dressy Project Runway style (without any of the costume-y details) take a look at our guides to cocktail dresses, sheath dresses, and work dresses.
Project Runway: Pushing Paper and Lies on the Runway
Cattiness was ramping up in episode 5 of Project Runway. Within minutes, designers (specifically Nicolas, the primary trash talker each episode) were ragging on Althea's win last week, and judging who should be sent home next. But kvetching was interrupted by a field trip to the Los Angeles Times, where Heidi hinted that "all questions would be answered in black and white." Next challenge: fashion is news; use pages from different newspaper sections as fabric to create the next look. Tim pointed out that paper clothing has a history, and designers should continue on the tradition. Johnny's red origami dress design looked like "wrinkled up paper with pig's blood all over it," according to Nicolas. And he wasn't far off. During his first walk-through, Tim said it looked "woeful, a craft project gone awry...like a bunch of kindergartners designed it. " So Johnny started over, claiming a made-up a story about steam ruining the first dress, and not because Tim hated it. Too bad his second dress was sloppy. The runway show was a practice in careful walking. Solo again, Heidi was joined by guest judges Tommy Hilfiger, Marie Claire EIC Zoe Glassner, and Eva Longoria Parker. Even though she had immunity, Althea's design was praised for its pattern, detail, and as Eva commented, how it accentuated the bum. Although Christopher's full "feathered" skirt and hard bustier top was a show stopper, Irina's trench coat with crinkled shawl collar was a huge hit among judges. Eva said she was blown away. Tommy described it as an amalgamation of Coco Chanel, YSL and Givenchy, and a new alternative to fur...even though you could see the scotch tape on the back. She took the top nod, though, while Johnny's excuses were too much, and he had to take his crossword puzzles elsewhere. Good thing fall is upon us, and trench coats are making their annual reappearance. The Gryphon Military Timeless Trench Coat ($795) is a classic style, with a removeable faux-fur collar, and gold-trimmed, ribbed cuffs. A less expensive option, VIA's  Button-up Wool Trench Coat ($168) has a big collar, back buttons up the back, and comes in a great tweed. For more trenches, take a look at our top picks, and check out more fall outerwear with blazers and leather jackets.
Project Runway: Models' Night Out
In episode four, Project Runway contestants got right down to business. The challenge: It's Models' Night Out. Designers were on their own again, and had to design an outfit for their models to wear at an industry event that would allow them to stand out and make a statement. The hardest part for most designers was meshing their models' tastes with their own design aesthetics. Epperson, coming off a bottom-two appearance from last week, faced a big challenge with his model, who wanted something elegant and punk, with an animal print (?!).  But Epp pulled off a dress that showed his sewing skills and eye for detail, impressing guest judges Marc Bouwer (sitting in for Kors) and celeb stylist Jennifer Rade. Marie Claire editor-in-chief Zoe Glassner, a chattier, more approachable version of Nina Garcia, was also loving the zebra-inspired mini. However, Logan didn't fare as well. His model had an equally challenging request for 50s and lace--a little rock and roll look with an evening aesthetic. The result was confusing, as was the styling, which Heidi described as "prom-inspired." Still, his risk taking saved him, whereas Qristyl's "safe" black dress sunk her. Heidi said the dress aged her model, and models age in dog years in this industry. Ouch! There were a couple favorites on the panel - including Carol Hannah's asymmetrical tank dress with applique skirt - but Althea's three-piece-suit-inspired evening look wowed everyone. Jennifer wanted to take the outfit after the show for one of her clients. One thing that judges liked about Althea's design was that the separates can be worn together, or mixed into the wardrobe. The stretch wool Ediona Blazer ($385) from Theory can literally go from work to dinner over Banana Republic's fitted Pima cotton tank ($20), which in dark gray is the color essential of the season. And although the weather's turning chillier, the black  stretch silk Butterfly Short Shorts ($187) by Alice + Olivia will be cute into the fall, and even next spring. If you need to play Project Runway catch-up, be sure to check out our past show coverage.  And for more Althea-esque separates, see our guides to blazers and evening tops for jeans.
Project Runway: Surf's Up, Or Down, If You're Mitchell
When the show moved to LA for Lifetime, the only real, noticeable difference was the swap of New York's steel backdrop for golden California scenery. So, it was only a matter of time before Project Runway took advantage of the left coast's legendary beach culture. Witness: episode 3's surfwear challenge. Designers had to work in pairs to design a "fun and fashionable surfwear look," with one team member acting as the team leader. Even before Tim threw in the prerequisite Surprise! element--an avant garde outfit in addition to the first look--at least half of the design teams were on the rocks. One of the strongest teams was Johnny and Irina, who put together a beaded racerback tank with a light sweater and flowing skirt that guest judge and former OC star Rachel Bilson said she'd wear in a heartbeat. But it was the unlikely team of Mitchell and Ra'mon who wowed hard-to-impress Nina Garcia with their ocean-inspired dress and lime neoprene avant garde dress. The problem for Mitchell, though, was that he let Ra'mon do all the work. Gotcha! So, he battled it out with Qristyl and Epperson, who fought constantly for control. Q. threw E. under the proverbial bus when it came time to judge their palm-frond dress (above), but Mitchell got the three-strikes penalty from Heidi. Straight from the mouths of surfer girls to designers' ears, California style is inspired by comfort and colors of the beach. Like Johnny and Irina's fave beaded tank, the Madison Marcus "Cascade" Beaded Ivory Top ($238) is delicate and functional at the same time. Even better, the classic racerback shows off sunkissed shoulders. Pair with a soft, fluid topper like this cashmere Velvet Electra Sweater ($297), for chilly fall nights. And if you've never tried anything from Velvet, the sheer softness of the clothes lives up to the name. Did we mention the colors? The most successful thing about Ra'mon's avant garde dress was the shocking green. These pretty Sutra Green Onyx Leaf Cluster Earrings ($200), made with sterling silver, yellow gold vermeil and gree onyx, add a little sand-and-sea sparkle to any outfit--without the neoprene. Whether you need more fancy tanks or cardigans, we've got you covered with evening tops for jeans and our guide to the best cardigans out there.  And in case you need to catch up on Project Runway coverage, don't forget to take a look at what happened last week.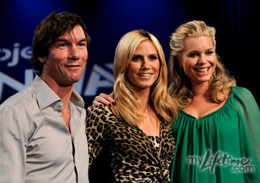 Runway Recap: Rebecca Romijn Is One Hot Mama
Project Runway got straight down to business in Episode 2. The designers had a celebrity client to design for: supermodel and actress Rebecca Romijn, who is pregnant with twins.  Curveball! Remember Mitchell from last week? He of the see-through dress with the great collar? As one of the few designers that had actually created maternity wear before, he decided to create a separates outfit with shorts, a t-shirt and sweater. Great concept, bad execution (that almost sent him home). Malvin, the conceptual ingenue, tried to create a mother hen-inspired outfit, complete with oatmeal sling and feather top. It wasn't a bad idea, but as Nina pointed out, slings are usually reserved for after the baby is born. It was just slightly worse than Ra'Mon-Lawrence's "bowling ball bag" formal dress, which practically screamed, I'm pregnant! Thus, we said good-bye to Marvin. Among the judges' favorites was Althea's jersey dress with the slimming criss-cross straps in back. However, her design was overshadowed by Shirin's winning burgundy casual dress and coat. It both celebrated pregnancy curves without looking obvious. While we're not going to recommend a maternity dress for fall (unless you plan on seeking out one of those stomach pillows from the workroom), we do love this blousy flutter-sleeve tunic ($40) that looks great belted now, or flowy and loose if a little surprise comes your way in the future. Check out MomFinds for mom and kid finds, and catch up on recent Project Runway recaps to prep for the rest of the season.
Project Runway: We Love L.A. (And Tim Gunn, But That's No Surprise)
My, Project Runway, how we missed you. The fashion original gets a new city (Los Angeles) and a new channel (Lifetime), but everything else is just how we left it. Heidi, Tim, Nina and Michael are back to judge 16 new designers, each with their own quirky style and POV (of course). The first challenge: Inspired by the upcoming Emmy Awards at the Nokia Theater where "it's as much about what you're wearing as who you are," designers had create a red carpet look that expressed true innovation and their point of view as designers. And who better to help judge than sometime red-carpet ingenue Lindsay Lohan, who actually put sentences together that were helpful at the judging pow-wow. Johnny S., a former meth addict, had a breakdown within the first three hours over the pressure. But thankfully, Tim Gunn stepped in and talked him down and into designing a flowing, calf-length dress that would've been better in black than red. Make It Work cures all! Mitchell judged wrong with his model's sizing and only had a collar for his Victorian-style dress with four hours remaining. So what did he do? A completely unwearable transparent "nightgown." However, he was saved by Ari, the resident space case, who had Tim worried her dress might look like a halter diaper. On the runway, Michael K said it looked like a disco soccer ball. In the end, her design was too out there. Christopher designed an edgy and pretty cocktail-length dress - rock-and-roll on top of girly. Even Lindsay said she'd wear it, though she'd lose a few of the ruffles. And, we have our winner. This Alice + Olivia Ballerina Strapless Dress with Belt ($495) captures a few of Christopher's winning elements. The two-tone color palette makes it interesting, as does the fullness of the shape, which is achieved here by a bit of tulle.
Rachel McAdams' Coats Stand the Test of Time
There are sure to be heated discussions on the movie version of The Time Traveler's Wife, centered around whether it was faithful enough to the book. Having never read the bestseller by Audrey Niffenegger, the film seemed perfectly entertaining if lacking in tension. The same can also be said about Rachel McAdams' bohemian wardrobe in her role as the titular wife. As an artist, you'd expect her clothing to be a little funky - maybe mixing pieces and eras to create something unique. Yes, there were some prairie skirts and flutter blouses early in the film, but as much of the action takes place in Chicago, the weather lends itself to coats and long sweater jackets. She wears them well, but I just expected more from a successful, creative woman than a standard white sweater. The cowl neck/convertible hoodie on the Alice + Olivia Wool Pom-Pom Poncho ($367) would have been a more fashionable choice for a chilly winter evening. Where she did go right was the long winter coat topped by a Mongolian (or Persian or Tibetan) lamb fur collar. Sitting in the heat and humidity makes this sound downright treacherous, but if you've never experienced a Chicago winter, count yourself lucky. It's perhaps a little early for coat shopping, but to get a similar look, your best bet is going the vintage route or trying a faux version like the Michael Kors Faux-Fur Collar Cardigan ($249.50). For more top picks to keep you clad like Rachel McAdams in The Time Traveler's Wife, check out our guides to cardigans.  And for more fashionable movie reviews, take a look at The September Issue and 500 Days of Summer.
J.Crew Is Not Great At Keeping Its Italian Secret
Seems like J.Crew has a big secret that the First Lady has picked up on. According to an article in the Wall Street Journal, retailers like Bloomingdale's and J.Crew are getting fabric from a premium Italian manufactuer, but with one caveat: they can't tell anyone about it. High-end Italian textile maker Loro Piana creates fine wools and cashmere, and sells its yarn to labels like Brioni and Brooks Brothers, who in turn can put a Loro Piana label in the clothing. Additionally, Loro Piana has its own eponymous line of fine clothing, like this wool/polyester blend Chevron-Print Sweater ($1,450). However, the same yarn is used by J.Crew in its wool and cashmere sweaters, but sans the label. Or rather, the garments have labels that merely infer their origins, but not too discreetly. "We started with the very finest cashmere in the world, direct from a storied mill in Quarona, Italy," says the J.Crew Landon Cashmere Cardigan ($298). Either way, though, it's no secret that Michelle Obama is a huge fan of J.Crew cardigans, which help make her classic style refined, yet approachable. And if we can all get as many compliments as she does, then I say keep up the good work, J.Crew. We won't tell anyone. Check out our cardigans guide for other options to wear over your favorite tops and tees.
Weird, But Cool: Wrist Cuffs For Face Washing Time
What: On The Cuff ($8) Why: At least twice a day, I hunch over my bathroom sink and wash my face, trying to get more water in the sink than on the floor. Problem is, the water runs from my hands down my arms, to my elbows, then onto my feet (you get the picture). I find this annoying. But, I wipe my arms when I wipe my face and am done with it. However, someone found this just annoying enough to come up with something--essentially a sponge-like bracelet that stretches to fit over your wrist--that solves the problem. And it works. That is, if you want to add another step to your routine. However, if you take into account that you can wear them to wash dishes or your car, what's another step, right? Get Yours: onthecuff.net Check out our beauty guides for stay-put waterproof makeup, amazing self-tanners, and the best mascaras out there.
The Fashion Show Recap: Isaac And America Pick A Winner (Who Happens To Be My Favorite)
Since Bravo's The Fashion Show is still charting its own course away from comparisons to Project Runway, the second part of the finale used a reunion show to review the season and make us wait one more hour to find out the winner. But unlike most of these raucous Bravo reunion episodes, the format was highly orchestrated and didn't feel very organic. Contestants spoke in turn, and it didn't seem like it was really fun to get back together. What was worse, the three finalists--Daniella, Anna, and James Paul--sat through retrospectives of their journeys on the show, anxiously waiting while Isaac, Kelly, Fern, and Harper's Bazaar EIC Glenda Bailey bantered about Haven's love of shorts. In the end, though, each of the three finalists won something. James Paul, whose dress won praise in the first episode, was revealed as the best-selling item on the site. It even sold out. Daniella won the $10,000 Judges' Choice Award. And of course, Anna's "to die for" collection took home the $125,000 grand prize with 56% of the audience vote. It's available for sale on BravoTV.com. Anna's use of color and long, pretty silhouettes were some of the things that gave her viewer raves, and this season's maxi dresses follow that same aesthetic. The T-Bags Long Dress ($225) is reminiscent of Anna's winning piece via its soft, colorblock jersey and ruffled tiers coming off a halter top. The Victoria's Secret Halter Bra Top Maxi Dress ($108) also uses the halter design to create a feminine neckline, showing off sexy shoulders. Shop more flowy options in our latest guide to summer dresses.
The Fashion Show Recap: Robots, Cowboys, And Pleats Take Over Cipriani
The final four designers put it all out on the runway at Cipriani Wall Street for part one of the finale of Bravo's The Fashion Show. The twist was that only three of the four would make it to the final viewer's choice vote, which by the time you read this, will be closed. Next week, the winner is crowned during a reunion show. Daniella's "soft robot" collection was a combination of leather, epaulets, and femininity that judges described as fashionable. The medieval androgyny she was aiming for would have worked if the construction was better - her only real criticism from the panel. James Paul's collection was equally abstract, with his inspiration coming from western wear. None on the pieces were really reminiscent of cowboy couture, but in usual JP fashion, his muted color palette and textures won raves from Isaac and co. The circle skirt jacket from Reco was just one of the bright, glam pieces in his Aztec goddess-inspired collection. He did everything from separates to a wedding gown, but the absence of detailed designs pushed him out of the final four. Anna, however, was the crowd favorite. While knocked as being the least cohesive, her collection was bright and wearable, incorporating her successful pleating as well as a floral palette that won raves in previous episodes. Although Kelly Rowland rarely delivers any sage fashion advice, she did point out that knee-length dresses are a staple of any burgeoning wardrobe. J. Crew's strapless floral Lorelei dress ($250) is an ode to Anna's bright, floral prints. And for a more office-appropriate look, this Donna Morgan Jersey Dress ($79 from $118) can be jazzed up with a statement belt.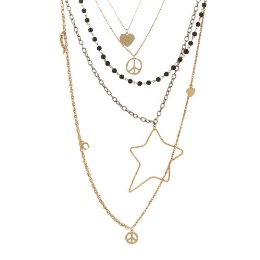 Target's Hollywood Intuition Makes Peace Signs Look Chic (Not An Easy Feat)
Owner of trendy LA boutique Intuition, Jaye Hersh, has made her first foray into budget accessories with a cheap and chic line for Target. And after viewing the decimated shelves at my local Target this weekend, I suggest you'll have more success finding the Hollywood Intuition pieces on the store's site. Below are some faves: 1. While I'm not a huge fan of the Peace sign on jewelry (or clothing for that matter), I decided I could overlook its inclusion in the Mixed Media Necklace ($15) because I loved the layering as well as the gold tone/bead/metal mixture. 2. Yeah, that Peace sign again, but the wood beads in the Mixed Media Bracelet ($10) really stand out against the metal, making it look like you're wearing a bunch of different bracelets together. 3. The Multicolor Bracelet set ($10) is nothing I haven't seen, and I'd probably only wear a couple at a time. However, they don't look bad for faux leather, and the punky studs are on-trend.
Fashion Show Recap: Sorry Johnny, But You're No Lanvin
It's down to five designers in episode 10 of Bravo's The Fashion Show, and only four will go on to show a collection in the final episode. After Daniella won the mini-challenge (draping silk charmeuse using only 12 pins), the prize was first pick of assistants for the main challenge. Cue the return of Merlin, Haven, Angel, Andrew, and Keith. For the big task, each designer had to create an evening gown that "makes whoever wears it feel like $1 million." This also meant they had to use swarovski crystals in the design. Anna, who keeps getting better week after week, chose a risky, bright print that wowed the audience. Unfortunately, (and stupidly), Johnny decided to rip off a Lanvin dress and Isaac sent him packing. Daniella's gray one-shoulder gown was the judges' favorite (buy the Red Carpet Evening gown, $225), and while I loved the gray for its classic elegance--as did guest judge and Harper's Bazaar editor Glenda Bailey--I thought Anna's gown was more red carpet memorable. Yes, Anna is my favorite, if you haven't caught on. For an evening look that combines the best of both dresses, try Tadashi's One-Shoulder Floral Gown ($408). The classic navy silk tucks and drapes to create a sexy shape, and the beaded organza shoulder detail is eye-catching yet more friendly than Swarovski bling.
Leanne Marshall For Bluefly: Oh Yes, There Are Petals
After the bickering and lawsuits that plagued the Project Runway brand for the last year, it was easy to forget that last season's winner, Leanne Marshall, was working her tail off to design a line for Bluefly. Well, she has. And it's finally available on the site today. The collection incorporates Leanne's soft, flowing aesthetic and, of course, her signature petals. The tank tops and tunics are pretty, in shades of cornflower blue, pink, white, and coral, but at the price point, I wouldn't buy more than one. However, the Jasmine Cropped Jacket ($220) and Lana Mini Skirt ($168) are more standout pieces and show more of the petal flair. The priciest piece in the collection is the strapless blue Elenna gown ($990) that tucks and flows in silk and organza. It's a beautiful piece of craftsmanship that doesn't need to be dressed up with over-the-top accessories. Check out the rest of Leanne's collection here.
Fashion Show Recap: Honoring Fashion Greats Dishonors A Few
How much do you know about historical fashion houses? That was the task designers in episode 8 of Bravo's The Fashion Show had to face in this week's mini-challenge. The trivia competition whittled down the group to Anna--go figure, she's a teacher--whose prize was to assign each designer one of the legends. Their main challenge? Create a garment in the aesthetic of their designer. Obviously, Anna gave her friends choice assignments--Haven got Yves Saint Laurent, Johnny had Versace, and Anna took Chanel. She purposely gave Halston to Reco, who didn't know the label at all and who made the mistake of putting one of his signature corsets on what should have been a simple, flowing dress. Haven's terrible brown wool pant suit was a fail as well, but she should have known better since she was well-versed in YSL style. This was egregious enough to send her home. Johnny and his Versace-inspired mini-dress got rave reviews from the audience and the judging panel. Although he used faux leather in an attempt to be environmentally friendly, he still captured the fit, gold bling, and sensuality of the designer's intent. Buy the racy little cocktail dress on Bravo's website ($195). Versace in its newest incarnation is still fierce, but slightly softer. This Versace Star Back Cocktail Dress ($2,380) is still sexy but not hard. The flowing silhouette is matched with a deep V front, and a suggestive sheer back. Or for a more budget-friendly option, try this v-neck dress by Twelfth Street. ($130).
Stefan Marx Is Encouraging Your Shoe Habit
What It Is: Stefan Marx t-shirt for Sixpack France, $48 As TrendHunter recently pointed out, artist Stefan Marx knows your pain. And he's making fun of you. His newest design for Sixpack France is a t-shirt that screams Pleease (like a little kid begging for something in the grocery store), with the word placed above a crudely drawn pump. At first, I thought this was uber-tacky, like a "Will Brake for Shopping" bumper sticker on a minivan. But on second glance, maybe Stefan's sharing an inside joke with us. It's a wink-wink, nudge-nudge to the sorry state of our obsessions. And if you don't have the funds to buy the real thing, then this is the next best option. Get Yours: PLEEASE tee by Stefan Marx Shop our Tees for your Shape Guide for comfy shirts that flatter your figure.
Ruffles Expand Beyond Kindergarten And Bridesmaid Dresses
Girly girls rejoice. One of the latest design trends to appear, well, practically everywhere, is the innocent, flirty ruffled looks of youth. Except these ruffle styles are all grown up and rife with tailored details. A pretty little summer cotton smock, the Anthropologie Terasina dress ($118) combines a tiered voile skirt with a sweet ruffled keyhole neckline. A top similar to this Banana Republic Puff-sleeve ruffle blouse ($59.50) was what actually inspired this post. Tucked into a pair of ivory slim fitting pants, I wanted to stop the woman on the street to tell her how much I liked her outfit. I just can't say enough about this William Rast Ruffle Leather Jacket ($598). It's slightly cropped and has shoulder epaulettes for an edgier look, but the soft, layered ruffles are a unique detail I haven't seen a lot with leather jackets.
Fashion Show Recap: Results May Vary When Designing For Isaac
For episode 7 of The Fashion Show, designers were back in teams for the mini-challenge, where they had to make over Harper's Bazaar staffers from night to day (yes, the presumption is that they slept in those cliched outfits) by using their clubwear and stuff from the lost and found. And what did winners Johnny and Merlin get? An extra five minutes with (surprise!) Isaac, who was revealed as the guest designer that would be tasking the designers with their main challenge: check out his mood board and design an outfit for his collection. The mood board had a lot going on: metallics, tribal prints, bright colors, plaids, texture, and a variety of silhouettes. Johnny and Merlin took a risk with this felt jacket, but the audience liked its shape - as did I. What they didn't love was James-Paul and Lidia's fabric disaster. The duo had a promising start with Lidia designing the dress inspired by a fish scale chain, and JP creating a (supposedly complementary) cape with a plaid lining. Together, it was fabric overload and unforgiveable enough to send Lidia home. Audience faves Anna and Haven put together a colorful tribal-inspired shorts/tank ensemble. But the real winner for them was their wrap coat with the funnel collar. (Buy the Striped Sleeveless top, $95, Sexy Stand Out shorts, $95, and Glamour Wrap coat, $225, here.) Funnel necks have always been a go-to silhouette for designers, but for a something that'll work for summer into fall, I suggest this gray Zooey funnel neck jacket ($137). Gray is hot now (it looks great with metallics), and the three-quarter length sleeves  work for both day and night.
The Fashion Show Recap: Isaac Says, Go, Go Gadget Coat
What's that you say? It's Amelia Earhart Week on The Fashion Show? Alas, no. The cast of Night at The Museum 2 has not infiltrated Isaac's lair just yet. Rather, I wanted to point out Reco's coat/jumpsuit/hidden blanket design from this week's runway show challenge where designers had to create coats for each season that must also include some sort of functionality. But, let's back up just a step. The mini challenge this episode involved teams having repair garments in a certain amount of time. There was nothing too interesting about this except how apparent it became that most of the contestants lack polished sewing skills. Did we mention this is a show about fashion designers? Anna, who I'm convinced got robbed last week for her high-waisted skirt, delivered another great design for the runway with her tweed bubble coat that had zippered pockets near the wrists. Guest judge Norma Kamali commented that it was well made and looked ready to wear off the catwalk. However, Andrew's convertible trench, which extends into a full-length rain coat in case of showers, took the top prize with the audience and judges (buy it here, $249). Poor Markus, the London fashion grad with lots of design aesthetic and zero sewing skills got the boot. Getting more than one look out of an item is a great way to stretch your closet and your dollar. An extention of the Paul & Joe line, this cotton Paul & Joe Sister Removable Sleeves Poker Jacket ($206) can be worn with the sleeves down, tied up safari style, or completely off. The three-in-one makes it a good choice for in-between seasons, or when the weather's just acting like it.
Tres Sleek Arm Shapers Are A Quick, Almost Perfect Fix For That Forgotten Flab
What: Tres Sleek Elbow Length Sleeve Arm Shaper, $29 Why: Upper arms are a big problem for a lot of people--to the extent that many women won't even wear sleeveless. Tres Sleek (formerly known as Flabuless) offers the first line of shapewear for arms, and for the most part, I think this is a great quick fix for ladies looking to temporarily tighten up without spending weeks at the gym. I needed a little assistance putting it on, especially with the second sleeve. And like most shapers, my arms felt squeezed into the confined space. The shrug design helps keep the arm socks in place, but pulls up a bit near the armpits thus creating some pudge-like bra fat. But the elbow-length sleeves don't create any bulges near the elbows. Still, I'd probably invest in the long sleeve version to avoid any potential bulges...and as a useful alternative to layering in cooler weather. Get Yours: barenecessities.com Check out our Shapewear Guide for more ways to keep everything sucked in and faux firm. 
Tracy Feith For Target: Bright And Short With Only A Few What Was He Thinkings
If my Target is any indication, then Tracy Feith's new offering for the GO International line is already a huge hit. Sitting next to full racks of Mossimo and Converse spring staples, the TF racks were decimated, with just a few items left. Feith, a surfer dude with an eye for bold floral prints and flirty silhouettes, kept his aesthetic rolling for the budget experiment, and the results were mostly good with one or two missteps. Overall, a cute collection that definitely caters to the younger crowd, or at least to those who are young at heart with a great set of gams. The Hooded Pullover ($25) makes a perfect beach cover-up in lightweight linen - plus it has a hood for extra sun protection. The flowing, A-line skirt on the black Strapless Dress ($45) gives it a dress up/dress down versatility. I also like the heart-shaped bodice, which lends a sweetness to the neckline. The oversized flowers and color combos of the Canvas Print Skirt in Hawaiian Floral ($30) reminded me of a 70s muumuu at first glance, but this piece was actually adorable in person. The skirt has a nice weight, and a back zip with a bling-worthy TF pull. Paired with a white tank and gold sandals, this would be a great summer outfit. Remember those missteps? I stared for a long time at the black Bloomer Shorts ($30), wondering who would be wearing these. Elastic around the thigh area is always dodgy even for the thinnest legs. Quality was my main issue with the Nylon Ripstop Jacket ($40). It looked intriguing from a distance - bright colors, fun hoodie - but as I got closer, it sort of morphed into a shoddy windbreaker that had shrunk in the dryer.
The Fashion Show Recap: Like Bethany And Kelly, Tinsley And Tulle Will Never Be Friends
Before we even got started into the 2nd episode, eco-designer Kristin (a bottom two denizen from last week) had already voluntarily jumped ship and left the show "in her best interest." Maybe she heard there would be tulle. But, we'll get to that later. Isaac announced that teams had to design outfits for socialite and guest judge Tinsley Mortimer to attend four different events--a ladies' luncheon, an art gallery opening, a rock concert backstage party, and a charity gala--for just $40 each. And since her hair is Tinsley's trademark asset (not her money) the winning design must also be a head-to-toe winning look. Evidently, when everyone on Team Harem told Laura not to use the red tulle, she was confused about whether they thought she should use the red tulle. Thus, this monstrosity that one industry audience member declared as "homeless" looking came to pass. What she should have done was look to Team Tube Skirt leader Anna, whose high-waisted skirt with front pleats paired with a sheer sleeveless top was one of Tinsley's faves. Tube Skirt teammate Daniella took the blue ribbon with her strapless bustier jumper (available for purchase ($119), as well as the sheer jacket). Tinsley even offered to wear it out of the studio.   For another budget-friendly jumper, Silence & Noise makes a strapless knit one-piece ($58) that is short and simple with large pockets at the hip. You can also check out our other jumpsuit picks, if you're not feeling the shorts-and-tights vibe. P.S. If you're wondering who Isaac "was not buying," just answer his rhetorial question: What's worse, a bad attitude or bad tulle? See ya, Laura.
Not Your Daughter's Jellies: Four Styles That Won't Break (Or Get Gross) After A Month
Of all the 80s trends that I've seen return, I really never imagined jellies would be a hot item again. Although, now that I'm seeing all of the new styles available, it's hardly the same old thing. Granted, they're all still plastic, so you'll notice that the sweat usually absorbed by your leather sandals is a little more, shall we say, tactile. Although, lots of these cute style are breathable, provide plenty of flow-through, and are built to last. 1. I couldn't decide whether I liked these See by Chloe Ankle Wrap Jelly ($125) sandals better in plum (here) or the jade. You can decide, but both jewel tones are rich and pretty, and would look great paired with a sundress. 2. Marc Jacobs' Mouse Flats are a wardrobe staple, and it's just a nice gesture of him to reissue the Jelly version ($160) in a set of bright spring shades. 3. Want to know when a trend has officially hit the zeitgeist? When a brand like Tod's broadens its traditional mojo to create this eye-popping orange Jelly Thong Sandal ($175). Still waiting on the coordinating tote, though. 4. Perhaps my favorite new find is eco-friendly Brazilian brand Melissa Plastic Dreams (which StyleBakery Teen recently highlighted as a great rain boot alternative). The shoes use 100% recycled plastic and the designs are spot on. The Campana Zig Zag ($63) are edgy ballet flats gone deconstructed. Check out our Spring Shoe Guide for trendy styles all under $100.
Birks Grow Up, Get Prettier (Finally)
What: Birkenstock Plum Patent Gizeh, $80 Why: There's a reason Birkenstock is still going strong after being around for decades... these sandals are comfortable. I am an avid flip-flop wearer, which means while I don't mind wearing a thong between my toes, I also don't really expect a lot of support from my sandals. The Birkenstock Gizeh that I tried out in this gorgeous plum patent was a completely new experience. With its suede footbed, I definitely felt the arch and toe support after walking all over midtown running errands. Even better, I got my first compliment within a half-hour of putting them on - from a guy no less! They run a little big, so go down a size in length for a snug fit. Get Yours: shoes.com Check out our Spring Shoes Guide for 20 must-have shoes under $100. 
Bravo's New Fashion Show Is Gunn Shy, But Not Lacking Pheasant Feathers
I cheated and read some of the reviews of Bravo's new Project Runway replacement, The Fashion Show, before I watched the premiere last night. They were savage. But even after seeing the debacle myself, I can't really say that I hated it. I just miss Tim Gunn. The static duo of Isaac Mizrahi and Kelly Rowland (better known as one of the girls not Beyonce in Destiny's Child) is like a wet blanket. Isaac is grating and lacks the charm of TG, who seems to have some genuine fondness for the designers. Rowland looks pretty and wears cute clothes -the orange dress above is Zara. Other than that, she just reads off the cue cards. What's good about the show is what Bravo excels at: casting. And wow, what a group of characters. You can't miss Merlin, clad in all red with a 2-foot pheasant feather in his chapeau. Oh, did I mention he was wearing white patent women's boots with 3-inch stiletto heels? Merlin, along with Johnny and Keith, won the first mini-challenge. They then got to pick their teams, who each had to select one must-have wardrobe item, reproduce it five times, and incorporate it into five different looks. Johnny's group decided that harem pants were their must-have wardrobe item (someone must have seen our post). Too bad no one in the group knew how to sew satin. What seemed like a good idea at first, Keith's group decided to do a convertible stretch wool tube dress that could be worn many ways. But they doubled the fabric, so even the size 2 models looked like sausages. Convertible dresses, like this one from Victoria's Secret, should be form-fitting and flowing. Breathing shouldn't be a problem.  Merlin's bolero and James-Paul's Rubik's Cube dress (which are both available for purchase right now) ended up as the top two designs on the runway. After a sorry pow-wow among Isaac, Kelly, Fern Mallis (IMG Fashion VP) and guest judge Elie Tahari, James-Paul was chosen as the winner. Shortly after, Isaac told Jonny D they didn't buy his designs. Ha! I wonder how long Bravo marketing took to come up with that one. No matter, it couldn't have been more awkward.
Mike & Chris Denim: Filling The Leather Jacket Void Until It Gets Cold Again
Dark denim is slimming. It's also sensible for a day-to-night change. But one look at the new light, detailed denim from husband-and-wife design team Mike & Chris, and you'll be looking to lighten up, too. The Darrell Denim Zip Up Hooded Vest ($255) is a twist on the pair's classic hoodie, with waist gathers and buttons that provide structure and fit. It looks great with shorts, but could also go well with a skirt and studded sandals. Denim shorts are a staple of practically any spring or summer closet, but these Ritter Japanese Denim Shorts ($180) with cuffs and front pockets (rather than the dreaded side cargo pockets), are a much more interesting choice. I've already professed my love for denim jackets this spring, but the Gibson Denim Jacket ($345) is by far my favorite -- and worth its hefty pricetag. It has front pockets, oversized tortoise buttons (a nice departure from brass), and whimsical crosshatch detailing. 
Tie Dye Is Not Going Away, But At Least We've Moved Away From Dad's T-Shirts
Since I wasn't ever a huge fan of tie dye when it made its third return in the 90s, I was really skeptical when I noticed it coming back on celebs like Victoria Beckham (in Balmain jeans) and Fergie (doing herself, and the trend, no favors in an unflattering pair). However, I'm relieved to see that some designers are using tie dye in more toned down and interesting ways, instead of resorting to bleach and rubber bands in the backyard. If you're game to try the denim, this pair of black sass & bide Tye Dye Jeans ($74, was $150) is a more subtle choice, and still retains the slimming qualities of a skinny fit and basic black. This Aqua Bias Stripe Tie Dye Scarf ($48) is colorful and lightweight..and looks enough not like tie dye that it could last you beyond the trend.  The fold-over design and gorgeous grey leather of this Foley + Corinna Mid City Tote ($444) make the dyed design surpisingly versatile. 
Gwyneth's Latest GOOP Sounds Awfully Familiar
In her latest GOOP newsletter, Gwyneth Paltrow makes a "stars are just like us" complaint that she has NO idea what to wear when she goes back to work/live in Los Angeles. But, she does have some ideas. Funny thing, SheFinds reported on these suggestions already, and (for obvious reasons) we think our picks are just a bit more exciting. 1. The Trench There's really no argument against the classic trench. We just think our colorful suggestions make almost every outfit better. 2. Stripes Gwyneth loves nautical stripes as a classic wardrobe item. So do we, but our taste test pick is a little less yachty and a lot more flattering. 3. A Jumpsuit We highlighted jumpsuits as chic and easier-than-you-think wardrobe additions. Gwyneth agrees, but we wonder why she picked one that could double as an Aladdin Halloween costume and makes her normally toned tush look flat. Gwyneth's also putting a bunch of her old stuff on eBay to raise money for charity - it's worth a look, if you like bidding on celeb hand-me-downs.
Stella McCartney Is So Over Wet-Look Leggings. And So Are We (At Least For Spring)
Shiny, spandex, skin-tight leggings have taken over. The wet look is so homogenous, really, it's almost like they've devoured all other types of leggings. But, Stella McCartney has a different idea. Her new Degrade sequin leggings ($1,495) are shiny, yes, but light and transparent. They're a strange nude gradient that gets darker toward the bottom, and fit more like ankle pants. And, although their price tag would run me the equivalent of three spring outfits, I have to applaud the direction Stella is trying to go. Warm weather just doesn't agree with black PVC. Below are three other spring alternatives to the dark, thick winter legging: 1. Topshop's Gothic Lace Leggings ($44) in silver (also available in slate, hot pink, and neon orange/red) are decorative and still allow skin to peek through in a subtle way. 2. These Velvet Jordan Gauzy Whisper Leggings ($59) are a refreshing departure from the all-black look. Wear with a darker color on top to switch things up. 3. I've had good experiences with Spanx hosiery for their quality and longevity, and these Spanx Vintage Semi Opaque Footless Tights ($28), here in Cafe, are a wise choice for evening.
Thank You, Felix Rey, For Churning Out A Fun, Carefree, And Attractive Target Collection
Usually the Target designer lines are hit-or-miss, but Felix Rey handbag designers Lily Rafii Band and Sulaika Zarrouk can add another accolade to their resumes. Almost any piece from the collection is a seasonal boost to your handbag repertoire. And at Target's economy-friendly price point. The Straw Basket Tote ($40) is probably the most classic piece in the collection, and the FR signature shines through with gold trim against navy straw and an oversized shell clasp. I'm also a huge sucker for cute lining, and the cotton wave design is here to bump up the beachy vibe. The waves are forefront in the Canvas Clutch ($20), but what caught my eye was the bright orange lining, which popped against the nautical blue and white. The trimmed flap makes it appear more upscale than its $20 price tag. I clearly couldn't get enough of the totes. The coral print on the Printed Tote with Shell ($35) screams summer, and the signature shell and coordinated orange lining are accents welcoming my sarong, sun lotion, and beach book.
My Spring Stimulus Buy: Tom Ford Andrea Sunglasses
What: Tom Ford Andrea Sunglasses, $325Why: I have been wanting a pair of Tom Ford glasses for a couple of years and thankfully he now has an entire range of very cute shapes--including this pair of caramel-colored oversized aviators. They're not as literal as traditional aviators, and are just big enough to balance out my longer oval face. And since my old pair of Versaces have become pretty scratched and sad, I don't feel bad investing in these new shades. They also come in black, but I like my glasses to complement my hair and skin, not to mention the tan I hope to get when the sun finally makes its appearance. Get Yours: amazon.com
Shorts You Can Confidently Wear To Cocktail Hour
When shorts started hanging out past 7pm, I had doubts. But then celebs embraced the look by wearing them to clubs and parties, and suddenly every third woman at dinner was sporting shorts with a cami or jacket. It then dawned on me that this is an ingenious and superbly comfortable departure from your cocktail dress routine. Here are two of our favorites: These Trina Turk Camden Bow Shorts ($85) are understated, yet still dressy enough to wear to dinner. I like the J. Crew Chino 9" Shorts ($20) since they're simple, comfortable, and come in nine different spring colors.
Gossip Girl Returns With A New Blair Wearing A Feisty, Flippant New Trench
In an episode that saw Blair trying to ditch her old Waldorf-self, at least her sense of style didn't go off the deep end. Serena guesses something's up when while trying on sunglasses, B nonchalantly puts on a pair and walks out of the store. I can guess why store security didn't take notice--they were too busy trying to figure out where she got her trench.The print, a black on white graphic with keys repeated throughout, is from DVF's Resort 2009 collection. if you want to steal the look right now, we found some eerily similar options. If you're in love with the black and white, the Lavender Label Vera Wang Printed Trench ($625) is a true graphic print with awesome grommet detailing on the bottom. The Aquascutum London Printed Dolci Raincoat ($348, was $869) is a great choice since the oversized buttons and shoulder flaps give it a trench vibe while the cut fits more like a dress.
Kim Kardashian Tells You What To Wear On Your Feet This Spring
Having trouble pulling the trigger on a new pair of shoes? Let Kim Kardashian help. Or so says ShoeDazzle.com, which lauds Kim as co-founder and chief stylist. The site also uses a panel of experts to pick shoes for you on a monthly cycle, based on your answers to its Fashion Survey. Once they've determined your style, ShoeDazzle's expert stylists pick five shoes for you, like this sample pair of boots. If you like one, great, that's your shoe for the month and they ship it free. If you don't, you can ask for five more or "skip this month," which means you won't be charged the monthly $39 fee. What did I expect from my "personal shoe stylist"? Well, the survey seemed oversimplified and sort of cheesy. Each of the four parts—runway looks, shoes, brands, and celebs—shows you three pictures and asks you to pick which you like best. I would have liked them to ask me directly whether I wear flats or heels more, if I liked ankle straps or slingbacks, and what color dominates my closet. A more direct, yet hands-off celeb endorsement is the deal between Piperlime and Rachel Zoe. On the site, there's a link to Zoe's picks which range in price and style (though, Rachel does love the expensive designers). Overall, the advice is of the take-it-or-leave-it variety, with no strings attached.
Spring At Bebe Brings Sexy Safari, Sexy Animal Prints, Sexy Ruffles, And So On…
Bebe described its new spring lookbook as a move toward chic, which piqued my interest, considering the mall favorite usually sits somewhere firmly in the middle of trendy and trashy. Metallics, safari, ruffles—popular runway-inspired themes—are all there. Yet, nearly everything has been sexified. Like women's Halloween costumes, no Bebe shopper wants to be a cat, she wants to be a sexy cat. And for the store, it's not a safari shirt, but a sexy safari shirt. The Sexy Sheen Safari Jacket ($149) with the Sexy Sheen Shirred Pencil Skirt ($89) is a good example. I like the details that come with the safari look, but not in shiny, tight, white polyester. I can't count the ways that fails. The Panther Silk Strapless Dress ($129) is as literally jungle-inspired as they come. This handkerchief on steroids doesn't leave a lot of room for error (aka bending over), and if you're pushing 35, let's hope no one confuses the panther for a cougar. It's when Bebe leaves the sexy jungle behind that some pretty pieces come out. This Multi Layer Top with Flower Belt ($69) is how spring should look -soft, flirty, and approachable.Check out our Mall Stores feature, where we did happen to find some good stuff from Bebe's past seasons, although it wasn't an easy feat.
Jumpsuits Could Actually Be A Good Idea… You Just Have To Pick The Right One
When I first spotted the return of the jumpsuit, I figured it would probably come and go as so many other ill-advised flashback trends before it. But that may not be the case. Kim Kardashian alone has been photographed wearing no fewer than three different kinds, including this flattering Black Halo jumpsuit ($390). As demonstrated by Ms. Kardashian, you don't have to be a runway model to look good in this look. If you have curves, just beware the fitted and clingy. There are plenty of flowing, wide-leg fits available, and even more that have tummy-camouflaging elements to the tops. The color of this Express Strapless Jumpsuit ($79.50) breaks up your evening black routine. I also recommend the AKA New York Flutter Drawstring jumpsuit ($398) with its casual drawstring that helps define the waist.
Can We Stash The Puffers Yet? Denim Jackets Are Waiting…
I am so eager to put away my down coat and pick up some fun denim jackets for spring. Whether it's a flowing prairie skirt, pair of khaki shorts, or even a white mini dress, I wear them with practically everything. Standard jean jackets are more of a loose, boxy fit, and come to about the hip. If you're bottom-heavy like me, look for something tapered or cropped that hits at or above the waist. You can't beat the Old Navy Denim Jacket ($25) for a classic look. If you're not a fan of the buttons or collar, try the Ann Taylor Denim Motorcycle jacket ($40), with its dark, dark color and stand-up collar. The zippers are monochromatic, so it looks a little dressier. I couldn't help but love the Diesel Naily Zip Jacket ($246) for its rebellious feel. The wash is actually a very dark blue, and I am a sucker for the asymmetric zip. The Tommy Bahama Pickstitched Denim Blazer ($73.87, was $98.50) is one of the best blazers I found for work. It has a detailed topstitching and unexpected paisley liner that peeks out at the sleeves. Though it's a far cry from a traditional denim jacket, the Levi's Denim Trench ($198) wins a spot in my jacket rotation this spring. Best of all, there's no belt to worry about.
Banana Republic Spring Is A Little Bit Of A Yawn
Banana Republic is like that one consistent, albeit predictable, girlfriend. You know... the one who will always be there when you need her, but who's always a smidge on the boring side. Unfortunately for BR, its new spring line doesn't really elevate 'her' status. We found a standard collection of metallic sweaters, tulip skirts and python accessories. Below are the simple, understated standouts that are worth a gander. It's not an eye explosion, but the Shiny Pleated Sweater ($79) would look sharp with a pair of crisp white jeans. I out-and-out love the Artistic Metal Cuff ($44). Plus, it's not a huge investment if you're trying statement jewelry out for the first time. The vertical stripes on the Shiny Pleated Sweater Dress ($150) are slimming, which makes this a flattering option for both work and evening.
How To Pull Off A Headband If You're Over The Age Of Sixteen
Headbands are under-appreciated. They get a lot of love when young starlets (Gossip Girls, Kristen Bell, or Mischa Barton) decide to make them hot again, but then get refiled under utilitarian when people tire of seeing all those post-mod hippie hairstyles. When worn correctly, headbands can actually make you look younger and more polished. Not only do they subtly pull your skin taut, but they also have a youthful association that can liven up an outfit without being, well, inappropriate. And when your hair isn't cooperating, headbands will always make it behave.  Check out SheFindsMichelle on SheZoom as she doles out expert advice on how to pull off the latest styles. Swarovski makes sleek, simple bands that let you ease into the trend. The Swarovski Silver Shade Headband ($125) works with different styles and cuts without overpowering your face. If you have straight hair, wear it in a low ponytail with a feathered headband ($125) for a night out. You can place the band just behind the bangs, or even pull them right back if they're being difficult (mine often are). A wider band works well in curly or wavy hair to help control volume and annoying flyaways. The Afrika Printed Cotton Spandex Headband ($9) is a comfy find, but don't wear it too low on your forehad or it may look more like a sweatband than a fashion-conscious decision.
When The Ground Thaws, We Have Some New Gladiators For You
The gladiator trend not only didn't fade, it's coming back for spring bigger and better than last year. Sandals from last summer will still work, but you'll be missing out on the fun new looks the original has spawned since then. We scoured the web and found some great finds for every taste and price range. Studs: Add some subtle bling to your spring footwear with the Kors by Michael Kors Tajines Gladiator ($225). The Fringe: Keep the fringe trend alive with these Kenneth Cole Sandals in Ash, Black, or Fuschia ($195). Caged: BCBG's Gianni Sandal ($204) plays on the fashion-forward caged trend we spotted a few months ago. Colored: Venture away from basic black with Michael Antonio's Purple Chai ($35).Wedge It: Pour La Victoire Murielle Gladiator Wedges ($225) may seem intimidating at firs, but the wedge is easier to walk in than pointy stilettos.
When All Else Fails, Paint Your Nails The Color Of Something Valuable
I guess the ladies at Fashion Week took a hint from Wall Street: stocks are volatile, but gold is forever. SheFinds writers spied glittering gold fingernails on everyone from runway models to fashion editors. Even Kim Kardashian sported some dangerous-looking gold talons by New York jewelry fave Bijules. But, it's good to see that gold is sticking around - long after the metallic trend was spotted last spring - just in time to complement sun-kissed skin and bright spring ensembles. Not unlike red lipstick, gold can be a hard color to get just right. But there's a shade for everyone (the challenge is just finding it), so if you've tried the gold polish before and hated it maybe you just need something slightly different. Revlon Gold Get Em ($5), Essie Shifting Power ($9), and OPI Curry Up Don't Be Late ($6) are each a different shade of yellow gold. Because my skin is more olive in tone, I favor OPI's shade from its India Collection. But, if you wear cool colors better, the Essie and Revlon formulas have a lot less orange in them.
Open Letter To Erickson Beamon: Inexpensive Doesn't Need To Look Cheap
Okay Erickson Beamon, I get it. You're a bold, avant-garde jewelry line adored by celebrities and fashionistas alike. But see, Target gave you an opportunity here to share the love. Well, I just looked at your new line and while it isn't all terrible, I really think you didn't put forth your best efforts. And for some pieces, you downright owe Target an apology.Overall, I think you stayed true to your design aesthetic, as almost everything there could be classified as a statement piece. What kind of statement, though, is debateable. Aside from the garish color choices of the Jeweled Cuff Bracelet in Gold/Peach ($60), the faux leather looks and feels cheap, as do the big crystal gems. As a comparison, I highlighted one of your regular collection pieces, the Gold Leaf Cuff ($525), to show how you (usually) do it right. Another miss was the Layered Pendant Necklace ($50) that boasted shiny purple metal interwoven with turquoise suede cord. Yikes. The pendant itself, which appears frequently throughout the collection, is not bad. In the black-on-black version of this necklace, it brings just the right amount of bling. However, sitting in the middle of my high school senior year colors, it sadly has no choice but to look like a cheap, costumey brooch. That said, there were some pieces I thought looked cute. The Jeweled Flower Ring ($30) was big and fun to try on. The Black Flower Pendant Necklace ($30) features the brooch/pendant in its better days, and the gold tone acrylic almost looks like real gold. There are a few more fun pieces online that almost made me want to throw down the thirty bucks or so for a genuine EB creation. But if the quality is anything like what I saw in the store, I think I'll just keep saving for the originals.