10 Mistakes Couples Make When Planning A Summer Wedding
It's probably the LAST word you want to hear when you're talking about your wedding. But mistakes, mishaps, miscalculations—they all happen when you're planning summer event (I should know, I had one). Blame it on the weather but summer weddings can be somewhat unpredictable. I can see you now, picturing your special day in your head—you in all your gorgeousness saying yours 'I Dos' beneath your favorite oak tree, sipping champagne, laughing with friends while the sun sets behind you. Skiwit. Record scratch. Snap back to reality. Your centerpieces are looking sad and tired and so is your grandfather who's being attended to in the corner with half your family placing cool compresses on his head. The truth about summer weddings is this: they have the appearance of simplicity. But that's oftentimes a facade. Just because summer weddings have a natural ease about them doesn't mean they're always easy to plan. (Don't say we didn't warn you.) Yet if I had to do it all over again, I would still insist upon summer nuptials. A girl wants what a girl wants, right? It IS possible to pull off that perfect plan if you know what NOT to do. Start your summer wedding planning with this mini survival guide. Here are the 10 biggest mistakes couples make when planning a summer wedding. 1. Not getting a backup boutonniere. This is true whether you've chosen to take pictures before of after the ceremony—a single bloom will wilt or at least start to look less, um, perky after a few hours. Your bouquet can be periodically placed in water but his boutonniere stays pinned to his jacket where it gets heated, hugged, fussed with. Having a backup boutonniere on hand will ensure his ensemble is in impeccable shape (until after the first dance at least!) and will keep your bridal portraits looking fresh. 2. Choosing a loud ceremony site. Beach weddings are stunning—no doubt about it. But be careful when selecting the ceremony site. It has to be more than just picturesque. You really want your wedding guests to be able to sit comfortably and actually hear your vows. This just aint gonna happen if the wind is whipping through and the waves are crashing in. Plus, nothing sucks more than having your veil blown in front of your face only to become permistuck to your lipstick. Where's the best place to say 'I Do'? Lakeside (so long as it's private and you won't have to worry about unwanted guests). A wedding on a farm or a vineyard. Or on a patio at your favorite French restaurant. Bottom line: If it's private, and it's quiet, it's a winner. 3. Not providing enough shade. Shade is required at summer weddings. Even if most of your wedding takes place indoors, your guests will be drawn to the outdoors. Set up some seating under large trees where people can hang with cocktails firmly in hand. Set up an additional tented "lounge" with couches and cocktail table and chairs. Add a mini bar and some music (bluegrass band, pianist) so guests can comfortably take a reprieve from the heat without having to escape all the fun. PS—If it's gonna be a scorcher, place small bottled waters and handheld fans on every seat at the ceremony so guests have a way to keep themselves cool. (No one likes an irritable crowd.) 4. Offering alcohol before the ceremony starts. The party doesn't have to start after you're pronounced husband and wife. Set the time on your invitations for an hour before the ceremony really starts and have a pre-ceremony cocktail hour. Let guests mingle to filtered sounds of reggae through your own iPod or hire violinists to stroll through the gardens. Anything that sets the right mood. Have waiters pass around signature NON-ALCOHOLIC drinks such as lemonade and iced tea in fun tumblers with straws. Or have a selection of vintage-style sodas (Izze, GuS, etc.) on hand for guests to help themselves. Let us just repeat these words: non-alcoholic drinks. There's time to get to the good stuff later and you don't need a pair of loose lips on hand for the ceremony you've been waiting all your life for. 5. Scheduling your portraits for high noon. Unless you're going for that vintage silhouette look (we're kidding of course), you definitely don't want to take bridal portraits (or any pictures outside for that matter) at noon when the sun is directly overhead. If you don't believe me, listen to an expert. "Direct sun causes deep unflattering shadows and very harsh light," says Lara Robby of Lara Robby Photography. "Morning light is beautiful and so is twilight." Whenever possible, take your portraits in indirect light or in the shade. And if you're cool with bucking tradition, schedule your coupledom portraits for before the start to the ceremony when your timeframe may be a bit more flexible. 6. Forgoing a rain plan. Don't put all your eggs in your weatherman's basket. The last thing you want to be unprepared for is rain. Better safe than sorry. Hope for the best, prepare for the worst. However you want to think about it, just do it. Spend a little extra to rent tents—just in case. Have a fully scouted, equipped, and planned-to-perfection indoor option—just in case. If everything is well thought-out, you can make a decision an hour ahead of time based on the hour-by-hour forecast and your guests will never know the difference. Love both your outdoor and indoor plan so you won't be disappointed either way. 7. Choosing the wrong icing on the cake. Don't worry, your cake's not gonna melt like the Wicked Witch in Wizard of Oz. Most cakes will hold up well in the summer so long as you don't keep them in direct sunlight (which could melt icings like buttercreams and ganaches). We asked Cheryl Kleinman of Cheryl Kleinman Cakes what she suggests for summer wedding cakes: "Rolled fondant- and marzipan-iced cakes are perfect and preferred in the summer," she says. And if you want to display your cake during the reception (yes, yes, of course you do): "Avoid icings and fillings that require refrigeration such as cream cheese icings, whipped cream, pastry cream, and fresh fruit fillings." If you hate to part with the idea of pastry creams and fresh fruit, you can always have a small-sized "trophy" cake (a mini showstopper that's great to admire) and choose an alternative "summery" dessert instead. 8. Allowing an open bar too soon. I think by now we all have "been there" and know that the hot summer sun and alcohol don't always mix. A little goes a long way so instead of going all out with a top shelf liquor-stocked bar immediately following the ceremony, consider offering a lighter selection of cocktails—at least for the cocktail hour. White wine spritzers, sangria, a selection of local beer, mango martini. There are a lot of ways to be smart with your selection without sucking the life out of the party. Once the party moves indoors for dinner (or even if you're outside for the duration of the night), you can progress to stiffer drinks as dinner winds down. 9. Forgetting to stock a bathroom basket. Guests feeling sweaty? Hot? Flushed? Make sure everyone has a way to freshen up. Find containers that match your wedding-day decor—galvanized tin buckets, vintage wooden crates, ornate ceramic boxes—and use them to house freshen-up essentials: mini deodorants, sunscreen, blotters, bug spray, mints, mini water bottles, and so on. A little refreshment will go a long way in the hot summer sun! 10. Expecting the reception to be too formal. Sometimes summer soirees lend themselves to a more kick-your-shoes-off, kick-back vibe. Don't be afraid of more mingling than dancing. This is especially true if you've chosen a destination wedding or a fabulous one-of-a-kind location. The seaside. A vineyard. Guests may want to roam and check out the scene. After all, the days are longer and guests will want to take advantage of that. Plan for a longer cocktail hour (more drinks, more food) and a longer dinner (even more drinks and even more food). But don't fret—just because the days are longer doesn't mean the nights have to be shorter. Consider stretching the party into the wee-hours with a DJ starting only after dinner and ringing in the after party. For late-night snack ideas, check out 8 Late-Night Food Ideas For Your Wedding After Party. For more wedding planning tips, don't miss 10 Things No Bride Should Worry About On Her Wedding Day, 5 Simple Tips For Making Your Wedding Run Smoothly, and How To Be The Happiest Bride Ever. [Photo: Shutterstock]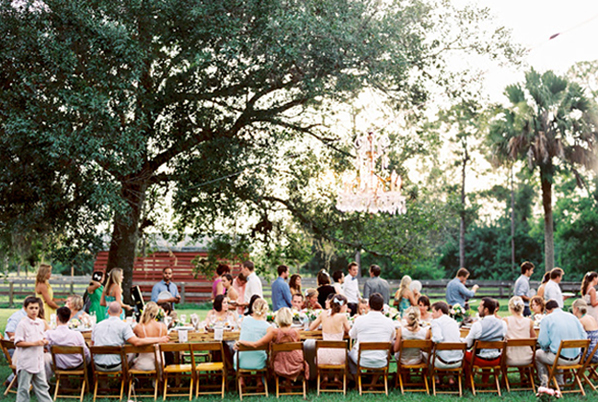 7 Ways To Make Your Wedding Guests Happy
And by happy we mean well-fed, (responsibly) lubed up, and highly entertained. They won't say this to your face of course, but in exchange for traveling far and wide to your wedding destination and spending cash on a fancy hotel room and a new party dress (not to mention your wedding gift!), your wedding guests expect a worry-free, no-stress weekend. All they want to do is have some fun! That's where you come in. We know you've got a lot on your plate, but in all the wedding planning madness you simply can't forget about your guests. You have to take the time and make sure they don't have to lift a finger—or even think for that matter. Trust us, they'll be elated and you'll be #winningestbrideofalltime. We'll start you off with 7 ways to guarantee guest happiness. Pssst! Got an annoying wedding guest? Here's how to deal with "those types." [Photo: Ryan Ray Photography]
8 Things You Must Do Immediately After He Proposes
OMG OMG OMG! It happened. It finally happened. You're going to be a Mrs. Congrats! In the seconds after your partner asks for your hand in marriage, you'll be overwhelmed with emotion. It's not at all unusual to find yourself thinking, "What do we do now?" or "Wait, what just happened?" or even " What do I say?" As exciting as getting engaged is, it's also really freakin' life-altering, so it's okay to feel a little out of sorts. Lucky for you, we got your back. If your brain isn't complete mush upon seeing that sparkler, here are the 8 things to do right after--and we mean right after--he pops the question. Feel like a wedding proposal is imminent? Read up on the 10 things you need to do if you think he's going to propose.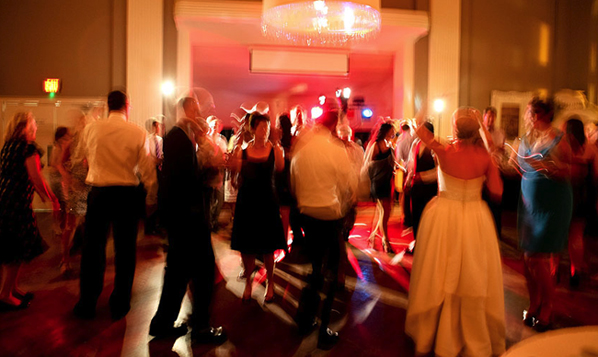 10 Ways Your Wedding Reception Could Get Really Awkward
You have worked so hard to get to this day and the last thing you need is a disturbance of the peace. You could play out every single scenario in your head and still something unexpected may go wrong on your wedding day. That's why we're here--to help you handle it like a pro. Did your "friend" invite an uninvited date? He'll soon figure out he doesn't have a table card and he'll feel like an idiot and they'll probably spend the evening fighting. Not awesome. As for your great aunt who insists on wearing paste for lipstick? Yep, she'll probably lipstick your hubs' shirt collar. #Fail. But since you pretty much know these things are inevitable, you can plan ahead with a neatly pressed twin shirt hanging on-site in a linen closet or a few extra escort cards and empty seats just in case. Click through the slideshow for 10 ways your reception could get really awkward—and how not to let it ruin your day. Also, learn how to stay sane while planning your wedding and the 7 biggest distractions to avoid in the months leading up to the big day. [Photo: Red Ribbon Studio]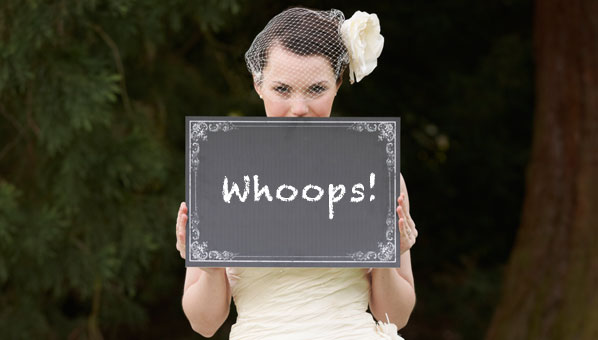 10 Things Every Bride Forgets To Ask Her Wedding Planner
Should you have a grand exit from your reception? When can you take off your veil? What should your guests do between the ceremony and reception? Pulling off your dream wedding without a hitch or a hiccup takes effort. In the months leading up to your wedding you'll probably feel like you're  scrutinizing over every single detail, but there's always that one thing you forget to plan for. Luckily, that's what we're here for. Us and your wedding planner, of course. You should definitely be keeping a running list of all the questions you have about your ceremony, cocktail hour, reception and after-party as they come up, but we're helping you out with the answers to some commonly forgotten Qs in the slideshow below. Speaking of wedding planners, here are 13 reasons you need one (hint: they're your fixer-upper, fairy-godmother, genie-in-a-bottle).
10 Things Calm, Stress-Free Brides Know That You Don't
Ever find yourself saying (or even thinking), "You can kiss my bridezilla-a$$?" You really don't want to go down this road. Your wedding party will become spiteful, your sisters will all but hate you and your vendors will likely file you under "most annoying bride." What's more is this isn't who you really are. But the insanity that comes with wedding planning (on top of your day job, taking care of your dog and your ailing grandmother, learning how to salsa, and so on), can really push people over the edge. But there's a secret--it doesn't have to be this way. It's all about being organized, learning how to master time management, giving yourself a break every once in a while, and keeping some serious perspective on things. Sound like exactly what you need right now? Click through the slideshow for 10 secrets to staying sane while planning your wedding. Speaking of getting organized, we've made some lists for you—read up on 12 things you need to do the morning of your wedding, 10 things not to forget to do on the day of the wedding, and all the things you just can't stress about since you have (gasp!) no control over them.
7 Distractions That Will Ruin Your Dream Wedding
The world doesn't stop spinning just because you said "Yes!" You're going to have to plan your wedding and live your life at the same time.  That's right, folks, you still have to work. Pay taxes. Visit your nieces and nephews. Find time to grocery shop and clean the bathroom. Planning a wedding is like having a second job and we can't argue with that. But you need to find a way to do that job with superhuman efficiency because there will be a lot of distractions. So before you get caught wedding planning at work or miss your BFFs birthday because you were at a cake tasting, allow us to help. Click through the slideshow for a look at the most common distractions that can ruin your wedding--and how to avoid them, of course. What else shouldn't you be doing? Check out our roundup of 12 mistakes every bride makes.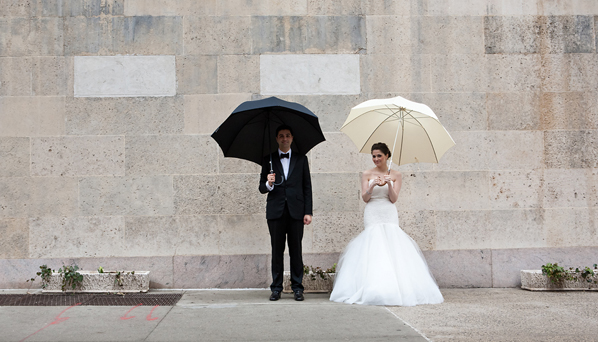 10 Things Summer Brides Always Forget
Let's just blame it on the weather. The heat makes us tired, cranky, and lazy-brained. Even the most organized brides are bound to forget to do something "essential" on their wedding day. I, for example, forgot to have the venue put out the platters of chocolate-dipped macaroons with the wedding cake. Might not seem like a big deal except I made them all myself a day before our wedding. To help you avoid some common mishaps at your upcoming summer wedding, we've rounded up the top 10 things summer brides always forget to do. Plan, prepare for and most importantly, do no forget. Pssst—while you're in summer wedding planning mode, be sure to check out our non-beachy beach wedding ideas, tips for having the best summer wedding ever, and the biggest mistakes couples make when planning a summer wedding. [Photo: Jenny Ebert Photography]
12 Secrets Wedding Insiders Use To Plan Their Own Nuptials
You have to have some serious kick-a$$ work ethic to handle wedding planning with ease and keep your sanity intact. You might be spending the better part of a year researching and booking vendors and figuring out how to use a darn Excel spreadsheet so you can keep your budget in check. Oh and don't forget, you'll be picking out bridesmaid dresses, invitations, and stemware. Then of course there's settling on a color palette and committing to a weekly workout routine. The list goes on (and on and on)! Planning a wedding can be overwhelming with a capital O-sh*t what did I get myself into?!, but it doesn't have to be. Sometimes all it takes is a little thinking outside the box and a whole lot of perspective. That and some helpful hints, tips and tricks from people who do it every day. So because we've got your back, we compiled a dozen insider tips that are sure to help you wade through the sometimes muddy waters of wedding planning and lead you on a straight path toward the happiest day of your life. For more expert wedding planning tips check out which 12 mistakes every bride makes, 10 things no bride should worry about on her wedding day, and 13 disasters only a wedding planner can fix. [Photo: Cathy and David Photography]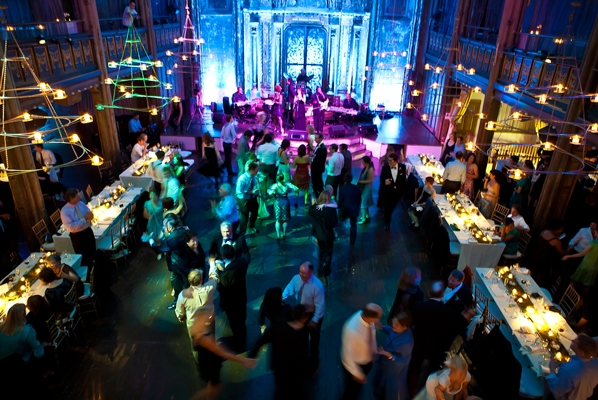 10 Things You Must Do At Your Wedding Reception
Eat, drink, and be merry? Yep, that pretty much sums it up! Your wedding reception is the one time--maybe in your whole life--that the universe will truly revolve around you. It's your 5 hours of fame and you'll want to use every minute wisely. Now there are a zillion ways to plan a party, but only a handful of things you really must do at your reception regardless of venue, time of day, season, or style of wedding. Whether you're going for totally traditional (bouquet toss and all) or completely "you" (bocce ball, a swing band,  belly dancers, fire eaters, and food trucks), don't underestimate the value of basic expectations. Be sure to include these 10 items at your wedding reception and we promise, you'll thank your lucky stars you did. Oh, and by the way, you don't need a bazillion dollars to have a ridiculously fun reception. Here are 10 ways to save big on your reception but still have the best time ever. [Photo: Jenny Ebert Photography]
10 Things You Must Do At Your Wedding Ceremony
I know brides are always trying to outdo one another with their wedding receptions. Who had the better band? The best desserts? The most fun after-party? But for me, I always remember the ceremonies. Whose made me cry? Who had the most special musical guests? Which couples seemed so sickly head-over-heels in love that it's like they hired Nicholas Sparks to write their wedding ceremony?! Those are the moments (for me, at least) that make a wedding memorable. So my advice to you? Don't underestimate the power of this important rite of passage. Your wedding ceremony needs just as much TLC as the rest of the day. We'll get you started with the basics—here are our 10 must-dos for saying "I Do." When you're done planning the basics, get ideas for taking your ceremony up a notch and for writing the entire thing yourselves—vows and all! [Photo: Brookelyn Photography]
A Major Bridal Designer Dishes On Tips For Getting Your Dress Custom Made
Would it be fair to say the most anticipated event of wedding planning is (drum roll please)... choosing a gown? Unless you know you're going to don your grandmother's dress, gown shopping may be at the top of your overwhelming to-do list. I couldn't stand the thought of going to a bridal store and having people pull zillions of dresses for me. I didn't want to spend hours trying them on. And I definitely didn't want a small gaggle of girlfriends ooh-ing and ahh-ing me. Maybe I was intimidated, maybe a tad shy. For me, choosing to go custom was a no-brainer. One designer, one vision. Just me, the gown, and the master. There are a lot of pluses to getting a custom-made gown—the biggest, most obvious is that it will be a one-of-a-kind dress. NO ONE before you and no one after you will ever have THAT dress. Because of this, though, it can require a tremendous amount of work on the part of the dressmaker to design, pattern, and custom-fit the gown so you'll really need to think long and hard about your budget and where you want to spend the big bucks. To help you get those wheels turning, we teamed with wedding gown designer Melissa Sweet (yes, THE Melissa Sweet) to provide a step-by-step guide on what you can expect if you go custom and why a one-of-a-kind gown might be your path to wedding-wear bliss. Step 1: Choosing a designer. When choosing a wedding gown designer, you really need to be sure you understand their design aesthetic. You're going to have to do your homework to familiarize yourself with different designers' signature looks, design perspectives, and general uses of fabric. Ask yourself what you want in a gown. Are you looking for simple elegance, trendsetting styles, expensive fabrics studded with all sorts of embellishments? Take your time choosing the right designer for you. Once you've made up your mind, you need have faith in them. You love their work, now is the time to trust their vision. "Remember that you came to them for their expertise so allow them to guide you accordingly," says Sweet. "While creating a one-of-a-kind design, many details are considered and worked into the final creation. A lot of these will be decided according to the designer's discretion." Step 2: The consultation. Before you meet with your designer, spend some time collecting images that inspire you. These don't have to just be a series of tearsheets of gowns from magazines. "Make a folder of photos that depict the ideas, inspirations, and emotions you want to evoke on your wedding day," says Sweet. "As they say, a picture is worth a thousand words. There are endless possibilities for 'simple and elegant' so it is important to be able to express your thoughts through a medium that both you and your designer can see." When you're in the meeting with your designer, you need to take some time getting to know one another. Who are YOU as a person, not just you-the-bride? What do you want your gown to say about you? Do you want to incorporate anything special into your dress (a swath of fabric from your grandmother's veil, for example)? This is the time to discuss all the nitty-gritty details and your every desire. "The more your designer understands your vision," says Sweet, "the easier it will be for her to create a gown you will love." Step 3: Sketch review. A designer sketch is the true starting point of seeing your vision come to life. During this phase, you should expect to discuss fabric selection, gown shape and style, and embellishments. And, says Sweet, you should be asking a TON of questions, such as "how deep will the neckline be?" and "how long is the train?" If something about the design is unclear, ask for clarification. "Remember that [the sketch] is just a representation of an idea, it is not the dress itself." Sweet advises brides to really hone in on the details at this point, because in this stage, it is super easy to change something. Later on, not so much. Step 4: A muslin fitting. Before a designer spends H-O-U-R-S (understatement) cutting, sewing, trimming, embroidering your gown, they'll do a "mock-up" in a basic cotton fabric called a muslin. "All the final decisions regarding fit and silhouette will be made while working with the muslin," says Sweet. "Your designer may even hand-draw embellishments directly onto the fabric to indicate positioning and to give you an idea of what you can expect." Sweet advises brides to bring their bridal shoes (flats or 5-inch heels will make a huge difference in length of the gown!) and underpinnings to this fitting. "Every bra is different," explains Sweet. "If you are wearing one, it is important that your designer knows exactly how it fits you, where the boundaries are, and if there is a possibility it could be seen from beneath your gown." Make sure to see the gown on from all sides, every angle. If something doesn't look or feel right, now is the time to speak up. Step 5:  Your first gown fitting! This is the moment you slip into your wedding dress for the first time—EEEEEEEE! Who do you want there with you? You might enjoy having this moment all to yourself (that would be me) or inviting one special friend or your mother. Don't be afraid to have a natural reaction. Some women cry, others giggle nervously. "As a designer who loves dressing brides, I remember to prepare for this moment as it is different for every woman," says Sweet. "Whatever comes up for you, take it in stride and remember that your emotions are about something much bigger than the dress you are wearing." During this fitting, prepare to be pinned and tucked. This time is for the finishing touches. (PS—you need to be careful about any significant weight loss, or gain, after this fitting. Read more about this here.) Step 6:  The final fitting. This fitting is for peace of mind. Is everything fitting just so? (If you have lost any weight up until this point, it is time to stop! You don't want to put yourself or your designer in the position of having to reconstruct the dress at the last minute.) The final fitting can also serve as a dress rehearsal for your whole ensemble. "I suggest to my brides that if they are having a trial run with their hairstylist they should do it before the final fitting," says Sweet. "Then you can see all the pieces put together." This should be the moment when you can finally relax your shoulders, take a much-needed deep breath in, and KNOW that you're going to be able to rock this gown on your wedding day. Melissa Sweet (formerly design maven at Melissa Sweet Bridal and Priscilla of Boston) recently returned from a sabbatical to re-envision her bespoke collection, now called Melissa Sweet Sacred). Designing one-of-a-kind gowns, Melissa works with brides each step of the way from vision to the aisle. 100% of the net profits from the gowns in her collection go to Vida Authentica, a non-profit foundation she started in Costa Rica, where she now lives and works. Melissa is also collaborating on the "Melissa Sweet for David's Bridal" collection, which is in stores now. For more ideas on personalizing your wedding look, check out how NOT to be a cookie cutter bride and learn what your wedding bouquet REALLY means. [Photo: Mel & Co. Photography (left) and sketch, both courtesy of HALO PR]
10 Things Every Bride Forgets On The Day Of Her Wedding
Let's assume you've read this and you know that thanking your parents is a must, eating a healthy breakfast will help keep your energy levels high all day, and stocking your bridal bag is a no-brainer. Yes? Then you're probably not the super forgetful type and already have a checklist of what NOT to forget to do on the day of your wedding (as if you would). But for some of the frazzled-brains out there (oh, you know who you are), there are some last-minute, day-of items that need to be checked off your seemingly endless to-do list. Do yourselves the favor of setting a calendar reminder in your phone, aka: CHECK THE TO-DO LIST PRONTO!, and then don't get sidetracked when you see your ring bearer wiping snot on his vest or your bridesmaid fussing with (re: messing up) her just-done updo. These are our top 10 forget-me-nots. Need more day-of musts? Get ideas for what to do between the ceremony and reception and find out which 12 things are non-negotiable on the morning of your wedding. [Photo: Brookelyn Photography]
12 Things You MUST Do The Morning Of Your Wedding
Let's just skip right over the obvious (hair, makeup, grooming). I would HOPE we don't need to remind you to pluck and primp. But there are some other MUST DOs for the morning of your wedding that you may have thought to do (good for you, uber-organized bride) but more likely considered, then forgot, and are darn disappointed you didn't WRITE IT DOWN. Don't let that happen to you! Grab a pen and paper and (we'll say it again) WRITE THESE DOWN. Tape the list to your fridge, your bathroom mirror, your front door. Here are 12 things you must do the morning of your wedding day. Or else... (just kidding, with the exception of #2 and maybe #8, depending on how you were raised). Don't walk down the aisle without... For more tips on having the best day ever, check out our roundup of the best-ever ceremony details and late-night food ideas for your after-party. [Photo: Shutterstock]
12 Mistakes (Almost) Every Bride Makes
Wedding planning isn't always easy. Or fun for that matter. It can turn even the sweetest, kindest, most generous human being into a nightmarish bridezilla who barks orders at her friends, hangs up on her Mom, and fights with her groom over the tiniest details—serif or sans serif?! What do you mean you don't know what I'm talking about?! You don't want to be that person...the person we all swore we would never be. (I was—I woke up in a feverish sweat one night convinced we had ordered the wrong size tables, insisting we run over to the wedding site "right this minute" to measure the outdoor patio for the third time, and crying to my groom that he was being insensitive when trying to convince me I was reading the tape measure wrong. Gah!) Chalk some things up to being overtired, overworked (it's like having a second job!), and an emotional wreck because of it all. But other things are just flat-out mistakes that brides could so easily avoid—if only they knew what they were. Well, ladies, here they are...the 12 mistakes (almost) every bride makes when wedding planning. Don't let them happen to you and maybe, just maybe, you will be one of the lucky ones who gets to enjoy the process, not just the product. 1. Going overbudget or not having a sense of budget. You know the #1 thing couples fight about, right? You guessed it—money. One of the first things you should do when you get engaged is decide on a budget—and stick to it. Are you paying for the wedding yourselves? Are your parents contributing? Figure out what the bottom line is and then create your own budget graph (if you're an Excel whiz) or find one online like this one from TheKnot.com. Make sure you put the percentage you wish to spend next to each item (flowers, invitations, band, venue, food and drinks, etc.) You can't just spend, spend, spend. When you find out your cake will be 10% more than you had anticipated, you'll need to shave 10% off something else. Make the concession—it's not worth having your first financial fight before you even say 'I Do.' 2. Not having backup plans. Clearly you haven't read this or this. Kidding—but really, you probably should read them at some point. Any wedding planner or already-wed will tell you that you MUST have backup plans for rain (ceremony needs to be moved indoors), technical failures (sound system isn't working), or other emergencies (your makeup artist didn't show and your officiant is late)! Don't worry—most of your guests won't know anything is going awry if you zen-out and mask your stress with a smile. One quick "help me" glance at your trusty wedding planner and she'll know it's time to get to work. 3. Trying to do it all without help. Speaking of wedding planners, HIRE ONE! You very well might need a fixer-upper. Wedding planners can ensure that when something does go wrong (and it always does), you won't have to lift a finger. But wedding planners do so much more than keep disasters at bay on the wedding day; they're there every step of the way. Whether you're struggling with time management, finding the right invitation wording, trying to get in touch with caterers for a tasting, too bleary-eyed to pick the right ceremony chairs (need we go on?), a wedding planner will guide, advise, and make sure your wedding is everything you dreamed it would be. Even if you don't have a wedding planner, don't be afraid to ask for help from your family and friends, especially if you're having a bridal party. Make it fun! No one has to suffer through stuffing envelopes without being rewarded with cocktails. Better yet—have your friends help you pick the perfect wines for your reception with a wine tasting party. 4. Being bridezilla to your bridesmaids. Stressed? Get a good scream out in the shower. Sign up for a weekly spinning class. Whatever it takes to release that anxious energy. But don't take it out on your bridesmaids. These are your closest friends and family. While your sisters might be a bit more forgiving of your outbursts, some friends may not. And truthfully, when all is said and done, some things that seemed like the most important detail in the whole wide world (you said ballet flats not kitten heels!) just won't matter in 1, 2, 10 years, or even 10 minutes into your amazing wedding day. Don't ruin a friendship because she wants to wear a sexier shoe. 5. Not involving your groom. Your groom WANTS to be involved in the wedding planning. Say WHAT?! It's true. Read this. It's imperative that you involve him somehow even if you've had every last detail planned for the better part of your life. He's not just playing a part, filling a suit. It's his day too, and he needs to be more than just "there." Heck, involving him in the wedding planning process (so long as you're not acting the part of micromanager and he the intern) may even bring you two closer. 6. Losing too much weight before the final fitting. Calorie-counting and a new obsession with yoga is all part of the plan to look your best on your wedding day. We know, we've been there. Well, I haven't. I, unfortunately, got a horrible flu a few months before my wedding and ended up losing about 10 pounds from involuntarily not eating for weeks (silver lining). Otherwise, I would have been right there with you. It's fine to shed some of your midsection, tone your arms, tighten your butt. Leading up to the big day, it's normal to have a goal weight in mind and gradually drop the pounds (your dressmaker should be able to easily make alterations to take in the gown). But don't go on a crash diet after your final fitting—an ill-fitting dress is an unflattering look, no matter how skinny the bod underneath. And please—don't do anything crazy—feeding tube?! I can't even go there. No dress is worth that. 7. Not trusting your wedding vendors. Everyone knows who is boss. You're cutting the checks, deciding on the tips, giving a final okay on each and every detail. But there's no need to nit-pick at every little thing your vendors are doing. There's a fine line between being appropriately inquisitive and flat-out annoying. First, trust yourself that you picked the best-of-the-best vendors and then TRUST THEM. They will do their jobs exceedingly well when they have room to think, breathe, and create. Plus, the happier, kinder, gentler you are with them, the more eager they'll be to please. 8. Second-guessing your color palette. Details are addictive. You'll find yourself Pinning in your sleep. So it's easy to understand that you may have a mint green-themed wedding plan one day, then see a MUST-HAVE peach detail on Style Me Pretty the next and want to re-plan your wedding. All. Over. Again. From. Scratch. Don't do it! Pick a color palette and COMMIT (yah, you know, that word you were just begging your groom to add to his vocabulary). Don't try too hard or get swayed by trends; just pick a signature color or combination of colors that feel very "you" and is something you think you'll love on your wedding day and in 20 years too. 9. Making the months leading up to the big day ALL about the wedding. This is a biggie! You don't want every free moment you have for months leading up to the big day to be ALL ABOUT THE WEDDING. No one wants to hear about it or even think about it to the extent that you do. And if you make it all-consuming it will engulf you. It's great to have a checklist and a plan and actually find yourself checking things off that list. But find time to see friends (and not discuss wedding details). Make a date-night every week with your groom (dance classes do not count). Be the fun bride who hides inside all of us. 10. Procrastinating on all the little details. Never leave anything to the very last minute. There will be enough going on in the couple weeks before the wedding so you definitely don't want any to-dos that could have been done in advance still haunting you. Make sure your place cards are calligraphed and boxed. Have your wedding night booked. The bridesmaids gifts purchased. Anything that can be done well in advance of the big day should be complete so you can enjoy a stress-free night out with your cousin who came all the way from Italy just to celebrate you. 11. Serving too much alcohol at the rehearsal dinner party. These days, rehearsal dinner invites are often sent to anyone traveling far and wide for the wedding. Many times, the group tends to be a large portion of those invited to the wedding itself. So it's less of a rehearsal dinner, more of a pre-party. A mini reception. You really need to be careful how much alcohol is being served here. How up for partying are guests going to feel the next day if they've had too much to drink the night before? Surely you don't want people partying into the wee hours the night before your 'I Dos' only to try to sneak out before the cake is cut the day of. Cut the party off at a reasonable hour and don't join your guests for any after-partying. What they do once you say your goodnights is out of your control. You crossed your Ts, now cross your fingers no one is in rare form the following day. 12. Losing sight of the big picture. Last but most certainly not least, remember what this day is really all about. You're having a wedding to initiate a MARRIAGE. Don't lose yourself so much in the details that you lose sight of the big picture: Love. Life. Happiness. A white picket fence. No, really. At the end of the day there are just some things you shouldn't fret about on your wedding day. Yes, it's discouraging when something you had planned for so long falls apart at the last second but it's likely so minor that you're the only one who even notices. It's more important that you let it all go and just enjoy your day. It will go by in an instant. So don't waste a nanosecond worrying. JUST. HAVE. FUN. And remember to kiss often. For more wedding planning advice read about writing your own wedding ceremony, ordering your accessories online, and questions to ask yourselves before booking your wedding photographer. [Photo: Thinkstock]
How To Have The Best. Ceremony. Ever.
No two ceremonies should ever be alike (and, frankly, that's not always easy to do in this Pinterest-obsessed world we live in). But if you can pinpoint what it is that speaks to you as a couple (and then maybe not literally Pin it for the whole world to see, copy, steal before you get a chance to show it off), you just might be able to nab the prize for best-ever ceremony idea. The bestest ceremonies are ones that really feel, for lack of a better word, special. Ones that suck the guests into an almost-uncomfortably close level of intimacy with the soon-to-be-weds. Ones that make you feel like you've known the couple for their entire lives (and maybe you have) and that everything seen and spoken is pure, raw, real. This kind of personalization transcends the wedding vows and becomes all about the nitty-gritty decor and details. The damn-why-didn't-I-think-of-that?! ideas. We scoured the Internet to find our favorite ways real brides got their guests swooning over their ceremony details. We know what they say—copying is the sincerest form of flattery, right?—but don't just take our word (or their word for that matter) on it. Use these best-of ideas as inspiration and get your fab team (MOH, MIL, wedding vendors, whomever) together for a little pow-wow on how to WOW your guests with something even more genius. For more ways on making sure your wedding doesn't look like everyone else's, read 10 Pinterest Cliches To Avoid, 10 Ways To Make Your Wedding More "You", and 8 Ways To Personalize Your Look. [Photo, L to R: Jen & Chris Creed Photographers, Andrew Weeks, Tammy Horton Photography]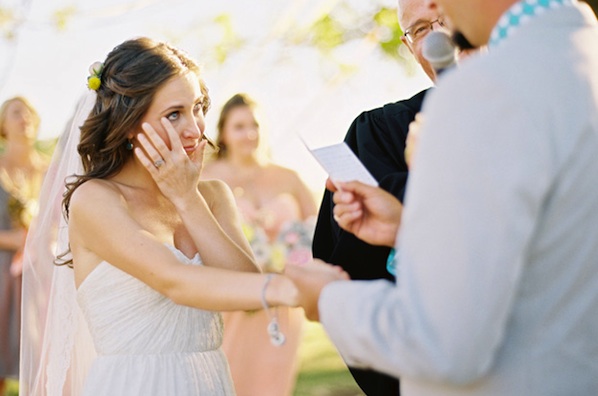 How To Customize Your Wedding Ceremony
Like so many things in life, there are some serious DOs and some even more serious DO NOTs. Your wedding ceremony is no different. Not to sound overly dramatic, but you've got this one shot to lay it all out on the line. To prove winning "cutest couple" in your college yearbook wasn't all in vain. To show your distrustful MIL why it is you love her son so very much. It's your time to shine as a couple, a team, lovers, and even as individuals who complete one another (sorry, we couldn't help ourselves). You don't want someone else to fully take over this very important DO, do you? (FYI: No, you DO NOT. Trust me, I once went to a wedding where the officiant even said the bride's name incorrectly, twice!) Take back a bit of control over your wedding-day nuptials by working closely with an officiant and writing your own ceremony. And we don't just mean the vows. We mean the whole kit and caboodle—from picking the poems and the processional to exactly how you should be pronounced newlyweds. We did this with our wedding. And when it came time for the rehearsal, there were no surprises, except how (pleasantly) dumbfounded I was that the ceremony script was literally word-for-word EXACTLY what we wanted to hear. We didn't have a ton of money so we knew we weren't going to have the party of the century. What better way to make our wedding stand out than with a never-before-heard-personalized ceremony from start to finish? At the conclusion of our ceremony, there wasn't a dry eye in the place and for years afterward friends and family would call to tell us they had never before and never since witnessed a ceremony as special as ours. (Score!) Wanna know how we did it? I re-teamed with award-winning certified celebrant Kim Kirkley (who officiated our wedding) to get the inside scoop on the DOs and DONTs for writing a winning ceremony. 1. DO pick at least 2-3 poems, readings, quotes that speak volumes about you as a couple. Whether you choose "Love is patient, love is kind" (1 Corinthians), the Eskimo Love Song, or Dr. Seuss, be willing to share a bit of who you are with your guests. Get inspired by your favorite passages in books, plays, songs. Or by a meaningful poem that's been a part of family weddings for generations. This is a good time to include something cultural (An Apache Love Song, for example) or to have a reading recited in another language (just remember to give a translation to your guests in the wedding program). 2. DO have an exploration of love. What does love mean to each of you? Talk this through with your officiant and see whether you can "define love" or at least define "your love." It may include what you'll do for one another in time of need (support, defend, encourage) and what'll make this a successful marriage (never turning off a playoff basketball game, always lending a hand for a backrub or foot massage). What you share may be endearing and warm or cheeky and humorous. Just DON'T make it sound like an audition for your local bar's stand-up comedy night, says Kirkley. "Humor is great and a wonderful way to connect with people. But at the same time you want to be respectful of the singular commitment that you are making and the deep importance that marriage has in your lives." 3. DO share a bit of history of yourselves as a couple. If you're having an intimate wedding, people probably know your love story. But for bigger events or for family you only see at weddings and funerals, now is a time to share a bit of who you are as a couple. Don't be afraid to tell it like it was, even if your love story started with, We didn't like each other—at first. "When you are willing to be authentic, it is a brave act of vulnerability and an invitation for deeper connection with the listeners," says Kirkley. But DON'T overindulge your guests with details of your love affair. If there are some things better kept private, then do just that. "Don't be so committed to accuracy that the history of yourselves as a couple sounds more like a resume or a shopping list than a love story," says Kirkley. Ultimately, keep it real and you'll really connect with your guests. 4. DO explain what strengths each of you brings to the marriage. Have your officiant recite what you have in common that makes you click and the differences that round you out and make you whole. "Keep it balanced," suggests Kirkley, "so you don't give your guests the impression that you've had this wedding planned for decades and you finally found a body to fit the tux." And definitely DON'T say anything negative about one another, even in jest. (Humor is one thing, sarcasm is another. Don't say anything that could be taken out of context or that you may regret later when you watch your wedding video.) 5. DO recite traditional & personal vows. "Using traditional vows is a wonderful way to show respect for tradition and to say the words that have defined marriage through the ages," says Kirkley. Yet for even the most conservative couples, finding the courage to recite your own vows is icing on cake for your wedding ceremony. "It's the moment everyone remembers forever!" says Kirkley. If you're worried about saying too little, too much, or have major writer's block, consider writing joint personal vows. That's what we did. My husband and I penned personalized vows together and each took a turn reciting them at the wedding (and even though we knew what the other was about to say we still both choked up and embraced that tender moment). Injecting cute, quirky, funny into your vows is welcome but DONT write inside jokes that'll go over everyone's head and make some people squirm in their seats. 6. DON'T be afraid to choose untraditional songs for your processional or recessional. Walk to Rolling Stones? Why not?! Or be sure to include special songs or cultural traditions to really engage your guests. Just make sure your officiant explains the significance of the song, dance, or custom, or have it explained in the wedding program. One of Kirkley's favorite ceremonies began with a poetic reading of the lyrics to Cole Porter's "Night and Day." One of mine was a performance of "Falling Slowly" sung by one of the bride's oldest friends and performed on guitar by the groom's dad. Tears—galore. 7. DO include some history about the rings you are exchanging. Have your officiant speak about the rings before the exchange. Are they family heirlooms? Do they hold any special significance? What do rings symbolize to you? For us, the circular rings with no beginning and no end were a natural symbol of unending love. 8. DO think about how you wish to be pronounced as newlyweds. Are you changing your name? Are you becoming a Mr. & Mrs. Same Last Name? Do you prefer first names only? Or for the officiant to just say "Let's congratulate our newlyweds!" Traditionally, this announcement (plus the kiss) concludes the ceremony but it doesn't have to be that way. Have a balloon release. A champagne toast. Or take this moment to turn to your guests and thank them for their constant love and support. Even if you do nothing else but smile, wave, and waltz back up that aisle, pause for a few seconds to look out at your guests. You'll want that memory—that perspective—of friends and family laughing, crying, cheering you on, in your hearts forever. Live in that moment. Whether your officiant writes a draft of your ceremony for you to review or you give her the parts to create the whole, make sure you do a run-through where you get to hear your ceremony, the delivery, the pronunciation of names. When it comes to what's said during your nuptials, there should be no surprises on your wedding day. PS- There may be certain state laws that require your officiant to say or do something specific to legalize and validate the marriage. Check your local laws, and ask your officiant.   For more EXPERT wedding planning tips, check out 8 Things To Ask Yourselves Before Meeting With Your Wedding Photographer and 13 Wedding Disasters Only A Planner Can Fix. [Photo: Ryan Ray Photography]
8 Non-Beachy Beach Wedding Ideas
Show of hands—who L-O-V-E-S the beach? Me too! A stunning panoramic beach backdrop may be the very venue for your nuptials (mmmmm...sounds dreamy) but that doesn't mean you have to make ordinary "beachy" choices for all your wedding-day details. Many brides want that scenic backdrop but don't want their wedding to look too, well, cliche. The best way to achieve that non-beachy beach look: go for ideas that feel fresh, new, unexpected. That orchid tucked into your loose updo? It's been done...many times over. (Not that we don't love this look—we do!—but it aint gonna win you any points for originality.) Skip the starfish-shaped accents on your wedding cake, the tiki torches, and pina coladas. Use the beach only as INSPIRATION and then surprise your guests with your bold choices and cleverness. Start with an idea, like the color blue (although honestly, an unexpected palette for your wedding would be a bit more promising), and get inspired by searching for 'something blue' on Pinterest or Style Me Pretty. You're likely to find (just as we did) innovative ways to make blue feel new. Found something you love? Pin it, save it, print it. Separate all your LIKES from your DISLIKES. Then try to imagine you're having your wedding anywhere else—in an art museum, at a vineyard, in a chandelier-studded ballroom. Would this detail fit that venue? If not, mark a big fat red X and try again. There are probably a zillion ways to go non-beachy with your beach wedding but we'll get you started here with 8 of our favorite ideas for transforming your event from predictable to #pow #perfection. Get more wedding planning inspiration with 10 Tips For Having The Best Summer Wedding, Satisfy Your 'Something Blue' With Ombre Nails, and 10 Bridal Accounts To Follow On Pinterest. [Photo: KT Merry Photography]
13 Wedding "Disasters" Only A Planner Can Fix
You can plan, plan away 'til your heart's content. You can have the best team of vendors in place, a type-A maid of honor, an overachieving MIL, and a day-of coordinator who's as sharp as a whip. No matter how prepared you think you are, there are no guarantees for a no-mistakes, error-free wedding. It just aint gonna happen (sorry!). Something ALWAYS goes wrong. Don't believe me? Read this. But the most on-their-game brides always have a Plan B (and C and D and E...). What is it? Hire a really stellar wedding planner. As one HuffPost Weddings blogger put it, "A good wedding coordinator is like great wedding insurance." Enough said. But in case you need a bit more convincing, let me elaborate. A wedding planner can make—dare we say—all your problems go away. She's your fairy godmother. Wedding planners are visionaries, they are budget mavens, they are master negotiators, and all that jazz. But they're also the ones who have these David Copperfield-like tricks up their sleeve for fixing, well, pretty much anything! We spoke with wedding and event planner Amy Shey Jacobs, founder of Chandelier Events NY, and got the inside scoop on 13 things that may go wrong—and what a really crafty wedding planner would do about them. (It's your lucky day, we're giving away some best-kept secrets FOR FREE! So take notes.) WHAT IF... 1. ...there's a big 'whoops!' in the day-of timeline? For starters, have a timeline. Wedding planners want a timeline not just for the day's events in general but very specifically for the production of the day (they'll map out when vendors are supposed to arrive, when the ceremony begins, when you are supposed to walk down aisle, and so on). A timeline gives everyone involved a framework of what to expect. But we said it before and we'll say it again—there are just some things you cannot control. The weather, the traffic, an injury (hopefully not you or the groom). Your day-of schedule needs to have some built-in flexibility for circumstances beyond your control. "Weddings are living, breathing organisms," says Jacobs. "When planning your timeline, build in extra time so no one panics when something goes awry." If something unexpected does occur, your planner will look at the schedule and figure out where to cut back and how to catch up without you, let alone any of your guests, even noticing. 2. ...the ceremony gets rained out? This is one of those instances where you need to "let it be." And any wedding planner will tell you you must, must, no-exceptions-must have a sunny day plan and a rainy day plan. Love your plan either way so you won't be disappointed when Mother Nature has her say. Too many brides fret that if their scenic outdoor wedding is brought indoors, it will be less remarkable, less memorable. That's simply not true, says Jacobs. "Your wedding planner will make sure it's equally beautiful indoors or out. You do not want your guests' stilettos sinking into the grass. You don't want them toting umbrellas just for the sake of having your wedding outside." The easiest way to get your wedding topping the best-ever charts is to make sure your guests are comfortable, relaxed, happy. (And dry.) 3. ...there's a stain on your gown? First of all, we'll say, we sympathize with you. Second, we'll say, where's that darn wedding-day Emergency Kit? Depending on the stain, use white chalk, Tide Stick, or club soda (that's been touted as working wonders). Whatever you do, DON'T RUB! Dab only. And at the end of the day, remember that you are (most likely) wearing a white gown. It's just screaming for a stain. Avoid red wine and chocolate and skip that one must-take shot if it means lifting your 50-pound gown over a pool of mud. But the best thing you can do to prepare for this mishap is ask your dress designer which stain removers are best for your fabric and then stock your emergency kit with some of those. 4. ...the cake is late on arrival? "Don't worry about it," says Jacobs. "The cake doesn't need to make a grand entrance until you want to cut it." But you REALLY WANTED to show-off your cake for the whole reception? We know you did. You (er, your cake designer) put a lot of time and effort into perfecting every sugary detail. But ce la vie. Worst things could happen. Have your wedding planner inform your photographer the second the cake is put on a table so that she can get a few stills of all its gorgeousness before it's wheeled into the room. Then put it on a rolling table and send it out for a big entrance before the cake cutting. "And if it makes a REALLY late arrival," says Jacobs, "ask the caterer or chef for boxes and send guests home with slices of cake. Cake for breakfast!" 5. ...the sound system stops working? It has been known to happen. Jacobs encourages brides to have a "power plan" laid out in advance. Will you need to bring in a generator? Are there outlets only in certain places of the venue? (Does this task sound as annoying to you as it does to me? Then, voila! Wedding planner, take it away, please.) "Often wedding planners will work with the venue director and schedule a meeting with the musicians on site ahead of the wedding day to assess power issues and sketch out a backup plan," says Jacobs. "But if the power does go out, have your band do a couple songs acoustic and have a good time with it. If your wedding is in a home, have an electrician on call so that if something blows, you already have them on your payroll to come turn it all back on!" 6. ...your heel breaks? Is this like good luck or something? Break a leg... break a heel... close enough, right? If your heel breaks you could, uh, break the other heel (I know it sounds sacrilegious to me too but it's that or ditch the shoes altogether). Really, the best plan, is to have a backup pair of shoes. You might want these anyway as the night ticks on and your feet are feeling tired and swollen. Choose something comfortable (a sandal, Converse, ballet flats) but make sure you love the look with your gown (just in case pair #1 is down for the count before the wedding even starts). "If all else fails," says Jacobs, "find a bridesmaid who has your shoe size. It's her call of duty, right?!" 7. ...your friend shows up with an uninvited date? This happens more often than brides would like to think (and p.s.—don't ever be this person). So let's just skip right over the "if" and say WHEN this happens, don't panic. But do let your wedding planner know immediately. "Be gracious and forgiving of their gaffe," says Jacobs. "And simply have your planner find a way to squeeze them in. This should not become a scene from Real Housewives of Beverly Hills." (Although we can't blame you if you duke it out after you return from the honeymoon.) "I always tell my brides if you plan on ordering special chairs, order 2-3 more; same for chargers, plates, etc.," adds Jacobs. On the flip side, last-minute cancellations happen too. Same rules apply. Tell your wedding planner immediately so she can shuffle things around with the help of the catering director. No need to stress the seating chart. If you have a table of 8 instead of 10, it's really no big deal. 8. ...your officiant is late? Of all the vendors, the officiant should arrive extra early to get day off to a good start. "Then there will be ample time for any last-minute day-of rehearsals and preparation," says Jacobs. But to avoid any ceremony start time snafus, all brides should be putting the time on their invitations for at least one half hour before the start to the actual ceremony. This allows a little cushion for guests to arrive. Have waiters pass around (non-alcoholic) drinks. Have your quartet playing while guests meet-and-greet. "If everyone is mingling and having a good time and not feeling pushed through a tight schedule, it creates a welcoming and refreshing environment," says Jacobs. Worried all this pre-wedding socializing will throw off your timeline? Re-read point #1. 9. ...your makeup artist is a no-show? "Mine was," says Jacobs. "So I know from experience, you need to have your arsenal with you just in case." Stock your bridal bag with your favorite streak-free mascara, a concealer, lip gloss. "Don't be afraid to apply your own makeup but stick to some basic rules," Jacobs adds. "Stay away from shimmer, for example. And don't apply too dark of a lipstick as it could cause your lips to look black in black-and-white photographs." Once you have applied your makeup, call in your photographer to do a test shot (she may already be in the room snapping all your gorgeous getting-ready photos). A few test images will allow you to see if you've applied just the right amount to really stand out and look FAB. 10. ...the florist sends the wrong flowers? Florists are human and although it may sometimes seem like it, they're not magicians. They can't make a wilted bloom spring back to life nor rescue a flower that got stuck in customs. They're amazing innovators though and will know just how to resolve almost any problem. So don't freak out if the shade of your bridesmaid bouquets is slightly off (we're sure they're still stunning). Or if your centerpieces have less peonies, more ranunculus than you agreed to. No one's out to get you. No one's trying to pull any wool over your eyes. It's just a simple case of must-improvise. "You can always ask to see a few photos in the days before the wedding of the work in progress," says Jacobs. "Then plan your flower delivery on the day-of with enough time to fix a small mistake before guests arrive. Have someone on site to 'check them in' (if it's not a planner, send a trustworthy friend)." In less than a minute, your confidant can message you a few photos to confirm you got what you paid for. 11. ...an unexpected toaster toasts you? Ugh. Or should we say UGH with a capital U-G-H! Of course with alcohol flowing, spontaneous toasting may happen and you can craft a red-alert plan with your groom such as he goes up to so-and-so-annoyingly-drunk-guest, thanks them, hugs them, and takes the microphone before said-friend gets a chance to say something they'll later regret. Better yet, suggests Jacobs, if you're planning on curtailing toasts and having a well-edited list of toasters, make sure you give this list to your wedding planner. Your planner will ensure the MC (whether that's the DJ, band leader, or venue director) guards the microphone. WITH THEIR DEAR LIFE we might gently add. 12. ...the bus doesn't show up to take guests to and from the wedding? Stranded guests mean angry guests. Don't let it happen to you! First and foremost, always get a great recommendation for your transportation. Once you know you've hired the best, you still need to triple-confirm with them. Says Jacobs, "It's not enough to have the dispatcher's number. We always make sure to get the cell number of the actual driver too." Appoint someone to be in charge of the bus schedule and routes, making sure buses are filled and that someone seated in the front of the bus has a copy of the directions to the wedding venue. Leave directions and alternate means of transportation (taxi numbers, for example) in each guest's hotel room in case they need to find their own way there. 13. ...people arrive with checks in hand? I think it's safe to say everyone knows showing up with a wrapped gift is a big faux pas. But not everyone is sending a gift to the happy couple's home. And not every couple is registering for things to do on their honeymoon (although we think you should). "Don't ever leave checks or cash on a table!" warns Jacobs. "Make sure your wedding planner works with the venue director to put them in a safe place and assign one person to be in charge of collecting the money at the end of the night." Oh and speaking of money, it's not a bad idea to give that same person the duty of handing out tips to all your vendors. Don't forget to tip your wedding planner well—you don't even want to know the number of mini disasters that were thwarted with a swish of her magical, mystical fairy wand. Get more expert wedding planning tips in 8 Questions to Ask Yourself Before Booking A Wedding Photographer, 10 Mistakes Couples Make When Planning A Summer Wedding, and 10 Things No Bride Should Worry About On Her Wedding Day. [Photo: Shutterstock]
8 Questions To Ask Yourself Before Booking A Wedding Photographer
Finding a wedding photographer that's "the one" is like finding your groom all over again. (Well--sort of.) It is pretty important, though: when the cake's been eaten, the gown's been stored away in the attic, what's left? Your memories and any images that your photographer was able to capture. Of course you hope that those photos have captured not only your own vision of the day, but all the details you didn't see—your grandmother crying at your wedding vows; your sisters joyously laughing at your Dad burning up the dance floor; your gorgeous tabletops before any guests arrived. Must we go on? Believe us when we say you WANT a wedding photographer you wholeheartedly trust, personally and professionally. This doesn't mean you had to know each other for 10 years; this relationship is one that can develop quickly. It may even be love at first sight—you'll know you've met "the one" the moment you've met the one. At the end of the day, your photographer holds the key to your wedding memories. She'll capture everything you wanted to remember and much, much more. The more she feels she knows "you" as a couple, the better she'll do in capturing your big day. To find "the one" who'll snap the quiet moment you shared with your groom after the ceremony, but also the flower girl asleep on her father's shoulder, and won't forget to take a close-up of the macaroons on the dessert table or the locket tucked inside your wedding bouquet, you'll need to ask A LOT of questions and spend A LOT of time obsessing over photographers' wedding portfolios (online and in person). But before you even get to that point, you'll need to know a little something about wedding photography in the first place and about your own nuptials. Know what YOU want first before you ask how THEY can deliver. Here are the questions you must ask YOURSELVES before you even book a meeting with a photographer. 1. What kinds of photographs do you like? No, not them, YOU! Most wedding photographers do photojournalistic but within that group are ones who can make your images have a vintage feel, a documentary-style look, a traditional feel to the portraits. Some might toe the line of trendy or fashion-forward. What do you want your pictures to look like? How would you describe your style? You can start gathering LIKES and DISLIKES by tearing out, tagging, or pinning images from magazines, websites, Pinterest, wherever. These don't have to be stills, portraits, or wedding photos at all. A good photographer will understand your style just by looking at what kinds of images you are drawn to. 2. What do you want in the prints package? What are you looking to get from the photographer? Prints? Proofs? Do you want this photographer to do a wedding album for you of final selects you made or they made? Do you want a CD with everything including out-takes? Can you order prints? Reprints? How will friends and family be able to order prints? And how fast do you want to see something after the wedding? "Most packages include at least coverage and an online gallery plus usually a disc with hi-res image files," says Brooke Fitts of Brookelyn Photography in New York. "Other package additions might be an engagement session, album, or print credit." Ultimately, photography packages will differ from photographer to photographer so be sure to ask what their packages include and ask yourselves what is it that you want to walk away with. 3. How large is your wedding? How many guests you invited will impact how a photographer can wrap their head around getting everything you want done in the timeframe you want it done in. "[Size] is important from a photographer's perspective to ensure there's enough coverage to be sure a moment isn't missed," says Jasmine Star of Jasmine Star Photography in California. "If a bride is planning a 450-person wedding, the photographer might want to bring an extra photographer for additional coverage." 4. Where is the wedding taking place? Are you having it in a hotel ballroom? On a vineyard? Is it a destination wedding? A wedding in a family friend's home? Not only will there be logistical issues to contend with (can the photographer drive there in a couple hours or need to fly and stay over for the weekend?) but there are mechanical details to be hammered out, preferably ahead of time. Says Star, "When the photographer knows more about the venue in advance, the better she is equipped to deal with architectural or lighting challenges if they present themselves." 5. What are your must-take shots? What's really important to you on this day? Do you want to be sure you capture people and emotions? Details? A little of both? The food, the favors, the huppah, your cute-as-pumpkin-pie ring bearer's big gummy smile? Do you want a photographer who doesn't even have to ask about photographing the yellow Converse you've paired with your custom-designed gown (duh)? Or do you want to be sure she captures your Maid of Honor anxiously rehearsing her speech? Really think about what's important to you and make sure you see this in their portfolio. 6. What's your budget? Wedding photography don't come cheap. But, the range for every photographer is probably so vast based on your specific needs. Know what you can afford before you have the chat about prices and packages. "There's nothing worse than finding the perfect photographer and later realizing her fees are beyond your reach," says Star. "It's best to manage expectations in advance, find a photographer who aligns with your budget, and then book according to aesthetic preferences, not who'll offer the best deal." 7. How private are you as a couple? Don't forget to consider your exposure. With Facebook, Instagram, Pinterest, and who the heck knows what else, your wedding might very well be seen by, oh, all of America. Worldwide. In the stratosphere. Some brides may love seeing their images on their photographer's website and popping up in magazines and on wedding blogs. Others might be mortified that their "intimate wedding" doesn't feel so "intimate" anymore. Understand your rights to privacy and your photographer's rights to copyright. But remember this: A photographer is an artist and it's imperative that they be able to showcase their work. Any photographer will need to use their images to promote their own business and gain new clients. Explains Star, "Having discussions about privacy concerns are tantamount to a successful working relationship, but brides should keep in mind that they likely found a photographer's work by images on the web… If they remove the very thing that drew them to the artist in the first place, chances are the photographer may not want to take the wedding because she cannot showcase the work. It's like a commissioned painter asked to keep his paintings in a dark basement." Bottom line: Know exactly how much exposure-to-others you are okay with. Try to be reasonable given this digital world we live in. And ask the right questions before you sign the dotted line. 8. How involved do you want to be? Lastly, ask yourselves how "in control" you think you'll be. Do you want a wedding photographer who'll make snapshot decisions? Are you okay veering from the plan and letting the day take its natural course? Are you obsessive and controlling and you know it and you need to lay out a must-take shot list, must-not-waste-time shot list? How involved do you want to be on your wedding day when it comes to what the photographer is snapping and when? Really being honest with yourself and with your potential photographer will help you (and them) know if it's a match made in heaven or hell. How will you know she's "the one"? "Trust your instinct," says Lara Robby of Lara Robby Photography in New York. "Do you connect with them? Do they get your vision?" And please, we beg you, please—once you've gone with your gut and made your decision, TRUST your wedding photographer! There's a reason you hired him or her so the best thing you can do for yourself (and to get the best photos from them) is to let them do their job! For more photography insider tips, check out 10 Must-Have Photographs, 10 Expert Tips For Creating The Perfect Wedding Photos, and 7 Questions To Ask Your Wedding Photographer. [Photo: Jasmine Star]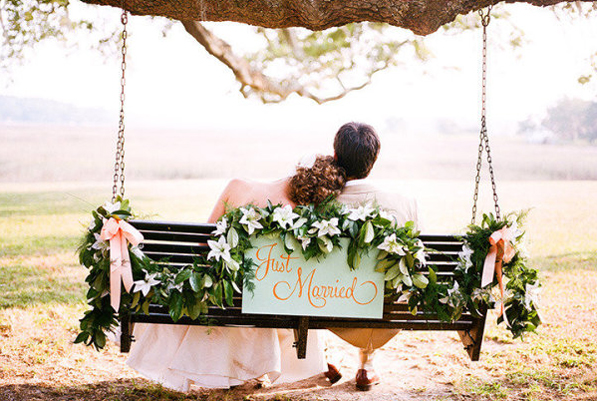 10 Tips For Having The Best Summer Wedding Ever
Ahhh, what can we say about summer weddings? For starters, the weather is gorgeous and people's spirits are high (aka: they're in a jubilant, partying mood). And the creativity that comes with using everything nature has to offer as the backdrop and foundation for your wedding-day details makes it oh-sooo romantic. From couples riding tandem bikes to guests sending wish lanterns into the air, there are a zillion ways to make one summer wedding better than the next. But wait—don't be fooled. Nailing these "summer wedding musts" won't necessarily be a piece of cake. Summer weddings have an air of ease about them but that doesn't mean they're easy to plan (read 10 Mistakes Couples Make When Planning a Summer Wedding for more on this). Assuming you're a creative bride who can pull off these must-steal ideas, we'll simply suggest one thing: love your vendors. Really. An amazing caterer, an out-of-this-world events planner, and a florist so innovative and smart you want to kick him just to make sure he's human can make all the difference in making your vision come to life. And then there are those brides who can DIY-it all the way and have their summer wedding be the party of the century on a nickel-and-dime—and for that, we hate you. (Kidding.) But really, for the rest of you, start getting inspired now with our 10 ways to have the best summer wedding ever. Seriously, I am so obsessed with each of these ideas, I almost want to go and get married all over again! Like, tomorrow. For more wedding planning tips, read 8 Late-Night Food Ideas For Your After-Party, How To Have An Intimate Wedding, and 10 Ways To Personalize Your Wedding.
10 Ways Your Groom Actually Wants To Be Involved With Planning
By the time my husband finally (and do I mean f-i-n-a-l-l-y) popped the question, I was ready. Binder in hand. Wedding-day details (from the color palette to the cake shape) organized to perfection. Okay, okay, I know what you're thinking. Crazy. Desperate. I won't go there (cause I'm neither) but I will admit to this: I am obsessively detail-oriented. I like things "just so" and so the day after he proposed, I gleefully opened my wedding binder, organized "just so" with tabs, tearsheets, and names and numbers of my favorite wedding vendors. "Here's what I'm thinking..." is what I said. And of course, he happily obliged. "Whatever you want." But I knew he wanted to play a bigger part in planning the wedding than that. So, without making a big fuss about it, I found some easy ways to include him in the planning process (full well knowing that his two cents wouldn't override any of my major can't-live-without-this-at-my-wedding decisions). In the end, we were both happy with his contribution to the wedding planning. Honestly, I couldn't have gotten through it without him (aww). He is the yin to my yang and I am so glad he was able to put his stamp on our wedding-day details. If you're anything like me, you want to take the reigns and never let go. And if your groom is anything like my husband he knows when you've put your mind to something, there is no stopping you, so he lets you have your way more than he probably should. But, remember, it's his wedding too and he needs to be more than just "there." Heck, he probably wants to be involved in the wedding planning. Even if your groom seems disinterested or is all-too-eager to appease you, don't be fooled. Deep down he's waiting for his moment to steal one of those reigns from your white-knuckle grip. Still unsure about letting go a little? Here's some more encouragement—these are the 10 ways we can pretty much guarantee your groom wants to be involved in the wedding planning. Ask him—then come back and tell us if we were right! 1. Choosing special or after-party entertainment. Yep #1 for sure. I have never known a guy to not be music-obsessed. Whether your groom's alter ego channels Freddy Mercury or Miles Davis, let him live out his fantasies by granting him exclusive right over the 'special' entertainer or after-party band. Grateful Dead cover band? Mariachis at midnight? A classical pianist during dinner? He (on electric guitar) and his old college bandmates bringing down the house? He's not going to go wrong here so trust him to pick the perfect crowd-pleaser. 2. Registering for the manly stuff. If he could care less about stemware, flatware, toasters, and roasters, you're preaching to the choir. Surely, in addition to the obligatory tableware checklist, you need some camping equipment, tools, golf clubs, a party's-right-here-folks grill. Am I wrong? Let him register for the "fun" stuff (we can call it the "manly" stuff)—he'll be happy as a pig in sh-slop. And that'll make you happy too. 3. Picking the top layer of the wedding cake. If your groom is like any man I have ever known, this might be his favorite part of wedding planning. With so many cake, filling, and frosting flavors it might not be easy to agree. We know you're going to take control of the decorative details so let him choose the top layer. This is the part of the cake that's traditionally reserved for the bride and groom to take home, freeze, and eat on their 1 year wedding anniversary. So even if he chooses a less than favorable option, in your opinion, your guests will never know it (but you don't have to tell him that). 4. Picking his own boutonniere. The groom's boutonniere really doesn't have to be so matchy-matchy with the bridal bouquet or any other floral elements of the day. Once you agree on your color palette, ask your florist to provide him with options for his boutonniere that match the wedding-day colors. Your florist will be able to pair down the selection to the cream of the crop. Anything he picks will be perfect. 5. Planning a co-ed bridal shower. Your bridal shower doesn't have to be about lingerie and ridiculous bingo games. Its really just another excuse for a party! So go informal and make it co-ed. Rent out a bowling alley. Transform your parents' backyard into a mini circus—jugglers, clowns, acrobats. Co-ed bridal showers can be as simple as a daytime luncheon with volleyball and bocce ball to as elegant as a lounge-y martini mixer with passed hors d'oeuvres and late-night cigars. 6. Concocting the signature cocktail. This will be super fun to do together and will give your guy an opportunity to show off. Lock in a few dates nights at your favorite bar or lounge and start ordering some unexpected cocktails. Get creative with your choices and see which flavors taste and look the part for your wedding. Let him make the final selection on the drink-of-choice that will play the starring role in your wedding. Maybe if you get him lubed-up enough at the tastings, he'll even agree to name it. 7. Finding his own ring. He may know nothing about platinum versus white gold, shiny versus matte. He may not have a clue what he likes in terms of style, width, engraving. Give him a chance to try on everything and anything until he finds "the one". Bite your tongue if it's not your first choice. After all, he is the one who has to wear it—everyday... for the rest of his life... 'til death do you part. So, he might as well LOVE it! 8. Selecting his own suit. Fewer and fewer grooms are opting in to the traditional tux. More and more are getting designer or custom-tailored suits that not only fit the vibe of the wedding but that really show off their personalities (fabric, suspenders, pocket squares). Agree on an overall color (black, taupe, navy) but let him decide on the cut, style, fabric, and accessories. The tie will be a standout so point him in the right direction hoping he'll pin the tail on the one you have your eyes fixed on but don't throw a fit if he chooses plum plaid instead of plum pinstripes. 9. Buying the groomsmen gifts. You have enough to worry about. The last thing that should be on your mind is what he wants to give to his groomsmen as a way of saying thanks. Decide on a reasonable budget and let him get whatever he wants (no, he sooo doesn't want to get them a tie to wear on the wedding day). Whether he wants to gift them flasks, cufflinks, or tickets to an NBA game is none of your business. Just remind him to purchase some wrapping paper and find a way to get his gifts sealed, signed, and delivered. 10. Writing his own vows. Even if you're having a traditional wedding ceremony with more customary exchange of vows (I take thee, so and so, to be my lawfully wedded wife...), many brides and grooms choose to share a few personal words with one another. Make sure you're on the same page about this (in other words - you're both doing it or no one is) and then stop there. No micromanaging involved when it comes to who's saying what. No sneaking a peek at what he's going to say about you. These are his feelings, his words, his true and honest expression of his love for you. Stay out of it and you'll appreciate everything he has to say that much more. For more wedding planning tips, don't miss How To Have An Intimate Affair, 8 Late-Night Food Ideas For Your After Party, and 10 Mistakes Couples Make When Planning A Summer Wedding. [Photo: Shutterstock]
How To NOT Have A Boring Wedding
You got the Vera white gown (check), diamond studs from your groom (check), and drool-worthy shoes that cost more than your monthly rent (check and whoops!). You're the gorgeous bride every bride dreams of being and that makes you, uh oh, Mrs. Everybride? Yikes! Now you're sulking, almost postponing your wedding, in utter fret-mode wondering if you look just like your cousin, your best friend, your sister! (Cue big heaving sigh.) How are you going to transform your wedding look to weave a bit of who YOU are into your wedding-day attire? It's so super easy. You don't need a new wedding gown. You don't need to return those shoes (although maybe you should if you want to start your financial future off on the right footing). And you most certainly do not need to postpone your wedding. Take a deep breath. And give yourselves the favor of taking 5 minutes to flip through this inspiring slideshow. Here are 8 of our favorite ways to personalize your look allowing you to not only wear something that's so you but wear something no one else will! For more ways to bring a bit of "you" into your wedding, check out Ways To Make Your Wedding More "You", The Meaning Of Your Bridal Bouquet, and Wedding Centerpieces With Personality. [Photo: Shutterstock]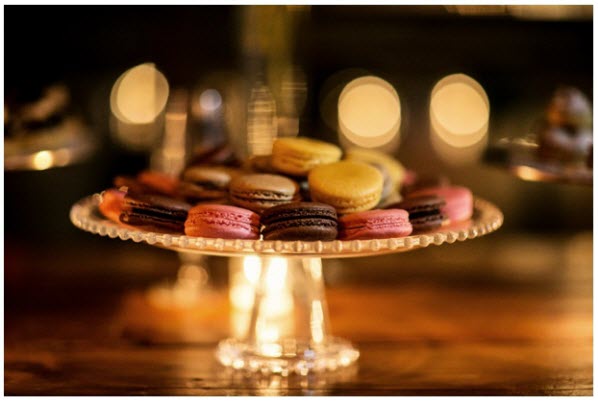 10 Wedding Desserts That Are As Good (Maybe Even Better?!) Than Cake
These days, weddings are so not cookie-cutter. When it comes to today's brides, anything goes. And that includes ditching the wedding cake and giving your guests other sweet treats instead. Dessert stations seem a bit passe so instead of giving your guests everything-but-the-kitchen-sink to choose from, find one (or two) favorite sweet treats and make that your dessert of choice. You can have a help-yourself table or bar. Or have waiters pass them around. Or you can even rent a food truck—great for ice cream, crepes, cupcakes, and more. Want to have your cake and eat it too? No problem—go for a small two-tiered wedding cake so you get those cake cutting pictures in (no regrets, right?) and ask your day-of wedding planner to be sure a few dozen slices are put out for the older crowd to enjoy with their coffee (no one needs to be displeasing grandma on their wedding day). But turn the majority of your guests' attention away from the frosting and onto other tasty fabulousness. Here are 10 great cake alternatives. Need more inspiration on how to personalize your wedding? Check out 8 Late-Night Food Ideas For Your After Party, 10 Ways To Make Your Wedding More "You" and What Your Wedding Bouquet REALLY Means. [Photo: Brookelyn Photography]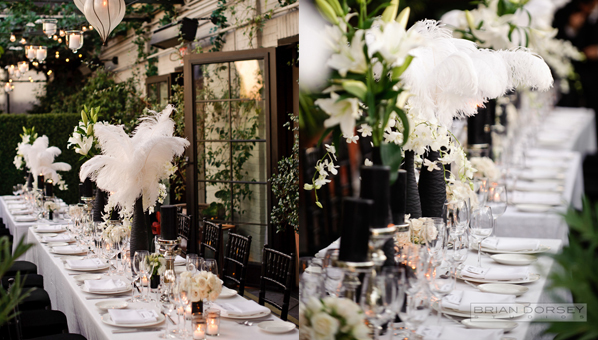 10 Wedding Centerpieces You Haven't Thought Of–Yet
Some brides dream big (sound like you?)—tabletops overflowing with luscious blooms and berries; candelabra dripping with roses and ranunculus; peonies as far as the eye can see. But some weddings call for more toned-down tabletop decor. Simple is not synonymous with boring. Less fussy can totally translate into trendsetting. There are so many different ways to dress a table—feathers, branches, birdcages. We've seen it all! And don't think you have to DIY-it. Your florist or event planner will be on board with going beyond the basic blooms and transforming your space however you see fit. For brides who can't (or don't want to) go big, think outside the box, er, vase and don't be afraid to inject a little personality into your tables. And most of all, remember, sometimes less is more. Get inspired with these 10 tabletop ideas. Find more inspiration with 10 Non-Mason-Jar Containers, Mercury Glass Containers, and Geometric-Themed Wedding Decor. [Photo: Brian Dorsey Studios]
How To Have An Intimate Wedding
When it comes to weddings, size matters. And sometimes the smaller the better. At more intimate weddings, there really are no expectations. It's not likely your guests will formally welcome your bridal party in a receiving line and they definitely won't be forced to awkwardly watch your first dance from a table so far from the dance floor it may as well be in the next town over. An intimate wedding isn't going to follow such a traditional day-of course of events. It's going to blaze its own trail, with the newlywed couple (and their guests) letting the night go in whichever direction feels right. Intimate weddings are perfect for the couple that can go with that flow. But just because you've chosen to tone-down your nuptials, doesn't mean you can't do it in top-notch style. Less cookie-cutter, more cutting edge, intimate weddings actually call for one-of-a-kind wedding-day surprises. Because there are fewer guests, there might be more room in your budget to hire a special performer (a belly dancer, a fire-eater, a tap dancing duo) to entertain your crowd in-between the dinner courses. With fewer people, these kinds of unexpected details never get overlooked. So plan well and make them unforgettable. Here are 10 more ways to pull off a small but special wedding your guests won't ever forget. For more wedding planning tips, check out 10 Things No Bride Should Worry About On Her Wedding Day, 8 Must-Dos Between Your Ceremony & Reception, and 10 Must-Take Wedding Photos. [Photo: Brookelyn Photography]
8 Late-Night Food Ideas For Your Wedding After Party
"There is no love sincerer than the love of food," said the late, great, Nobel Prize-winning Playwright, George Bernard Shaw. When it comes to weddings, I couldn't agree more. Too many brides fret over the particulars of their wedding, but when it comes down to it, the guests are most excited about two things: free food and booze. Take time to really think about what you'll be serving to your guests and wow them with a wedding menu that's out of this world from beginning to end—the very, very end. Here are our favorite late-night food options for all your late-night partygoers. For more wedding tips, find out what your wedding bouquet means, 10 things no bride should worry about on her wedding day, and the 10 wedding shoes that will never go out of style. [Photo: Cory Ryan Photography]
What Your Wedding Bouquet REALLY Means
Since the beginning of time, flowers have been used as a vehicle for showing one's affection: red roses are synonymous with love (just ask any woman on Valentine's Day) and the early Victorians even used flowers to express their emotions—grief, jealousy, devotion, and more. While we're not suggesting that you use 1-800-FLOWERS in place of emoticons, you can use your wedding flowers to set a romantic and meaningful tone for your big day. Are you a true romantic? Skip the white roses and opt instead for gardenias, which symbolize purity and joy (who knew?). Are you a free spirit? Skip the wildflowers, and try delphiniums instead—they signify an open heart. We could go on and on. If you're curious about what your wedding bouquet REALLY means, TheKnot.com has a complete catalog of flowers with meaning (good and bad!), and you might want to get your hands on a copy of the Old Farmer's Almanac which also has similar information. We've rounded up some of the most common floral definitions from our favorite sources in any easy-to-navigate guide above. Disclaimer: You'll find variations on the meanings of flowers everywhere. So take it all in with a grain of salt and just have fun with it! For more bouquet inspiration, check out our guide to the most popular bouquets on Pinterest, the most in-demand flowers for summer weddings, and 15 non-flower bouquet ideas. [Photos: Shutterstock]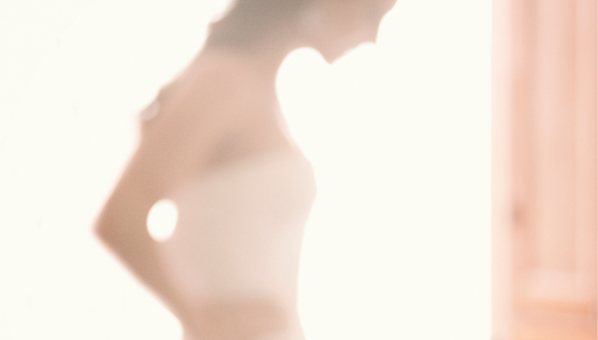 10 Things No Bride Should Worry About On Her Wedding Day
Listen up bridezillas! Yes, I am talking to you all, any one of you who is, thinks she isn't, and is definitely not a bridezilla (cause let's get real here, we're all bridezillas on the days—or months!—leading up to the big day). There's a time to be controlling, to get all your ducks in a row, to cross all your Ts and dot all your Is. And then there's a time to take a few deep breaths and let it all go. The day is upon you and there's just some things no amount of planning will allow you to control. No matter what happens (and, as much as you don't want to hear this, something will go wrong, it always does), keep a smile on your face and your guests will follow suit. And remember—only you know every last detail and the way things are supposed to unfold. Your guests won't recognize the mistakes if you let them slide off your back. You've planned to your heart's content, you're hoping for the best, now let it be. The only thing left for you to do now is practice that effortless, nothing's-gonna-bother-me-today smile. And because we know you're probably wondering what these "things" are that may go wrong, we've doled out the top 10 you just can't let yourself fret about on your wedding day.  1. The weather. Rain on the wedding day means good fortune in your marriage? Is that like saying when a pigeon poops on your head it's good luck? It's just a way to make those of us who did have to sport umbrellas for some (or all!) of our wedding pictures feel better. But the one thing you can count on not being able to change is Mother Nature. If you're having a summer wedding, you better have a rain plan in place in case you need to bring the outdoors in. Having a winter weeding? You need to prepare for cancelled flights, poor driving conditions, and a possible abbreviated guest list because of it. There's no sense in worrying about the weather. Even the best laid plans could be turned upside down. So have that upside down plan mapped out and you'll feel ready no matter what the day brings. 2. A drunk friend. Oy. There's always one, isn't there? Someone who gets giddy at just the muttering of the words "open bar." There are ways to reduce the risk of your friend becoming the day's most obnoxious guest. For starters, think about what you're stocking your bar with and ask your bartenders to be smart about how much they are serving guests who are toeing the line between tipsy and topsy-turvy. If you really don't want to deal with drunkards, come up with a menu of signature cocktails (many of which can have less alcohol in them than say your traditional gin & tonic) and have waiters pass them around. This will eliminate bar-crowding too. And it works especially well for outdoor weddings or weddings where people spend more time mingling and less time on the dance floor (usually the impetus for throwing back a few too many). In the end, laugh off a drunk friend's scene-stealing worm or whatever ridiculousness is had—it's their embarrassment, not yours. 3. A stain on your wedding dress. Eeek, okay, we're with you on this one. The last thing you want on any part of that gorgeous gown is a stain—lipstick, red wine, deodorant, chocolate, whatever! The good news is (if there is a silver lining), the accident is likely to happen at the reception long after the ceremony and most party photos have been taken. Of course, if you're planning to wear more than one dress, the solution is easy—make a quick exit and change early. Otherwise, plan ahead with a wedding-day survival kit. Yours should include things like a Tide Stain Pen (ask your wedding dress designer ahead of time if it will work on your material) and Hollywood Fashion Tape's Deodorant Sponge. 4. An inappropriate comment in a speech. Awkward. Cue the crickets. Yep, I've seen it happen and you probably have too. Chalk it up to your friend, brother, groomsman being nervous and don't take it as a personal insult. Your job ahead of the wedding day is to pick the best people for the speeches, friends and family members you can trust to make a heartfelt speech that will shed a beautiful glow on the two of you without putting the spotlight too bright and directly in your face. After that, like we said before, let it be. In the end, trust that your friends and family meant well and did the best they could and thank them regardless. 5. A friend who couldn't make it. It sucks when a friend can't make it to your big day. It happened to me. And I have been that friend too. Sometimes prior obligations get in the way, unexpected life events, or the weather. Try to keep it all in perspective that although it's the biggest day of your life (thus far), it is just one day. Friends and family who are by your side and even those who aren't still want to share a lifetime of adventure, dinner clubs, and babysitting swaps with you. Their attendance at your wedding—or not—shouldn't change their friend status. 6. The crying baby at the ceremony. No kids allowed. That's most brides' top request. But when kids are allowed, kids will be kids. Your ring bearer will pick his nose. Your flower girl will get shy and forget to throw a single petal on the aisle. And your cousin's baby will cry at the ceremony. Any reasonable parent who can't quickly calm their baby will remove themselves (with baby) from the premises pronto. But you'll be seething that your guests didn't hear that really important couple of words the officiant just muttered. But you did, right? That's really all that matters. This is your ceremony, your moment to commit your lives to one another, and really the only two people who need to hear, smell, and taste every last word is you and your partner. 7. No one sees the cake cutting. You're going to stress over what?! No one ever sees the cake cutting (sorry). It always happens in a corner of the room where the lighting is good for the photographer to snap that must-have photo. But really, people are already off socializing, drinking, taking in the view from the wraparound porch. If your cake is a real centerpiece of the wedding and you want to show off that showstopper (as you should), have it displayed in an obvious area of the room well before the cake cutting begins. Your guests will have a chance to marvel at its magnificence and you'll worry less that no one sees you slice it. 8. Guests switched seats. We know, we know, you labored over the seating chart. You kept fighting aunts away from one another and put all your fiance's single friends with all your single friends. And now people are switching seats? Didn't they see the escort cards? Can they not read your table numbers?! Does it really matter? You gave the room as much organization as you possibly could... now let it go. There will be a seat for everyone. Everyone will manage to eat. And you have bigger things to think about than who is sitting where—your first dance is coming up! Have those steps memorized? 9. You forgot the steps to your first dance. Whoops! It's okay. Who's going to notice? If either of you has two left feet, you might not want to choreograph a world-class performance anyhow. And if you do go for it, have a few signature moves that can be performed at different points in the song. Missed your first dip? Wow your guests with the second. Just relax, have fun, and remind yourself that this moment is one where you really want to be "in the moment" with each other and enjoy your new official coupledom—regardless of who's stepping on whose toes. 10. The song you just really didn't want the DJ to play. You made your must-play list and, more importantly, your must-never-no-matter-what-anyone-requests-play-this-list but somehow that darn "Gangnam Style" is now blaring through his speakers. Don't storm over to the DJ table or out of the room. Either shrug it off and ignore it, or, better yet, grab your groom and start dancing your tushy off. Your guests will love you for it. Trust us, you're the role models at your wedding. Whatever you're into, whatever is making you happy, your guests will follow your lead. Keep a smile on your face, let your worries go, and you might even surprise yourself—your worst-case-scenario-bridal-nightmare might just turn out to be the funniest moment of the wedding your guests can't stop talking about (in a good way!). [Photo: STUDIO 1208]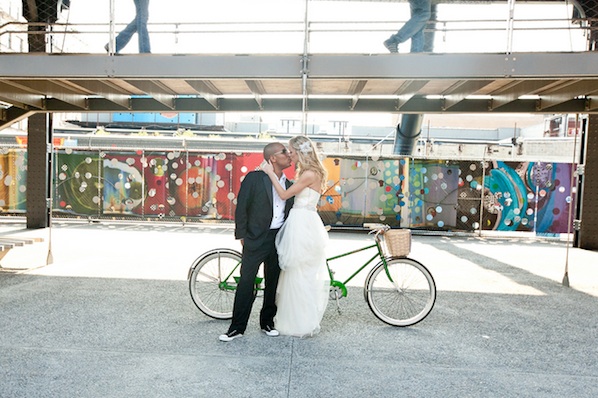 10 Ways To Make Your Wedding More "You"
You don't have to have the party of the century for your wedding to be a memorable one. You don't have to have a ton of money. The most expensive flowers. The loudest band. Or even a bar that stays open all the good long day. Your wedding will be memorable for yourselves and all your guests if it speaks volumes about you as a couple. So get personal! Take your wedding beyond the basic monogram and find a way to thread a bit of who you are as individuals and as a couple throughout the wedding day and details. [Photo: Jenny Ebert]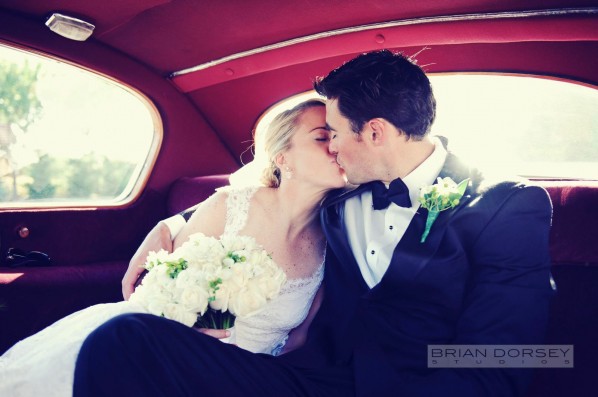 10 Wedding Shots You Don't Know To Ask Your Photographer For–But Absolutely Must
Open any bridal magazine and you're bound to find an article on the must-take shots for your wedding album. Flip through any wedding photographer's portfolio and you'll see the same list: the ceremonial kiss, the first dance, the wedding cake, the gorgeous gown. Heck, we even doled out the top 10 shots you've got to have your photography take (which is still a good place to start), but beyond this basic list are the moments you really want your photographer to capture. Ones that only an experienced professional knows to shoot, of moments you'll want to remember long after the honeymoon is over. These are the photographs that you won't even notice she's taking because you're so in-the-moment, but are the first ones to get framed and shared on Facebook and sent to loved ones. Click through the slideshow above to find out what they are. [Photo: Brian Dorsey Studios]
Best Sellers: b-glowing.com
Where: b-glowing.com Best Seller: Kai Fragrance Oil An intoxicating fresh perfume blend of white exotics that will transport you instantly to your own tropical paradise. Celebrity devotees include Tyra Banks Kate Bosworth Jamie Leigh Curtis David Duchovney Jenna Elfman Jennifer Garner Paris Hilton Sold: Last 4 weeks sales' = 24....last week 3. Why it's flying off the shelves: a regular great seller. It's such a fabulous fragrance and has such a loyal following. Get one: Free Shipping for SheFinds readers promo code: blog