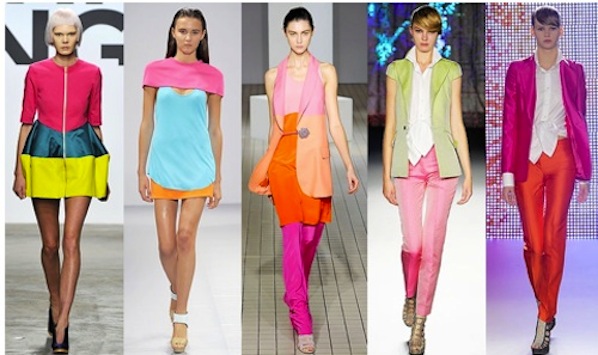 Colorblock Without a Thought: Eliminate The Guesswork Of Mixing And Matching
I've always been a fan of simple solid pieces that are easily paired, layered and tucked together. This season's colorblock trend makes it even easier with dresses, colorblock shoes, jackets and swimsuits that mixes complimentary colors so you don't have to do any of the guesswork. All you need are these easy pieces: This Camilla and Marc Salerno Bandeau Bikini ($189) makes the colorblock trend easy and features a knot detail and detachable halter strap. This scoop-neck, V-back Marc by Marc Jacobs Splashed Colorblock Jersey Tank ($128) features multicolored stripes and subtle tie dye and is perfect for work - with a blazer - or play. Try the trend in a more subtle way with this Laugh Cry Repeat Panel Tank ($88). The luxe silk panel tank screams Spring. For a little more movement and definitely more drama, this BCBG MaxAzria Colorblocked Dress with Tulle ($258) is complemented with sweet airy pink tulle along the hem. Check out our guide to colorblock shoes and more of our handpicked sales and deals and our guide to Spring trends.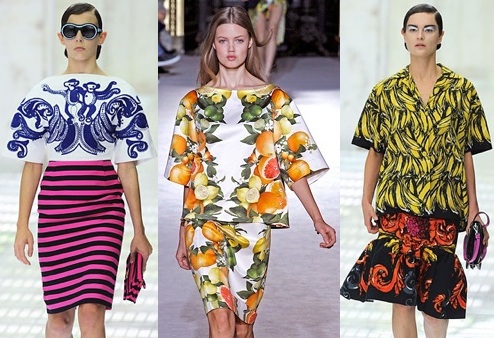 Go Bananas Without Looking Fruity: This Spring's Trend To Try
Vibrant fruit prints at Stella McCartney and Prada left us thinking about kitschy yet wearable options we can all take a bite out of.  Here are our picks that take you from full-on Chiquita Banana to more demure, abstract prints that subtly whisper "pineapple upside-down cake." (more…)
Don't Go On Spring Break Without These 5 Lifesavers In Your Bag
As we turn the corner on winter (don't you hear the birds chirping already?) and you begin daydreaming of blue skies and warm sand for spring break, here are your absolute must-haves for a week of surf, sand and smart styling. (more…)
Spring Break Airport Style: What to Wear As You Travel To A More Fabulous Place
The perennial celeb go-to airport look? Fitted pants, a square scarf (doubles as a blanket), boots, oversized bag and a snug, cozy cardigabn (because inevitably you'll be perched in a window seat with the ventilation system right beneath you). Here's what you need now as you gear up for Spring Break in a warmer more fabulous place, courtesy of Hillary Duff: (more…)
6 Sacred Shopping Tips For Avoiding The Epic Fail Of Online Returns
Last week, The Cut wrote about the epic fail that is online returns. And we couldn't agree more: the letdown of things not fitting or being just plain ugly when they arrive in the mail is a major bummer. As savvy online shoppers, we thought we'd share some of our most sacred online shopping tips with you, as to avoid this calamity: 1) Always Check Sizing Charts: What J. Crew considers a size 6 is actually Banana Republic's size 4. This video series from Nordstrom will ensure you never return another pair of shoes. (Don't forget your calf size!) 2) Google Customer Reviews: Customers all over the nation write in every day about how products really fit and appear in real life. Google first. 3) Shop Free Shipping & Return Sites: We love Zappos, Shopbop, Piperlime and ShoeBuy because they offer free return shipping! Without it, you're looking to spend around $7 or more for insured shipping back to the warehouse where the damned thing came from. (Check out our full list of free shipping sites). 4) Beware of Boutiques: Smaller online boutiques typically only offer an exchange and/or store credit. Read the fine print -- you might be buying an item that is final sale, in which case, you're doomed. Best to re-sell on eBay. 5) Resolve to be Surprised: Still not sure what to size to go with on a gotta-have-it dress? Order one size larger and have it tailored to fit. While you're there get all of your measurements taken at once and save the details in a text file on your computer for when you need your next shopping fix. 6) Denim Don't: Only purchase denim online if you know your fit with that particular designer. It's a tough material to tailor without puckering or ruining the $200 design job you paid for. Armed with this knowledge, you can now shop our sales and deals. While you're there, check out the hottest wide calf boots of the season (February will be chilly) or peruse trendy handbags which are always (thankfully) one-size fits all!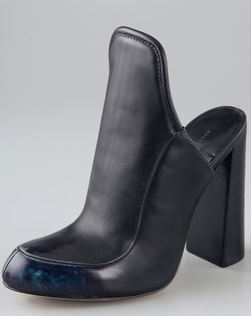 Designers On Crack: What Were They Thinking? Part Deux
We ventured on to find more design worth questioning in this week's edition of Designers on Crack. Up next: not what my boyfriend meant by cushin' for the pushin', step away from the aluminum foil and how to make your thighs thunder, all with one easy garment. We're not sure what to hate more about these Alexander Wang Bette Up Front Mules - the glossy blue toe, the thick heel or the asymmetrical clog top. At $247.50 - down from a whopping $450 - you probably still won't need to worry. Just Cavalli's Silver Lamé Mini Dress with puff sleeves ($420) is wrong, unless you plan on looking like a baked turkey! Shorts are tough enough to pull off -- why add another obstacle? These Graeme Armour J.A.G Frill Shorts ($715) have managed to find a way to make our thighs infinitely thicker with voluminous scalloped tiers. Ugh! Enhancing our boobs, sure. Volumizing our mane, check. How about stuffing our right ab, left shoulder and right forearm with awkward padding? This Comme Des Garcons Carded Wool Check Sweater ($387.50, down from $775) manages to do this with an abundance of polyester. Don't stand too close to that candle! Check out Part One of Designers on Crack or shop wearable shorts, cardigans and bodycon dresses you can pull off!
A Spring 2011 Trend For Above The Shoulders: Barrettes In Bulk
Hair barrettes are back and both Carolina Herrera and Cynthia Rowley piled on the chunky clips in statement-making bulk for their spring 2011 runway shows. We love that it's an easy look to pull off, especially with wood and tortoiseshell barrettes that offer a "one with nature" type of feel. Check out these clips that are affordable enough to buy by the bagful (more is definitely more): Check out some of our favorite celebrity hairstyles, cute hats, and don't forget to scope out our beauty roadtest.
How To Dress For Your New Zodiac Sign: A Cheat Sheet For The Astrological Crisis
What happens when the stars aren't aligning for you -- literally. This week's news of the shifting Zodiac, threw me, and apparently a bunch of others, into planetary/wardrobe chaos. If you're having a Zodiac-related identity crisis, here is our cheat sheet for upgrading your wardrobe to match your new sign: CAPRICORN: You're practical, so versatile and comfortable clothing, like a great pair of black pants, just makes sense. AQUARIUS: Your style is edgy and unique - so go over the top with over the knee boots and bib necklaces. PISCES: As an artsy girl with creativity to spare, head to an exhibit in black booties, but hit the studio in UGGs. ARIES: You're energetic and need colorful, bold clothing to keep up. Shop leopard print shoes. TAURUS: You're loyal and grounded, so neutrals are your thing. Stock up on flat black boots and trench coats. GEMINI: You're a trend-setter, so you've gotta try a pair of lace-up booties and a faux fur vest. CANCER: You're a romantic so play up your sensitive side in a flowy maxi dress with a chunky cardigan over it. LEO: As the lion, you're always the center of attention. You look great in everything--but just don't forget the red lipstick and sexy bra. (more…)
How To Wear Your Favorite Golden Globes Looks In Real Life — Even To The Office
This year's 2011 Golden Globes was an impressive study in sequins, beading, emerald greens and reds. Pretty extravagant, but we show you how you can take inspiration from these red carpet faves and make them wearable for the office and beyond. We love this 100% silk Pierre Darre blouse ($138). Single button cuffs, frills and ruffles in soft peach mimics Scarlett Johansson's gorgeous beaded draped gown by Elie Saab. Embody Angelina Jolie in this BCBGMaxazaria Silk Wrap Ruffle Blouse ($71.99, down from $104). This long-sleeved tiered ruffle top cinches you in with a self tie waist sash, similar to Jolie's Atelier Versace design. The sweetheart neckline and cap sleeves on this Tahari Herringbone Sheathe Dress ($118) is the perfect office-appropriate dupe for Eva Longoria's Zac Posen gown. Be only slightly as scandalous as January Jones in this Cony Dress by Motel from TopShop ($90). The red sleeveless bodycon dress with mesh cut out detail leaves a little more to the imagination than Jones' Versace number. Sparkle like Olivia Wilde did in Marchesa in this burnished gold Vince Sequined Crepe T-Shirt ($295). Keep the look wearable and sleek by pairing it with a sharp black skirt and pumps. Shop more celebrity dresses, evening tops that pair up effortlessly with jeans and don't forget to join our e-mail list for exclusive updates.
Get Natalie Portman's Black Swan Style Without Creepily Turning Into One
Natalie Portman's standout role in Black Swan left us swooning for all things ballerina-inspired. From body suits to ballet flats, this is one trend we hope takes off as much as the movie has. Here are our picks for wearable ballet styles that won't make you look like the understudy: Haute Hippie's Tulle Ballerina Skirt ($395) is one part sugary sweet, one part rocker tough. It features unfinished edges in each asymmetrical, ruffled tier. Marc Jacobs gives the classic leather ballet flat a funky edge. These patent leather Logo Plaque Ballet Flats ($195) are ornamented sweetly with the MJ signature logo. Keep those legs limber and in style, with these Qi's Willow Cashmere Leg Warmers ($77). You can even pair Donna Karan's Black Draped Jersey Bodysuit ($750) with jeans for a long torsoed-ballerina look. For a night out? Opt for a jersey skirt and classic black or beige pumps to accentuate that long silhouette. For a more delicate look, we love Thayer's Dance Skirt ($136.50, down from $195). This satin mauve mini is enrobed in a pleated tulle overlay. Don't forget to layer an American Apparel Cotton Spandex Jersey Bodysuit ($24) under sheer tops and bottoms. This form-fitting spaghetti strap tank is as versatile as it is functional. Do ballerina chic right with a BCBG Cropped Wrap Sweater ($52.80, down from $88). This bodycon V-neck cardigan creates a relaxed yet graceful effect. Live your ballerina dream every day. Check out more leggings, ballet flats and A-line skirts in our shopping guides.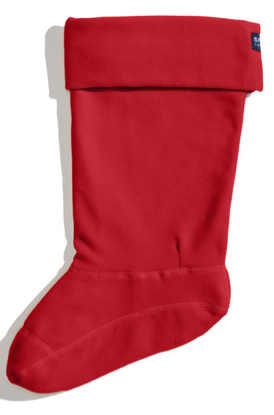 5 Ways To Winterize Your Wardrobe Without Spending A Small Fortune
There might be snow on the ground, but that's no excuse to leave your summer dress and rain boots to collect dust. Between boot liners and fur scarves, we can now turn our go-to summer staples into year round outfits. So what are you waiting for? It's time to pimp out your warm weather wardrobe with these affordable style converters: 1. Transform Your Rain Boots Into Winter Boots: Slip these cozy Sperry Top-Sider Rain Boot Sock Liners ($24.95) into your favorite rain boots to turn them into lined winter boots and to keep feet toasty. 2. Keep Legs Warms, Even On Skirt Days: Inside of boring knee socks, try adding a stylishly warm finish to any dress with a pair of DKNY Hosiery Pointelle Boot Toppers ($22).They hug your legs from the ankle up in sweet pointelle. 3. Weather-ize Your UGGs: Don't let your UGGs fear the snow with this UGG® Australia's Sheepskin Stain and Water Repellent spray ($8) that protect your boots (and clogs) from any unwanted weather. 4. Add An Instant Fur Collar For Any Coat: There's a chance you might actually enjoy the cold while wearing this Shopbop Basics' Faux Fur Neck Warmer ($78). This fully lined stole works under ever coat. 6. Wear Moisturizing Leggings Under Your Jeans Since we hate how dry our legs get in the winter, thanks to these mango butter and almond oil Lytess Micro Massaging Lift Leggings ($110), which layer under pants, we can have smooth legs all day. Jonesing for more winter ideas? Shop more accessories including rain boots, leggings and more. Sign up for SHEFindsMail for exclusive SHEFinds news.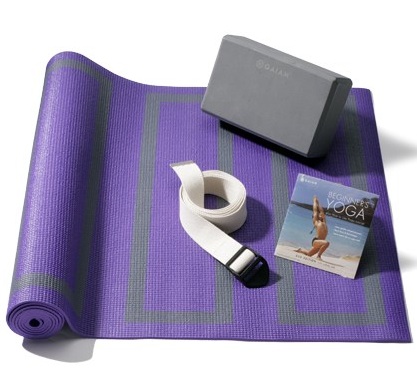 Resolutions Are Hard: 10 Products That Make Them A Little Easier
We all resolve to stress less, lose weight and become generally more awesome in the New Year, but beyond making a mental note, on January 15th or so, we're right back at square one. Sigh. But we don't want you to fail. We want you to get healthy, get skinny, and everything else your little heart desires. Here are 10 products that make resolutions easier than ever: Your Mind: We know you've been meaning to get into yoga for years, so why not finally do it with this Gaiam Yoga Beginner's Yoga Kit ($29.99). The package includes an alignment mat, a yoga brick that makes positioning easier, a yoga strap for stretching and an instructional DVD. Ohmm. Your Body: If you want to kick start your metabolism, this Perricone MD Metabolic Formula ($75.00) is a 10-day supplement program that promotes metabolic activity and converts fat into energy. Your Love Life: If the old bar scene isn't working out for you, this year may be the year to try Matchmaker.com ($24.95 for one month). What's the worst that could happen? (p.s. Please head over to BRIDEfinds.com if it does work out.) If you're looking for a light read, Make Every Man Want You by Marie Forleo ($11.53, down from $16.95) is a  crash course in desirability. Your Closet: There is no wrong way to start you personal makeover. This include organizing that untamed closet. Make all your favorite shoes visible with this over-the-door shoe organizer from Whitmor ($14.99). Ditto for your lipsticks; this Richards Homewares Cosmetic Organizer ($56.99) will hold everything from Chapstick to cheap perfume. Your Looks: The easiest way to make over your face is by whitening those not-so-pearly0whites of yours, with this Go SMiLE Smile Whitening Light System ($169). The sonic frequency in the Clarisonic Mia Skin Cleansing System ($149) cleans pores and skin surface. It's like hitting the re-set button for your skin. So you've resolved to shop a bit more? (Hey, why not!) Check out more of the best sales and deals, our favorite best find of the day picks, and scan our calendar of online sample sales.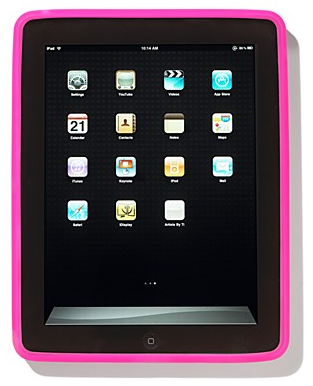 Got An iPad For Xmas – Now What? 9 Accessories You Need Now
The Apple iPad was one of this season's most coveted gifts and you say you were lucky enough to get one? Here is our compendium of got-to-have accessories. Touch screens are great for general navigation and manipulation, but when it comes to writing long emails, blogs, articles, your device's onscreen keyboard isn't convenient. This Naztech Bluetooth Mini iKeyboard ($41.99 down from $49.99) is portable enough to fit in the palm of your hand, but large enough to enable use with fingertips and thumbs! Make your iPad even easier to read with this Griffin A-Frame Tabletop Stand for iPad ($29.55, down from $49.99). No more hunched-over reading - this inexpensive stand puts your iPad in the perfect eyeline. We love the kaleidoscope print fabric overlay on this lightweight Dannijo Reid iPad Case ($150). The hard shell, form-fit case protects from scratches and scuffs but gives you access to all buttons, controls, sensors, and connections. Form and function coexists! Protect your screen from scratches and nicks with this Frosted Finish iPad Screen Protector ($9.99 down from $16.99). Best part? The frosted film preserves the screen's brilliant color and nixes stubborn fingerprints! Looking for an easy way to take notes, draw or simply turn the page? The Targus Stylus ($14.99) features a durable rubber tip that won't scratch the iPad's surface and allows you to type accurately and comfortably. Its no-wire design allows you to use it straight out of the box - genius! The iPad goes haute couture, literally! We love the fun and florescent colors available in this Marc by Marc Jacobs silicone iPad sleeve ($58), and check out the signature logo on the back. Get total control of your tunes. The lightweight, ultra-portable iLuv iPod Remote hooks directly into the headphone jack and allows you to adjust the volume without any sacrifice in sound quality! Slip your iPad into style. This Metallic Graphic Image Sleeve ($130) is handmade in gold or silver leather and the soft, protective chamois lining securely holds the unit in place. iPad'ing on the go? This Apple iPad Car Charger ($12.99 down from $24.99) safely charges through your car's cigarette lighter. Still itching for more shopping? Check out our best find of the day picks, shop all of this week's best sales and deals, and get even more accessories for you!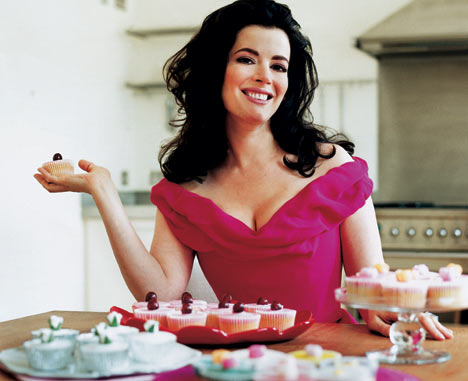 7 Impressive Gifts For The Hostess Who Has Everything
Going to another holiday party with the hostess that has it all? Fear not, we tossed aside the Internet bedsheets to find the best, most coveted, gifts for home that will have any entertainer or domestic goddess impressed: Treat her to some Starbucks-grade morning coffees with this Capresso Milk Frother ($59.99, down from $89.99) has three temperature settings and is dishwasher safe, so your hostess can spend more time caffeinating, less time cleaning up after you! Store all your treasures in this Anthropologie Outer Beauty Jewelry Box ($38). The hand-placed gleaming grommets shine prettily atop the cushioned felt and offers dedicated space for all your baubles. She will definitely get a kick out of Awkward Family Photos ($14.99), which beautifully captures the awkwardness of family portraits. Butter dishes are usually blah, but make them smile with this Jonathan Adler Whale Butter Dish ($68) in lustrous white porcelain. We love this Unzipped Glass Zipper Bag ($20) for the candy-monster on our list! This undisposable homage to the Ziplock bag is a quirky and functional candy dish but really isn't complete without an accompanying big bag of peanut M&M's -- delish! Le Creuset's Oval Oven ($204.99, down from $295) is perfect for roasting and braising -- this classic French brand is beloved by every domestic goddess I've known! Dress up her stovetop with this Chantal Classic Tea Kettle ($99.99) which features a genuine Hohner® harmonica whistle that plays two notes and sounds like a freight train. The uniquely curved handle comfortably follows the curve of your hand so now the only question is, where are the tea biscuits? For more holiday home gift ideas, check our guides to the best gifts for home makeover show obsessed moms, stocking stuffers under $100 and best bets for your homebody friends. Join our e-mail list for exclusive SHEFinds updates.