As Hotels Want To Brand You, I Opt To Remove My Inky Mistake
The travel industry may still be hurting, but that hasn't stopped the flow of those creative juices. Venice Beach's Hotel Erwin has targeted the alterna-crowd (because they don't have full-time jobs and can therefore afford to jet off at any moment?) by now offering a tattoo voucher when you book a night's stay. Coincidentally, I am of the opposite mindset of the Erwin and have opted to get my ink removed. It's been about an eternity since I began the process of erasing the mistake from my back in the hopes that I may someday flaunt a strapless dress without having to field questions about why the word 'Me' permanently resides on my body. (Note: this was supposed to be my astrological sign, Virgo, but that didn't work out so well.) I have diligently endured laser removal sessions at Reflections Center in Livingston, NJ for the past several months, and they have been thorough and professional at explaining the process, and making the experience as comfortable as a laser to the back can be. Unfortunately, patience is a virtue if you are looking to remove a tattoo. After 7 sessions, Me has yet to morph into a distant memory. However, I would still recommend Reflections if you're set on ridding yourself of a tattoo. For those who can't swing a field trip to the Garden State, or don't currently have the financial means for the procedure (they can cost upwards of $250 a session), a temporary option is to browse our concealers guide for a heavy-duty product that can camouflage any heart, star, or tribal symbol you've come to regret.
Taste Test: Which Grey Cardigan Is The Better Deal?
Test your fashion skills with our other Taste Tests. And browse our guides to cardigans and the latest fall fashion trends.
Latest From MomFinds
Keep Your Baby Bump Stylish through the End of Summer with the Maggie Box These four pieces by Maggie Maternity will complement your wardrobe and make pregnancy wear that much more fashionable. Top Five iPhone Apps for Kids Before you question the wisdom on handing your child your cell phone, keep in mind that your iPhone might be the only thing standing between you and your preschooler melting down in that endless Costco line. Deal of the Day: Tea Collection Dresses for Just $12 With a little bit of creative layering, these summer dresses, all on sale for just $12, can take your little girl through fall and beyond in style.
Which Black Vest Is The More Conservative Buy?
Test those fashion skills in our library of Taste Tests. And while you're at it, find out what to wear with your new fall vest, or pick up a discounted J.Crew blazer from our Deal of the Day.
Latest From MomFinds
Decorating Genius: Bookends to Corral the Wildest Literature Perfect for the basic bookshelf, these hefty animals corral all shapes and sizes and books. Get Back to Shoe with Vincent My absolute favorite retailer of shoes (especially for hard-to-shop-for boys) is Vincent. With such a fun selection of new shoes for the fall season, my only problem was deciding which pair to buy. Win it Wednesday: Win Jewelry for Your Little Girl from Objets d'Envy This week one lucky reader will win cute handcrafted jewelry from Objets d'Envy that's fun, funky and fresh.
Ramy The Brow Master Will Save Even The Most Pathetic Of Arches
At the wise age of 14, I decided to temporarily rid myself of Brooke Shields-esque eyebrows and try out the then-trendy pencil thin look, assuming they would simply grow back. Well, you know the old saying about "when you assume.." Basically they never returned. Well, they returned, but as two weird, crooked, unflattering arches.  Yes, a sad mystery. So when I opted to visit Ramy, the brow guru, at his spa in NYC to try and tame my poor brows, I was paranoid they might completely fall out.  Much to my pleasant surprise,  he made my brows look pretty darn amazing. Armed with a tweezer, Ramy plucked them into tip-top shape, finishing off with his signature Perfect Brow Wand that contains a highlighter on the other end. Check out all of Ramy's products at ramybeautytherapy.com, along with his entire line of good-for-your-skin makeup. For more beauty picks, browse our guides to the best mascaras, concealers, and lip balms.
Taste Test: Which Leaf Pendant Necklace Will Cost You A Whole Lot Less?
Test your fashion IQ with our other Taste Tests. And shop more jewelry picks that will flatter your figure, and your wallet.
Latest From MomFinds
$25 Room Decor for the Noncommital Wall decals are the perfect room accents for you--and your kids. Plus, Gilt Groupe has the best of the best--Wall Candy Arts--available right now for 50%. Deal of the Day: Kids' Shorts So Cheap, They're Practically Free Shorts for under $4?  You bet they're going quick.  Before they run out, head over to The Children's Place and grab a few pairs for just $3.99 each. Win it Wednesday: Two Lucky Readers Will Win the New BPA-Free Weil Baby Bottle and Sippy Cup Set Dr. Weil's Bedtime Face and Body Treatment from Origins is a new mom must-have.  And now he's venturing into the world of baby with his new BPA-free Weil Baby products.
How To: Wear A Vest, So As Not To Resemble A Groomsman
The vest. We are eyeing it everywhere. Yet like many a fall trend (ahem.. harem, jumpsuit), it looks good from afar, but we get it home and the item befuddles us. Well, not anymore. Exaggerated sizes will be the most fun to style - whether that means draped, long, or boyfriend. A snug, classic fit can be a little too Annie Hall. Pair your vest with a sheer, feminine blouse in a muted color, and choose either dark wash or black skinny jeans. This will keep your ensemble dressy, but not 90s female tuxedo dressy. Slip on some fun studded booties in a contrasting color to help liven up your palette, and store your evening makeup, etc. in a colored clutch (without too much embellishment). By Malen Birger Cotton Collared Vest ($103.25 from $295) Hanii Y Ruffle Accent Top ($250) Silence & Noise High-Rise 2-Button Jean ($64) Oh...Deer! Angel Metallic Leather Bootie ($190 from $245) SR Squared by Sondra Roberts Buckle Clutch ($45) Take advantage of our sartorial advice and learn how to transition your summer scarf into fall and rock espadrille flats like a pro.
Sponsored Post: AT&T Rocks The Neon Look
Taste Test: Which (Real) Leather Jacket Won't Cost You Your Rent?
Test your fashion skills with other Taste Tests. And browse more fall fashion, along with skinny jeans and on-trend shoes to wear come September.
Latest From MomFinds
A Sexy, Practical Nursing Gown (No, Seriously, It's True) Want to add a little spice to your your bedtime wardrobe and still be practical?  Slip into a black Annee Matthew Nursing Chemise ($59). These Aren't Your Mother's Mary Janes Adult fashion trends have been infiltrating infant and kid style for the last decade, so it should really come as no surprise that there's a new Pediped Couture collection. Win it Wednesday: Two Lucky Readers Will Win the New BPA-Free Dr. Weil Bottle and Sippy Cup Set You're probably already familiar with Dr. Weil— the renowned healthy living expert is a regular on Oprah and his Bedtime Face and Body Treatment from Origins is a new mom must-have.  And now he's venturing into the world of baby with his new BPA-free Weil Baby products.
Taste Test: Which Plaid Shirt Comes With A Fancy Price Tag?
Test those fashion skills with our other Taste Tests. And browse our guides for jeans and comfy shoes to pair with your new plaid.
Latest From MomFinds
Deal of the Day: Baby Silk Travel Kit Is 50% Off and Proceeds Go To Ovarian Cancer Research Earlier this month, QVC aired a Saturday fundraiser with the net proceeds of all the items going to The Ovarian Cancer Research Fund.  It was a huge success and while many of the products sold out, you can still pick up this Travel Kit from MD Moms. Junior Style Assignment: Dress Like a Pig and Still Look Good Who doesn't want to be Olivia? (An endless closet, a life full of adventures, and an advanced-for-her-age wit..) Anyway, here's our Olivia-inspired outfit. Dance Yourself into Shape with Zumba Fitness My mother has been raving about her Zumba classes for months now.  I honestly had no idea what she was talking about.  And then I got to experience Zumba for myself.
Taste Test: Which Stretch Belt Is Worth The Investment?
Test your fashion IQ with our other Taste Tests. And browse more belts to cinch your favorite cardigan or flowy dress.
Latest From MomFinds
First Look at Fall: Best of Gap Boys Really cute. It's from the St. Petersburg collection, and says it takes inspiration from aviator colors and styles. While the collection as a whole is great, the outerwear is the best of everything. The Perfect Gift for Home, Sweet-Smelling Home A welcome change from synthetic, overpowering scents found in many home fragrances, Casa di Francesca includes more than 25 authentic options like Deep Lilac, Cut Flowers, and Rosemary Mint, all inspired by old-world Italy. Problem Solved: The Shavemate I often find it's the fun little travel-friendly accessories that make going to the gym a bit more bearable. I discovered the perfect little razor to keep in my locker or carry in my bag.
An All-Weather Friend That Doesn't Secretly Hope You Age Poorly
What: Prescriptives All-Weather Friend ($26.50) Why: I used to flock towards the sun in the summer like a moth to a massive, fiery flame - whether it was shining down on me at the beach or in the form of fluorescent lights inside a New Jersey tanning bed. It didn't matter; a tan was totally hot. But now, past the age of 25, that same tan makes me look wrinkly, or will in a few short years. Therefore, my new best bud from July through August is Prescriptives' All-Weather Friend, which provides a hefty dose of SPF 40 and manages to make my skin look insanely good. I even slather it on at night. Just in case that reading lamp has the potential to give me crow's feet. Get Yours: nordstrom.com Browse more beauty options in our guides to acne treatments, lip balms, and favorite mascaras.
Latest From MomFinds
Win It Wednesday: Win Three Tees from SmallPlum.com Want to outfit baby in super-soft tees and onesies made from eco-friendly bamboo fiber?  Then you'll love this week's prize. Cynthia Rowley Designs for Babies R Us! Did you hear? Fashion designer Cythia Rowley has created an infant line for Babies R Us. Don't worry, it's not too over-the-top. Great Baby Shower Gift to Help Mom Get Fit New moms are exhausted and overwhelmed; It's no wonder that the Exercise After Pregnancy: How to Look and Feel Your Best Book and Bounce Back Fast! Post Natal Core Conditioning DVD are popular post-pregnancy tools.
Latest From MomFinds
Lucky Fish Tees: Super Cute New Designs for Boys and Girls Sure, it's easy to find something adorable for your little girl. But interesting, awesome boy clothing? Not so easy. Lucky Fish kept that in mind with the elephant, rhino, and bug emblazoned tees. Keep Your Color with ModelCo Tan Extender ModelCo's Tan Extender keeps my color, and has definitely kept me from peeling and fading. It's easy to apply and unlike some tanning products, has a very pleasant scent. Trend Alert: Sexy Shapewear for Moms Slimming shapewear is evolving, and the latest styles from these two industry leaders are sexier than ever and ready to be seen (outside your clothes!).
The September Issue: Official Trailer Has Emerged, Everyone's Officially Freaking Out
As I reported a few weeks ago after seeing The September Issue (yes, random, I was lucky, etc.), the Vogue doc definitely warrants the hype. And now that the official trailer has surfaced, everyone can catch a glimpse of our favorite fur-clad, iron-bobbed editor in her prime. So mark down August 28th (for New Yorkers) and September 11th (for those who don't live in Anna's city) in your calendars and make sure to check out our fashion picks from The September Issue. Hint: The ice queen has a penchant for eye-catching necklaces. And is not afraid to wear them more than once. We'll have additional news on The September Issue fashion shortly. In the meantime, see our guide to everything on the documentary. See our sartorial reviews of The Proposal and 500 Days of Summer, and stay tuned for our take on this weekend's Julie & Julia.
Taste Test: Which Tote Will Leave You With Cash To Carry In It?
Test your fashion IQ with our other Taste Tests. And shop our guides for more stylish totes, roomy overnight bags, and attractive evening clutches.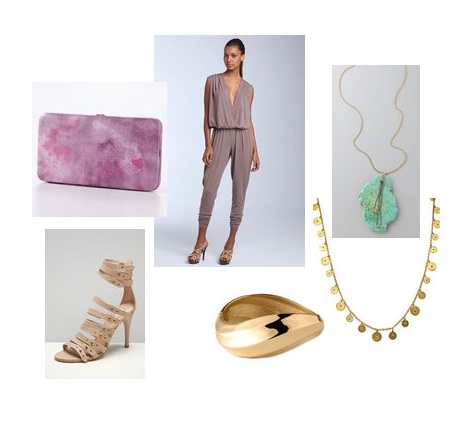 How To Wear: A Jumpsuit (If You Are Not A Painter Or In The Air Force)
Jumpsuits rank up there with harem pants as a trend that frightens yet intrigues at the same time. We see them in shop windows looking fabulous on faceless mannequins, but wonder how in the world one could actually manage to show up at a party without resembling Tom Cruise in Top Gun. Here's how: Pick one that's not entirely full-length, and has a waist. This will break up the silhouette and flatter the body. Accessorize like crazy in order to balance the draped fabric. Layer two necklaces and add a strong cuff to make your ensemble evening-appropriate.  Nude heels are always a wise choice for summer, and a subtly patterned clutch will make the whole outfit come together. Rachel Pally Eastside Jumpsuit ($220) Citrine by the Stones Turquoise Pendant Necklace ($140) Ben-Amun Long Gold Lentils Necklace ($195) Sequin Sculpted Cuff Bracelet ($20 from $32) Pour La Victoire Aaliyah Nude Heels ($330) Apt. 9 Burnout Clutch Wallet ($32) Have other wardrobe issues? Find out how to properly don black in August, or what to wear to the obligatory company picnic.
Latest From MomFinds
MomFinds Back-To-School Shopping Tips Sure, it feels like summer vacation just began, but before you know it, back-to-school shopping will be upon us. Here, MomFinds offers a few tips to get you warmed up for the shopping frenzy. Win it Wednesday: Win a Sun Toolkit from Neutrogena Say hello to Neutrogena Pure & Free. In celebration of its newest sunscreen line, Neutrogena is offering Sun Toolkits to four lucky recipients. Stylish Nursing Dresses You Want to Wear Now We searched the web far and wide and found chic nursing dresses that allow you to breastfeed your baby comfortably anytime, anywhere, in style. And check out the SheFinds guides to summer dresses, waterproof makeup, and all things shopping.
Taste Test: Which Boyfriend Jeans Will Cost You Big Bucks?
Test your fashion skills with our other Taste Tests. And check out our denim guides for more styles that fit every budget.
Latest From MomFinds
Deal of the Day: Up to 60% Off Maternity Dresses at Gap.com Here are a few heat-wave friendly dresses we found at GapMaternity.com on sale for up to 60% off. Forget the Pack n' Play. Go for a Window Crib! Carrie McLaren, guest blogger on Boing Boing, uncovered a funny little artifact of parenting days long gone: The Window Crib. Go Pretty and Green with Ec-Oooh-Chic Products Do you have to give up pretty, floral and feminine to go green?  Not at all with Ec-Ooh-Chic.
What To Wear To: The Company Picnic You Are Totally Looking Forward To
Ah, the company picnic. An obligatory event that eats up your Saturday and forces you to see quirky (creepy) co-workers outside their normal habitat most likely donning inappropriate or outright dorky attire. But since you have to go, arrive looking casual, conservative, and of course, stylish. A pair of solid bermudas are a safe option as your boss may force you to participate in a wiffle ball game or a three-legged race, and that sundress you considered would prove too risky. Wear with a lightweight, loose-fitting blouse that you can tuck in. Add a belt to look more pulled together, and slip on some colorful wedges instead of too-casual flip-flops. Store your camera (joking - as if you'd want to remember the day) in a structured, classy straw tote and don't forget your shades to hide those rolling eyes. Have fun! Mid-Rise Canvas Bermudas ($15 from $24.50) Gauzy Accordian Pleated Blouse ($59.50) Centerbar Contour Belt ($36) Steve Madden QUALITI Wedge ($100) Felix Rey for Target Large Straw Tote ($50) Elle Aviator Sunglasses ($18 from $30)
Taste Test: Which Denim Dress Is The Better Deal?
Test your fashion skills with our other Taste Tests. And browse more summer dresses for every occasion.
Latest From MomFinds
Beauty Find: An Easy Nightly Ritual Skyn Iceland makes your life just that much easier with Glacial Cleansing Cloths—especially on those nights that you feel the most spent. Deal of the Day: Maternity Activewear up to 40% Off at FIT2BMOM FIT2BMOM, launched this spring, takes excuses away with a comfortable and fashionable line of maternity workout and leisure wear. Always Find Time for Fun With Walnut Paperie's Playdate Cards Your child's personalized Playdate Card (with name and phone number) will ensure that all the important details are known so the fun can begin as soon as possible.
Latest From MomFinds
The Best Eye Creams to Combat Under-Eye Circles and Puffiness I recently test-drove three of the best eye creams I've ever tried, which have each made a noticeable difference in my peepers. (And I do believe that no one is better qualified to test the true effectiveness of these products than me.) Avoid the "Boy or Girl?" Question With Giddy Giddy Clips Giddy Giddy Clips, the original makers of felt hair clips, has an awesome selection of hair accessories that will prevent any confusion as to whether your daughter is a boy or girl. Beauty Find: Scent-sational Pampering Luxury French skin care company Sothys recently introduced the Aroma Sothys line, an economical way to pamper yourself at home.
How To Wear Harem Pants (Or, How Not To Be Scared Of Harem Pants)
Yes, we know harem pants are a touchy subject. But like it or not, they're probably not going anywhere fast. So we'd like to jump in and show you how to pull them off - figuratively, that is. Because you really shouldn't be scared. First, choose a cropped pair (no diaper versions, or any that graze the ankle thus resembling pajama pants). You'll want to counter the slouchiness of the pants with structure on top, so opt for a modern straight-cut boyfriend blazer along with a simple, yet dressy, blouse. To keep with the modern theme, choose sharp angled accessories, and shoes that will make a statement against the black. Carry a fun clutch and you've got an evening ensemble so much more exciting than your safe black dress. Aqua Jersey Harem Pants ($58) Vince Lightweight Boyfriend Jacket ($440) Bi La Li Silk Origami Top ($185 from $370) Long Geometric Necklace ($28) Striped Foldover Clutch ($39.50) Luella Strappy Platform Sandal ($145) Now that you've got the trend down pat, check out more options in our guide to harem pants.
Latest From MomFinds
Deal Of The Day: Up To Half Off Strappy Sandals For Girls At Piperlime Now through July 19th, enjoy up to 50% off girls' sandals at Piperlime's Lime Tag Sale and get free shipping and free returns too. Get On Board With Timmy And Tammy's Train Of Thought If you have a son who's hooked on Thomas the Train and have enough toys to fill up the Island of Sodor, here's a fun book to pique his interest in something else. Win It Wednesday: Win A Serena & Lily Catalina Market Sling Want to carry baby in style?  You'll love the Catalina Market Sling, an easy-to-wear carrier made from a seamless piece of fabric without buckles, belts or straps.
Latest From MomFinds
Keep Your Baby Close with Moby Wrap It may take a little practice—OK, it may take a lot of practice, including some face time in front of a mirror, but once you master the Moby Wrap, it will feel like second skin. Top Five Sunscreens for Moms Here are five top sunscreens to try, including a few organic/non-synthetic options for natural moms. Win it Wednesday: Win a $25 Children's Place Gift Card & Tickets to Ice Age From halter dresses to wear poolside to beach-ready capris, The Children's Place summer collection makes dressing for the season effortless and affordable.
Latest From MomFinds
The Best Baby Carriers Whether you're a fan of slings, wraps, pouches or the traditional front carrier, we've picked out a handful that you'll love. Deal of the Day: Up to 70% Off at Giggle Summer Sale If you're in the market for some new things for baby, check out Giggle's Summer Sale and save up to 70%. Win it Wednesday: Win a $25 Children's Place Gift Card & Tickets to Ice Age From halter dresses to wear poolside to beach-ready capris, The Children's Place summer collection makes dressing for the season effortless and affordable.
The Latest From MomFinds
Sleepless Nights? Top Five Ways To For New Moms To Wake Up Sleepless nights and new baby anxiety are something all new parents deal with.  Here are five great products for new moms to give them a boost and feel alive and pretty again. Get Your Kids To Stop Jumping On The Couch With The Sumo Omni If your kid uses his bed as a trampoline or your favorite couch as a diving board, check out The Sumo Omni Bean Bag. Win It Wednesday: Win a $100 Shopping Spree At GiftHero.com Have back-to-back birthday parties coming up and no time to shop?  GIFT HERO to the rescue. The site makes it easier for parents to buy fun gifts for kids ages 3-10.
Now You Have (A Little) More Time To Get The Ball Rolling And Support Count Me In
Get excited!  We've decided to extend the deadline for submissions for our amazing collaboration with Count Me In. This means you have an extra month until August 1 to submit your materials before we begin featuring designs this fall. Throughout the month of September 2009, we will run a promotion with Count Me In to help boutique designers get the word out about their designs. During that time, we will showcase women's accessories, apparel, and beauty items from independent designers, who will pledge to donate a portion of the proceeds from the sale of that piece to Count Me In, which supports women entrepreneurs. You can get all the necessary info here, as well as instructions for how to sign up. And check out Count Me In's website to learn more about this important organization.
Taste Test: Which Racy Bra Won't Leave You Broke?
Peruse our Best Bras Guide for more picks that will keep you supported and sexy under your summer clothes.
The Latest From MomFinds
Baby Feet Get Cuter in Me-In-Mind Socks There's nothing more adorable than chunky baby feet, but chunky baby feet in a pair of Me-In-Mind socks comes a close second. Deal of the Day: Ralph Lauren Baby Gifts for Under $30 Need a baby shower gift?  RalphLauren.com is having their summer sale and have classic tees, polos, dresses, shoes and more for up to 70% off. Win it Wednesday: Win a $100 Shopping Spree at GiftHero.com Have back-to-back birthday parties coming up and no time to shop?  GIFT HERO to the rescue.  Founded by two busy moms, the site makes it easier for parents to buy fun gifts for kids ages 3-10.
Taste Test: Which Yellow Pouch Won't Wipe Away Your Savings?
Test your fashion skills with our other Taste Tests.
Latest Blog Posts From MomFinds
Deal of the Day: Up to Half Off Embroidered Dresses at BabyGap If you have a baby girl, get ready to shop because BabyGap has some of the most adorable dresses on sale for up to half off. The Best Outdoor Bikes, Trikes and Ride-Ons Get ready to move because we've rounded up the best outdoor bikes, trikes and ride-ons for active kids. Scout: Fresh Organic Fashions for Little Explorers Now that summer is in full swing, your kids are probably busy playing, exploring, and having a good time.  Make sure they don't waste any time figuring out what to wear by picking up some pieces from Scout.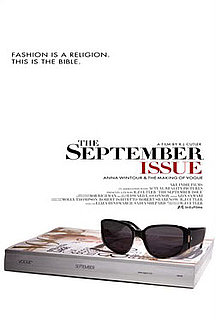 The September Issue: Icy Stares, Fur, And (Gasp) A Necklace Worn More Than Once
There's been a whole lot of buzz over the soon-to-be-released (August 28th) documentary about the inner workings of Vogue as they prepared for the September 2007 issue. As we noted last week, the fashion folk have been scrambling to get their hot little hands on bootleg copies of R.J. Cutler's swanky documentary.  We've not only gotten a sneak peek, but we've culled together everything else out there on The September Issue, too. I was lucky enough to see it officially, and must say, the hype is for good reason. Mark the release date on your calendars and get ready for drama, humor (believe it or not), and over-the-top fashion from The September Issue. Wintour was perpetually flawlessly dressed, with one accessory of note that almost upstaged her Spartan hair. Almost. Yes, the woman likes fur and wasn't afraid to show it on camera, but what stood out even more was her affinity for these modern, demure jeweled necklaces. Either layered or alone, Anna sported them in several colors with many a floral frock. We haven't been able to nail down the designer just yet (help us out, people), but a similar - albeit extremely pricey - version can be picked up at Barneys ($14,000).  If you want to mimic the look for a fraction of the price, we also love this white stone necklace from Kenneth Jay Lane ($400).
What To Wear With: Florals (And Still Look Grown-Up)
We get it. Florals are popular. And no one here is complaining, however, there's a pretty particular way to wear them in order to maintain a grown-up appearance and stay away from girly girly territory. Because a floral pattern is typically classic, the secret is to accessorize with modern pieces. Try shoes with chunky heels in an unexpected hue. If the dress allows for it, opt for a thick belt to make your look more form-fitting. (Even if the dress is a wrap, as above, you can still belt if the material is thin enough.) Keep jewelry bold with a simple wooden cuff, and stuff summer makeup into a structured straw clutch. Forever 21 Floral Chiffon Dress ($19.80) Stella McCartney Canvas Sandals ($240 from $398) Kenneth Cole New York Wood Bracelet ($30 from $40) Stella McCartney Grey Belt ($285 from $435) Anya Hindmarch Straw Clutch ($320)
Taste Test: Which White Shirt Dress Is The Wiser Buy?
Test your fashion skills with our other Taste Tests.
Latest Blog Posts From MomFinds
Cool Water Toys Your Kids Will Love Can't get to the beach, lake or pool any time soon?  Here are some cool water toys to enjoy at home with your babies, toddlers and big kids. Deal of the Day: Save 25% and Get Free Shipping Sitewide at SteveMadden.com Now through Friday, use coupon code WeLoveCJ25 at Steve Madden and take 25% off your order and get free shipping. Win it Wednesday: Win an I SPY Gift Pack with Wii Game, Board Game and Books With more than 30 titles and 36 million books in print, the I Spy series continues to win the hearts and minds of parents and kids everywhere. This week, five lucky readers will win a few goodies from I SPY.
Three Of Us Are Wearing Belts Today…Hence A Blog Post
One time I was doing some shopping after three or four cocktails (don't ask) and I bought a summer dress that I was sure made me look like a model. Until, of course, I tried it on again the next morning and realized I looked like I was wearing my shower curtain. Luckily, I was able to save the outfit by adding a trendy belt. This summer's belts are not as ridiculously wide as last's, and are typically made out of lightweight materials, fun patterns, and upbeat colors. 1. Guess's Stretch Raffia Belt with Leather Flower ($42) is the prettiest thing I've seen in a while. Put over a colorful day dress. 2. The Leather Woven Belt ($52) from Banana Republic is amazingly versatile; pair with jeans or add to a silk shirt for work. 3. I'm glad thin belts are back, like this Skinny Rope Belt ($29.50) from LOFT. Wear with a form-fitting work appropriate dress, or try belting a pair of white shorts.
Latest Blog Posts From MomFinds
Put Your Best Foot Forward with Shoes for Summer Sometimes our exercise-filled, walking-around days demand shoes with more support. Here is a sampling of footwear that will keep you moving Deal of the Day: Up to 40% Off Shorts at BabyGap Plaid shorts, cargo shorts, board shorts, athletic shorts, you name it, it's on sale for up to 40% off at BabyGap.  Win it Wednesday: Win a Little Ella Dress for Your Little Girl This celebrity-favorite line screams fun with playful dresses, tunics and bloomer sets in bright popsicle colors and fabrics that are soft, comfy and fuss-free. 
Tuesday's Sample Sale Scoop: See by Chloe, Marc Jacobs, Kipepeo And More…
Editor's Pick: See by Chloe at Gilt Groupe Tejani jewelry, Simone Perele lingerie and M Missoni handbags at Ideeli Kipepeo jewelry at Juxzy. Use code cc8570. Skagen watches at Editors' Closet SeethruSoul denim and Nick and Mo clothing at Beyond the Rack Marc Jacobs, Slane and Slane jewelry, D.L. & Co. candles, and Cynthia Rowley handbags at Gilt Groupe Mike & Chris clothing, Monique Lesham clothing, Heidi Klum jewelry and Trina Turk sunglasses at Hautelook Just Cavalli and Miraclesuit swimwear at Rue La La
News: Essie Plays Find The Rock, Tracy's Sold Out Leather, And More..
1. Essie is launching a Judith Ripka collection this August, and hiding real gems in three of the bottles à la Willy Wonka. You can also try out some neon for the summer - but there won't be a prize included. [WWD] 2. Tracy Feith's Target line is becoming so popular that at least one item, the leather jacket, has completely sold out online. See what we thought was of note when we visited the store. [CherylShops via Racked] 3. Angelina Jolie thinks her lips are too big, which is why she normally shies away from bold colors (except at Cannes, of course). We suggest some Dazzleglass for a hint of glitter without going over the top. [Shine] 4. Alyssa Milano's baseball clothing line is perfect for women who don't want to wear a size XXXL when cheering on their favorite teams. Check out the goods at fandalia.com. [FlyPaper]
Latest Blog Posts From MomFinds
Rikki Bellezza Ring For Your Favorite Grad Your babysitter is graduating and you are bumming, so lock her in now for college breaks with a one-of-a-kind ring from TDM Designs. The Best Summer Shoes For Kids Summer is all about outdoor exploration, so whether your kids are hitting the beach, trails, pool or playground, make sure they step out in shoes that are both fun and functional. Win it Wednesday: Win a Babybonkie Swaddle Blanket Want a gift that both the new mom and her baby will love?  You can't go wrong with the Babybonkie, a luxurious swaddle blanket that keeps baby snug as a bug in a rug at bedtime.  
Friday's Sample Sale Scoop: Kooba, Carlos Falchi, Juicy And More…
Editors' Pick: Kooba at Billion Dollar Babes. Use coupon code SHEFINDSMAY for 25% off $100 purchases in May Juicy Couture sunglasses at Beyond the Rack Marlene Birger clothing and handbags at ideeli Madeline Beth accessories at Editors' Closet Memorial Day Designer accessories, Donna Karan, Haltson, Peter Som and more at Gilt Groupe Lara Kazan clothing, Alexis Hudson handbags, Acne clothing, and Amrita Singh jewelry at Hautelook. Carlos Falchi handbags & Stiches denim at Rue La La
What To Wear: At The Beach, If You Haven't Lived At The Gym The Past Six Months
By now, if you haven't visited the inside of a gym to prepare for swimsuit season, then it's probably not going to happen. Therefore, camouflage is probably your best bet when visiting the beach. And even if you happen to be ready to flaunt the body, you can still take some pointers on how to cover up when walking through the hotel lobby. A retro one-piece is always flattering and always in style. Wear it with a gauzy loose-fitting cover-up in a complementary, summery color. One with front buttons is ideal in case you don't want to take it off while sitting in the sun; you can unbutton just enough depending on how much of a tan you desire (although you really should be sitting in the shade all day). Bring along a raffia belt if you decide to move the fun to the pool/beach/hotel bar, as it will give your loungy look some form. For accessories, accent with a simple wood cuff (metal will get hot in the sun), some slip-on metallic sandals, and a floppy straw hat. Carry everything in a colorful tote, and get excited to do absolutely nothing. For more options, be sure to take a look at our swimwear, summer hats, and waterproof makeup guides.