This Nail Trend Is Really Tough–Literally! Shop Fingernail Rings Now.
Remember when nail art was simple, and all we wanted to do was learn how to create perfect polka dots? It seems we're no longer satisfied with artistic expression via our own painted handiwork, and have moved on to nail rings. More hardcore than a midi ring, this trend is headed by accessories brand Bijules (perhaps best known for its $36k rings commissioned for Beyonce's "Sweet Dreams" music video). Luckily, not all versions are such an investment, so you can still be like Bey for just a few bucks. We think they're perfect for days when your manicure isn't up to par -- go all-out and deck each digit, or just slip on one or two and call it a day. The look is tough but feminine (much like Bey herself). Girls who wear nail rings are stylish but don't themselves too seriously. It's the perfect combination. Plus, you'll never break a nail. Here are a few of our favorite fingernail rings from around the web. Shop now: Rose Gold Fingernail Ring ($13.96) Pave CZ Fingernail Ring ($22) Bijules Nail Ring ($302) LOHOME set of 5 crystal nail rings ($8.99) Don't miss these other trends, like colorful jewelry, "Love" rings and maxi skirts in winter.
No More White Jeans Guesswork! Shop The Best For Big Butts, Short Legs And More
You've waited all winter for this moment--it's finally time to bust out the white jeans! Now if you're grimacing instead of smiling, fret not friends. Wearing white jeans is supposed to be liberating, not something you dread. From pastels to leather, white denim goes with everything when the weather is warm, so your closet isn't complete without a pair. That being said, white jeans come with a whole slew of challenges. Are they see-through? Will my cellulite show through them? What color underwear should I wear? Skinny or bootcut? The questions are endless! Fortunately, we did the dirty work and hunted down the best white jeans for every conundrum for you. Petite? We found the best straight leg pair. Worried about sheerness? Pick up our favorite non-stretch, thick cotton white jeans. Can't wear skintight? Try the best bootcut. Click through the slideshow to see which white jeans took top honors and to find the best pair for you. Don't miss these other spring trends, like half-frame sunglasses, studded shorts and drawstring pants.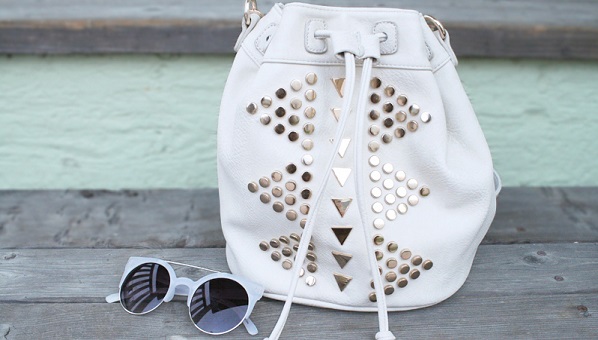 Bye Bye, Bug Eyes! Half-Frame Sunglasses Are The New Must-Have For Summer
Wanna stand out this summer? Instead of wearing the oversized plastic shades that have been popular for years now, why not try something different? Half-rim sunglasses are the poised to be the must-have accessory for summer so it's time to ramp up your collection with a pair. Nicole Richie has already sealed the trend with her stamp of approval, so you should definitely follow suit. Shop 15 of our favorite half-frame sunglasses--at all price points!--in the slideshow below. For more spring trends, don't miss jean skirts, lace shorts and bralette tops. [Photo: It's Not Her, It's Me]
Spring's Lace And Crochet Shorts Are Nothing, Well, Short Of Amazing
If you're bored with wearing cutoff denim shorts year after year, it's definitely time to slip into something a little more feminine. Why not switch up your spring style this year by adding ultra-girly lace, crochet and macrame options to your shorts rotation? You can even pair them with a few scalloped accessories to take the flirty look to a whole new level. Plus, the designs make for an amazing way to add texture while indulging in this spring's black-and-white trend. Shop 15 of our favorite pairs of lace shorts in the slideshow below. For more spring trends, don't miss bralette tops, colorful skinny jeans and low-heel sandals. [Photo: Ring My Bell]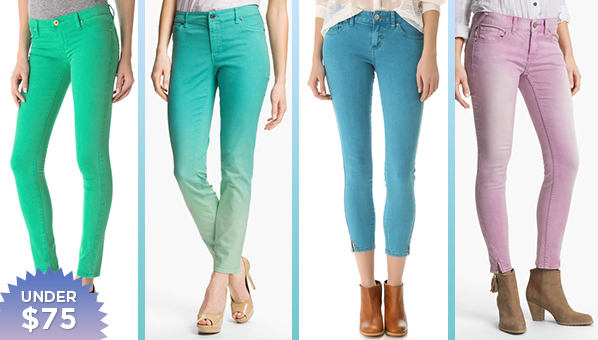 Put Some Spring Into Your Wardrobe With These Bright, Colorful Jeans For $75 Or Less
From scarves and nail polish to cute workout gear and handbags, there's just something about spring that makes us crave all-bright everything. A few of us dipped our toe into colorful denim last year, but this season it's time to fully embrace it. And we mean, like, really embrace it. So because we know just how life changing a little color can be, we rounded up 25 pairs of our favorite bright,colorful skinny jeans and not one is over $75. For real! With this many affordable options, you can totally get your Roy G. Biv on every day of the week and keep your bank account (more or less) in tact. You are so welcome. Shop our favorite bodaciously bright pairs of jeans in the slideshow below. Don't miss these other spring trends, like circle purses, non-leather moto jackets and drawstring pants.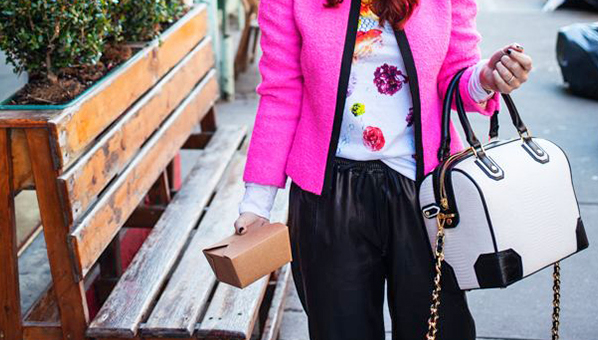 Never Fear A Fat Day Again! This Season's Drawstring Pants Mask Many A Flaw
Ladies, we've officially found a way to conquer fat days and it couldn't be more obvious--drawstring pants! And we're not talking about sweats, either. Whether you went a little overboard on chips, salsa and margaritas the night before or you're just feeling bloated, these cozy bottoms are bound to be your saving grace when you can't even fathom squeezing into a pair of skinnies. Now if you're worried about them being unflattering, don't. The key to working a pair of drawstring pants is simply pairing them with heels or wedges for a polished look. We promise, if you give these pants a try it's only a matter of time before you're fully hooked on drawstring trousers. Shop 15 of our favorites in the slideshow below. Don't miss these other spring trends, like colorful scarves, lace-up sandals and horizontal stripes. [Photo: Always Judging]
Prepare For Funky Foot Tan–Lace-Up Sandals Are Our Fave New Shoe Trend
Sandal season is upon us, but don't reach for last year's gladiators just yet. Instead, allow us to share our latest sandal obsession, lace-ups. Whether flat or heeled, this sexy soles are guaranteed to make your go-to dresses and shorts-and-tee combos infinitely more stylish. Plus, if you've got hard-to-fit size issues (like skinny ankles or wide feet), these are the shoes for you because you can customize the fit by simply adjusting the laces. Be forewarned, however, there is a downside. While those laces do look sexy, they also make for funky tan lines on sunny days. Luckily, we found the perfect product to fix that. Shop our favorite lace-up sandals in the slideshow below. Don't miss these other spring trends, like these handbags under $150, colorful workout gear and colorful scarves. [Photo: Death by Platforms]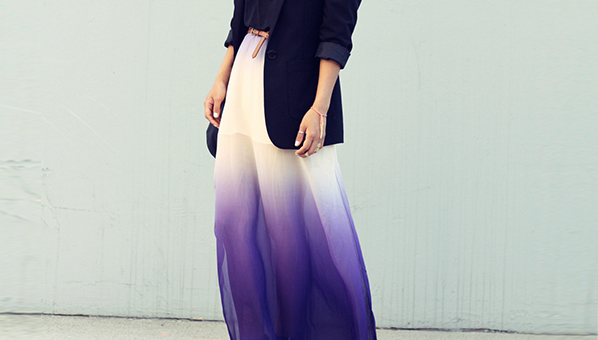 Just Can't Quit Your Ombre Addiction? You're Gonna Love These Dip Dyed Maxis
The ombre and dip-dye trends are just too romantic to be dismissed this spring, and so they rage on. This season, however, they're splashed across our favorite maxi skirts and dresses. These long, breezy pieces perfectly embody that carefree spring and summer vibe, not to mention they are totally approved by boho queen Vanessa Hudgens. So whether you're headed to a festival or a family gathering, you can't go wrong with one of these stunning maxis. It's time to take a break from your floral-print frocks and give this equally eye-catching design a try. Shop our favorites in the slideshow below! Don't miss spring's other hot trends, like pinafore dresses, trench coats and the new gingham. [Photo: Nasty Gal]
Don't Get Caught In An April Shower Without One Of These Killer Trench Coats
Trench coats have come a long way since their humble utilitarian war purposes. Now considered a classic closet staple (it's officially on LBD status), no wardrobe is deemed complete sans trench. Don't have one? You could obviously start off with a classic khaki, but if that's too boring there are plenty of edgier options this spring. We're talking studded collars, colorblock and contrast-piping details. And hey, if you already have a trench or two there's no better time to upgrade to a fun printed version or go for bold with a bright color guaranteed to perk up any rainy day. Shop a few of our favorite trench coats this spring in the slideshow below and you'll be sure to give yourself at least one reason to smile while you're dodging puddles. Don't miss these other spring trends, like updated gingham, colorful lightweight scarves and mixed-media jackets. [Photo: Cupcakes & Cashmere]
Can You Ever Really Have Too Many Bright, Colorful Spring Scarves? We Think Not.
We're pretty sure snow days are behind us, so it's time to embrace the sunny weather by swapping out your heavy knit scarves in favor of lighter, brighter options. Now before you reach for the scarves you were rocking last spring, don't. It's a new season, so the very least you can do is treat yourself to colorful new wrap. And if you're worried about spending a fortune, relax. We found 15 bright beauties all for $25 or less. Trust us, a good scarf is truly the easiest way to update your wardrobe, so pick up a lightweight scarf or two from the slideshow below. But wait, there are more great scarf options here, too! And don't miss these other spring trends, like metallics, black and white handbags and summer sandals. [Photo: Splash News]
No Need To Choose Black Or White–This Spring's Boldest Handbags Are Both
We already told you that black and white is dominating clothing this spring, but did you know that it's also taking over the world of accessories? That's right, the monochromatic look is extending to our handbags and it's a trend we support wholeheartedly. Why? Besides the fact that a black and white bag will match basically everything in your wardrobe (including those neons), black and white also opens the door to some fun and risk-free pattern play (think stripes and polka dots). Not quite convinced? Shop our favorite black and white handbags in the slideshow below. Don't miss these other spring trends, like white blazers, printed leather bags and printed sunglasses. [Photo: Always Judging]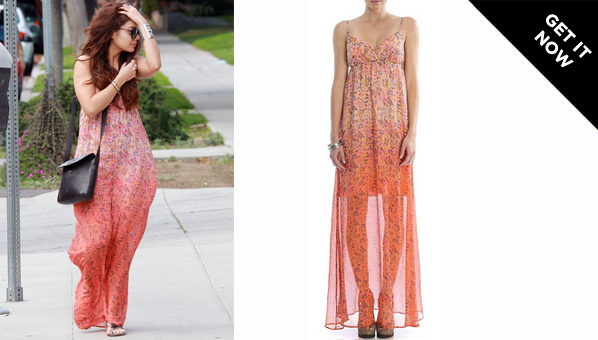 Calling All Boho Babes! Vanessa Hudgens Found Your New Favorite Dress
If her March spread in Cosmo didn't officially declare it, we'll say it right now--Vanessa Hudgens is the new boho-chic queen (hand over the flower crown, Nicole). The Spring Breakers star was spotted grabbing take-out in L.A. last Monday in yet another sheer, swingy frock. Her Gypsy 05 Cambridge Floral Print Maxi Dress ($264) hits so many boxes on the flower child scoreboard, it's almost hard to keep track. Ombre? Check. Dual hemlines? Check. Sheer? Ditsy-print florals? Empire Waist? Check, check and check. Let's not even mention her perfect bedhead waves. Grab Vanessa's exact dress below, and we'll see you at Coachella. Gypsy 05 Cambridge Floral Print Maxi Dress ($264) For more celeb style, don't miss Blake Lively's mini dress, Ashley Greene's airport style and Olivia Palermo's outfit.
From Black Tie To Garden Party, We Found 46 Wedding-Worthy Dresses Under $100
What's the only dress that could possibly be more important than a bride's on her wedding day? Yours, of course! When it comes to weddings, we do plenty of stressing over what we as guests are going to wear. Brides seem to get off easy--white, white, or white? But for the rest of us, the options are endless. There's color, length, material--the list goes on. Plus, you probably already shelled out plenty of cash on a gift and are reluctant to break the bank on your ensemble, especially if you'll need more than one this wedding season. Always in your corner, we found plenty of easy, gorgeous dresses for wedding season all under $100. Since we rounded up 46 beauties, you'll have no problem finding the perfect one for you, whether long or short, formal or farmhouse. And unlike the poor bridesmaids, you'll definitely want to reach for these all spring and summer. Just remember the one cardinal rule: no white, unless specifically requested by the bride (it could happen!). Shop the dresses that made the cut in the slideshow below. For more in weddings, check out the 10 mistakes couples make planning summer weddings, how to have an intimate wedding and what your bouquet really means. [Photo: Hilary Maybery Photography]
Tortoise Shell Is So Tame. Why Not Get A Little Crazy In Printed Sunnies This Spring?
First, jeans got the crazy prints makeover and as it turns out, we absolutely love 'em. Next up? Your sunglasses. A step beyond your average tortoise shell, printed sunglasses are the new way to inject personality into every outfit. The shades upgrade features every motif, from spring-ready florals to edgy animal prints. And best of all, it's most likely the cheapest way to change up your look in seconds. Shop a few of our favorite printed sunnies in the slideshow below from vibrant geometric designs to a sultry cat-eye feline effect. Check out more spring trends we love, like straw handbags, neon jewelry and strategic piping. [Photo: Peace Love Shea]
Spent All Your Cash On A Coachella Ticket? Get A Festival-Ready Outfit Under $50 Here
If you're still hurting from the cost of your Coachella ticket (and airfare, and tent space--yikes!), you may be strapped for cash when it comes to what you'll actually wear. But listen up, star child, you're in luck! We gathered the best, brightest, and, most importantly, cheapest concert wares for your weekend in the valley. Even if you already have your festival denim ready to go, there are plenty of low-cost accessories to add to your party rock arsenal. Plus, you can spend the weekend getting as dirty as you want (wink, wink!), since everything we've found costs less than one Ulysses S. Grant (that's $50, slacker). Shop our ultra-neon and ultra-cheap picks in the slideshow below! For more spring style, check out our hat guide, flounce-hem skirts and bucket bags. [Photo: Nasty Gal]
Is Kourtney The Most Stylish Kardashian? In This Chevron Maxi Dress, We Think So
We know spring just arrived, but when it comes to picking out perfect dresses we're thinking about pieces that will seamlessly transition into summer a la Kourtney Kardashian in her Tbags Valeria Long Dress ($202). The reality star was snapped wearing the chevron maxi in California recently and it has the perfect spring-to-summer vibe. The longer length provides protection from an early spring chill and looks cute with a leather jacket tossed on top, but its loose shape is just breezy enough to give cool relief in the dog days of summer. Shop Kourtney's exact dress below! Tbags Valeria Long Dress ($202) Love celebrity style? Check out Katie Holmes's leather jacket, Kate Middleton's coat and boots,  and Lily Collins's leather shorts look. [Photo: Splash News]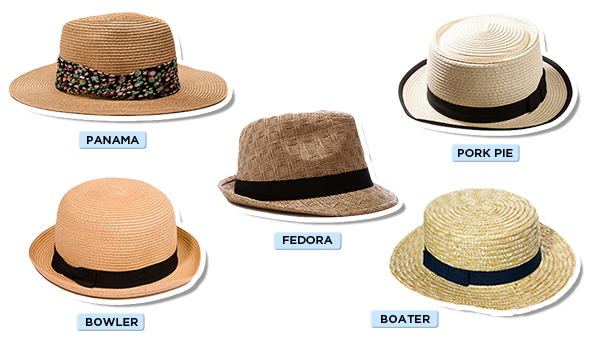 Don't Know A Panama From A Pork Pie? Here's Your Spring/Summer 2013 Hat Guide
If recent street style is any indication, hats are going to be huge this season. And while the beanie was king during the cold-weather months, there's some serious headwear competition for spring. Lightweight straw options seem to be favored by retailers like Forever 21 and ASOS, and the silhouettes are as varied as the tropical islands where we'd like to wear them. So let's start with a little quiz. What's a panama? How's it different from a pork pie? What's bigger, a trilby or a boater? Lost yet? If so, this guide is for you. Click through the slideshow to get schooled on the eight hats that will rule spring (and summer!) and exactly when you should wear them. Don't miss these other upcoming spring trends, like festival denim, neon jewelry and neutral and metallic sandals.
Looking For Some Instant Happy? A Little Neon Jewelry Is All You Need
It's predicted every year, but this time, we absolutely mean it: neon is going to be huge this spring and summer. If you're not bold enough for fluro lace or super-saturated florals, you can still get in on the action with comparably smaller (but no less amazing) jewelry. And just as nude hues balance out neon's potency, glimmering crystals only enhance its vibrancy which makes for one bold, happy, fun statement piece. We first fell in love with the bright and shiny painted-crystal creations by Tom Binns, but most of us were left drooling over the jewelry and crying when we saw the price tag. But for those of us without designer budgets, more wallet-friendly options have started to hit mainstream. Check out a few of the best and brightest in the slideshow below. Shop these other trends, like silk shorts, Aztec prints and strategic piping. [Photo: Peace Love Shea/Frankie Hearts Fashion]
Calling All Nasty Gals! Your Jeffrey Campbell Litas Are Now Officially Wedding Appropriate
Ladies, we have a serious question for you: Would you wear Jeffrey Campbell's infamous Lita shoes on your wedding day? You know, the sky-scraping platforms that any fashion blogger worth her salt has most definitely teetered upon while standing pigeon-toed on a cobble-stone street. If the answer is no, wait just a second and consider this: What if they're lace? Our favorite rebellious footwear brand has teamed up with retailer Ashbury Skies to bring about three versions of a hipster's dream wedding shoe. The line, called Cold Feet, also includes a few more sane (but still non-traditional) options--but where's the fun in that? So, what bride would wear these? We can think of a few situations. Though they're definitely not timeless wedding shoes, we could easily see them paired with a short, fluffy dress, perhaps at a cute City Hall ceremony. They could also work if they're juxtaposed with a dress that will never go out of style. Still not buying 'em? Just wait--we've got a few more ways in which these babies could work on your wedding day below: Lita Daisy ($165) So, maybe you're a very petite bride, but came across the most fabulous Marchesa gown at a sample sale. Can't bear the thought (or cost) of altering it? Slide into these babies and instantly become the 5'8 model you always knew you could be. Lita Velvet ($180) Something blue shoes have been making an appearance at weddings for years now, so why not use these platforms to test a theory? The larger and brighter your something blue, the luckier in marriage you will be? Hey, it's worth a shot. Lita Lace ($180) And finally, shoes that could easily be mistaken for a foot fetishist's wedding cake? C'mno, how can you resist? But for reals, tell us in the comments if you would ever wear any of these shoes for your nuptials? For more in weddings, find out what your bouquet really means, how to be the happiest bride ever and 10 shoes you can actually dance in. [Photo: Instagram]
Heidi Klum's "Love" Sweater Is Just What Your Weekend Wardrobe Is Missing
Blonde beauty Heidi Klum is officially schooling us in laid-back style. She hit the shores of Malibu last week with her four children (um, adopt us?), and was spotted splashing around Carbon Beach in the ultimate wear-everywhere sweater. Her 291 Long Sleeve Pullover ($178) is obviously lightweight enough for a day at the beach, but practical enough to ward off that early spring chill. She paired the graphic topper with the sunniest bag we ever did see, the Michael Kors Collection Miranda Tote ($995). Seriously, that bag's so bright we're gonna need shades. Shop Heidi's complete look below. 291 Long Sleeve Pullover ($178) Michael Kors Collection Miranda Tote ($995) Get more celebrity style and shop Alessandra Ambrosio's dress and ankle boots, Ashley Tisdale's dress and Alicia Keys's sweater and sneakers.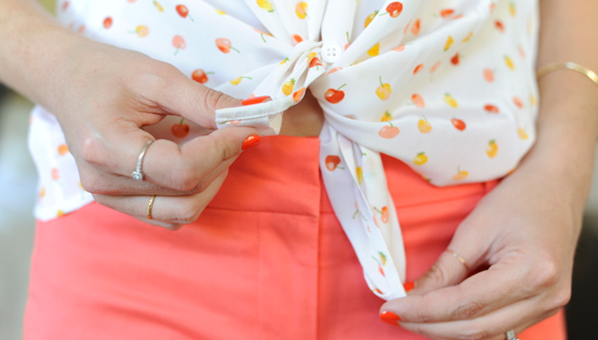 Too Scared To Bare All In Spring's Crop Top Trend? Fake It In A Tie-Front Shirt Instead
We didn't think it could happen, but the crop top is having a major resurgence right now. What's taking its time, however, is our motivation to churn out enough crunches to actually wear one. Enter the tie-front shirt: baring just enough belly to let us in on the trend, while still giving us some treadmill time until bikini season. And for the shy, shrinking violets among us, a tie-front shirt is also a perfect way to slowly wade into crop top territory. Pair yours with high-waist pants now, and with shorts later for the ultimate girl-of-summer vibe later. Shop our favorites in the slideshow below! Check out more upcoming spring trends, like tapered trousers, pineapple prints and metallic skirts. [Photo: Cupcakes & Cashmere]
Still Not Sold On Overalls? Let Anya Sarre Teach You How To Actually Wear Them
Of all of spring's most puzzling trends, how to successfully pull off overalls is by far the trickiest. Women are suddenly turning out in droves wearing the one pieces, and have even been spotted donning overalls at high-stakes fashion events like SXSW and fashion week. Celebrity stylist Anya Sarre has been helping us wade through tough trends all week, and she saves the day once more with a few easy steps to turn your overalls look into a personal style statement. To keep from looking like a toddler, Sarre advises "you have to really put some effort into making your overalls look like you just stepped off the runway and not off the construction site. A colorful overall gives it a sassy, fashion-forward look. Don't forget, heels and long layered necklaces are a quick way to instantly make you look styled." Are you feeling bold enough to re-try this trend? Shop our ready-to-go look below! 3.1 Phillip Lim Watercolor Suede Overalls ($1,400) Cynthia Rowley Sequin Tank ($395) Gogo Philip Classic Long Chunky Chain Necklace ($42) Rings and Tings Long Cross Necklace ($7) Zara Strappy Sandals ($90) For more of Anya's advice, check out how to wear a pajama shirt, the thigh-high slit and baggy pants.
10 Wedding Shoes That Will Never Go Out Of Style
Last week we covered the ten wedding dresses that never go out of style, so it's only fair we pay some much-needed attention to your big day accessories. Namely, the shoes! Though they tend to get far less attention, your wedding day shoes carry an equally important role. After all, what's the point of carefully choosing a timeless dress if your shoes are going to instantly date your look, anyway? Your wedding shoes are guaranteed to be in at least a few wedding photos, so the pressure is on (sorry!). Even if you're rocking a big 'ol ballgown, you'll still kick up your heels for the garter toss. So, unless you want look back and cringe in a few years, don't choose an overly trendy style that's bound to be out after a season or two. Instead, click through the slideshow to check out ten shoes that will never go out of style, and shop accordingly. For more wedding planning, don't miss how to throw the best bachelorette party ever, 10 photos to ask your wedding photographer to take and how to be the happiest bride ever. [Photo: Nordstrom]
Don't Sleep On The Denim Maxi Skirt–It's Easier To Pull Off Than You Think
If there's one ubiquitous piece of clothing we all had in our closets throughout middle and high school, it was the denim maxi skirt. And wouldn't you know it, with the return of the '90s (even baggy pants are back, y'all) comes a resurgence of the old school staple. Terrified? We were too until we had celebrity stylist Anya Sarre teach us how to wear it. Best worn in the spring and summer, Sarre advises to go for a boho-chic look. "Try pairing with a simple tank top and long layered necklaces." As for shoes, she says "a colorful pair of flats will ensure a pop of color and is a nice contrast to the denim." Are you feeling the love for the denim maxi skirt? Shop our stylist-approved look below. Vila Mesi Top ($39) Mother Straight A Maxi Skirt ($158, down from $198) Opening Ceremony Seaside buckle flat sandals ($413) Proenza Schouler PS1 Medium Bag ($1,695) In case you missed it, Anya also taught us how to wear spring's thigh-high slits, pajama shirts and knee-high gladiator sandals.
Metallic Skirts Are Having A Moment And You Really Don't Want To Miss It
Though we enjoy our fair share of shiny things during the holidays, there's no denying that metallics are also a huge trend for spring. There are chrome shoes, metallic moto jackets and even metallic heels. And with everyone from Diane von Furstenburg to Prada sending multiple shimmering fabrics down their fall runways, you can bet the trend is sticking around well into the chillier months. But don't wait until fall to embrace the trend. There's a whole crop of cute metallic skirts for spring, which we consider less commitment than, say, blindingly bright pants or a space-age top. A little afraid of the shine factor? No worries, retailers are pushing out ranges of skirts in everything from dull shine to brilliant shimmer. When building your outfit, just treat the gold and silver hues like neutrals, but let more colorful options be the focal point of your look. Shop our favorite metallic skirts in the slideshow below. Check out more spring trends, like mesh shoes, lucite jewelry and lace-trim shorts. [Photo: Be Frassy]
We Love The 90s, But Not That Much–Here's The Right Way To Wear Baggy Pants
We owe Aaliyah a lot, namely teenage years full of ab workouts and an allegiance to baggy pants. And now that the '90s are officially back, we're yearning to pull the loose fitting bottoms back out, but kinda stumped on how to where them while still looking and feeling like a sophisticated adult. Thankfully, we have celebrity stylist Anya Sarre on hand for another week to teach us how to properly pull off spring's hardest-to-wear trends. Anya's advice on the baggy pants fad? "If you're going to wear '90s-inspired baggy pants, adding a pair of heels or wedges is a quick way to make sure your legs look proportionate with the volume of the pant," she advises. "To turn this trend into a wearable outfit, give it a feminine touch with a form-fitting top. By showing off your chest and waist, you can hide your legs under baggy balloon pants while still looking put together." Looks like our icons of the era were on to something. For a more girly than grunge ensemble, shop our stylist-approved outfit below!   Abercrombie & Fitch Carissa Denim Shirt ($58)
Put The Glad In Gladiator & Let Anya Sarre Show You How To Rock Knee-High Sandals
When we first spotted knee-high gladiators on the spring 2013 runways, we were both baffled, amazed and way too terrified to actually try the look ourselves. Enter our new BFF, celebrity stylist Anya Sarre. She's back again today with her expert advice, ready to unravel the mystery. According to Anya, "knee-high gladiator sandals make such a statement all on their own, you have to keep your look simple. Wear them with a dress, preferably floral or printed, to juxtapose the harshness of the sandals with the softness of the dress." Seems easy enough, right? If you're feeling adventurous, tackle the knee-high gladiator trend with this expert-approved outfit featuring the statement sandals. Madewell pleated silk dress in tearose ($155) Rebecca Taylor Denim Vest ($295) Mulberry Bayswater Bracelet ($210) Stuart Weitzman Gladiator Sandal ($398) Learn how to wear more spring trends, like the thigh-high slit, pajama shirt and overalls.
Don't Buy A Dress You'll Regret–10 Wedding Gowns That Never Go Out Of Style
As fun as planning a wedding can be, it also comes with its fair share of stress-inducing decisions. Who to invite? Where to have it? And of course, what to wear? Finding the perfect wedding dress is exciting, but it's also one of the most difficult parts of planning your wedding. After all, you have to choose a style that won't make you cringe with regret when you flip through your wedding album twenty--or even two--years after the big day. Your instinct is probably telling you to follow the current trends, but think of that feeling you get when you look at your mom's ultra-puffy, totally '80s dress. Don't let that be you. Instead, refer to this simple guide of the 10 wedding dress styles that are absolutely timeless--meaning you'll still love the way you looked on your wedding day years from now. And hey, who knows, maybe your daughter will even want to wear the dress when the time comes--with no intention of taking the scissors to it. Click through the slideshow to see (and shop) 10 wedding dresses that will never go out of style. For more wedding style, check out 10 shoes you can actually dance in, how to match your dress to your venue and accessories we're obsessed with.
Anya Sarre Shows You How To Wear A Thigh High Slit Without Looking Like a Harlot
Celebrity stylist Anya Sarre is back, offering up more must-have styling advice on one of spring's hardest-to-wear trends. Today's conundrum? The thigh high slit skirt. Whether you have a hot date and want to feel like a total minx without going overboard or you've just got great gams and want to show them off, a subtle, yet sexy up-to-the-hip slit  skirt should most definitely be in your future. But first, here's Anya's advice: To pull off such an intimidating trend, Anya suggests keeping the top half conservative (no cleavage!), since the bottom half is guaranteed to be racy enough. Another must-try trick? Apply self tanner to make your leg look more toned. Okay, now you're ready. Shop our Anya-approved ensemble below. Rag & Bone Pocket Tee ($120) Club Monaco Adela Skirt ($140) Loeffler Randall Evan Huarache Sandal ($195) Rebecca Minkoff Mini Mac ($195) Learn how to wear more tricky spring trends, like the pajama shirt, overalls and pastel denim.
Try These Femme Camo Pieces And You'll Do Anything But Blend In
It's no secret that the '90s are back, but who would have thought that camouflage prints were secretly riding its grungy coattails and making an entrance in spring 2013. No need to be wary of looking like GI Jane this season, though. The new, more feminine camo is studded, muted and most importantly, tailored. Play down the masculinity of the print by pairing camo with floral mini dresses, floaty tops in pastel hues or pretty scalloped accessories.  Or, embrace the boldness of the trend and rock a fitted pair of camo pants with Doc Martens. However you decide to make camo work for you, be sure to shop our favorite camo pieces in the slideshow first. See more spring trends, like pajama shirts, scallop-edge accessories and muscle tees. [Photo: Peace Love Shea]
Let Celebrity Stylist Anya Sarre Teach You How To Wear A Pajama Shirt This Spring
From black and white to printed pants sets, we're so stoked about all the amazing upcoming trends. And with just a few more days until the official start of spring, we know you're probably looking to start updating your closet. But what's a girl to do with all these spring trends that aren't so easy to style (knee-high gladiator sandals, anyone)? Ask an expert, obvi! So that's just what we did. You may know Anya Sarre as the Head Fashion Stylist for Entertainment Tonight and The Insider, but she's also responsible for tons of A-list red carpet looks every awards season. In other words, she's the perfect resource for tackling the season's hardest to wear trends. First up, we had Anya take on the pajama shirt. We absolutely adore the easy-going look, but how do you wear it without actually looking like you just rolled out of bed? According to Anya, the key to pulling off the pajama look is to either totally dress it up or totally dress it down. "Embrace it and go super casual with cuffed jeans and a fun, bright sneaker." Following Anya's expert advice, check out this outfit that is stylish and comfortable enough for weekend errands. And we promise, you won't end up on People of Wal-Mart. Shop the entire look below. J.Crew Collection silk pajama shirt ($100, down from $128) J Brand 1214 Aidan Boyfriend Jeans ($380) Juicy Couture Leni Charm Convertible Leather Crossbody ($160, down from $228) House of Holland Superga 2750 Leopard Spot Trainers ($83) Check back on Wednesday to see how Anya styles this season's hip slit skirts. Learn how to wear more spring trends, like trouser pants, monochromatic outfits and tulle skirts.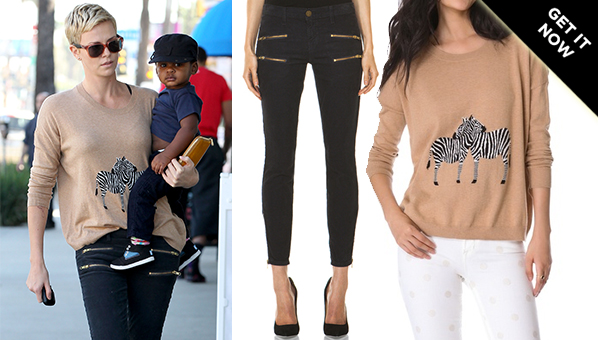 Charlize Theron Jumped On The Jungle Trend Real Quick In A Zebra Sweater
We just posted about the jungle trend earlier this week, and it looks like it already has Charlize Theron's seal of approval. The stunning actress recently stepped out in Madewell's Zebra Love Pullover ($80), and we're totally obsessed. She paired the wild sweater with cropped Current/Elliott The Multi Zip Stiletto in Shadow ($255) for an easy-going look any girl could pull off. Is this the ultimate weekend outfit, or what? If this casual-cool look is a sign of her rumored denim line with stylist Leslie Fremar, then sign us up immediately for the first pair. Get Charlize's exact sweater and jeans, below. Madewell Zebra Love Pullover ($80) Current/Elliott The Multi Zip Stiletto in Shadow ($255) Shop these other celebrity looks, like Jamie Chung's spring-ready outfit, Nicole Richie's statement coat and Beyonce's matchy-matchy ensemble.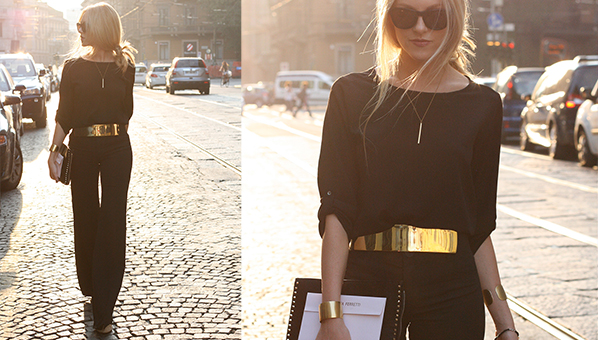 How to Wear Trouser Pants Like a Boss
Skinny silhouettes had a good run, but wider menswear-inspired trousers are now re-entering the pants game. Designers like Rachel Roy, Giorgio Armani and Ralph Lauren all prominently featured trouser pants in their Spring 2013 shows--and they looked as feminine as can be (no Annie Hall, here!). The key to keeping the look from going full-on manly? A few flirty details. From peplum tops to statement belts, click through the slideshow to learn how to pull of this wide-leg trousers trend like a boss. Learn how to wear other trends, like denim on denim, a colorful monochromatic outfit and tulle skirts. [Photo: Peace Love Shea]
When Your Feet Need A Break From All That PVC, Give Them A Breather In Woven Shoes
PVC heels may look cool, but after a few hours, your feet might need a break. Luckily, airy, woven footwear is proving to be just as popular for the new season. So when your feet need a breather--literally!--you'll be thankful you invested in a pair. And after just one wear, we have a feeling these babies will be your go-to shoe for everything from the family BBQ to casual (very casual) Friday. Check out our favorite woven shoes in the slideshow. For more shoe trends, don't miss PVC heels and flats, ankle-strap shoes and Doc Martens. [Photo: designscene.net]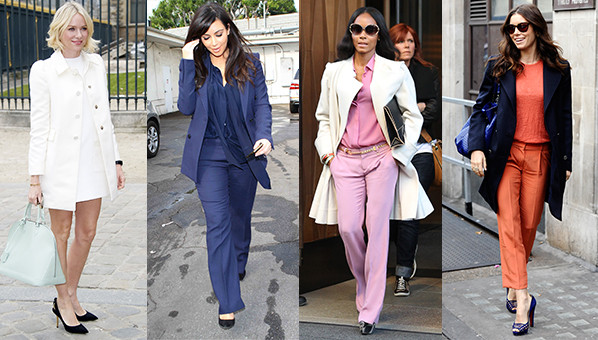 Tired Of Wearing All Black? Here's How To Rock A Monochromatic Outfit In A New Hue
Spring is almost here, which means it's about that time to release yourself from the all-black rut and take head-to-toe color for a test drive. After all, color is huge this spring, so you might as well embrace it to the fullest extent. Now we totally recognize that a monochromatic look is a bold one, but we're confident you can pull it off--as long as you follow these four easy tips, that is. Then, get inspired to build your own colorful ensemble by the ones we created below. 1. Work With What You've Got If you're just testing the trend, take a peek into your closet to see what color you love. If you already own blue trousers and a blue bag, consider using those as your building blocks the next time you go shopping. Starting with a color you love will also help guarantee you'll wear the pieces again separately. 2. Mix It Up Each piece you're wearing should be just a shade or two lighter or darker than one another. The slight contrast helps keep you from looking like a giant blueberry (or orange, or lemon, etc.). 3. Throw In Some Texture A chunky sweater, a textured purse or a silk shirt are all great ways to jazz up the monochromatic look. The differing textures will provide another degree of visual interest, much like wearing varying shades. 4. A Statement Accessory Introduce a new color in the form of a small accessory to help break up the look. Think a cool bib necklace or a statement shoe in a new color. Try to choose a color that doesn't compete with your main hue, but instead complements it. And yes, lipstick counts! J.Crew Collection cashmere Isabel Sweatshirt ($248), True Religion Old Mint Misty Legging Finnigan Jeans ($220), Steve Madden Realove Evening Sandal Black Patent ($79), Kate Spade New York But Chad Bon Shopper ($148), Gorjana  Anchor Necklace ($50) Acne Patti Tape Oversized Chiffon Blouse ($230), Madewell Charade Blazer ($100, down from $138), BCBGMAXAZRIA Robbie Wide-Leg Pant ($168, down from $101), Jessica Simpson Devin ($100), Tory Burch Pop Snake Necklace ($250) By Malene Birger Dusa Jersey Drape Dress ($213), ECCO Owen Sandal ($160), MICHAEL Michael Kors Hamilton Large North South Tote Bag ($249, down $498), Jules Smith Set of 5 Surf Bangles ($98), ABS Long Gold Two Row Snake Chain Necklace ($90) Learn how to wear these other spring trends, like overalls, vests and the denim-on-denim look.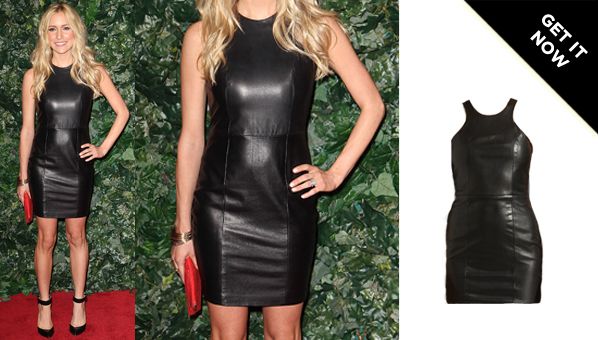 Let Kristin Cavallari School You On Exactly How To Wear Warm-Weather Leather
Reality star Kristin Cavallari has been quite the busy bee lately. She recently released a shoe collection for Chinese Laundry as well as her own capsule jewelry line for GlamBoutique and Kitson. Plus, the new mom, who's re-engaged to NFL quarterback Jay Cutler, has an E! Entertainment Special debuting next week. With all that she's got going on, it's no wonder that Kristin's recent red carpet look was simple yet stunning. Instead of a bunch of fussy layer, Kristin opted for one killer look-at-me dress. She wore the Leather Front Tank Dress ($627) by Mason by Michelle Mason dress and clearly all eyes were on her. Wondering how she could pull off a leather tank dress? It's what we like to call warm-weather leather. Whether a tank top, a skirt and or a sleeveless dresses, leather isn't reserved for just the colder months anymore. Take Kristin's dress, for example. Wear it all spring and early summer with bare legs, and then when the cold weather strikes, pop on your favorite tights and you're set for fall. Shop Kristin's exact dress for yourself below. Mason by Michelle Mason Leather Front Tank Dress ($627) Don't miss these other trends we love, like mint handbags, feathered nail polish and star prints. [Photo: Splash News]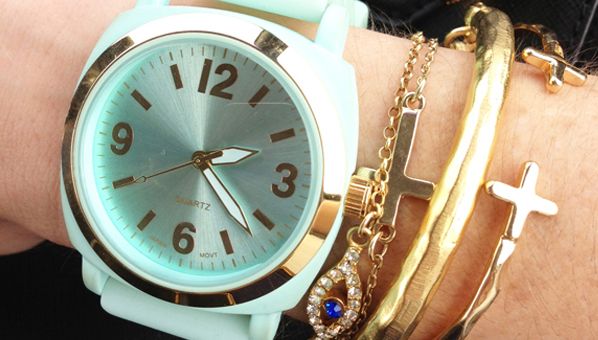 Take The Pastels Trend For A Test Run With One Of These Sorbet-Hued Watches
Pastels have always been the unofficial shade of spring, but this year the sweet hues are arriving in a big way, taking over everything from our nails to our handbags. Now, it seems the minty greens and orange sorbets are set to dominate wristwear, as well. And what better way to test out a new trend then with a not-too-pricey watch? Plus, imagine how nice the chalky tones will look against soon-to-be-tan skin (warm weather is coming back, it has to!). Blindingly bright fluro lace is definitely having its moment, but when you need to give your eyes (and everyone else's) a rest, reach for one of these pretty-enough-to-eat watches.They're the perfect little dose of color that will brighten up any basic outfit. Shop our favorite pastel watches in the slideshow. Don't miss these other trends we love, like dual-purpose jewelry, surf-inspired fashion and mirrored sunglasses. [Photo: Gabriela Burger]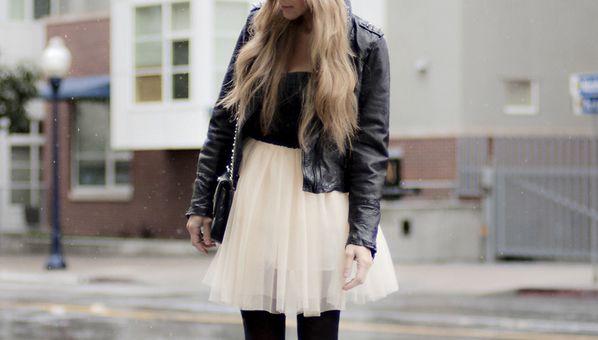 Pulling Off A Tulle Skirt Is Simple Thanks To These No-Fail Styling Tricks
If you're already pumped for skirt season, allow us introduce one style that you must put on your spring shopping list: the tulle skirt (if you haven't already been lusting after one since Anthropologie released this beauty). It's currently having a major street style moment, turning ordinary outfits into a stand-out It-girl ensembles. Maybe we dream of being the ultimate care-free Manic Pixie Dream Girl (Zooey Deschanel probably owns hundreds of these babies), or perhaps we enjoy the throwback to the simpler days of our youth. But within these layers of tulle lies a tricky secret--how to actually wear a tulle skirt without looking like an oversized child. Sarah Jessica Parker famously and single-handedly made this look legit, so it's not impossible. So if you're brave enough to throw on a tutu, here are five easy rules to follow to look more like Carrie Bradshaw and less like Sophia Grace. 1. Wear Grown-Up Accessories. A serious necklace takes this look the extra mile. Try something chunky and edgy to balance out the sweetness of the skirt. 2. Treat It Like It's Just Another Skirt. Don't get tripped up by the skirt's frou-frou factor. You may be inclined to "dress up" the rest of your outfit, but don't. Instead, keep the rest of your look low-key. Try a trendy sweatshirt or a leather jacket. 3. Don't Wear Pink. Sad, right? But it must be said. The fluffier the skirt, the more low-key the color should be (read: white, tan). Pale pink can work, but lose some of the volume if you opt for a rosier hue. 4. Experiment With Your Shoes. Heels will obviously look nice, but don't be afraid to try studded flats or even boots. Again, you want to contrast the femininity of the skirt with tougher pieces. Think you've got it? Shop our favorite tulle skirts in the slideshow. Make sure you catch these other great trends, like PVC flats, mint handbags and how to wear denim on denim.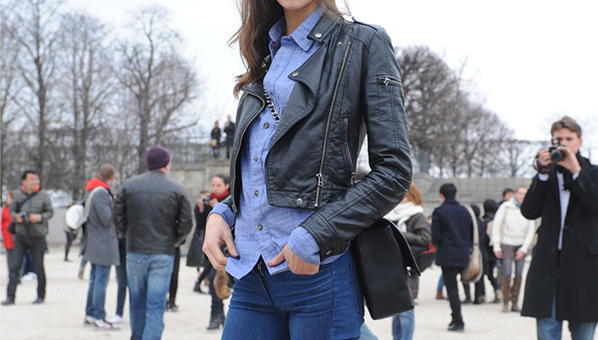 5 Ways To Wear Denim On Denim (Without Looking Like Britney Spears Circa 2001)
You have your favorite chambray shirt and jeans that make your booty look downright amazing--but have you ever thought to pair the two together? If you immediately think of Justin and Britney's denim-on-denim trainwreck circa the 2001 American Music Awards, we're here to steer you back onto the right track. Often dubbed the Canadian Tuxedo, this all-blue ensemble has insane cute potential, and (lucky you!) we're going to show you exactly how to wear denim on denim. The easiest way to make head-to-toe denim work is to switch up the rinses. For example, light on top and darker on bottom is usually a winning combo. Another safe bet when rocking a Canadian tuxedo? The perfect accessory can turn this look into street style gold. Click through the slideshow to check out a few of our favorite denim on denim styles, plus shop the complementary pieces that make the the look work. And remember, always say no to denim fedoras (ahem, Timberlake). See other great trends we love, like mirrored sunglasses, laser-cut leather shorts and split skirts.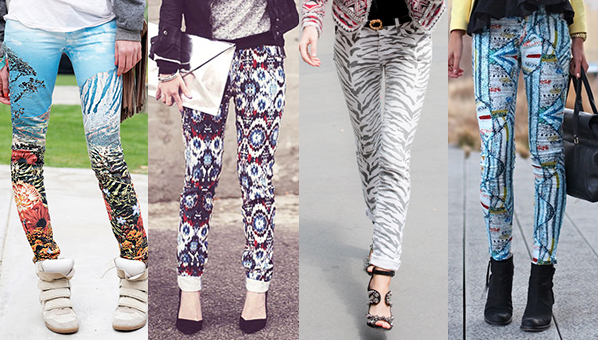 Brace Yourself–This Season's New Crop Of Printed Denim Is Anything But Understated
Remember when pretty much everyone was hesitant to try printed denim? I mean, skinny jeans are daunting enough, forget about squeezing your thighs into jeans covered in a million little polka dots. But judging from the new arrivals at all our favorite retailers, printed jeans aren't going anywhere. Quite the opposite, in fact. The prints aren't getting wilder! Brands like J Brand, Joe's and Rebecca Minkoff are just a few who've introduced seriously over-the-top denim this season and we can't decide if these eye-popping printed jeans are totally rockin' or a recipe for disaster. But given that all things printed are dominating spring--printed pant sets, printed short sets, printed pajama pants--we're guessing it's only a matter of time before everyone embraces the "crazier the better" is rule for jeans, too. Time to up those leg workouts! Don't want to miss this trend? Click through the slideshow to shop the wildest printed denim out there this spring. Before you go, though, take some styling cues from model Anja Rubik and pair your printed denim with something low key up top like a chambray shirt. Don't miss these other great trends, like peplum pants, non-basic turtlenecks and pajama pants.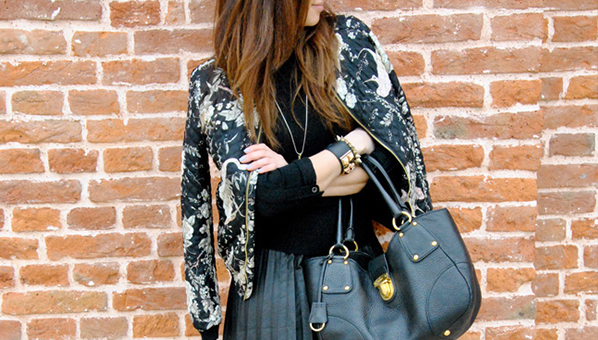 Spring's Printed Bomber Jackets Are Totally TheBomb.com
As if you needed any reminder that what's old is new again, allow us to introduce you to the printed bomber jacket. These classic toppers are just the latest item to get the print treatment this spring by designers like Stella McCartney, Jonathan Saunders and Milly. Yes, bomber jackets were first created for pilots decades ago, but the latest incarnations have serious "notice me" appeal in the form of bright colors and loud prints. Now be forewarned--not all printed bomber jackets are created equal. Some prints are just too out-there and garish to be cool. Luckily, we've rounded up eight of your safest bets in the slideshow. (Aviators not included, but you can get an awesome pair here.) Check out these other great trends, like peplum pants, bone-shaped jewelry and PVC pumps.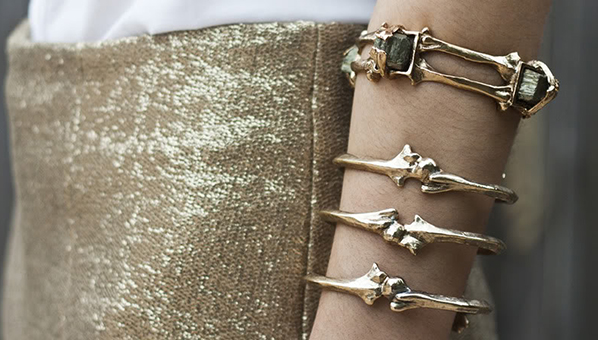 Bone Jewelry: The Perfect Antithesis To Spring's Girly-Girl Trends (Ruffles And Lace)
Given that this spring's hottest trends include ruffles, floral prints and bright lace, you're probably looking for something to add a little edge. Well lucky for you, we found the perfect jewelry trend to balance out this season's sweet must-haves: bone jewelry. No, we're not talking skulls--we mean actual bones. From bangles to rings, bones are making their way onto accessories in a major way and the look is just what you need to play off your spring fashion. Just take a look at the sequin - bone combo above. On it's own, that sequin skirt would be pretty, but not at all interesting. Throw on a bone bracelet, though, and that sequin skirt is seriously badass. Now if you're worried about looking full-on goth, don't.  Just wear one piece of bone jewelry at a time and work them into rotation with your everyday favorites. Shop our favorite macabre picks in the slideshow. Don't miss these other trends, like PVC pumps, the new shoe everyone is wearing and graphic T-shirts.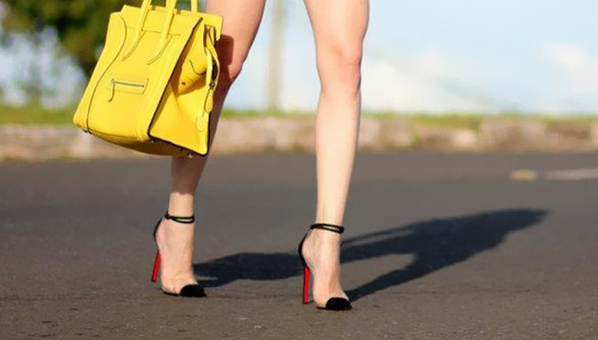 Turns Out PVC Pumps Are Totally Classy (And An Essential For Spring)
If there's one trend we're glad we borrowed from the strippers, it has to be PVC pumps (tassels are a close second). Thankfully, it was more like a tiny dose of inspiration, and the styles that the likes of Manolo and Valentino are churning out have been nothing short of classy and beautiful. Even less expensive versions by brands like BCBG have us sweating the trend. You have to admit, there's something reminiscent of Cinderella and her glass slipper going on here (don't act like you didn't want a pair). And if you're still worried about their super sex appeal, stick to longer skirts and dresses or pair them with some well-tailored trousers, so no one will mistake you for a street walker. So, are you convinced that these are officially perfectly appropriate daytime shoes? Check out our favorite pairs in the slideshow below and decide. Don't miss these other great trends, like silk dresses, statement T-shirts and flatform shoes.
Did You Know Silk Is The Ultimate Eco-Friendly Fabric? #TheMoreYouKnow
In case you needed a little extra push to buy that perfect silk dress for spring, we have some good news: according to Amanda Hearst's Marie Claire column in the March issue, silk is considered extremely eco-friendly. This is because of the hard-working silk worms that create it (and the cocoons they emerge from to become moths. Google them -- they're actually kinda cute!). This means no chemical-based synthetic processing, which is necessary to make most of the materials used for clothing. Also, silk is a natural fiber that is renewable and biodegradable. So, there's reasons #98731 and #98732 to buy and wear it. Pretty sure that's what we call a win-win. Feeling good? Time to buy your new favorite dress -- check out the slideshow below for our favorite options. For more spring fever, don't miss tassel jewelry, map-print scarves and warm-weather leather.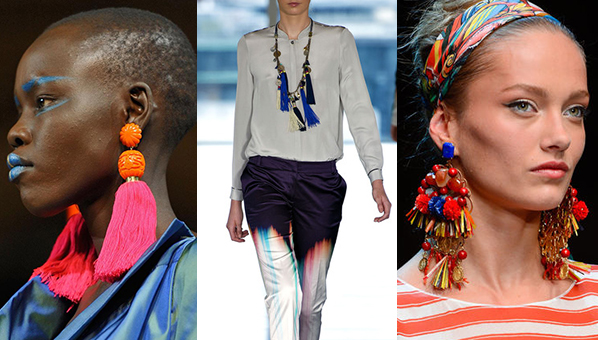 Tassels Are King For Spring: Just Ask Matthew Williamson, Duro Olowu & More
Though tassels have long been associated with burlesque dancers and the adorable flying carpet from Aladdin -- two very competing images -- we thought we'd remind you of their other purpose: as fun accessories. The swinging statement pieces have been seen on spring runways for the past 2 seasons (Vivienne Westwood, Matthew Williamson, D&G, just to name a few) and can also be found in Duro Olowu's upcoming collection for JCP: Duro Olowu for JCP (March 1). Bright, colorful tassels are reminiscent of summer camp friendship bracelets, and look fantastic stacked up and paired with a breezy maxi dress (see the street style below). Likewise, gold and silver chain tassels (like a serious shoulder-dusting pair) can easily glam up a plain tee and jeans on lazy days. Perk up your wardrobe ASAP and check out our favorite tassel picks in the slideshow below. How to wear tassels in an army party. Don't miss these other spring trends, like the long vest, mixed prints and peplum swim suits. [Photo: Byrdie and JCPenney]
Fall's 'Grunge Meets Hip-Hop' Trend Is Everything You Loved From The 90s In One
We're seeing a resurgence of slouchy beanies, combat boots and dirty-hued flannel as the '90s makes its comeback for fall 2013. The marriage of grunge and hip-hop puts a twist on an old favorite, with graffiti prints paired with combat boots at Vivienne Tam, or baseball caps with crop tops and baggy leather pants at Herve Leger (that Left Eye would have totally worn). Think of it as if Aaliyah and Kurt Cobain had a fashion lovechild, as illustrated by Rihanna's spring collection for River Island featuring tie-dye jumpsuits and midriff-baring sweaters. The best examples of the merger occurs in pieces that are traditionally grunge (an oxymoron?) that are also done in hip-hop-esque silhouettes, like the high-waisted plaid suspenders at Jeremy Scott. Are you as psyched about this trend as we are? Think about it -- we might even get to say "rad" un-ironically again. Catch up on all the fall 2013 fashion week trends, or see what's in store for spring, like barely-there beauty looks and matching printed shorts sets.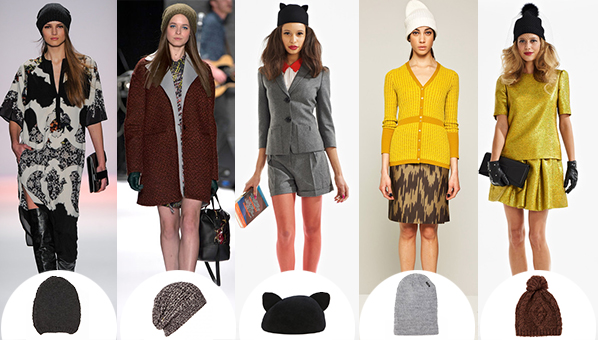 How To Wear A Beanie And Look As Cool As These Runway Models
So far, there is one fall 2013 fashion trend in particular that everyone seems to agree on: beanies are in. Spotted everywhere from BCBG to Kate Spade, designers seem to love topping off their looks with the ubiquitous knitwear this season. In fact, the hat of choice for slackers everywhere is part of the new rad '90s-meets-grunge trend we told you about. But you don't have to channel your teenage angst to take part in it -- we rounded up the six ways we saw this trend on the models, and figured out how you can look equally as cool. Plus, this just might be the easiest (and cheapest!) way to in on the trend, since you probably already own a few of these babies. And, well, it's still chilly outside, so you may as well get a head start! Check out the slideshow below for inspiration on how to wear beanies this and next fall. See more fall 2013 fashion week trends, listen to the top songs from the runway shows and see the strange racoon-eye makeup look.
The Best Use For Peplum Yet: On Your Swimwear
You probably can't imagine yourself in a swimsuit right now - unless you've got big travel plans in the near future, in which case, lucky you! But even if you're not heading on a tropical holiday, bathing suit season will be here before you know it. Hopefully you've been keeping up with your New Year's resolutions, but if you've still got some work to do, this latest swimwear trend might be right up your alley. Similar to its beloved clothing counterpart, a well-placed peplum hides any mid-section worries you might have - or it creates a perfectly curvy silhouette for the more boyish figures. Plus, it's a nice call back to your childhood, when you just had to have the suit with the prettiest ruffles. Aren't you glad to know nothing's changed? See our favorite peplum bathing suits in the slideshow below. See more upcoming spring trends, like the printed jacket, honeycomb prints and chambray shirts.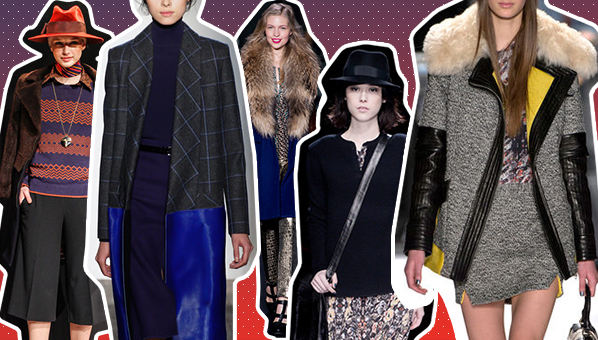 7 Stand-Out Trends From Fashion Week (Aka, What You'll Be Wearing This Fall)
While you're still praying for spring's swift arrival (and the trends it brings!), designers already have their eyes on what you'll be wearing for fall. And while we love spring and summer for their warmer temps, nothing beats fall trends. Fall is the "January of fashion" (remember from the September Issue?), and the 2013 fall trends are already starting to trickle in. It's like back-to-school shopping - but SO much better. As New York Fashion Week wraps up, we've been following the shows closely for emerging fall 2013 trends -- and there are some huge stand-out trends that have us ready to fast-forward 2013. Most notably, there's a huge upgrade on mixed media (it's all about fur and leather, plus everything but the kitchen sink), and we can't get over the insanely awesome '90s hip-hop and grunge mash-up. Meanwhile, major brands like Tory Burch and Tommy Hilfiger are churning out textured skirts, and as expected, there are some trippy prints from Marc by Marc Jacobs and Diane von Furstenburg. Oh, and did we mention the beloved fall 2012 color oxblood is getting a facelift? Click through the slideshow below to see what you'll be stocking your closet with come fall. You should also check out spring's upcoming trends, like black and white, crop tops and graphic tees.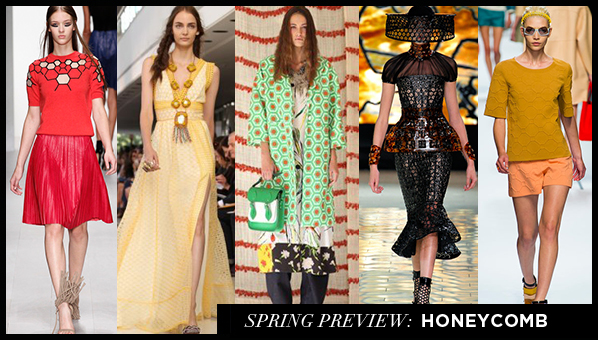 Spring's Geometric Honeycomb Print Is The New Chevron
Not to be outdone, the fashion world took on Mother Nature this season and forwent the typical spring florals in favor of something with a little more sting -- like the worker bee. Or, more specifically, the honeycomb. Sarah Burton spearheaded the trend in the most literal sense for Alexander McQueen's Spring/Summer 2013 collection, featuring delightfully cray prints, wide-brimmed beekeeper's hats and sculpted silhouettes in true McQueen fashion. Luckily, a few other top designers toned down the hive-oriented look for those of us who aren't Anna Dello Russo, treating us to the more subtle hexagonal motifs at Tory Burch and Chris Benz. Get ahead of the trend and see what all the buzz is about (get it!?) in the slideshow below. [Style.com] Don't miss these other trends, like the new take on chambray shirts, white-hot heels and menswear-inspired accessories.