Would You Rather: A Luxe Leather Jacket Or A Whole Spring Outfit?
When it comes to smart shopping staying under budget is key. We're often faced with the dilemma of choosing that one gotta-have-it piece that leaves us drooling on the sidewalk, or getting a few things we really need at pared down prices. As spring nears and style is diverting towards soft neutrals, supple fabrics, and breezy cuts, we beg the question: Which would you rather? This luxurious Vince Draped Leather Jacket? Or an entire outfit for spring, complete with this Sue Wong Crochet Trim Dress ($296) perfect for your next big event, this delicate Pins and Needles Dot Swing Jacket ($48), and spring shoes, like these Boutique 9 Raffia Sandals ($120)? Did I mention that you'll still have more than $500 left to spend on other stuff? Tell us what you would rather in the comments section. And if you're a frugalista head to our sales and deals section and deal of the day page for more ways to save.
Week In Review: Fashion Week Recap, Three Things To Buy Right Now, More
Must-Reads: Don't miss a single beat from New York Fashion Week; we found the coolest bedazzled shoes on the cheap, the hottest new "it" nail polishes, and the new designer line for Payless. If it's trends you're after, brights are fall's unexpected must-have. Wondering what to buy and wear right now? A chambray shirt is spring's hottest casual piece that can be styled for warm or cool weather. We also found a to-die-for spring outfit that cannot be missed. Looking forward to Alexa Chung's Madewell Collection? We are, too. Take a sneak peek at the upcoming line and see how we found awesome look-alikes to buy now. Narciso Rodriguez's eBay capsule collection hit the virtual storefront this week. Check it out now before it sells out. Sales And Deals: Enjoy 70% off silk dresses at ASOS. Shop your heart out at Free People's 70% off sale. Take advantage of dirt-cheap deals at the Alloy clearance. Taste Tests: Which sparkly studs won't dampen your bank account? Can you guess which fringed handbag is the better deal? Which striped boatneck dress is the better deal? Fashion Math: Would you spend $76 on an umbrella that will save the environment? Is an oversized blazer a worthy investment? Guides To Check Out: Start your fall shopping now to get the best deals. We scouted the coolest fall trends and explain how to wear them. If you follow celebrity fashion, you won't want to miss this week's edition of redos. We caught Michelle Williams and gave her a lesson on how to fix her Fashion Week faux pas.
Payday Promos: Indulge In J.Crew Deals (It's Friday, After All)
This weekend, while you're thinking about where to spend your hard earned cash, head to J. Crew for a great deal: an extra 20% off final sale items. Just enter code EXTRA20 at checkout to reap the reward. Plus, if you spend $150 or more, you also get free shipping. Slip into this bright and chipper Ruffled gamine jacket($97, from $178) for an instant pop of color. It's lightweight so you can easily layer it as the weather starts to warm up. This Dolce cable-knit sweater ($23, from $58) is darling, and you'll have no trouble finding room for this basic in your weekly sweater cycle. (more…)
Deal Of The Day: Get A Whopping 60% Off Nine West Shoes
There's nothing like a good shoe sale to put you in a great mood. Thank Nine West for knocking an extra 30 to 50% off at checkout on this week's sale items. There's everything you could ask for: boots to round out your winter collection, sandals to get set for summer, and pumps for sprucing up your work wardrobe. Even clothes and accessories are on sale. Here are a few particularly worthy (and deeply discounted) picks to consider--we like the nude shoes because they make your legs look longer. Spring beckons for these pretty vintage style Deanna pumps ($112 from $160). With dainty studs and a soft taupe hue, these low-heeled pumps are perfect for work, but can easily be worn on the weekend with a dress. Originally debuting at New York's Fall Fashion Week, the Count shoes ($25, from $89) is a sexy spring platform sandal in shiny patent black or beige. But the price is the only convincing you'll need to snatch up this bargain buy. (more…)
Fashion Math: Should You Spend $76 On An Umbrella That Will Save The Environment?
You may already own eco-friendly shoes, shopping totes, or even vegan fashions. But when April showers arrive, what do you carry? Rain gear is the latest to get an eco-friendly makeover thanks to Brelli, a New York based company that took one great idea (a cocktail umbrella) and one great concern (streets littered with broken $5 umbrellas) and put the two together to create a 100% biodegradable umbrella: The Brelli ($76 for 52"). The frame and handle are made of bamboo, a renewable and natural resource known for its strength and flexibility (so you don't have to worry about it flipping inside out in high wind). The canopy is made of a high-tech, clear PVC that, along with the frame, will break down in a compost pile or landfill in five years. Let's do the Fashion Math, because this is too good to be true: (more…)
New York Fashion Week: Candy-Colored Tights, Military Jackets, More
Yesterday at the tents there seemed to be two distinct tones for fall. One trended towards the elegant and ladylike, with youthfully exuberant bright hues and jewel tones splashed on coats, evening wear, dresses, and pants. The other was a darker, more austere look, with a dark grays, olives, and neutrals reigning over goth, punk, and military-inspired cuts. Among the many looks, these are some that can be easily translated into your wardrobe this fall. Bright Tights, Leggings & Pants Black and gray tights will surely remain an old standby, but this fall's most exciting hosiery comes in splashy oranges, cobalt blues, and deep reds. Colorful pants and tights were seen from Milly, Tory Burch, and Anna Sui just to name a few. You can get Spanx Tight End Tights ($26) in lipstick, cobalt or cabernet, all of which feel great, suck you in, and have a rich, opaque color that is right on trend. (more…)
In-Demand, "It" Nail Polishes: Taupe, Gunmetal, And Robin's Egg Blue
Matte, taupe nails this Fashion Week were everywhere, from Marc Jacobs to Thakoon. These are the newer trends we saw pop up everyone will be running to get come fall--get in on the trend now. Get Badgley Mischka's gunmetal nails by snapping up a bottle of Dior's Vernis Nail Enamel ($21). Try painting only the thumb in the shiny Silver Pearl color to create a "Blackberry Bling" motif. (more…)
Front Row Fashion Week Style To Copy Now
It's the last day of New York Fashion week, and we've showed you how to fit in, what sunglasses to wear, and even what uniform Rachel Zoe approves of. Our final New York homage to the crazy week is how to look pulled together--whether you're at fashion week or not. Case in point: AnnaLynne McCord (of the new Beverly Hills 90210) looking stylish. The beauty of this look is that it's so easy to wear in daily life. Follow these steps: Start with a strong shouldered top, like this Silence & Noise Strong Shoulder Blouse ($58) by Urban Outfitters. You can easily mix and match this top in a number of other looks (here's how). (more…)
Deal Of The Day: Up To 80% Off Everything At Alloy
Hit up the Alloy end of season clearance sale for up to 80% off everything you could want to spruce up your wardrobe. We're talking $6 tops, $10 dresses, $15 jeans, and more. Also, you'll receive free shipping on orders of $75 or more when you use code ALBAFF at checkout. This rayon blend Short Sleeve Beaded Dress($20, from $43) is a pretty fall and winter party dress that can even be worn belted over a turtleneck to the office. (more…)
Must Own: Spring Belts To Cover Every Trend
Belts can instantly add polish to your outfit when worn over a dress, cardigan, sweater, or even coat. Of course, it's always nice to find a fantastic accent piece at a great price, which is why we scoured the Web to find these unique cinchers at prices that won't have you putting a restriction on your spending. Could this black belt be any prettier? J. Crew's Silk Bouquet Sash ($25) made of organza and Mantero silk satin, and we imagine it looking really chic with a neutral shift dress, or even dressing up a pair of distressed boyfriend jeans. Slip on a Metal Stud Stretch Belt ($15) by Arden B. for an edgy vibe--throw it over a dress to toughen it up, or go all out with a pair of black jeans. It's available in black, brown, and silver. Be like Michelle Obama and don a laser-cut belt, like this Perforated Leather Belt ($16.50) from Old Navy. Get this neutral one shown here, or get all three different colors for versatility. At this price, why not? See our top fives, keep up to date on the newest spring trends, plus check out our buying guide to the best belts ever.
Good News & Bad News: Designer Condom Collections, Ralph Lauren Snubs America, More
Some strange news to start: We've seen couturiers design everything from sweaters made of human hair to recyclable shoes. But that's nothing compared to these designer condoms. Jeremy Scott (along with Alexander Wang, Yigal Azrouël, and others) just unveiled his personal, er... stylish touch on fashionable condoms whose proceeds go to Planned Parenthood. [WWD] Designers confess: McFlurries, Zapps cajun crawfish flavored chips, solitaire, and "One Life to Live" are among their Fashion Week vices that help them stay calm amid the chaos. [WWD] (more…)
Deal Of The Day: Up To 70% Off Silk Dresses At ASOS
When you want to get in on a trend without spending a ton, ASOS is your shop. With hundreds of designer (and designer look-alike) dresses, you'll have no trouble coming across a new favorite. A muted gray Alexa Chung-style Chiffon Ruffle Sleeve Dress ($35, down from $62) features ruffled cap sleeves and apleated waist to give you shape and style for a day at the office. (more…)
Fashion Week Good News & Bad News: Tavi Beat Out By 5-Year Old, Human Hair Jackets at VPL, More
First, some good news: Move over Tavi, there's a new face in town and she's got you by eight years. Rack's pint-sized, five-year-old adora-blogger Katie interviews Nina Garcia and other stars at Fashion Week. How's that for getting a head start on your career? [Racked] Good for fashion, bad for PETA, designers at Fashion Week are portraying fur every which way for fall, literally from head to toe. If you're with the vegan crew, head to our guide for the best faux fur so you don't have to miss out on the trend. [Guardian] (more…)
Deal Of The Day: Up To 60% Off Cool Pieces From Free People
Surely you don't need an excuse to shop at Free People; with creative, contemporary, and comfortable looks to suit your every whim, you'll be pleased to find so many inexpensive options on the virtual sale racks. These are just a few of the finds on sale now. This intricate embellished leather Freemont Beaded Bib ($29, from $48) makes a strong statement against the plain tunic or dress of your choosing. Slip into these sexy Cri de Coeur Seamed Over The Knee Boots($249, from $388). Eco-friendly shoppers rejoice--they're handmade and 100% vegan. (more…)
Fashion Math: Is An Oversized Blazer A Worthy Investment?
There are a few things in fashion that really are worth every penny. Some of those things are good boots, cashmere, coats, and suits. Speaking of suits, which are usually reserved for the formality of the corporate world, one of the biggest trends that comes to the foreground of fashion year after year is the blazer. You can buy one in wool, velvet, or even linen, and you'll always return to it because it adds polish to everything, even jeans or a miniskirt. The fashion math has such a fabulous return that I simply must share: This Vince 3/4 Sleeve Boyfriend Blazer ($440) is by no means cheap, but at $5.50 a wear, it's an approachable option that will probably get more wear than the fashion math suggests thanks to its classic, wear-with-everything style. Made of a medium weight wool-viscose blend with a touch of Spandex, it's not only comfortable, but the oversized cut is very fashion forward, while the strong shoulders and cropped sleeves give it that special touch. Like this look? Head to our blazers guide for the best styles at all prices, and then check out how to wear a boyfriend blazer. You can also see our past Fashion Math equations to see what's really worth the money.
Good News & Bad News: Maria Pinto Closes, Stylish Recyclable Shoes, More
First, let's get the bad news out of the way: When Michelle Obama was first spotted wearing Maria Pinto, it was love at first sight. Of course, Oprah was a fan, too. But unfortunately, hard economic times are forcing the designer to close shop and file for bankruptcy protection. We're all hoping that this is only a hiatus, allowing her to regroup and come back stronger in the future. [Chicago Sun Times] It appears Vogue had a little too much fun with Photoshop when they transformed Tina Fey's lovely face for the March cover. Couldn't a touch of concealer have done the trick instead of a heavy-handed Photoshop job? [NY Daily News] Now, for some good news: Jean Paul Gaultier and Melissa, a Brazilian sustainable shoemaker who has done collaborations with Vivienne Westwood in the past, are joining forces once again (their first collaboration was in 1982). This time they are launching a recyclable stiletto heel that is slick and sexy. It will be available in March and is definitely going on our eco-friendly shopping list. [Vogue UK] Handbags may get a price adjustment in the near future. Designers are reconsidering demand and consumer appetites, and rumor has it that classics like Coach, Kooba, Treesje, Botkier, and C.C. Skye will be dropping the starting prices for popular goods by a couple hundred dollars. Scoop up savings now with these discounted designer handbags. [WWD] "Davies by Erica Davies" is the next designer-discount line to launch on QVC just in time for summer, with prices in the very affordable $44 to $59 range. The looks include an embellished tank, maxi dress, and cropped trousers. The contemporary designer follows on the heels of other big names like Thuy by Thuy D., Gypsy by Mara Hoffman, and Twist by Christian Francis Roth. [WWD] Check our more style news, and shop the Narciso Rodriguez for eBay collection only online today.
New York Fashion Week: Weekend Trend Round Up
Designers put their best heels forward this weekend with stunning fall collections. Here is a round up of some of the most prevalent (and wearable trends). Brights Usually, fall calls for more somber hues, but Erin Fetherston showed off some strikingly bright pieces for fall that stood out amid a sea of gray and black. Victoria Beckham and Rachel Roy also interspersed brights into their dark palettes. To mimic the look, try this feminine Vanessa Bruno Linen-blend dress ($204) with boots. Cropped Pants Forget floor-skimming trousers. This fall will be all about cropped and tapered styles that show off your figure and your sexy boots. Seen at Malandrino (shown below), as well as Diane von Furstenberg, these will likely be a style staple. (more…)
Trend Spotting: Safari Inspired Canvas Totes For Spring
Technically--and despite what Punxsutawney Phil predicts--we're probably in for another good six weeks of winter. But that doesn't stop a girl from jonesing for some lighter, more airy spring pieces like canvas totes. Plus, these are just in time for all of you lucky ladies planning to pull out your resort wear for a spring vacation. Fossil tends to gravitate towards earthy inspired leather goods, which is why this Vanessa Fabric Tote ($118) fits right in with the rest of these pieces. It's neutral, but with a pop of color, while still offering all of the functionality you need in a core spring bag. Simple, yet stylish, this surprisingly cool Spiegel Bead-Trimmed Metallic Canvas Bag ($39) screams boho chic at a totally affordable price. Penny pinchers will also love this Relic Bree Giraffe Canvas Shopper ($33); the fun print offers a nice alternative to spring neutrals, while the brass hardware and canvas handle give it an authentic safari feel. From Kooba, you can take this Elena Animal-Print Canvas Tote ($245) from spring all the way through to fall, year after year. It's hyper stylish and goes with just about every casual ensemble. Fulfill your handbag cravings with our guides to inexpensive handbags, eco-friendly finds, and the best in spring bag shopping. Also, check out what you need to wear this season with our spring trends.
Deal Of The Day: Up To 50% Simply Vera At Kohl's President's Day Sale
Vera Wang's discount line for Kohl's offers stylish separates and accessories for the most frugal fashionistas. Today only, at Kohl's President's Day sale, popular pieces from the 09/10 Winter Collection are from 30 to 50% off. Plus, take an extra 15% off everything with code FEBKC15, and enjoy free shipping when you spend $75 or more. Here are some highlights to get your shopping taste buds salivating. Make these sturdy, comfy, and durable Winsome Heels ($28, from $69) to work with you; they polish skirts and pantsuits off with a touch of femininity. (more…)
Seen At Fashion Week: From-The-Runway Designs By Lela Rose And Christian Siriano Go Straight To Payless Shelves
As a regular reader of SheFinds, you surely know that we have long been fans of the designer lines at Payless. After all, what's not to love about high style at low prices? Two of our favorite designers, Christian Siriano and Lela Rose recently unveiled their new Payless collections on the Bryant Park runways. Observe the fierceness of Siriano's design inspired by 1960s Parisian women and 18th century Rocaille furniture: You may remember the debut of his Spring 2010 line. You can already buy these Coast Printed Satin Pumps ($35) that mimic the look (the real thing, at left, will be available in March and will retail for around $80). Read More About This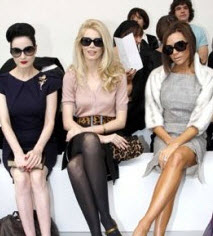 Week In Review: Fashion Week Kicks Off, Kelly Cutrone's Advice, More
Must-Reads: Fashion Week has officially kicked off, but if you want to make it with the A-listers and not get kicked out of the tents we recommend these  front-row worthy sunglasses. Since you'll probably be standing awhile, don comfortable high heels. With snow blanketing many parts of the northeast this week, it's only fitting that we pulled out all of the stops and found the best looks for freezing cold weather like waterproof (and chic) boots and fleece-lined tights. Make breaking in a new job easier with our handy guide to Kelly Cutrone's words of work survival wisdom. Fashion legend, Alexander McQueen, passed away this Thursday. His imaginative and controversial contributions to the world of fashion will be sorely missed. In remembrance, our tribute to the fashion icon. Sales and Deals: Save up to 60% with an additional 20% markdown at Ralph Lauren's Last Chance Sale. Buy one, get one free on bestselling pants at New York and Company. Taste Tests: Which cocktail ring won't drive you to drink? Which ladylike lace skirt won't leave your bank account full of holes? Fashion Math: Is a little black dress worth more than $300? Would you trade a plane ticket for a classic cashmere scarf? Guides to Check Out: Valentine's Day is practically here. If you completely spaced out and forgot to get something for your special someone, go directly to our last-minute gift guide that can guarantee a gift in your love's inbox within minutes. Attempting to go green? SheFinds makes it easy--and free. Enter this week's giveaway for a chance to win more than $650 worth of eco-friendly fashion and beauty products.
Good News & Bad News: Arm Yourself For The New Warrior Woman Trend, Tim Gunn Hates Water…
First, good news snippets to ponder over the weekend: Girly is out. The strong, sexy warrior woman is in. Unsettling times, from financial fallout to terrorism, call for new style measures. In lieu of pastels, florals, and dainty, girlish frocks, femininity is trending towards the "don't mess with me" edge. Short hair, strong makeup, and confident clothes are the most fashion-forward looks for 2010. Here's a primer on the new way to dress. [WWD] Fans of Gwen Stefani's L.A.M.B. collection can look forward to leather jackets, rocker-style lace-up booties, and strong shoulders (which we show you how to wear). [Daily Mail] (more…)
Payday Promos: Get 5 Pieces For $50 Or Less From Armani Exchange
Got paid? Get stylish with these discounted designer goods from Armani Exchange; everything you see here costs $50 or less. How can you argue with that? They're just the reward you deserve for a week of hard work. Plus, when you shop the sale this weekend, you'll get an additional 20% off (discounted prices are shown below), as well as free shipping on orders of $150. What are you waiting for? In 100% silk with a touch of shimmer, this Metallic Ruffled Blouse ($40, from $78) would look polished teamed with a cardigan and pencil skirt for work. It's hard to refuse these Rhinestone Studs because for just $5 a pair you can add some no-fuss glitz to your lobes. Made from 100% silk, this Tiered Ruffle Top ($31, from $68) is a pretty topper to jeans or slacks, and can easily be a day-to-night piece when worn with a blazer. At just $15 (from $58) this faux leather Zipper Belt is biker girl chic all the way, and will rock you through spring and summer without a hitch. This plush and cozy angora blend Striped Pullover Sweater ($48, from $78) defines weekend chic with a casual off-the-shoulder cut and slouchy fit. Shop all of the week's best sales and deals this weekend or hit up our winter fashion pages to get advice on the coziest sweaters, scarves, and coats.
Fashion Math: Is A Mood-Altering Handbag Worth The Price?
Like skinny jeans surpassed the bell bottom, so the drawstring bag has replaced the hobo as the standard in trendy purses. With nearly 100% conviction, I think this style is here to stay well throughout the coming seasons. Factor in the slow approach of spring and I'm drawn to the candy-colored styles that perk up any dreary day. This Kate Spade Westbury Drawstring Opus ($199-$299, from $395) comes in a rainbow of bright and perky colors, from poppy and berry, to tangerine, mustard, and piscine. "But I'm not the flashy type," you say. Even with clean lines, supple leather, and simple styling? I think the fashion math will convince you: (more…)
Deal Of The Day: Up To 60% Off Shoes At Piperlime
It's the final countdown for designer footwear at Piperlime where you can save up to 60% on clearance shoes. All of your favorite brands are there, steeply discounted, and ready to wear. For your next evening outing, spice up a plain black dress with these vibrant multi-colored leather Carlos Santana Glamorous Platform Pumps ($30, from $110). If you haven't stocked up on over-the-knee styles yet, try these Chinese Laundry Nikka Boots ($65, from $160) that feature a trendy foldover cuff, mixed suede and leather, and grunge-chic buckles up the back. Slip into these tan leather Industry Shooties ($49, from $125) with unique quilting, stitching, and perforation details. More Sales and Deals Lingerie.com: Use code VDAY15 at checkout to save 15% on sexy Valentine's Day finds. Nordstrom.com: Get a free Clarins beauty gift with any two-item Clarins purchase. Ulta.com: Sweeten your Valentine's Day with free beauty and skincare gifts when you make a purchase.
Top Five: Dramatic Fringe Earrings To Make A Statement
Fringe on jewelry is a very hot look, especially on earrings. Just look to Rihanna in her Fallon Hell's Angels Tassel Earrings for inspiration; you just can't get much cooler than that. To nab that rock-glam feel, check out these finds. 1. For pure glitz, these chunky CC SKYE Earring Love Affair Earrings ($189) nail the look with four inches of mixed metal. (more…)
Fashion Math: Would You Trade A Plane Ticket For A Scarf?
You can jet to just about anywhere in the country for around $300 or less. So when you see a scarf--a couple swathes of fabric--costing $275 you probably wonder if it's worth it. I bought a classic, 100% cashmere scarf by Burberry five years ago. It's still in beautiful condition and never ceases to look impeccable even with jeans. A plaid pattern in neutral black goes with nearly everything and cashmere is the softest, warmest material you can get. Let's see if the  fashion math really adds up: (more…)
Spring Fashion: Neutral Essentials That Are Anything But Boring
Transitioning to spring isn't only about swapping out heavy materials and chunky textures, but also updating your closet's color palette. One of the easiest ways to always look polished come springtime is to veer towards a solid backdrop of neutrals that balance the floral, pastels, and brights that are inherent to the season. Hang up the black, gray and and navy clothes for these softer updates you can start incorporating now: This gorgeous and supple Banana Republic suede motorcycle jacket ($298) has all of the tough girl appeal you need in a leather jacket, with the right measure of ladylike subtlety. (more…)
Our Tribute To The Late Fashion Icon Alexander McQueen
Mercedes-Benz New York Fashion Week was kicked off with some bad news today: award-winning British designer and icon Alexander McQueen was found dead in his London apartment.  His style sense trended towards the avant garde, and his  pieces translated to unique, rebellious, and the epitome of cool. In a tribute to the design guru, here are some of his high-end designs that are likely to be snapped up quickly by fashionistas as collectors' items: Known for his impeccable scarves, we're loving these two: a Lip-Print Silk-Chiffon Scarf ($315), and the other with his signature skulls ($384). (more…)
Deal Of The Day: Last Chance Sale, Plus An Extra 20% Off At Ralph Lauren
Enjoy up to 70% off winter sale items, plus get an additional 20% off select items at the Ralph Lauren Last Chance Sale (reductions shown at checkout). Here are some highlights of the quality classics you love at low prices. This Ralph Lauren Blue Label Wool-Cashmere Cable Knit Cardigan ($129, from $345) is quintessentially classic, and super warm, too. This Michelle Obama-esque Calla Taffeta Tartan Dress ($71, from $160) has that demure girl-next-door look, but also a polished quality that would make it the perfect dress for a special daytime event. (more…)
Valentine's Day Gifts To Send From Afar (And Fast)
Unable to be with someone you love this Valentine's Day? Forget flowers: virtual e-gift cards give for longer than a week and can be shipped and delivered without leaving your house. You just need the recipient's email address and your credit card information--believe us, they'll appreciate it--they can treat themselves right away. Treat her to a clothes, jewelry, handbags, and more without having to guess on sizes or tastes with a gift certificate from KateSpade.com start at just $5. (more…)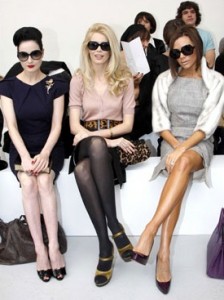 Fitting In At Fashion Week: Front Row Worthy Sunglasses
Claudia Schiffer, Victoria Beckham, and Rachel Zoe know that when you're at Fashion Week, (or in general, heading into the next season) you best be prepared--and donning some superior shades is just as important as your ticket. First nail this look to get through the velvet ropes. Then slip on the sweet shades below, which are guaranteed front-row worthy. (more…)
How To Stay Cozy Without Looking Like A Marshmallow
Wherever you are, if you are getting hit with a blizzard right now, this post is for you. Here we have put together the chicest, most cozy ensemble--fit enough for an Alaskan winter--but chic enough for New York City streets. Here's how to get this look, and make it the warmest it can be with some strategic accessories. (more…)
Deal Of The Day: Up To 70% Off Chic Travel Accessories At Luggage Online
Gear up for your spring getaway now for the best deal: you can save up to 75% at LuggageOnline.com today only. They have everything you could need to travel stylishly, from overnight bags to laptop cases. Plus, you can take $5 off your purchase of $100 or more with code LUGG09. Here are a few of the standout sale items. Channel your inner spy with Kena Kai's DataSafe RFID Blocking Wallets (gold croc $189, from $236) that protect your sensitive information from identity theft and tracking. They are all 20% off and look ultra chic in embossed lizard, ostrich, and classic leather. (more…)
How To Wear: Mixed Prints (Without Looking Crazy)
There's nothing quite as precarious in the fashion world as attempting to mix prints and patterns. Obviously, some fashion-forward gals simply have it in their blood; it's like second nature to simply mix a floral with a polka dot with a stripe with a graphic print. The rest go the safe route and choose pairing a print with something simple, like black. Well, those from the latter group, take notes on the following. We'll show you how to rock the mixed print look without looking like you got dressed in the dark. (more…)
Good News & Bad News, Estelle & Rachel Roy Jewelry, Free Manicures For Broken Cars, More
First, the good news: Rachel Roy and singer Estelle's limited-edition jewelry collection launches today on their Facebook pop-up shop and will stay open for three days. All you have to do to get in on the action is fan Rachel Roy. The petal ring to the left is just $50. [What's Haute] Mary J. Blige and Catherine Malandrino are teaming up to produce inspirational tunic tees donning the hand-painted slogans, "I'm Free," "I'm Love," and "I'm Power." [WWD] You're in luck (well, kind of) if you had your Toyota recalled. If you are stuck needing repairs, your dealer will offer free manicures and other perks while you wait. [NY Post] Now it's time for the bad news. (more…)
The "Valentine's Day" Premiere Best Dressed Award Goes To…
At the Valentine's Day premiere it seemed that Jessica Alba was attacked by Tinkerbell, Anne Hathaway's eye-catching cobalt blue feather tube dress was stunted at birth, and Jessica Biel's cotton candy gown was bloodied in the making. That leaves the following women who scored a tie for first place in the best dressed category. Julia Roberts donned a matronly and utterly drab black wrap shirt dress, but her niece, Emma Roberts (left), looked splendid in a Jenny Packham gold and metallic white mini. Demi Moore also made an appearance in a white strapless Chanel Couture cocktail dress that is to die for. Here, we've recreated the look for less. (more…)
Spring's Friendliest Accessory: Neon Accessories Everyone Can Wear
Pastels and florals are an obvious choice when warm weather rolls around--after all, they scream spring--but a fresher way to add pops of color to your wardrobe is to throw in a dash of neon. From belts to shoes, and everything in between, here are a few inspirational picks to get you in the mood for brighter days. 1. These Dani Leather Heels by J. Crew ($235) are an unexpected strike of genius in the form of a comfortable suede peep-toe. These are sure to be an instant hit this season. (more…)
Deal Of The Day: BOGO Deal On Bestselling Pants At New York & Co.
Got pants? Even if you already think you have enough, don't miss New York & Company's buy-one-get-one-free offer on their best selling 7th Avenue Pants in all colors and styles. Choose from bootcut, wide leg, slim, and many more in a variety of colors. These are already competitively priced, so you shouldn't think twice about stocking up on these great fitting pants. Plus, shop today only and get free shipping on your purchase when you enter code 2025 at checkout. For a crisp look that is very current, try these skinny black pants by  7th Avenue ($43), perfect for work or weekends when paired with the right shoes and top. (more…)
Top Five Chain Strap Purses For Every Style Personality
Chain-strap purses are the way to go if you're in the market for a new bag. You can choose from every style imaginable, from the perfect little clutch to a spacious tote for everyday use. Here are a few of our favorites, each of which is practically made to suit a particular personality. The Modernist: Leho by Aldo ($45) Simple, minimalist, and streamlined. This black, east-west bag with gilded grommets and long chain strap are the perfect accompaniment to your monochrome look. (more…)
Would You Rather: A Classic (But Expensive) Burberry Trench Or A Head-To-Toe Look On The Cheap?
The iconic Double Breasted Burberry Trench Coat ($995) transcends all trends, that is certain. And while many women would gladly pay the thousand dollars to own this essential item, there are plenty more who would rather have a trench made by a less expensive maker, plus accessories to finish the look. Which would you rather? A Classic Burberry Trench? (more…)
How To Wear A Strong Blazer (Without Resembling A Line Backer)
One of the season's most audacious looks is the strong shoulder blazer. Victoria Beckham, Kate Moss, and Rihanna have all donned the signature Balmain Strong Shoulder Blazer from the Fall 2009 collection, but now, the style has trickled down to tops (case in point: Silence and Noise Strong Shirt Blouse), dresses (loving this Elizabeth and James T-Shirt Dress), and sweaters. Here's a quick tutorial on how to wear this ensemble without looking like you competed in last night's Superbowl. (more…)
Today's Good News/Bad News, Marc Jacobs's Home Fragrance, Botox's Nemesis, More
Today's good news should help you forget it's Monday: Elizabeth Moss, Mad Men's resident frump, proves that she really can look her age in real life. The 27-year-old actress shows off Spring's hottest accessories, including statement necklaces, shoulder jewelry, and cross body bags. [WWD] The Marc Jacobs Daisy perfume we love is now available in a home fragrance. Cool, huh? See great fragrances for all seasons. [Sephora] (more…)
Deal Of The Day: Save Up To 65% On Classics At White House Black Market
White House Black Market is having a fantastic sale and clearance right now, with serious savings on everything from work separates to evening wear. You couldn't ask for a more elegant cut in an LBD than this Twist Neck Dress ($59, from $158). It's a truly no-fuss solution for work days when you want to look polished. Update your worn-out denim jacket with this classic Dark Denim Jacket ($39, from $98). It is seamed for the perfect fit, plus it has a feminine ruffle hem and crystal buttons for that special touch. (more…)
Taste Test: Which Cropped Trousers Won't Slash Your Savings?
If you nabbed this taste test, treat yourself to a new pair or pants that suit your shape. And if you're really daring, check out these handpicked harem pants.
Fashion Math: Is $300 Worth The Splurge For A Little Black Dress?
No matter what the special occasion may be, a chic little black dress is a standard go-to item. You only need one or two really nice options and you're set for years. How much, though, are you willing to spend on something that you need, but don't wear every day? This Black Halo Megan Halter Dress ($345) is evening appropriate and while the cut is a little sexy, but can be covered up easily. Let's see if the Fashion Math adds up: (more…)
Taste Test: Which Denim Hobo Costs Less Than A Pair Of Blue Jeans?
Did you get it right? Try our other taste tests. And don't forget that we found the best bargain bag and browse all the best handbags.
Taste Test: Can You Pick The Printed Frock With The Daintiest Price?
Give every one of our taste tests a go to prove you know how to spot a deal. For you frugal fashionistas, don't miss our guides to the best in discount, from denim to the best underwear.
Week In Review: Foolproof Party Looks, V-Day Gifts, And More
Must-Reads: Got a hot date this weekend? We found the perfect celebrity-inspired outfit (thank you Lindsay Price) to look ridiculously chic at parties. And for all of you who can't get enough celeb news, head to our new "Red Carpet Re-Do" series for the best style makeovers. Even though we're supposed to get a blizzard in New York tonight, we know deep down spring is on its way and we can't wait to get our hands on these new trends for warm weather. We're also looking forward to wearing the increasingly popular cage bootie (check out our advice for styling them right). Valentine's Day is just about here. Don't miss out on our guaranteed equation to look seductive, sexy (comfy) sleepwear, and our favorite selfish gifts to buy ourselves. Once and for all, figure out how to nab Michelle Obama's impeccable style with these targeted tips. Sales and Deals: Take 40% off essentials at Banana Republic. Save 50% on designer handbags at Bloomingdale's. Save up to 50% on winter sale items at 7 For All Mankind. Taste Tests: Which shimmery sequin tank leaves you with more money for cocktails? Which tulle pump costs half the price of the designer model? Fashion Math: Is trendy cashmere worth the money? Is an eye-catching coat more competitive than the classics? Guides to Check Out: For instant inspiration, head to this week's best daily finds, plus our editors' favorites in winter fashion. In the market for a new coat? Don't miss our advice on buying the right coat for your shape. Miss something? Check out what's been happening on SheFinds.
Good News/Bad News, Posh's Re-Done Shades, Lohan's House Of Shoes…
First, the good news--because it's Friday: Victoria Beckham's posh sunglasses, which originally debuted on Net-a-Porter, are now relaunching at Bergdorf Goodman just in time for spring shopping. Venerable eyewear company, Cutler & Gross, are collaborating so you can be certain these will be high quality and stylish. Until their debut, be sure to hit our guide to celebrity sunglasses. [Stylelist] To reiterate what you probably already knew, Mrs. Obama has fantastic style. Now you can hear how she does it straight from her mouth; she dishes to the Today Show's Matt Lauer about how she chooses her clothing every day. [NY Mag] Now, for the bad news: Lindsay Lohan is "overwhelmed" by all the stuff she has. Poor girl has a room full of shoes, designer clothes, and bags, some bought, and was gifted, but in the end it's just too darn much. Hey, I have an idea. How about giving some the charity? We have room in our closets that we'd be willing to fill. [People] Diesel is known for pushing the envelope, not only with its fashions, but also with its ad campaigns as we have seen in the past (remember when NYC was submerged from melting polar ice caps?). Now they have taken marketing a step further with their "Be Stupid" campaign that shows a girl flashing a security camera. Have they gone too far? [Racked] Get your fashion news fix instantly when you sign up for our newsletter.